If you've ever wondered how to make your boat wireless, wonder no more.
You CAN cut the cords: Wireless control and monitoring are available with Power-Pole's all-in-one marine tablet.
Remember when wireless technology was unproven, unreliable and untrustworthy? That was a long time ago and now, wireless is the only way to go. When Bluetooth came along, we embraced its one-to-one connectivity, and it's become one of the most important tools on land and sea.
As technology has evolved, that one-to-one connectivity has now become too limited and boat owners want more. The C-Monster 2.0 wireless protocol developed by JL Marine, the parent company of Power-Pole brand products, offers wireless multi-point connections and display with its VISION tablet.

"We developed our own wireless communication with a different frequency," says Curt Hill, advertising manager for Power-Pole, based in Tampa, where all the research, development and production takes place. "The reason we did that is the Bluetooth is a one-to-one connection, and while Wi-Fi has multi-point connectivity, it's not strong enough to go through wet aluminum decks."
Innovation Winner
The VISION tablet measures seven inches wide, runs on the Android platform for full web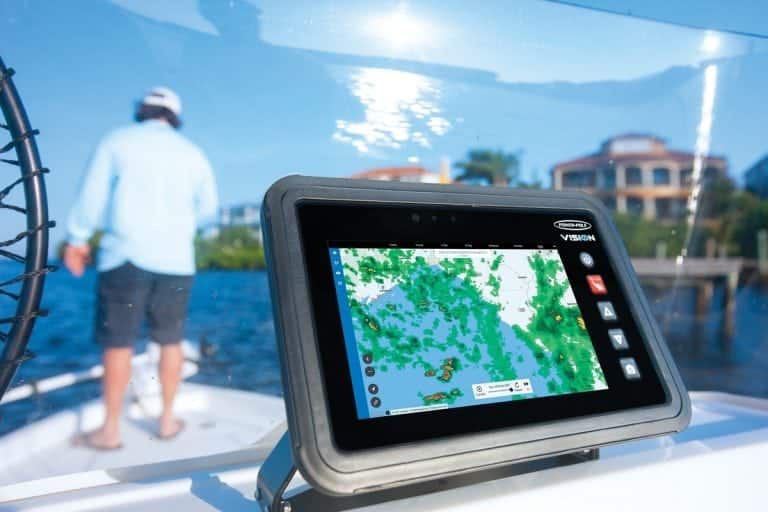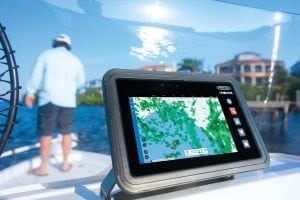 access and is NMEA 2000 capable. It is powered by the boat's 12-volt cranking battery and has a line-of-sight range of up to 100 meters. That means the signal strength is 10 times stronger than Wi-Fi and does not require a router.
The tablet is one of two new products introduced by Power-Pole last fall. The other is the CHARGE Marine Power Station that won a 2017 IBEX Innovation Award. It's an AC/DC and bi-directional DC/DC all-in-one marine battery management and charger system.
Captains can customize the C-Monster app to wirelessly control all connected accessories, such as trim tabs, the jack plate, bilge pump, livewell, lights, and sound. In addition,
all Android apps, such as fishing and navigation apps, can run through the VISION tablet as well as apps from Navionics and Mercury's SmartCraft app. "My idea for the future of
our product is going to be on larger boats and yachts," explains Hill. "Instead of thousands of feet of wire running throughout the yacht, you can put these control modules all over the boat and control different things with a tablet. This product is going to work at the OEM level and for re-wire projects."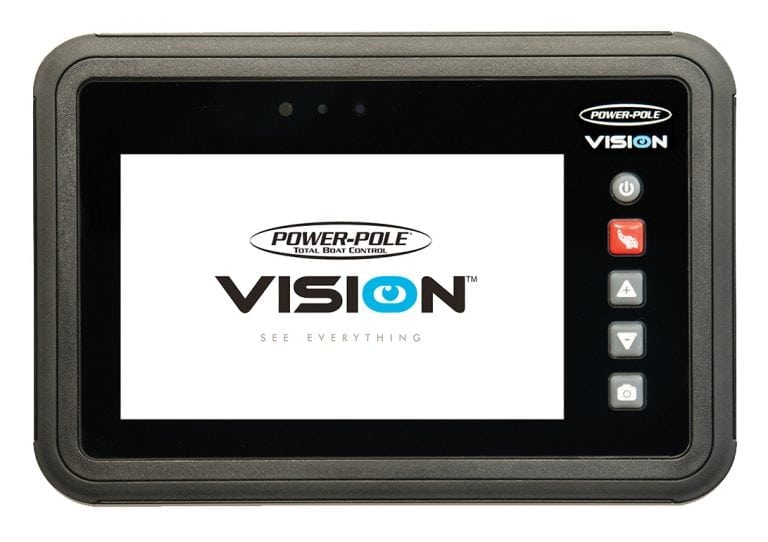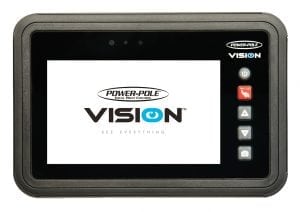 Power-Pole first developed the product for its anchor line. The Power-Pole shallow water anchors allow anglers to stop and hold their boat quickly with the touch of a button. Company founder John Oliverio and the JL Marine engineering team first started working on the C-Monster protocol five-plus years ago to control the Power-Pole anchors, and now the 2.0 version is offering many more applications, including the VISION tablet.
"For a re-wire project, it's going to save a lot of time and effort and has other benefits," Hill adds. "If you have a big fishing boat, then you have livewells that you want to re-circulate all the time. But having them on full power kills your 12-volt battery too fast. Our product offers a dimmer switch, so you can dim down the livewell variably and save power."
Feature Rich
The high bright screen on the VISION tablet is easy to see in full sun from any angle, even when wearing polarized sunglasses. The unit features daylight and nighttime settings, and enhanced map viewing technology allows the user to clearly see maps and satellite imagery. The enhanced imagery will also allow the user to see how the shoreline differs from the grass line.
Another feature is the swipe-down Water Shade, which protects and locks the screen against water spray that might activate or change screen settings. This is helpful when running or in the rain. The VISION unit is water resistant, rated at IP67, has three mounting options (flush, gimbal, and ram), and the built-in camera allows hands-free photos of you holding that big catch.
"There are inputs and outputs," Hill says. "The inputs read things like your fuel gauge and trim position, and you can show all that on the screen. You can set up as many screens as you want and just swipe to the next screen. All the pinch-and-swipe functions work the same way."
To simplify tasks, the VISION offers a multi-function button to control a host of tasks at once. For example, you can set up a "Take Off" button that could stow your Power-Pole anchors, lower the engine trim and deploy the trim tabs to a predetermined setting so you are ready for a quick hole shot. "Most of today's motors, trim tabs and jackplates already have the trim sensors built in," Hill says. "All that is ready to rig up, and once you get it connected to the VISION, you are ready to go."
The VISION system will retail for $1,595 when it goes on sale later this year, and that includes the VISION tablet and one six-bank control module. Additional control modules
will be available separately.
By Doug Thompson, Southern Boating April 2018