Integrated Intelligence Control
Imagine if you will, this fairly typical scene. You drive 30 minutes or so to the marina for an enjoyable weekend of boating with friends and family. Your boat has been closed up since the previous weekend and the air inside is hot, humid and stale. While you unzip the canvas and turn on the air conditioning, your boatmates wait on the dock with gear, groceries and bags of rapidly melting ice. Now, compare this scene with, instead, arriving at your air-conditioned boat, there's ice in the icemaker, the water tank is full, and the refrigerator is cool and ready for cold cuts, fruit and beverages.
Dometic Marine, a division of Dometic Group—a global provider of leisure products for the marine, truck, caravan, motorhome, and automotive markets—introduces the Dometic Smart Touch Integrated Intelligence Control (STIIC), a revolutionary and user-friendly software that connects a boat's Dometic systems—air conditioning, watermakers, ice makers, refrigeration systems, engine ventilation systems and more—to the STIIC network, and interactively communicates with the boat owner.
Accessible from a mobile app, STIIC allows boat owners—or their captains or technicians—to monitor all their Dometic systems from one location, such as a car, office or beach house, via mobile phone, tablet or computer using a Wi-Fi, Ethernet or an RS485 connection. STIIC can be used to check a system's status, change settings, turn it on, turn it off, or diagnose a problem. "STIIC acts as a remote control for boats, bringing a whole new level of comfort and control to owners and their passengers," says Ed Todd, Director of National OEM Sales at Dometic Marine. "For example, if you are about to drive to your boat, you can use STIIC to start your air conditioner, ensuring that your arrival is cool and comfortable. Or, use it to activate your Dometic Sea Xchange watermaker to ensure you have plenty of potable water."STIIC acts as a control point between the boat owner and the Dometic equipment on board the boat. Products aboard the boat send Internet data to secure STIIC servers. The boat owner can access that data via a free STIIC app on a smart phone, tablet or computer.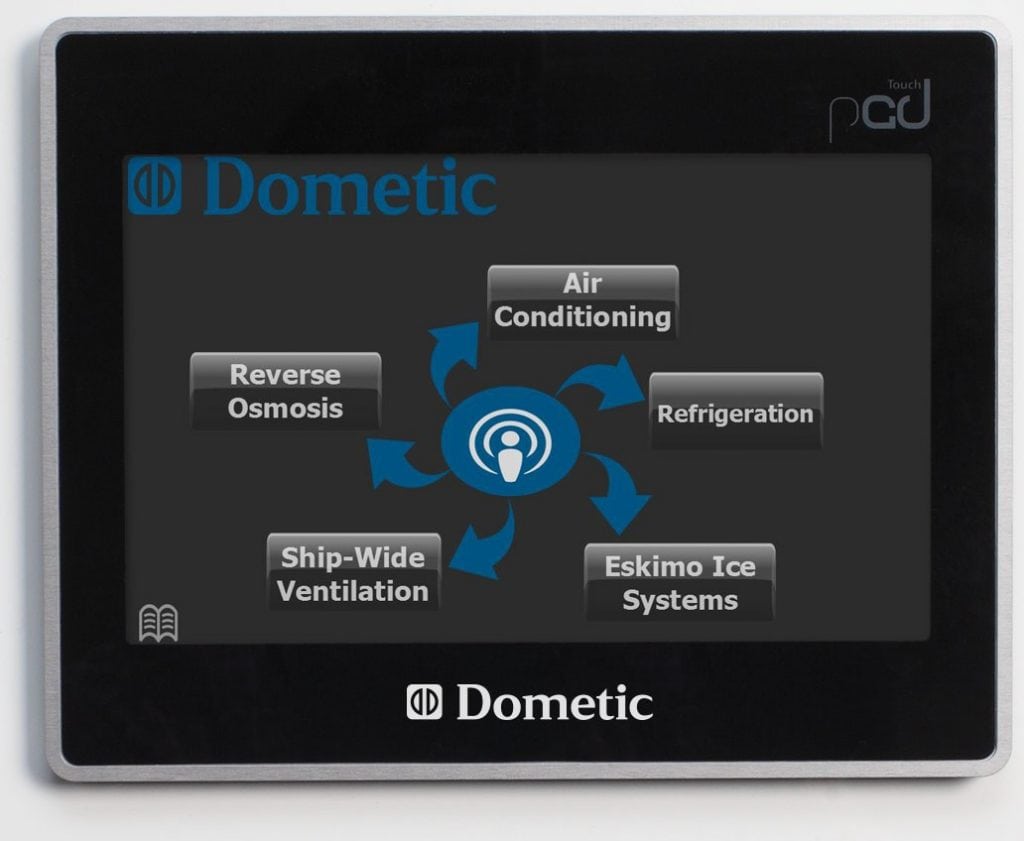 The STIIC system is easy to set up and understand, but if owners or captains do need help, the same system allows a technician to perform remote diagnostics and talk them through a troubleshooting process without a costly or time-consuming on-site visit to the vessel.The STIIC network automatically expands as new Dometic products are installed on board. Use of a product's STIIC interface is always optional and can be bypassed at any time since each Dometic system retains its independent controls for hands-on operation on board. The Dometic STIIC mobile intelligence software also simplifies the integration to ship-wide network control systems. Instead of developing an interface for each Dometic product, third-party software developers only need one connection point to STIIC.
STIIC implementation is available now with Dometic Cruisair and Marine Air chillers, including the new Variable Capacity Chiller, and with Dometic Sea Xchange watermakers. In the near future, other Dometic products will also be STIIC enabled, including Dometic's Eskimo Ice, KRA refrigeration, Dometic Livos Engine Ventilation systems, and others. Leisure boats from 20 feet to megayachts are users of the company's premium brands which include Condaria, Cruisair®, Dometic, Marine Air Systems®, SeaLand® and WAECO. Their extensive product range includes marine air conditioning, engine room ventilation systems, sanitation systems, refrigerators, stoves, battery chargers, and other equipment for the leisure market. dometic.com/USA
Southern Boating November 2014