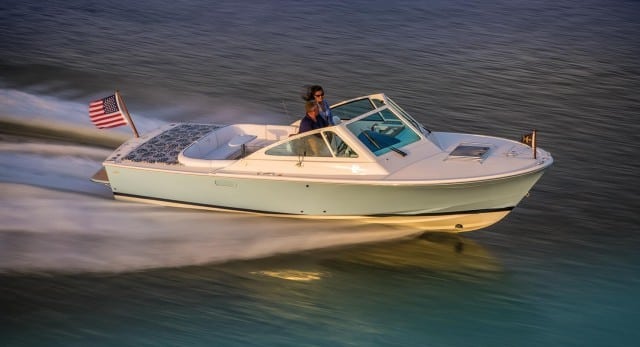 This beauty handles like a high-end performance race car.
The only problem with the new Hunt Harrier 25 Sport—and this is a serious one—is that it's addictive. Once you climb behind the custom wooden wheel and nudge the throttle forward, the boat just comes up on plane —no hump, no bump…nothing but steady power and speed. The mid-range acceleration is simply outstanding, and when you carve the first turn, it's so much fun that you want to carve another, and then another. This latest Hunt is a combination of a Porsche 911 and the Energizer Bunny. The performance is so exhilarating that you just want to stay behind the wheel and keep on going. The fact that it's a Hunt, with a C. Raymond Hunt deep-V hull and blue-water pedigree, is just icing on the cake.
The first thing I noticed about the new Harrier 25 Sport is the very cool-looking windshield. Somehow it's a combination of classic/retro and high-tech, all wrapped into one. "We spent a lot of time on this," said Peter Van Lancker as he put down a chamois while we talked. The hands-on company president was helping to wash the boat before our sea trial.