Road Trip!
Head to Virginia's most eastern coast for a fishing getaway.
By Chris Knauss – Southern Boating June 2020
Anglers seeking a diversity of fish while visiting a relatively small region can't go wrong by trailering their boat along the Maryland and Virginia coast. With the Chesapeake Bay on one side and the Atlantic Ocean on the other, and a fairly thin slice of land separating the two, you can bounce back and forth like a pinball finding fishing spots and adapting to changing weather patterns.
Where to Go
Start at Virginia Beach, Virginia, and head north along U.S. Route 13 or start in Ocean City, Maryland, and head south. During the summer months, the list of fish species shoaling these waters is exhaustive, but here's a sampling: striped bass, bluefish, flounder, speckled trout, cobia, croaker, white perch, Spanish and king mackerel, black drum, red drum, yellowfin tuna, bluefin tuna, dolphinfish, marlin, and even tarpon.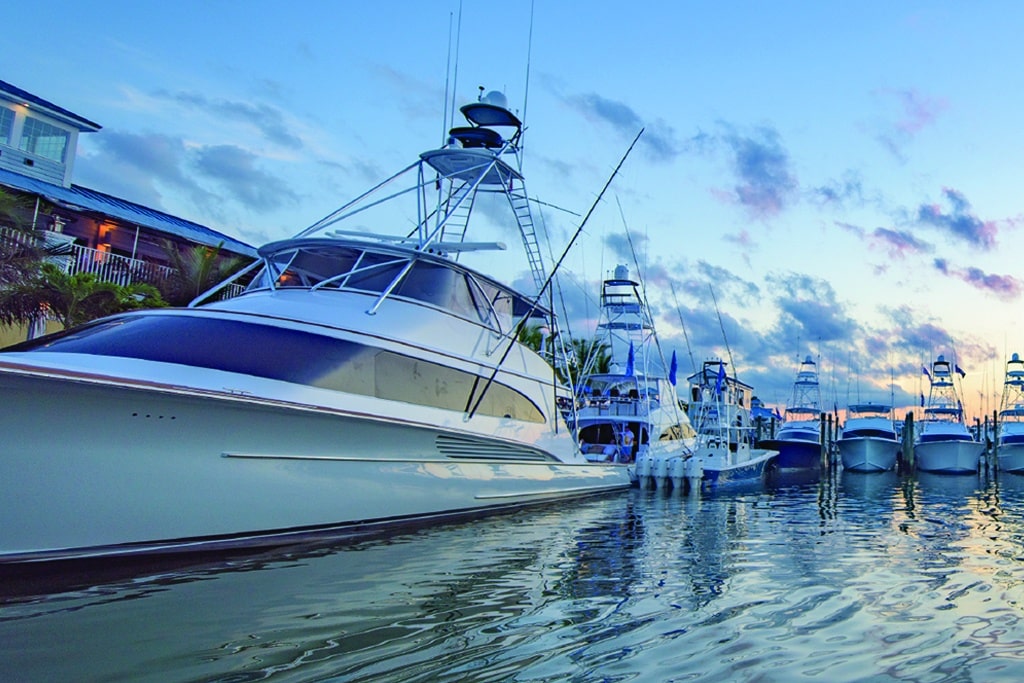 In 2018, Annapolis resident John Loe landed and released an 85-pound tarpon that he caught while fly fishing in the seaside shallows of Virginia's eastern shore. Anglers can find huge redfish (red drum) up to 50 inches at places like Buoy 42A off Bayford, Virginia, in the Chesapeake Bay. Redfish will hit 7- to 10-inch soft plastics like BKDs or Z-Mans tipped with a ¾- to 1-ounce jig head. Similar-size reds as well as striped bass and cobia also like the shoal areas near the Chesapeake Bay Bridge-Tunnel (CBBT). Artificial reef and wreck sites off Ocean City and Virginia's coast host flounder, bluefish, tautog, sheepshead, and triggerfish.
For tarpon, Capt. Jack Brady recommends anchoring up and soaking chunks of fresh bait on a fishfinder rig with enough weight to hold bottom. A medium-heavy rod and reel holding 20-pound braid or monofilament along with 20 feet of 50-pound test leader is a standard setup. Place a fishfinder clip over the leader and add a large barrel swivel, then attach four feet of 80-pound mono leader snelled to an 8/0 circle hook. Burtons Bay, Hog Island Bay, and Fisherman Island are all good places to look for tarpon on Virginia's shore.
Let's Go South
Since I tend to avoid crowds, especially nowadays, let's skip the popular Ocean City, Maryland, fisheries this month and start this trip in Chincoteague, Virginia, and head south. That way, you'll only need one state fishing license. But first, a bit of an overview.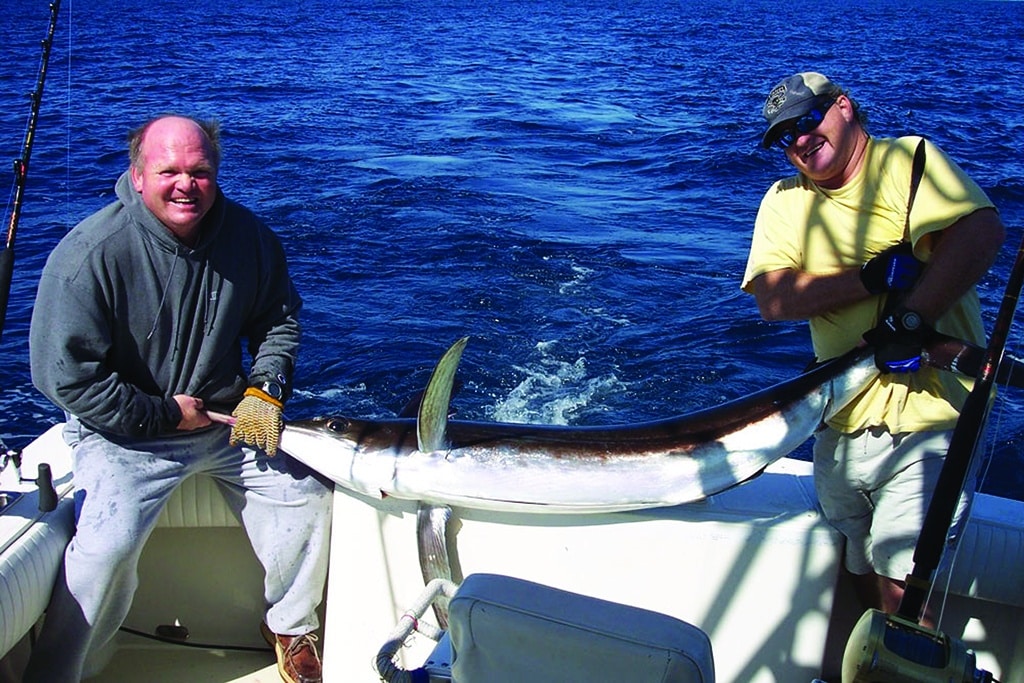 Chincoteague and the entire Virginia coast offer similar fishing opportunities with myriad inlets and inland points to target for shallow-water casting and bottom fishing, all the way until you get down to Cape Charles and the CBBT, which is even more fishable. If the weather's cooperating, and you've got an ocean-worthy vessel, you can launch at an oceanside boat ramp and head to the offshore canyons for deep sea fishing. Tuna, mahi-mahi, wahoo, sharks, and white and blue marlin are found wandering along the western edge of Gulf Stream waters 50 miles off the coast. You can also leave your trailered boat in a parking lot for the day and opt for a charter with one of many experienced offshore skippers available for hire.
The wrecks and reef structures from six to 14 miles off the coast are easily accessible and hold seabass, tautog, and flounder. Closer to shore and in the inland waters, you can find flounder, bluefish, striped bass (known here as rockfish), and speckled trout. Bounce over to the Chesapeake Bay side and you've got seven artificial reef sites spanning the length of the peninsula that hold spot, croaker, rockfish, redfish, flounder, and more. Striped bass and speckled trout can be targeted in the grass flats.
Ideal boats to explore the inland waters and shallows are skiffs and midsize center consoles from 18 to 26 feet that allow you to glide over skinny water at times and take advantage of the many public and commercial launch ramps in the region. Take it slow and keep an eye out for shoals. A push pole can come in handy to keep quiet in the shallows and to push you off a sandbar. Wind, tide level, and current can create some dynamic conditions, so watch the weather carefully when choosing your launch site. Concrete boat ramps on the peninsula are plentiful. In Accomack County, they're found at Annis Cove, Gargatha Landing, Greenbackville Harbor, Parkers Creek, Pitts Landing, Queen Sound, Quinby Harbor, Schooner Bay, Southside Chesconessex, and more. If you're cruising and have a kayak, the inland bays are ideal for paddling and fishing.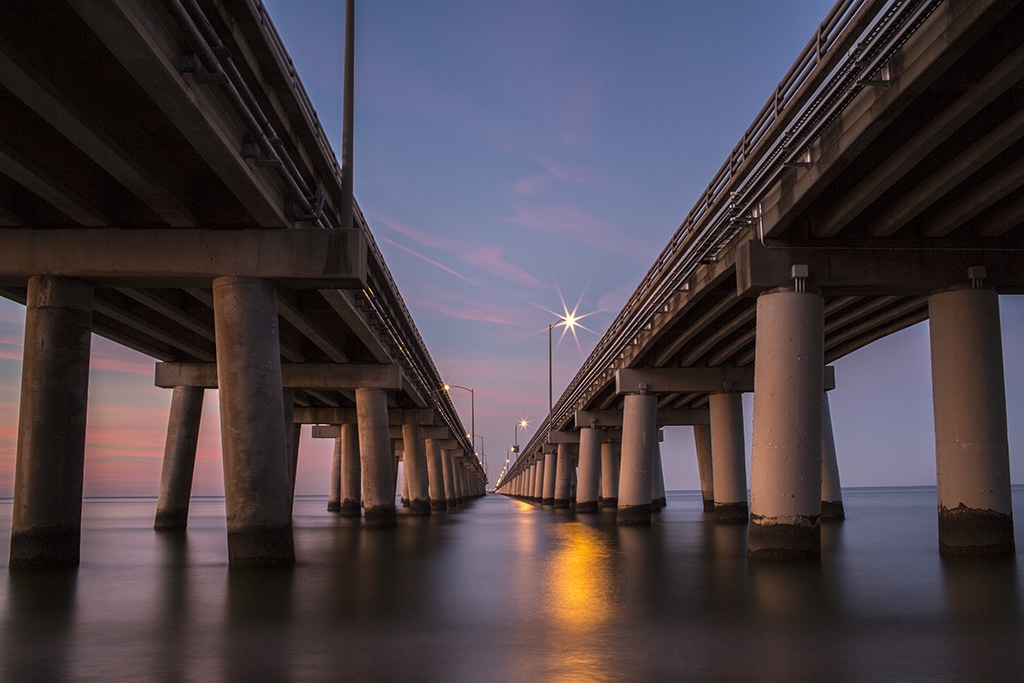 Curtis Merritt Harbor in Chincoteague provides access to Chincoteague Bay as well as other seaside inlets and bays and the Atlantic Ocean. Blackfish Bank Artificial Reef, about six miles east of Chincoteague, was initially created with 40 armored personnel carriers and nearly 100 New York City subway cars. The harbor facility is open 24/7, so purchase the $5 temporary launch permit, valid for seven consecutive days, at the town office or at the harbor. The police department also sells permits when the town office is closed. A good place to pamper yourself after a day of casting is the Marina Bay Hotel & Suites, but there are many other options. Anchor Inn on the Chincoteague Channel allows you to tie up at its marina so you won't need to launch every day. Capt. Bob's Marina offers transient slips and can accommodate vessels up to 30 feet long.
Chincoteague is best known for its flounder fishing. When the flounder return from their winter hideouts, they take up new residence in the many marsh guts and channels behind the barrier islands. Flounder hunt where the depths change. Drop-off edges where bait like to hangout are where you'll find them. Good places to drop your line are Four Mouths and Chincoteague Point. Flounder will ambush live and dead bait with shiners, minnows, and squid strips as typical offerings. Artificial lures like Gulp! swimming mullets will also catch them. Keeping a tight line and jigging off the bottom is a productive technique. Adjust your jig size from ¼ ounce to 2 ounces to hold your bait in the current. Fishing around the inlet, you might also encounter Northern kingfish which seem to prefer shrimp-, clam-, or crab-flavored Fishbites.
Wachapreague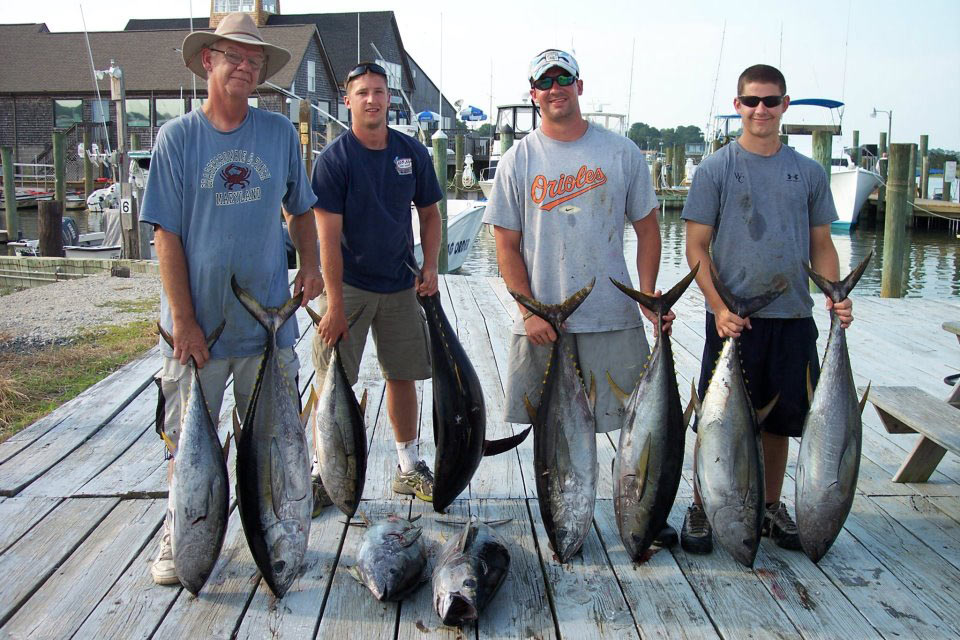 You're likely to find better fishing for flounder a little farther south in Wachapreague, known as the Flounder Capital of the World, our next stop. Fish the drop-offs and you'll get some hookups. A good place to check out is the mouth of the main inlet or "off the Coast Guard Station." Flounder from the ocean swim past there headed for the bays. The most consistent spot is "Swash Bay." Think like a fish hunts and you'll be successful, intercepting them as they go after baitfish in transition areas on moving tides. On a flood tide, try sunny spots over the mud shallows. Staying overnight or for a few days? You can't go wrong with Teasers Fisherman's Lodge. The one drawback to Wachapreague is that it's very popular for flounder, so venture a bit farther south to Quinby and Oyster on the coast side or Onancock on the Chesapeake side. They might be a better choice as there are plenty of fish in those locations with less competition.
Cape Charles
Our final stop this trip is Cape Charles; however, there is a downside for anglers: If you don't live there, you'll have to leave at some point. The scenery is beautiful even if the fish are finicky, but the whole lower end of the peninsula is extremely fishing-friendly. The Cape Charles Yacht Center and The Oyster Farm at Kings Creek are fine places to tie up for cruisers. Cape Charles Town Harbor also offers transient slips. The town has many charming bed and breakfast accommodations and hotels. Kiptopeke boat ramp on the Chesapeake Bay is a good spot to put in a trailered boat for an $8 fee. The area called the "Concrete Ships," which forms a breakwater for the boat ramp, often holds some hefty striped bass.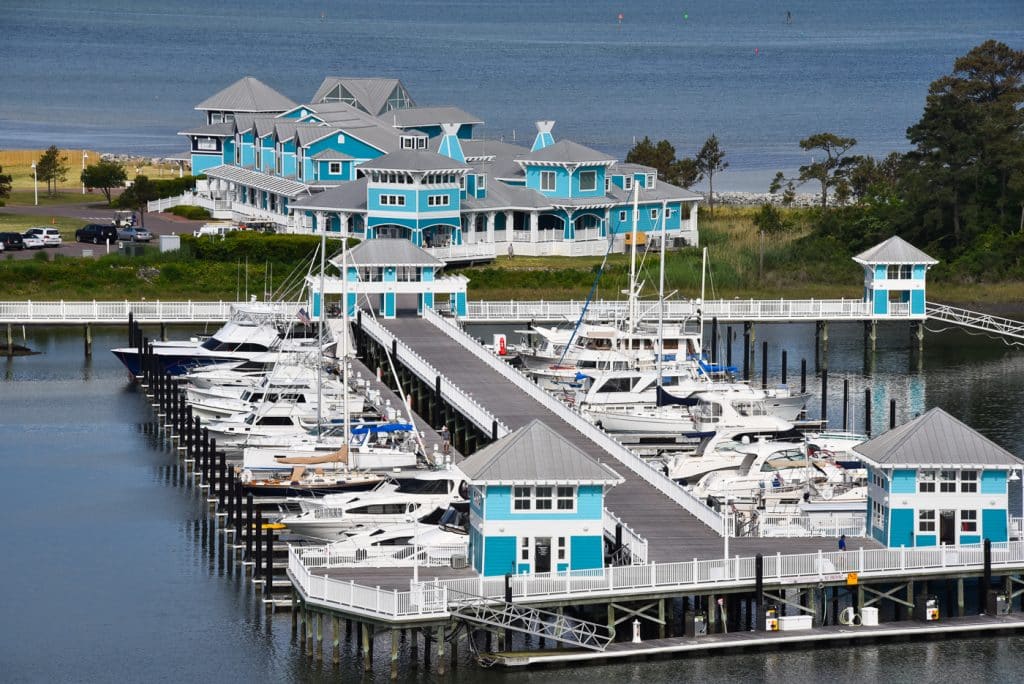 You can find stripers and speckled trout at the Cape Charles, Cherrystone, and Hungars Creek inlets. Casting spoons and topwater lures along marsh edges and stump fields will produce a mix of stripers and trout. Casting swimbaits, such as white Gulp mullets, will work along with drifting soft crab baits in the guts and channels for trout and red drum. Of course, there's the 17.6-mile CBBT that offers an immense amount of fish-attracting structure and hosts an incredible amount of fish species this time of the year. And if you've got the time, the Virginia Beach inlets, Rudee and Lynnhaven, are also very fishable now.
---
Anglers looking to take the Virginia eastern coast fishing road trip featured in the June 2020 issue will find a number of accommodations along the way to regain your equilibrium and catch up on some sleep after a long day on the water.
Chincoteague
Anchor Inn
(757) 336-6400
anchorinnhotel.com
Best Western Chincoteague Island
(757) 336-6557
bestwestern.com
Channel Bass Inn Bed and Breakfast
(757) 336-6148
channelbassinn.com
Comfort Suites
(757) 336-3700
choicehotels.com
Onancock The Charlotte
(757) 787-7400
thecharlotte.com
The Inn at Onancock
(757) 789-7711
innatonancock.com
Spinning Wheel Bed and Breakfast
(757) 787-7311
1890spinningwheel.com
Wachapreague

Teasers Fisherman's Lodge
(757) 787-2346
wachapreaguesportfishing.com
Wachapreague Inn
(757) 787-2105
wachapreagueinn.com
Cape Charles

Family Lodges at Kiptopeke State Park
(757) 331-2267
virginia.org
Fig Street Inn
(757) 331-3133
figstreetinn.com
The Oyster Farm at Kings Creek
(757) 331-8660
theoysterfarmatkingscreek.com
Shore Stay Suites
(757) 331-4090
shorestaysuites.com