Prep the Next Generation
Whether your love of boating tends to sail or power, May is the ideal time to begin planning to prep the next generation as sailing camp registrations open throughout the Texas coast and on her many inland lakes.
Strike up a conversation at any yacht club or your favorite waterfront joint and it's likely that person will have a fondly remembered childhood tale of fishing or sailing with a parent or grandparent. And that lifetime love for the water for your kids can come about simply by instilling the sense of adventure, self-reliance and the freedom found in boating. Yacht clubs are a great avenue to do just that through their accredited junior programs.
Sailing Clubs
Most clubs run two-to-four week-long camps and teach sailing instruction, seamanship, boating safety, and navigation before sending the kids—many as young as eight years old—out on protected and supervised waters in small eight-foot Optimist dinghies, the same models used by junior programs throughout the world.
With virtually every modern day Olympic sailor having gotten their start sailing Optis, many will say these junior programs were crucial to their early love for boating and established the skillsets for their amateur careers as they progressed to larger boats and eventually collegiate sailing programs. As the kids learn and become more skilled, they eventually graduate to sailing regattas with local events against other clubs and even larger junior regattas held throughout the United States and even world championship events.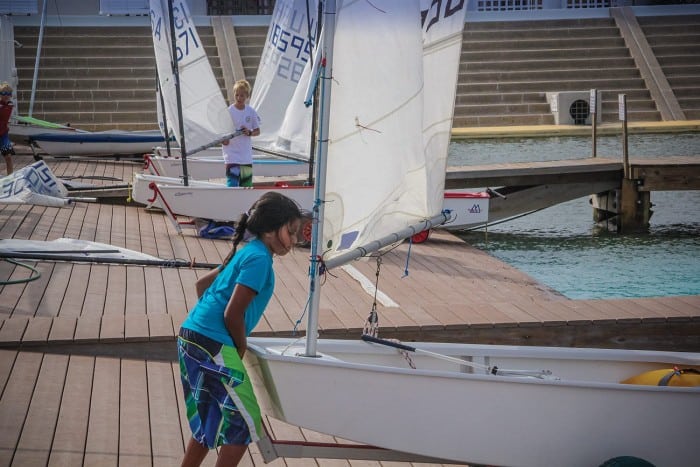 The Galveston Bay area has some of the larger and more successful junior programs with Houston and Lakewood YCs among the best in Texas. Further south, Corpus Christi YC has another well-established program. While many of these clubs do require membership for children to be enrolled, many do offer their programs to friends of members willing to sponsor and some do even have open enrollment. Swim tests are required at every club. These programs exist at the majority of yacht clubs, but it is best to research the programs and prerequisites on your local club's website, or simply call to set up a meeting with their Sailing Director to see their facilities and boats.
Scout it Out
There are also numerous junior sailing programs that are not affiliated with yacht clubs. One of the best is at Galveston Bay Sea Scouts SeaBase program on Offatts Bayou in Galveston. Originally conceived as a high-adventure boating summer camp for the Sea Scouts—an offshoot of the Boy Scouts—the nearly $100 million facility and the program has broadened to include a Community Youth Sailing Center and a maritime education facility.
Financed almost entirely by a donation from a private Texan donor who is very active in the Sea Scouting programs, the 60,000-square-foot facility includes lodging, offices, classrooms, cafeteria, and an endowment for accredited instructors. The complex is capable of hosting 200-300 Scouts on a weekly basis each summer with kids learning on a variety of vessels ranging from kayaks and Optimists to large schooners with the goal of emphasizing boating knowledge and high adventure.
By Harlen Leslie, Southern Boating May 2015