Memorial Day weekend kicks off celebrations for the 50th anniversary of the Chesapeake Bay Maritime Museum in St. Michaels, Maryland. The museum on the Miles River will host Party on the Point, which will include boat rides on historic vessels, live music, local foods, a children's art competition, and other family activities on May 23rd. It will also feature the opening of an exhibit showcasing the most significant artifacts in its extensive collection. The museum originated as an idea by a group of community members and the Talbot Historical Society in 1963, and took shape with the purchase of three historic houses along the town harbor in 1965. Adjacent property at Navy Point was also purchased and through the years additional planning and funding has created 12 exhibit buildings, a library and growing collections of regional maritime memorabilia. Today more than 68,000 guests from all over the world visit the museum annually by land and sea. Plenty of docking is available in the harbor area. Call (410) 745-2916 or visit cbmm.org.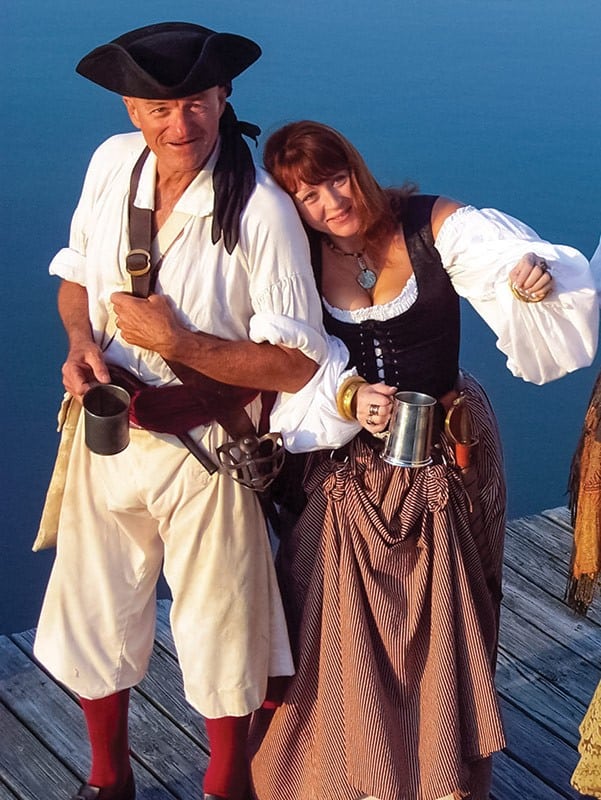 Maryland Safety Certification
Make sure you have a Certificate of Boating Safety Education this summer on the Chesapeake, which is required for anyone born on or after July 1, 1972 to operate a mechanically propelled vessel on Maryland waters. U.S. Coast Guard Auxiliary units offer safety courses throughout the Mid-Atlantic, and the Annapolis unit is hosting a safety course June 2-8 at the firehouse on Taylor Avenue. Boating safety courses are available online but this program offers the opportunity to ask questions and to get answers in-person from experienced mariners. annapoliscgaux.org
Shakedown at the pirate fest
A fun, early-season cruising destination on the Chesapeake is the annual Blackbeard Pirate Festival in Hampton, Virginia. This year's festival runs Saturday and Sunday, May 30-31. Travel back in time to the scene of the The Customs House in Hampton, which regulated the export of tobacco to England and the import of manufactured commodities to the colonies. Convinced that Blackbeard and other pirates were operating under the protection of North Carolina, Governor Spotswood of Virginia sent an expedition from Hampton to capture or kill Blackbeard and his crew. The mission was successful.
This year's action will include reenactments of street skirmishes between pirates and the militia and full-scale sea battles in the Hampton Harbor. Onlookers can also enjoy the waterfront view where tall ships will tower over sail and powerboats decked out in their own pirate gear. The festival is free and open to the public. Docking space is available at the Hampton Public Piers, Customs House Marina, Bluewater Marina, and Sunset Boating Center.
By Christopher Knauss, Southern Boating May 2015