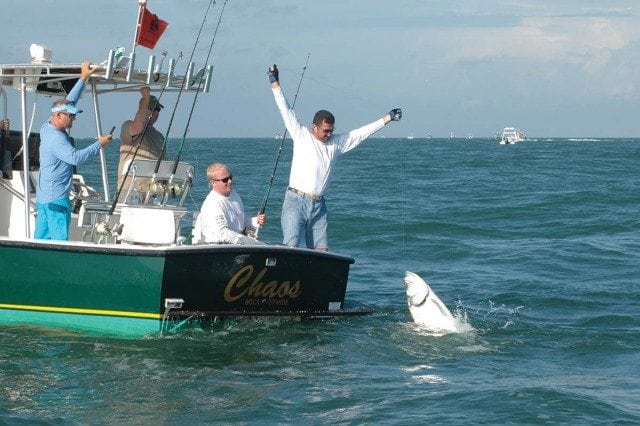 For more than a century, Gasparilla Island has lured anglers seeking to combat the mighty silver king.
If you're looking for a cruising destination with exciting nightlife, a vibrant social scene, reservation-only restaurants, and high-end shops that stay open well after sunset, Gasparilla Island is not it.
It also doesn't have fast-food restaurants or a large supermarket, a shopping mall with department stores, high-rise condos, stoplights, neon signs on storefronts, a gas station, or traffic—golf carts are the preferred mode of transportation. And from what I could tell when I first drove into the town of Boca Grande (Spanish for Big Mouth), it doesn't appear to have much of a police force either, or at least one that uses radar guns.
I was still in turnpike-driving mode and evidently missed the slower speed limit sign when a uniformed officer on the side of the road extended his arm and executed the universally understood palm-down motion for "slow down," then casually resumed his conversation with a bicyclist. Indeed, what Gasparilla Island doesn't have is what's drawn second-home buyers seeking the old-Florida charm that's disappeared from touristy towns. But what it does have is what's drawn anglers from around the world for more than 100 years: tarpon.
Laidback Living
Gasparilla is a seven-mile-long barrier island on the north side of the mouth of Charlotte Harbor on Florida's Gulf Coast. The barrier island on the south side is Cayo Costa. The distance between the two islands—Boca Grande Pass—is less than a mile across, and with holes reaching depths of more than 70 feet, it's the deepest pass in the state of Florida. Tarpon frequently gather in the holes and sometimes stack due to their numbers. Exactly why they collect in the pass is still unknown, and speculation is wide in theory and varied in nature.
Yet while many other tarpon fisheries throughout the U.S. are now all but barren, the stock in Boca Grande and Charlotte Harbor continue to proliferate, a phenomenon the surrounding communities seek to preserve through education and conservation.