Go with the Flow
Cruising the Louisiana and Mississippi Gulf Coast
Along the Louisiana-Mississippi coastline, there's a palpable hum having nothing to do with barges, drilling rigs, or signal horns. The musical notes riding the breeze, the rustle of wildlife in the swamps, and the whispers of generations long past create a singular vibration in the area. Rich in a fascinating history from the time of the Native Americans through French and Spanish settlements, the Civil War, oil exploration, and multiple devastating hurricanes, the coast is defined by the enduring resilience of its inhabitants.
Sandbars, wetlands, commercial traffic, and oil platforms make navigating Gulf waters a pay-close-attention adventure. Heed your chartplotter and posted navigational aids, stay on your VHF, and most of all, ask the friendly locals lots of questions to simplify the journey.
Plan Your Route
Weather conditions are the biggest determining factor when choosing between offshore and the Gulf Intracoastal Waterway (GICW). Offshore, you may be 50 to 100 miles out with little help available quickly, and it is hazardous at night. When the wind is right, Gulf sailing is amazing for experienced captains; on the GICW, sailboats will be motoring most of the way. According to a local delivery captain, "The ditch is slow, boring, heavily trafficked, and safer" for all vessels.  Plan ahead for evening anchorage or marina docking—anchoring on the side of the ditch at dusk is not a good idea.
A convenient fuel/provisioning start for either course is Sabine Pass Port Authority in Port Arthur, Texas, a recently upgraded facility located at MM 38 near the mouth of the GICW and just six miles to the Gulf.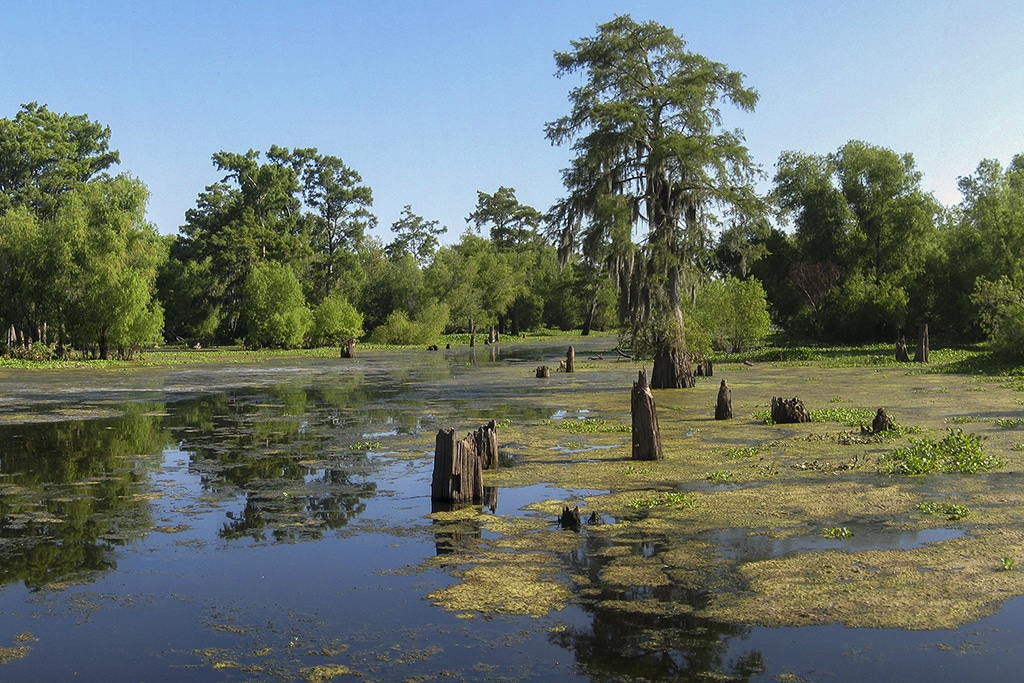 Sabine Pass to Houma
Eastbound the GICW winds through the U.S.'s largest river swamp, the Atchafalaya Basin, containing almost one million acres of the nation's most significant bottomland hardwoods, swamps, bayous, and backwater lakes. There are small towns scattered along the route with names familiar to crime fiction fans as home territory of Edgar Award-winning author, James Lee Burke.
It's 277 statute miles from Sabine Pass to Houma, Louisiana, with possible added hours in line to transit the Bayou Boeuf Lock in Morgan City. The area has heavy commercial traffic so be sure to check in with Vessel Traffic Control.
In Houma, the GICW intersects Mandalay National Wildlife Refuge, home to waterfowl, alligators, and assorted mammals. In the evening, friendly wildlife, fresh seafood, and local bands can be found in the Cajun music dance halls. Houma's numerous bayous and bays provide anglers deep sea, coastal, brackish, and freshwater fishing. Cristiano Ristorante is a three-block walk from the Downtown Marina located at the junction of historic Bayou Terrebonne and the GICW (MM 58WHL).
Up to New Orleans
New Orleans is just 61 miles northeast of Houma, but dedicated anglers might chart a course southeast down to Venice, a town with mythical offshore fishing status and plenty of experienced charter captains. A few miles out are yellowfin, mahi mahi, grouper, red snapper, amberjack, and swordfish.
From the GICW, two routes lead to the Mississippi River and New Orleans. Go north through Algiers Lock to Chalmette or use the Harvey Canal lock and wind downriver around the French Quarter. Continue to the Industrial Canal to spend time up in Lake Pontchartrain. South Shore Harbor, just east of the canal along the lakeshore, has 453 slips for boats to 150 feet in length. Its sister property west of the canal, Orleans Marina, is within walking distance of restaurants, a ships store, and public transit lines. Fuel is available in the New Basin Canal at the entrance to the marina.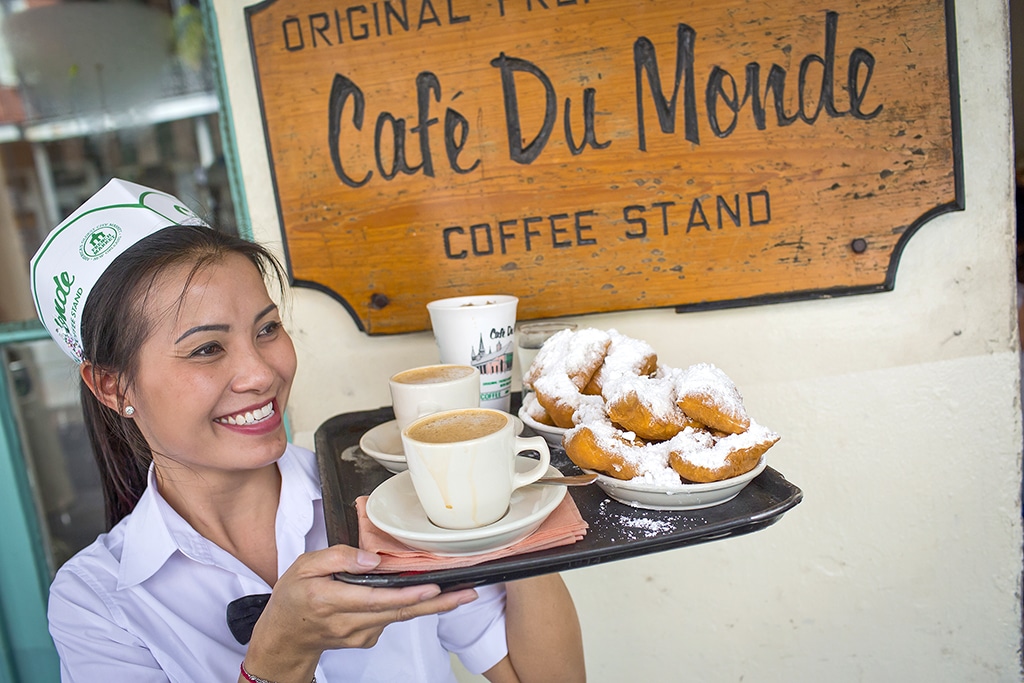 A New Orleans Sampler
Words that describe the cuisine of New Orleans also define the flavor of the city: French, Spanish, African, English, and Native American cultures coalesce into a rich gumbo of experiences able to satisfy every taste.
Explore music, art, cuisine, voodoo, Civil War sites, ghosts, and more on organized tours or roam the city at your own pace on a city bus stopping at St. Louis Cemetery, the World War II Museum, Mardi Gras World, or the French Market. Stay hydrated and conserve energy because the city runs full speed 24 hours a day.
Iconic NOLA dishes like charbroiled oysters, crawfish étouffée, po' boys, gumbo, and muffulettas are served at more than 1,500 city eateries. Or "eat dessert first" at Angelo Brocato where Italian ice cream and pastries have been served in a nostalgic pink parlor setting since 1905. No visit would be complete without beignets at Cafe Du Monde and "Frozen Bourbon Milk Punch" at the Bourbon House.
If food is the pathway to the heart, music is the highway to the soul. Check out Royal Street in the French Quarter to hear everything from a single acoustic guitar to an impromptu street corner band with instruments ranging from brass and keyboards to washboards and plastic buckets.
Nightlife options range from elegant to decadent. The Maison restaurant has live music nightly on one of its three floors. For a more subdued atmosphere, savor excellent tapas and jazz at Three Muses. Quintessential jazz club The Spotted Cat has appeared in multiple movies and commercials.
Beyond the City Life
From the Industrial Canal's turning basin head east on the GICW Rigolets-New Orleans Cut (or via the Rigolets from Lake Pontchartrain) as the jazz horns fade, the offshore rigs and commercial traffic thin out, and take time to relax into the 60NM cruise to Gulfport.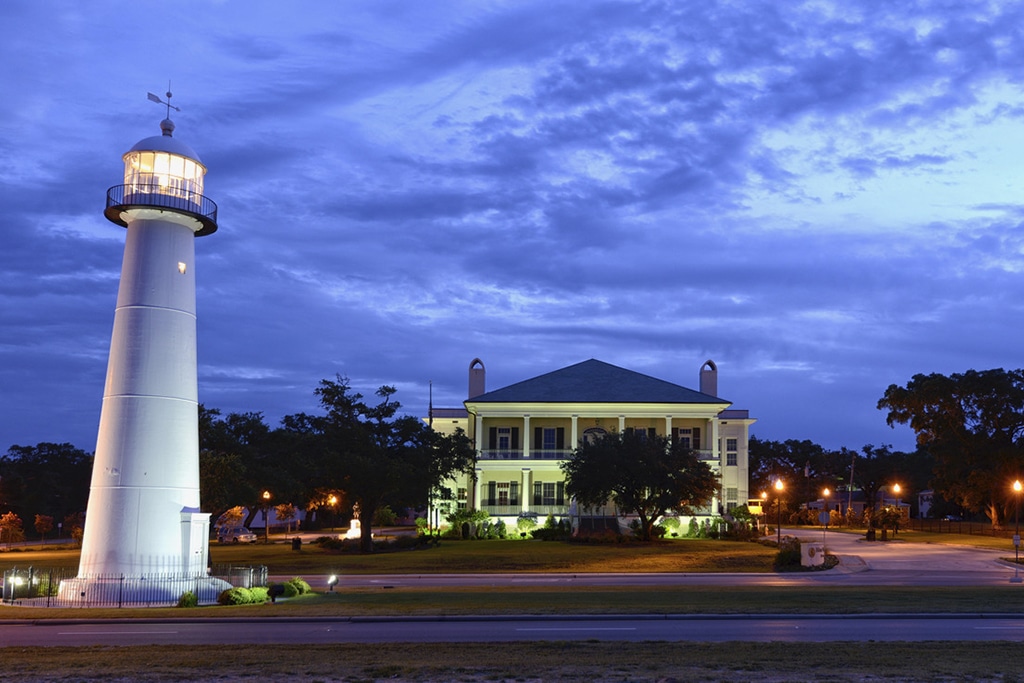 Gulfport to Biloxi
The Gulfport Municipal Marina/Bert Jones Yacht Harbor has 319 slips for boats to 140 feet in length. It's an easy walk to Shaggy's, a festive, casual spot for good local food. For classic, coastal, fine dining, reserve ahead at The Chimneys.
There's a lively downtown amid ancient live oak trees and dignified old homes with plenty of snacking, sipping, and shopping options. Choose a creamy, fruity artisan popsicle like Nutella or Oreo cheesecake from a POP Brothers stand, or do a tasting at Chandeleur Island Brewing Company, a pooch-friendly taproom offering seasonal and year-round brews. Fishbone Alley, a funky little side lane featuring original local art and culture backs up to a cluster of pubs. Artists adorn the alley walls with colorful murals celebrating Gulfport's thriving arts scene. To work off some of those earlier treats, wrestle with a one-arm bandit on Casino Row and stay for one of the many shows.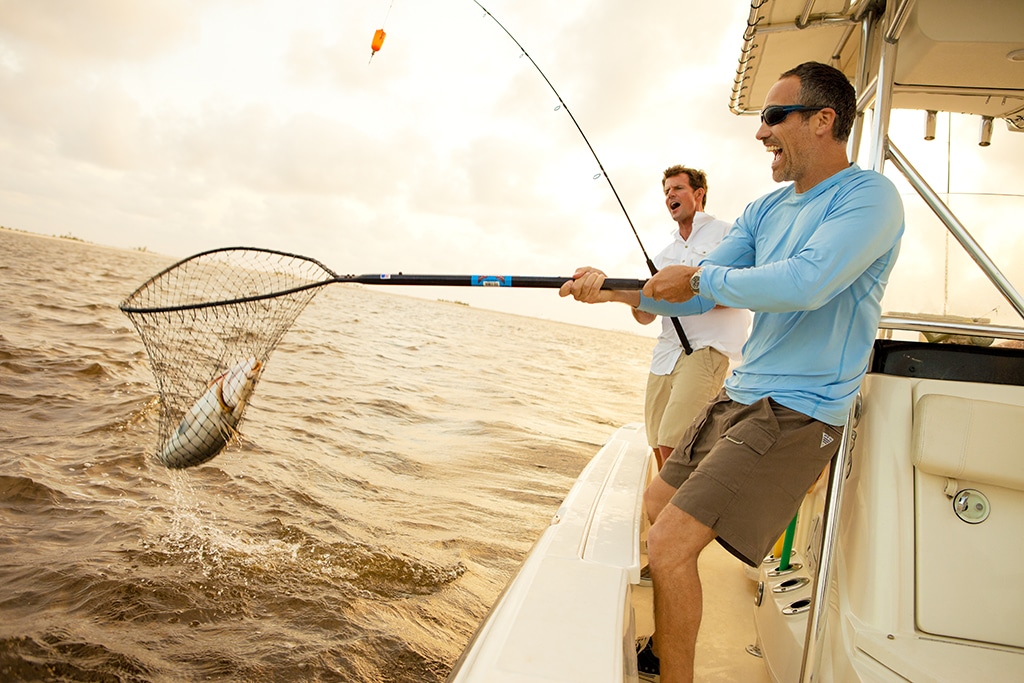 From Gulfport to Biloxi, there's light tackle action aplenty along shallow coastal waters bustling with tasty bottom fish. Cast a line off a pier or snag a huge yellowfin tuna on an offshore charter.
Atlantic bottlenose dolphins might race your boat 11 miles south to Ship Island where sugary beaches are a part of the Gulf Islands National Seashore. Tranquil waters, native wildlife, and deep-rooted history make the short detour worthwhile.
Pre-hurricane(s), Biloxi was the party place on the coast. The casino industry has played a major role in the city's return to glitz and glamour. Gaming houses range from backwater barges to deluxe resort-entertainment complexes, all inviting gamblers to "beat the house."
The Casino Hopper Trolley goes beyond blackjack tables to stops at city attractions, restaurants, and beaches. The Maritime & Seafood Industry Museum's extraordinary photographs chronicle the first Native American settlements through generations of immigrants, all part of the region's melting-pot culture. Water-related exhibits include the opportunity to sail aboard a replica of an authentic Biloxi oyster schooner.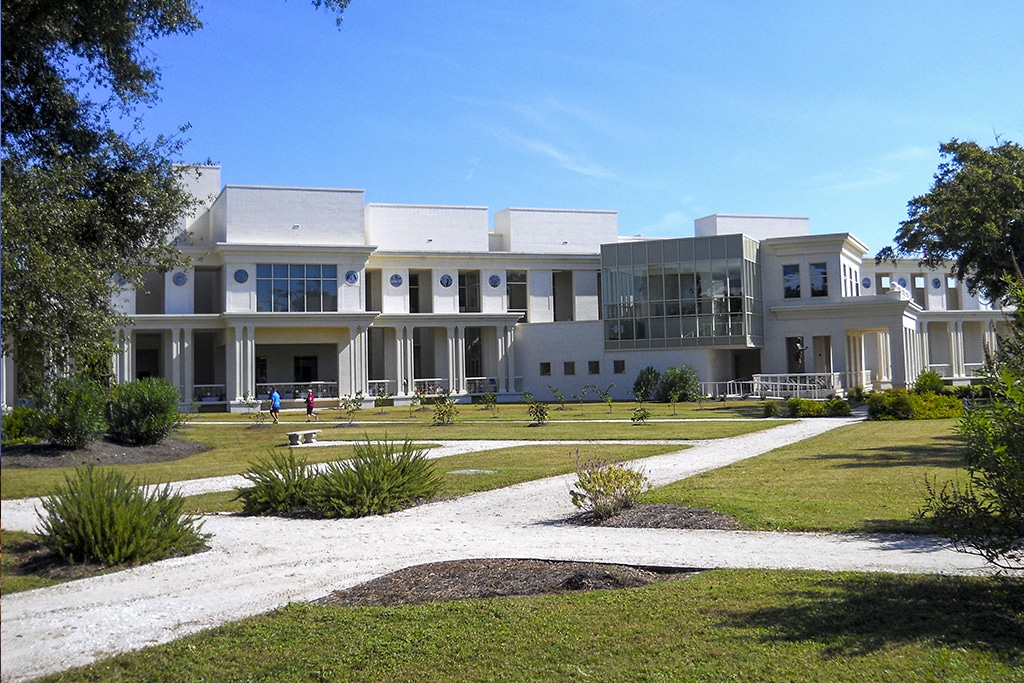 The Jefferson Davis Presidential Library and his restored home, Beauvoir Mansion, sit on 51 acres with stunning views of the Mississippi Sound. The ceramics of George E. Ohr, self-proclaimed "Mad Potter of Biloxi," and other innovative ceramic artists are displayed at the Frank Gehry-designed Ohr-O'Keefe Museum of Art. The small but colorfully engaging Coastal Mississippi Mardi Gras Museum is housed in a historic antebellum building.
Beyond legendary is the cuisine and atmosphere of Mary Mahoney's Old French House with its elegant courtyard shaded by a centuries-old live oak. Amble over to the Half Shell to fill up on plump juicy oysters, seafood pot pie, or crawfish corn bisque.
For dockage, Biloxi Small Craft Harbor or the newly renovated Point Cadet Marina (vessels to 100 feet in length) are centrally located.
Duck inside Mississippi's four barrier islands for the most relaxing segment of the cruise to Gulf Shores. The largest, Horn Island, was a creative source and favorite subject of famed Gulf artist Walter Anderson and is worth an overnight on the hook to reflect on your journey. The abundance of nature in the wildlife preserves, the frenzy of New Orleans, the fever of the casinos, and the tranquility of the national seashore are all part of the mystique of the Gulf Coast.
By Ellen Honey, Southern Boating June 2021