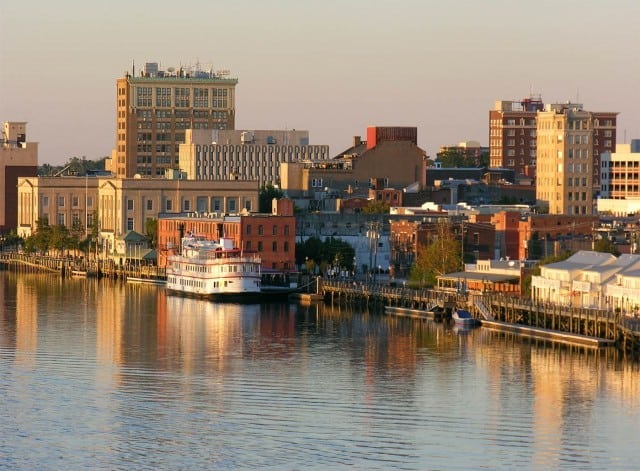 Wilmington, North Carolina is a 'not so sleepy hollow'.
Meander 12 miles up the Cape Fear River from North Carolina's ICW and a massive gray battleship from World War II looms off port, the USS North Carolina. A sternwheeler riverboat appears to starboard, the Henrietta II. Welcome to the historic port city of Wilmington, North Carolina, a major shipbuilding center during World War II that still supports a number of boatbuilders.
Historic Sites and Sights
These maritime icons reside in a city full of historic homes, cobblestone streets, art galleries and shops, fine seafood, and beckoning beaches. Even if it's your first time visiting, you may find the scenery familiar from its many silver screen and television show appearances, an important part of Wilmington's more recent history.
This area's early history is commonly known for the first Europeans who traveled Cape Fear's waters, Spanish settlers who lived at the mouth of the Cape Fear River in the late 1400s. Their colony—like the one at Roanoke, Virginia—strangely disappeared and was replaced by English colonists. In the 1700s, pirate ships of Blackbeard and Bonnet hid behind island grasses. Their topsails were only seen when they went to sea, the reason behind its current name of Topsail Inlet.
Bonnet met his end when the armed sloops of Colonel William Rhett forced him aground at the mouth of the river. Confederate blockade-runners once filled the river attempting to deliver supplies past enemy ships. In 1865, Forts Fisher and Anderson fell to a Union armada at the river's mouth, the Confederacy's last holdout and the most intensive naval bombardment at the time. Hundreds of shipwrecks—many Confederate blockade-runners, including the famous General Beauregard—rest off of Cape Fear. Its remains can still be seen from the Carolina Beach Gazebo overlook at low tide. The North Carolina Maritime Museum in Southport houses relics from Blackbeard's Queen Anne's Revenge and more.
Today Wilmingtonians proudly share their big "boat," Battleship North Carolina with visitors. It was the first ship to aid the USS Arizona at Pearl Harbor and was brought to the city years later when schoolchildren raised necessary funds. Self-guided tours of all nine decks are offered every day of the year. River tours are available on the river taxi Captain J.N. Maffitt, a WWII Navy launch, during the summer months, as well as the riverboat Henrietta III (cfrboats.com). On land, several guided tours of Wilmington are offered on trolleys, horse and carriage, Segways, and on foot.
One of North Carolina's largest historic districts with its antebellum architecture comes to life with lifelong resident Bob Jenkins on his Adventure Walking Tour (910-763-1785). The man with the straw hat and walking cane whisks you through two and a half centuries of Wilmington's history in a few hours. Ghost tours, movie locale tours, and haunted pub-crawls are all available. The Visitors Bureau also offers a self-guided Hollywood Location Walk.