If you love oysters and a good time, The Lowcountry Oyster Festival at Boone Hall Plantation near Charleston, South Carolina is the place to be on January 31st from 10AM until 5PM. Oyster shucking and oyster eating contests, live music, wine, domestic and imported beers, a children's area, and a food court showcasing favorite local restaurants await. It claims to be the world's largest oyster festival. boonehallplantation.com/annual_oyster_roast.php 
Bluewater Yacht Sales moves to new location
Bluewater Yacht Sales of Wrightsville Beach, North Carolina, moved from a Marina Pierhouse office space to a new multi-story structure with a perfect view of ICW boat traffic and close proximity to Wrightsville Marina, Bluewater Grill restaurant and Highway 74's eastbound traffic across the drawbridge. It is located at ICW MM 283.2.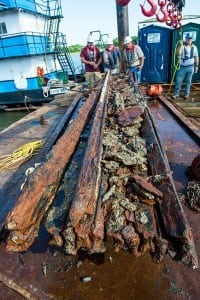 Raising the CSS Georgia
The Confederate ironclad CSS Georgia that was scuttled by its crew to prevent capture in 1864 has been raised from the depth of the Savannah River one five-ton chunk at a time. The U.S. Navy and U.S. Army Corps of Engineers recovered cannons, 132 unexploded shells and 250,000 pounds of casemates (iron sidings) from the vessel. Recovery will help understand how ironclads were built in the South. "A lot of these ironclads are built by house carpenters—they're not built by shipwrights," said Jeff Seymour, historian and curator for the National Civil War Naval Museum in Columbus, Georgia. The ship sank without ever firing a single shot in combat.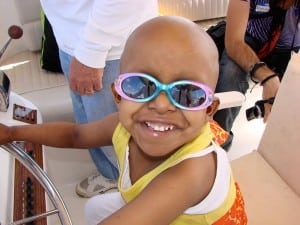 "Weller Days"
Freedom Waters Foundation co-founder and Fort Lauderdale, Florida-based yacht broker John Weller recently took a group of children with life-threatening illnesses and their families on boat rides off Palm Beach, Florida. Manatee-watching, dancing and taking the helm of the renovated antique motor yacht Mariner III was a welcome relief from doctors, nurses and medications. Weller, a six-time cancer survivor, co-founded the charity 10 years ago to provide boating opportunities for children with disabilities and life-threatening illnesses, at-risk youth, veterans, and those with special needs. "Weller Days" was started in 2004 and has been a tradition ever since. "This is a getaway from reality," says Weller. "And to be on a boat like this is something very, very special."
North Carolina bridges in progress
Two new bridges are in the works in North Carolina. A high level fixed bridge to be completed in May 2017 is being constructed between Radio Island and Michael J. Field in Carteret County with waterway closures planned. It will have a vertical clearance of 65 feet above mean high water (MHW) with a horizontal clearance of 100 feet. Tugboats and barges are being used for in-water work. Construction vessels monitor VHF channel 13 for mariner communication. The Wilmington Bypass Bridge in Brunswick and New Hanover Counties is set for a vertical clearance of 64 feet above MHW and horizontal clearance of 160 feet upon completion in December. The channel remains open to navigation with work barges and structures along the shore.
By Nancy E. Spraker, Southern Boating Magazine January 2016