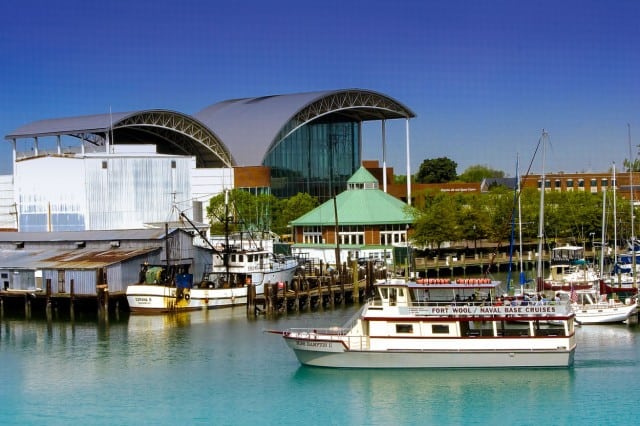 Hampton, Virginia
Explore the Hampton Virginia port whose rich history includes both the famous and the infamous.
Hampton Roads Harbor is where the James River and Chesapeake waters mingle, and the ICW gets underway on the mid-Atlantic coast. At harbor's entrance, the massive stone Fort Monroe lies to starboard with its "mini-me" Fort Wool to port. Daymarkers guide mariners past enormous ships of the Norfolk Naval Station to port. After a short jog to the north to flashing red "2", the dogleg channel of the Hampton River leads to the very boat-friendly port of Hampton, Virginia which offers much in the way of history, boating facilities, and attractions. Over 400 years old, it is the oldest, continuous English-speaking settlement in the United States.
Forts Monroe and Wool protected Hampton Roads for many years. The famous 1862 Ironclad Monitor and Merrimac naval battle took place just offshore of Fort Monroe's Old Point Comfort. Pocahontas was baptized at St. Joseph's Church. Lincoln instated his Emancipation Proclamation at Hampton University, America's first African American University, which has a fabulous museum.
Pirate Passing
Blackbeard Point is best known for the infamous pirate whose head was placed on a spike for all to see. As morose as that sounds, Hampton celebrates this event the end of May during the Blackbeard Pirate Festival as 50,000 marauders invade the streets. Restauranteur Carlyle Bland fills the streets with more contemporary events throughout the summer including rolling with the bulls and Tomatito with whiffle bat-wielding roller derby queens, Human Foosball, 1000-foot water slides, drag races with drag queens, and some 20 block parties. The 6th Annual Freaky Kon-Tiki River Raft Race takes place July 25th, and the longest-running powerboat race, the Hampton Cup Regatta, roars into town on Mill Creek August 8-9 with free admission for spectators, while the 33rd Annual Hampton Bay Days festival is September 11-13, a celebration of Chesapeake Bay through entertainment and art.