This Key's for You
Trailer your boat down to Key Largo to experience the island life.
By Steve Davis, Southern Boating March 2020
Key Largo is the first key that land yachts go through on their way into the Florida Keys. Key West is last and in between lie approximately 1,700 islands in the archipelago, including the Dry Tortugas. The Florida Keys is divided into five regions: Key Largo, Islamorada, Marathon, Big Pine and the Lower Keys, and Key West.
Because Key Largo is just over an hour's drive from Miami, it's an easy escape from the hustle and bustle of life, which isn't hard to do when the key has one of the largest tracts of West Indian tropical hardwood hammocks in the United States, the first undersea park in the United States, and is part of the Florida Keys National Marine Sanctuary. By land or by sea, Key Largo is a place full of natural life to explore. Sure, there are the usual civilized stores to provision and get eclectic gifts, as well as resorts, restaurants, and bars, but it's nature's abundant diversity that is the real draw.

The Wild Side
Dagny Johnson Key Largo Hammock Botanical State Park is a tropical paradise full of native plants, birds, wildlife, and the delicate balance of the park's ecosystem. There are 84 protected species of plants and animals in the park and the two-mile loop Port Bougainville Trail guides bicyclists, hikers, and birders to see it all. A self-guided nature trail winds through the tropical hardwood hammock, including a native plant butterfly garden, and a half-mile paved walk has guided tours to get a feel for the park's diversity.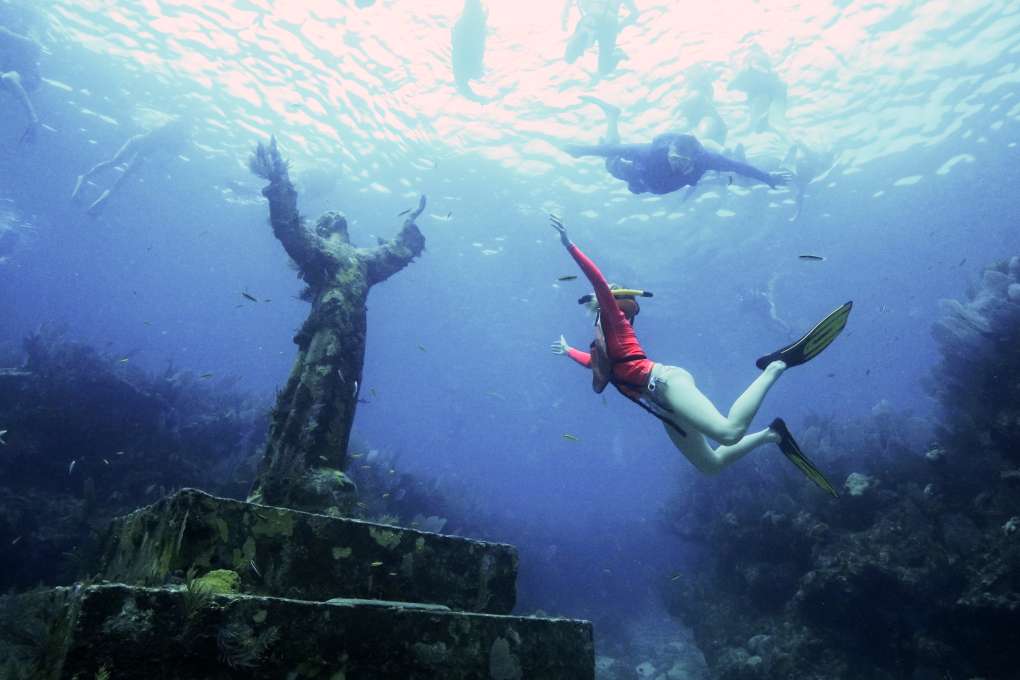 John Pennekamp Coral Reef State Park has what most people expect from a state park—tent and RV camping, showers, picnic areas with barbecues, playgrounds, and the like, but it also features an underwater and aquatic playground. Coral formations and colorful marine life welcome snorkelers and divers, while 50 miles of mangrove trails take kayakers, canoers, and paddleboarders on a wilderness adventure. Bring your boat down to launch at the park or rent one of the park's 21-foot Release center consoles. Slips (with water, electric, and facilities) and moorings are available for overnight stays.
What's nice for many Floridians and visitors is there are plenty of places to launch trailerable boats, which makes for an enjoyable weekend or weeklong stay. Hurricane Irma wasn't kind to the Keys, but many resorts, large and small, are reopening after extensive remodeling and rebuilding.
Dolphin Point Villas
Dolphin Point Villas is a small, family-owned resort that showcases Florida Keys living. The property features six freestanding Caribbean-style homes consisting of six villas and four suites to accommodate a family vacation, a guys' fishing trip (or bachelor weekend), a company retreat, a wedding, or a honeymoon.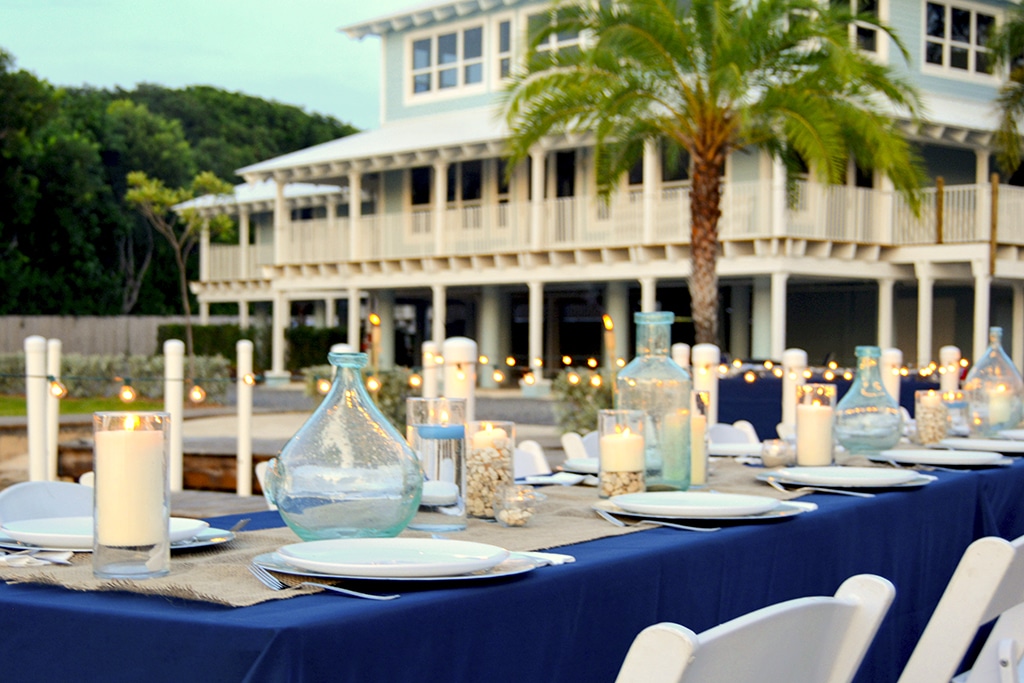 Dolphin Point, a sandy jetty outlined by coral boulders and surrounded by water, is a perfect spot for wedding vows (or a sunrise or sunset) and can hold up to 125 guests. The beautiful waterfront lawn is big enough for a large reception, and the facing 4,235-square-foot Nautilus House features five bedrooms, each with a full bath, to sleep up to 16 guests. There's a private pool, and the open-air pavilion on the ground level is a great place for wedding gatherings.
Located a mile from Pennekamp State Park, the resort also sports a private beach, a figure eight pool, complimentary paddleboards and kayaks, and a protected marina with a free boat launch and dockage for vessels up to 24 feet.
Another cool aspect to the resort is Dolphins Plus Bayside, a marine mammal facility where you can swim with Atlantic bottlenose dolphins in an enclosed lagoon. What's perfect is it's right next door (and where you check in for the resort). There are a variety of programs for all ages, swimming abilities, and interaction levels, from a simple dolphin kiss to a dorsal fin ride. With so many restaurants nearby, Dolphin Point Villas is a quiet, private, clean, and comfortable place convenient to everything required when on vacation.
Baker's Cay Resort
Hurricane Irma ravaged the Keys just as the windup to the winter season was starting in 2017. Now, resorts have come back to life, and Baker's Cay Resort reopened last year after an 18-month closure, so, basically everything is new. Just as visiting the Florida Keys puts you into another world, Baker's Cay takes it a step further and blends luxury with island life. As part of the Curio Collection by Hilton, the resort's rooms and suites inspire a sense of relaxation with a modern décor and private balconies tucked in the natural flora along bayside waters.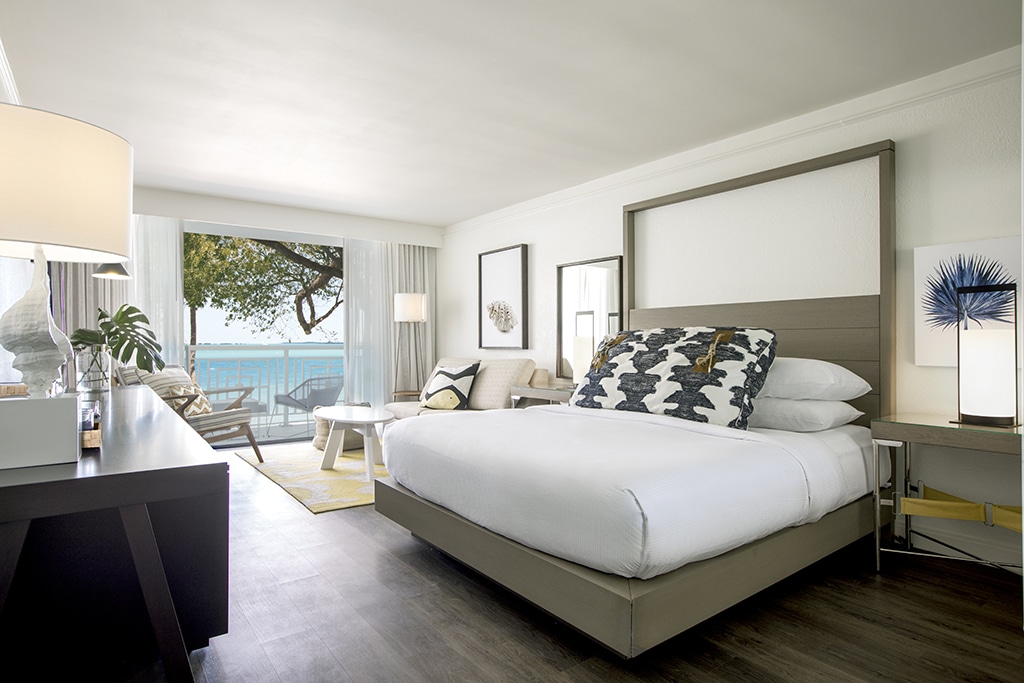 Local seafood, produce, and on-site herb and fruit gardens are part of the culinary experience. The new Dock to Dish program lets guests who fish with Sea Monkey Charters bring their catch back to the resort to enjoy a specially prepared meal. Beach dining with live music and fire pits is found at Dry Rocks, with a tequila and mezcal tasting menu, and the pool bar and tiki bar help soften your day with endless water views.
For those with boats up to 45 feet, launch at Sunset Point Park and dock at the resort's slips with fresh water and power available. Slips are $60 per night and depending on tide, the draft is four to six feet. Fuel is available at nearby Mangrove Marina or Tavernier Creek Marina.
Coconut Palm Inn
One thing about the Florida Keys is access to water. It's everywhere, and there's plenty of ways to enjoy it, especially by boat. If you live in South Florida, it doesn't take long to trailer one to Key Largo, and the Coconut Palm Inn offers marina packages for those that do.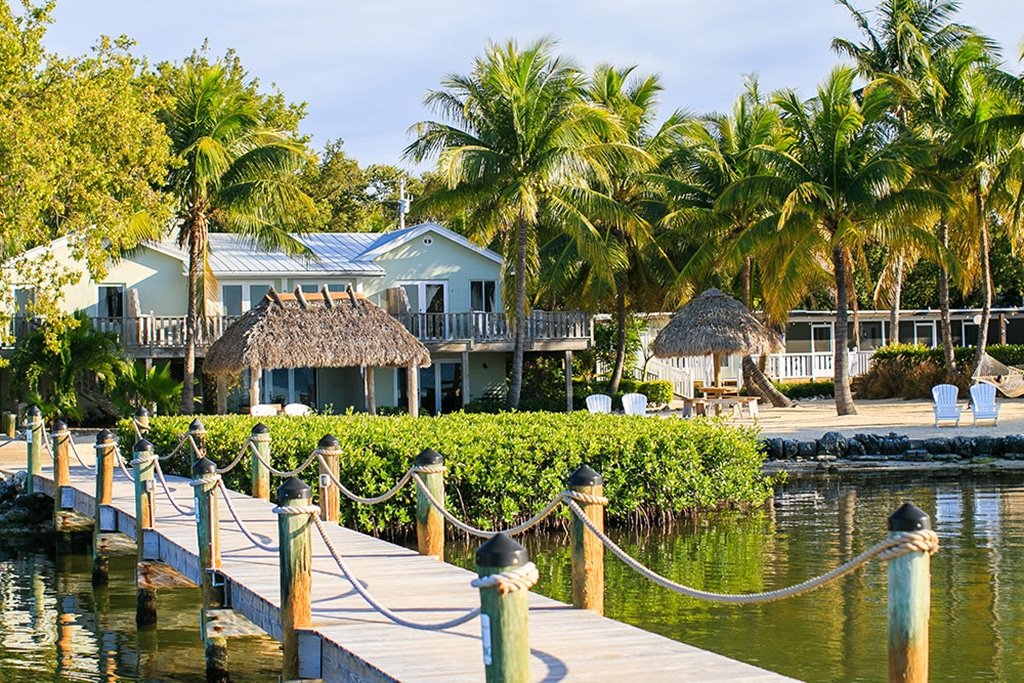 The inn overlooks Florida Bay with a private beachfront, cozy rooms and suites, lots of amenities, and a fully equipped marina, which means you can arrive by boat if you're hopping the islands. If you're boating on the ocean side, cut up through Tavernier Creek or Snake Creek to reach the inn. You can also trailer the boat down and launch at its ramp and take advantage of the on-site trailer parking.
Coconut Palm Inn is situated within a natural inlet with drafts around four or five feet at low tide. Two piers accommodate boats up to 25 feet long and most slips have 110V electric and freshwater hookups. Dockage is only for the inn's guests, and there is a $30 per day fee. Nearby Mangrove Marina offers a loading dock, repairs, and fuel.
But that's not all Coconut Palm Inn has for its guests. Besides the Old Florida charm and swaying palm trees, an outdoor heated pool, kayaks, paddleboards, and bicycles, the smoke-free resort has free Wi-Fi, charcoal barbecue grills, on-site laundry, and most rooms are bayside with a screened porch or balcony. The location is also perfect for weddings and events.
Activities
John Pennekamp State Park
(305) 451-6300
pennekamppark.com
Dagny Johnson Key Largo Hammock Botanical State Park
(305) 676-3777
floridastateparks.org
Dolphins Plus
(866) 860-7946
dolphinsplus.com
Lodging (call ahead for dock reservations)
Dolphin Point Villas
(305) 451-0315
dolphinpointvillas.com
Baker's Cay Resort
(305) 852-5553
bakerscay.com
Coconut Palm Inn
(305) 852-3017
coconutpalminn.com