You never know whom you might run into in downtown Brunswick, Georgia. This past fall, a downtown street became Prohibition-era Ybor City, Florida, for the film Live by Night, which is to be released in 2017. The organized crime-theme story is based on the novel by Dennis Lehane and directed by Ben Affleck who also wrote and stars in the film. During production, vintage cars drove through town, Spanish signage appeared on buildings and extras strolled the streets in 1920s attire. Brunswick Landings Marina is just steps away.
Stone crab season continues.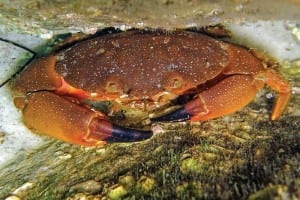 Stone crab harvesting is on in Florida through May 15th. The law permits taking one claw per crab measuring at least 2.75 inches in length from the elbow to immovable tip. No claws are permitted from egg-bearing stone crabs. Noncommercial harvesters may take up to five stone crab traps per person, and devices used must leave the crab's body intact and uninjured. Collier, Monroe and Miami-Dade counties do not allow round entrances on traps in state or federal waters off their counties. A bag limit of one gallon of claws per person or two gallons per vessel, whichever is less, is allowed for recreational harvesters. For more stone crab harvesting information visit: myfwc.com/fishing/saltwater/regulations/stone-crabs.
Ground transportation for boaters
Mariners visiting St. Marys, Georgia, can run errands and visit the historic town with free ground transportation provided by the wonderful volunteers of the St. Mary's Yacht Club. They may grant permission to board their 46-foot houseboat The Clubhouse as well, a unique and fun experience. Phone numbers of volunteer drivers are listed in a flyer within the documents and flyers section of stmaryswelcome.com.
Dredging in Breach Inlet
There's no need to bypass Isle of Palm (IOP) Marina or Charleston City Marina in South Carolina now that the Breach Inlet is dredged. The ICW at the inlet between Sullivan's Island and IOP was dangerously shallow—almost dry at low tide—due to shoaling, and the low water led to several boating injuries. Charleston County and the federal government fund the project that also includes dredging Jeremy Creek in McClellanville. Dredging of the creek started in January.
Grounded boat creates oil spill.
In November 2015, a 60-foot relief boat loaded with supplies headed to Haiti grounded and sank in the St. Lucie River in Florida. No injury to passengers or crew was reported, but it did, however, create a large oil spill and debris field of barrels, boxes of food and produce in the St. Lucie River and the ICW. Locals suspect that the boat's shaft strut punched a hole in the hull during its grounding. Martin County paid for its $1,800 salvage cost.
By Nancy E. Spraker – Southern Boating Magazine, Ferbruary 2016