Island Time in the Pacific Northwest
The incredible scenery of the San Juan and Gulf islands in the Pacific Northwest creates a whole new boating adventure.
South Florida and the Caribbean offer warm waters, tropical breezes, and an occasional tiki bar to create a great boating experience, but the deeper, colder waters surrounding the pristine islands of the Pacific Northwest provide a different type of spectacular excursion. If you are looking for a new adventure, or simply ready to get out of the heat for a while a magical world of boating awaits you in the San Juan and Gulf Islands.
Isn't it always raining there?
Contrary to popular belief, it doesn't always rain in the Pacific Northwest. Seattle (37.5 inches) has less annual rainfall than Fort Lauderdale (64.2 inches) and the islands even less as they are in the shadow of the Olympic Mountains. You may still encounter rain, but it's not as gloomy as you might think. June to September are the best months to cruise the islands because the weather is sunnier and milder; however, you can boat year-round. Temperatures in the San Juan Islands during September average in the 70s during the day and dip below 60 degrees at night.

If you are used to warmer weather, bring long pants and a jacket for the evenings, but don't forget your swimsuit. Even though there are spots like Desolation Sound that is fed by warm springs, the water is cold—most adults I know relegate their swimming to pools and hot tubs. Dogs and kids don't seem to mind it, and I even take a plunge on a hot day, but it's fine for kayaking, standup paddleboarding, kitesurfing, and other aquatic activities.
What's the wildlife like?
This area is a cruising paradise with hundreds of islands in Puget Sound, the San Juan Islands off Washington State, and the Gulf Islands off Canada's Vancouver Island. The Strait of Juan de Fuca divides Washington from Vancouver Island and connects to the Pacific Ocean 80 miles west. The islands are protected in a large inland arm of the ocean that covers more than 6,500 square miles called the Salish Sea. Millions of gallons of water move during each tide refreshing the sea every day that reaches astounding depths of more than 2,000 feet and provide a home for myriad sea life.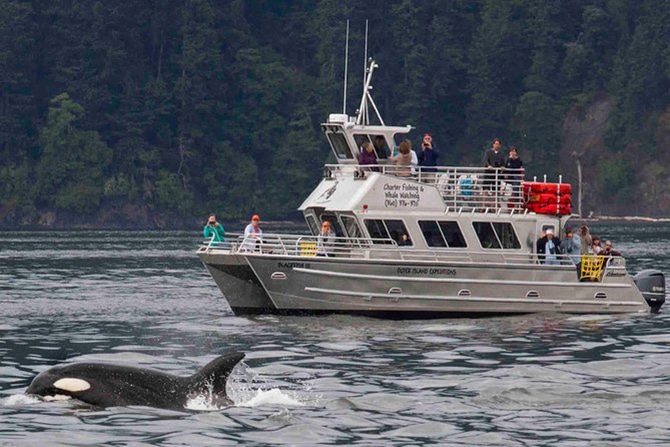 Pods of endangered orca whales, sea lions, seals, porpoise, and other marine mammals frolic here. Rare sea birds, such as tufted puffins, bob on the surface. North Pacific Giant Octopus, the largest in the world, hide deep below the surface along the rocky crags and mingle among the crabs. Salmon of all types, including the mighty Chinook, aka king salmon, feed along the islands and spawn in connecting rivers. These magnificent fish historically weigh more than 100 pounds each, but most king salmon today are less than 40 pounds and provide food for resident orca whales, indigenous people, and recreational anglers.
Places to stay?
The islands are well-charted and easy to navigate with modern electronic chartplotters. There are numerous gunkholing spots and pristine anchorages, but we typically travel with our dog and prefer the amenities and convenience of the dock. The islands have hundreds of marinas and resorts from which to choose. Here is a highlight of a few key locations and activities from a recent trip aboard our Cutwater 26.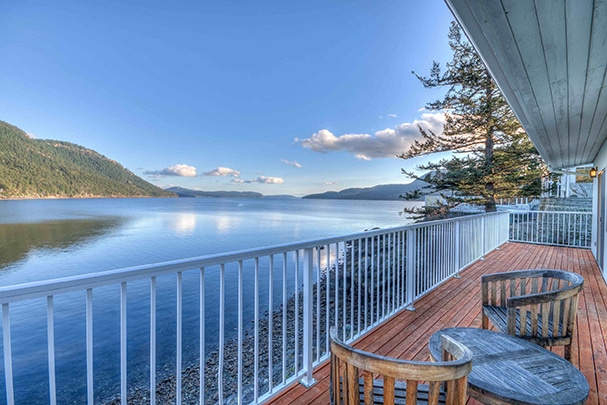 Rosario Resort & Spa
A visit to Orcas Island is not complete without a trip to Rosario Resort & Spa and its marina and historic mansion. The marina offers more than 30 slips, a fuel dock (April through October), power, and water. It has an outdoor swimming pool and restaurant, and daily spa passes are available to marina guests for a small fee. Robert Moran, then-Seattle mayor and a shipbuilder, constructed Moran Mansion between 1906-1909. Abundant wood gives it the look and feel of a ship. The mansion comprises a hotel, restaurant, spa with indoor swimming pool, and a small museum featuring original photography, ship models, and artifacts from the late 1800s and early 1900s. The highlight is the music room with its 1913 Aeolian organ featuring 1,972 pipes. Plan your dates around the presentation of music, photographs, and silent films to see and hear the organ play. rosarioresort.com
Friday Harbor
Friday Harbor is the biggest town on San Juan Island with numerous restaurants, shops and boutiques, art galleries, and museums within walking distance of the port. Washington State ferries arrive here as do Kenmore Air seaplanes. A small airport is adjacent to town which makes this town an ideal location for transferring guests. The marina has slips that accommodate boats 20 feet and longer, and the fuel dock offers some of the lowest fuel prices on the island.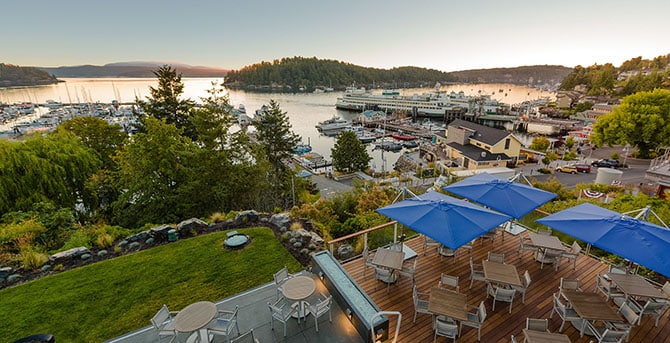 In town, Rocky Bay Café is great for breakfast. Expect lines for seating, but the friendly staff and fluffy omelets with biscuits and gravy make it worth the wait. Friday's Crabhouse, a casual outdoor venue, has nice views of the ferry dock and serves excellent seafood—flame-grilled local oysters are a favorite. Cask & Schooner has regional microbrews on tap, but its farm-to-table fare keeps customers coming back for more. Herb's Tavern is a popular watering hole, eatery, and sports bar known for its hip ambience. Don't miss Friday Harbor Seafood, a store on a floating dock in the marina where you can buy fresh, local seafood, such as crabs, oysters, and spot prawns. portfridayharbor.org
Roche Harbor
Roche Harbor, the most popular destination on San Juan Island, is an essential stop. This former company town-turned-resort area includes the historic Hotel De Haro, in continuous operation since 1886, cabins, condos, and other shoreside accommodations. Its marina has dock space for boats up to 150 feet in length, and amenities include fuel, power, water hookups, and a market for provisions. The seaside resort offers three waterfront restaurants, a spa, pool, bocce courts, boutiques, and artisan stands.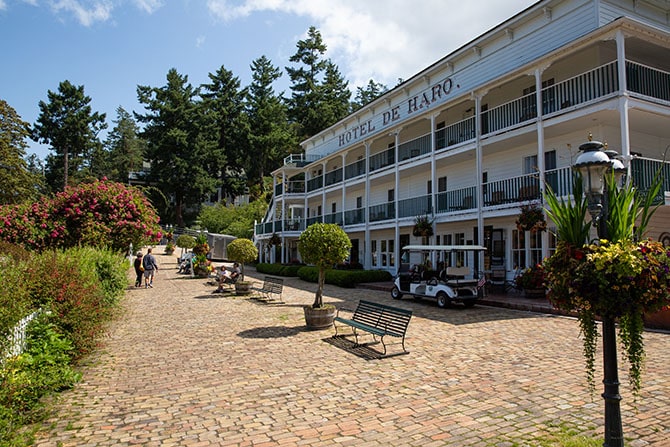 Roche Harbor hosts numerous boatbuilder rendezvous and has several venues available for waterfront events. Easy hiking trails take you through the lime quarries up the hill where you can view some of Canada's beautiful sights.  The resort is close to the "whale zone" where local orcas often gather and feed. It is an ideal place to head out to see these endangered creatures either on your own boat or on a whale-watching tour. rocheharbor.com
Poet's Cove Resort & Spa, Bedwell Harbour, Pender Island

A short trip from Roche Harbor takes you into the Gulf Islands where you can clear Canadian Customs in Bedwell Harbour. Customs officers are often on hand but, typically, the skipper calls for clearance on telephones provided at the station. Passports or enhanced driver's licenses are required or if everyone on board has a NEXUS card, you can clear by cell phone. (When returning to the U.S., I highly recommend using the CBP app.)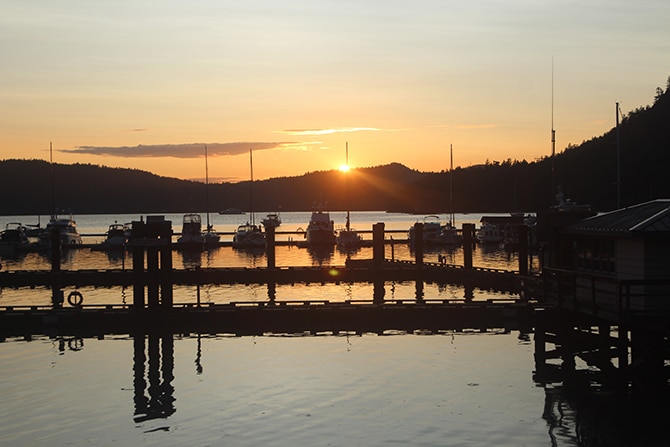 Once cleared into Canada, the adjacent Poet's Cove Resort & Spa is a great place to stay. Its marina has 110 slips for boats up to 100 feet in length, a fuel dock, power, water, ice, and laundry facilities. The resort features three restaurants, two swimming pools with hot tubs, and a convenience store with espresso stand. Its on-site oasis, Susurrus Spa, offers a variety of treatments, including facials, pedicures, and different types of massage. Spa guests can take advantage of a private hot tub and a cleansing steam cave that is carved out of rock and has a skylight, a bubbling fountain, and ledges for relaxing while steaming. The spa and steam cave are a fantastic way to unwind after a day of cruising. poetscove.com
Butchart Gardens
A Canadian National Historic Site, Butchart Gardens in Brentwood Bay is a series of spectacular gardens that have been thrilling visitors for 100 years. Once an abandoned rock quarry, the land was designed and cultivated by Jennie Butchart in the early 1900s, and today, guests spend hours marveling at this cornucopia of splendor. Visit in the fall to see the colors of the leaves change to red, orange, and gold.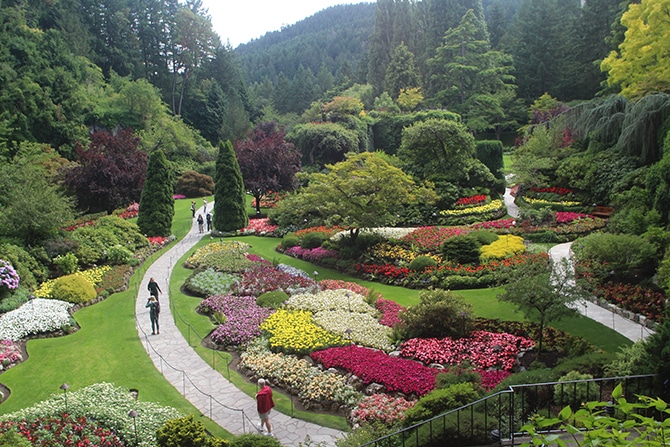 A private dock provides boaters direct access to the gardens. Mooring buoys are available in the cove, but we chose to dinghy over from the nearby Brentwood Bay Marina using the iNavX app on a cell phone to find the gardens' entrance. Tod Inlet is a nearby anchorage with good holding ground and a dinghy dock to a provincial park. butchartgardens.com
Montague Harbour Marina, Galiano Island

Next, we joined the Cutwater Cruise, a moving rendezvous for Cutwater owners like us sponsored by Bellingham Yacht Sales. More than 30 Cutwaters cruise together for a week through the islands. A favorite stop is Montague Harbour Marina on Galiano Island where we take over most of the docks, including multiple boats Med-moored on the face dock. After getting the boats settled, everyone goes ashore to board a converted school bus, aka "Pub Bus," for transport to the Hummingbird Pub. Maracas, tambourines, egg shakers, and other instruments are handed out as you board, and everyone sings along as the music plays. Cymbals are mounted near the driver so he can play while he drives. At the back, seats convert to benches and people try to hula hoop in the middle as the bus lurches along the hills. The Hummingbird Pub has delicious food—try the Cajun Halibut sandwich and a beer or two before returning on the bus to the marina. montagueharbour.com; hummingbirdpub.com
Telegraph Harbour Marina, Thetis Island

Telegraph Harbour Marina on Thetis Island, a popular cruising area conveniently located between Seattle and Vancouver, is open May through September with access to shore power, bathrooms, showers, and fuel. (During the off-season, only moorage and shore power are available.) The rocky tree-lined hillside has a picnic shelter and activities like table tennis, bocce, and shuffleboard. Enjoy some fun in the water and dinghy, kayak, or paddleboard through Penelakut Cut, a shallow passage between Thetis and Penelakut islands into Telegraph Harbour. Be sure to try a cup of island-roasted Pot of Gold coffee at the marina store which also sells homemade pizzas and fantastic whole-wheat baguettes. Pre-order some and pick them up hot for a special treat. telegraphharbour.com
Ganges Harbour, Salt Spring Island

A quaint little city, Ganges Harbour on Salt Spring Island is a well-known boating destination with restaurants, shops, and art galleries within walking distance of Ganges Marina. The marina accommodates boats up to 400 feet long and offers access to shore power and fuel. Potable water is provided, but boat washing is prohibited during high season due to water restrictions. On shore, Moby's Pub is a great place to meet some locals and enjoy a meal and drinks—try its famous duck wings. Moby's, as well as other local hot spots, such as the Oystercatcher and the Tree House Café, have live music on some nights and spectacular views of the harbor. Don't miss one of the city's biggest events, the annual Fall Fair, September 14-15. This year's theme is Crops and Crafts of Every Color. gangesmarina.com
Cruising the San Juan's and the Canadian Gulf Islands is a wonderful way to relax and enjoy one of the world's finest boating areas. There is something for everyone from the solitude of a star-filled anchorage to the excitement and fun of exploring a new island, including local seafood and nightlife. The dramatic scenery of the land and the sea make this trip exceptional. Majestic eagles fly overhead as graceful dolphins and whales pierce the water's surface. If you are looking for a new boating adventure, the Pacific Northwest awaits.
By Arnie Hammerman, Southern Boating September 2019