Cruise to Culture and Charisma
Stretching more than four miles along the southeast coast of Hispaniola, and nestled among Cuba, The Bahamas, Turks and Caicos, and Puerto Rico, Casa de Campo—a 7,000-acre luxury resort in the Dominican Republic—presents a veritable paradise for cruisers. An esteemed member of the Leading Hotels in the World group, Casa de Campo models itself as "a house in the country"—only quite a bit larger—and renowned Italian architect, designer and sailor Gianfranco Fini's innovative styling can be seen throughout the grounds. Countless amenities and activities for cruisers include 63 holes of golf— the ever-popular "Teeth of the Dog" golf course is consistently ranked by the pros as one of the world's best—and with average year-round temperatures ranging from 84-88 degrees, playing 18 on any of the four picturesque golf courses is a real treat. If golf isn't your game of choice, however, options include an 18-court tennis club, horseback riding, shooting range, and fitness center with Turkish bath and sauna. But the true pièce de résistance for cruisers and fisherman is the impressive Casa de Campo Marina. It's situated perfectly for easy access to the beautiful surrounding waters from which blue marlin is the predominant catch, as evidenced by a staggering 400-plus blue marlin release count among 18 fishing boats over 61 days last year. Seasoned mariners with the right means will find the voyage to be a feasible venture, especially when armed with the latest copy of A Cruising Guide to the Dominican Republic—Fifth Edition by Frank Virgintino (a free PDF download is available at freecruisingguides.com), and certainly well worth the trek at the other end.
Casa de Campo Marina (casadecampo.com.do) and the Casa de Campo Yacht Club (CCYC) opened their doors in November 2001 and changed Casa de Campo's culture by attracting a whole new clientele. Architect Gianfranco Fini and business partner Piero Giacosa—now the president of Casa de Campo Marina —approached Casa de Campo's owners with their vision to develop a marina in a once abandoned area of the grounds, driven by the duo's passion for the area. "I sail [to] other islands and admire their beauty, but there is always something missing in them. That something is the human warmth that [Casa de Campo] offers in such abundance," recalls Fini.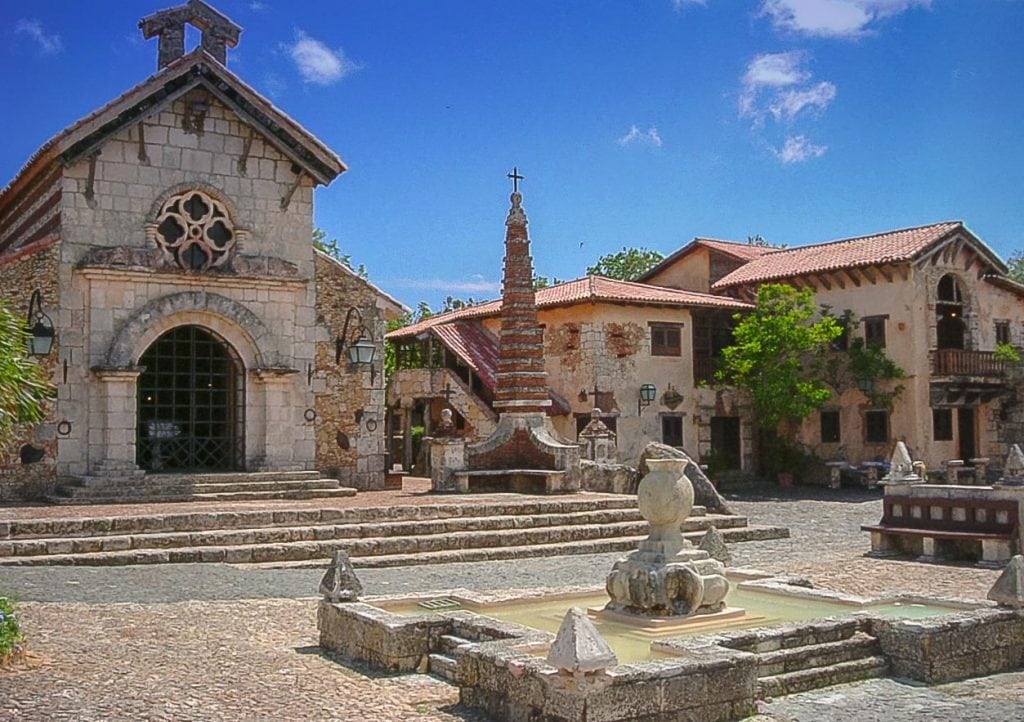 Today, the marina's 22-plus-acres offer 370 slips for yachts up to 250 feet, a stately, two-story colonial-style yacht club with pillared terraces designed to conjure up an atmosphere of days gone by, a 10,000-square-foot boatyard with a 120-ton Travelift, more than 60 shops, a residential community, plus the necessary government authorities to accommodate international check-ins.
Casa de Campo Marina's Director-General José Gonzalvo works hard to make the CCYC attractive to all visitors whether they're yacht owners, captains or crew. Guest safety is taken seriously as well. Security is tight from the outside, a welcome feature for cruisers bringing their expensive toys to the locale—and Casa de Campo Marina Marketing Manager, Vilma Nuñez asserts that the marina is one of the few in the world where you can "leave your boat open and not have to worry about anybody [who doesn't have access] getting into your boat."
Casa de Campo Marina was specifically designed with the mariner in mind according to Fini. "I have always designed my architectural creations and houses [by] relating to my clients, trying to understand their tastes, their backgrounds," notes Fini. "When you are designing a marina, you have to be able to construct a mental picture of the ideal situation that a [yachtsman] would like to experience, basing your work on his tastes and preferences." The result? A paradisiacal Mediterranean marina similar to a quaint European fishing village, but on a much larger scale. In the heart of Casa de Campo Marina, the village's Piazza Portofino is an interesting Mediterranean and Caribbean blend. The village itself brings a distinct European flavor, forming a horseshoe complete with restaurants, cafés and bars, and longer-term residences overlooking the plaza.
Outside the marina, you can explore the rest of Casa de Campo via resort-supplied golf cart. Popular Altos de Chavón, a 16th-century village replica, offers a dramatic view of the Chavón River and part of the Dye Fore golf course (designed by famous golf course architect, Pete Dye). Cobblestone lanes, beautiful fountains, shade trees, and colorful flowers set the tone throughout the village as you pass by art galleries, museums, the Pope John Paul II-consecrated Church of St. Stanislaus, School of Design Altos de Chavón, and the open-air, 5,000-seat, Frank Sinatra-inaugurated amphitheater.
After exploring Altos de Chavón, go to Minitas Beach—a private white sand beach—to windsurf, snorkel, kayak, paddleboard, or just bask in the Caribbean sun. Catch your breath at Beach Club by Le Cirque for lunch or dinner with a relaxing view of the Caribbean Sea. Or, maybe you want to go horseback riding in fields with fantastic mountain views where bulls and buffalo roam freely. Later, enjoy a nice meal at one of the fine restaurants on location, such as Chinois Restaurant, a Pan-Asian bistro in Piazza Portofino. (Try the lemonade!) Of course, there are a number of great dining options throughout Casa de Campo, whether at the marina, near the hotel lobby, in Altos de Chavón, or at La Casita on Paseo del Mar, which features superb Spanish fare.
Make sure you save an evening and return to Altos de Chavón for dancing and live music. Perhaps a local will even teach you how to merengue. As a farewell to the Dominican Republic, I did just that, where I met Javier—who I wanted to adopt as my grandfather immediately. Dressed in black suspenders, a red bow tie, red spats, and red-rimmed fedora, Javier seemed closer to 45 years old than 85. Not one to leave anyone out, he happily—and patiently—danced with two novice ladies at a time, encouraging and praising them with skilled direction and a permanent but genuine smile on his face, eliminating any trepidation merengue beginners might have. (Don't worry, gentlemen—pretty young women will do the same thing for you, too!)
Between Casa de Campo's 370-slip marina, stunning architecture, award-winning golf courses, charming Altos de Chavón village, and other endless ways to have your own tropical adventure, you too can live out Mark Twain's vision to "explore, dream and discover," as I did, at one of the Caribbean's foremost luxury resorts.
By Laura Dunn, Southern Boating July 2013