Gone are the booze cruise days of the 1980s. They've been replaced by charters where the crew puts an emphasis on the well-being rather than that hungover feeling of their guests. Take, for example, several yachts in Camper & Nicholson's Caribbean fleet: 214-ft Feadship Callisto, 155-foot Sunseeker Princess AVK and 190-ft Benetti Illusion V. Each has personal trainers as part of the crew, which means there's someone hands-on to put you through your paces in onboard gyms well-equipped with spin bikes, elliptical cross trainers, free weights, and more. Or, if you'd like to keep fit in the water, these yachts have fitness toys like paddleboards, kayaks and waterskis, to name a few.
The benefits of a personal trainer among the crew are out-of-the-box fitness adventures, like a hike up St. Lucia's iconic Gros Piton 3000 feet above sea level or the heart-pumping climb to Dominica's Morne Diablotin, the highest mountain in the Eastern Caribbean at 4,747 feet. Follow up with a beach training session for even more activity. Looking for something a little less cardio? The 208-ft Benetti SpA Lioness V boasts a stewardess who is also a qualified yoga instructor. Of course, there is healthful cuisine to match. Fresh-caught Caribbean fish and just-picked tropical fruits like mangos and papayas are deliciously incorporated into meals. Callisto, for example, boasts a Michelin-star trained chef that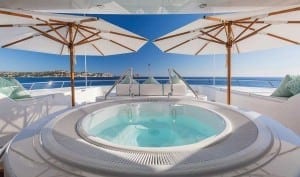 heads up the galley. Charters focused on well-being are definitely the buzz these days in the Caribbean, especially in the megayacht arena. camperandnicholsons.com
New Outer Marina opens at Nanny Cay
Since December, more slips with deeper depths are available for racing, cruising and megayachts at Nanny Cay Resort & Marina's Outer Marina. "The marina has been running at full capacity for the last five years and in anticipation of this, the owners commenced an expansion plan in 2009," explains Alastair Abrehart, spokesperson for the Tortola, B.V.I.-based property. As of now, 42 slips are operational, with the final 78 expected to be in place by August. When completed, the Outer Marina will have 120 slips for yachts 30- to 75-feet with T-heads and a bulkhead capable of berthing megayachts up to 150 feet. Up to 10 megayachts over 100 feet can now dock at Nanny Cay. Controlling depth in the first half of the outer marina is 14 feet and 10 feet in the second half. The 6.5-acre Outer Marina peninsula will have 8 new condominium blocks each with three 4-bed and four 3-bed units; condo construction starts this spring. The expansion is good news for yachtsmen who in the past have found it difficult to get a slip at the dock for the many events Nanny Cay hosts each year: the B.V.I. Spring Regatta & Sailing Festival in March, the ARC USA Rally in May and ARC Caribbean 1500 Rally in November, as well as many races organized by the Royal B.V.I. Yacht Club throughout the year. nannycay.com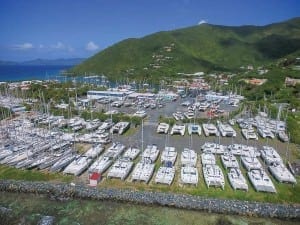 Where the big cats roam! 
This year the St. Thomas International Regatta will host one of the largest offshore catamaran racing fleets in the Caribbean. As of January 1st, seven big cats are set to compete in this event on March 24-26 hosted out of the St. Thomas Yacht Club in St. Thomas, U.S.V.I. Three gunboats are also included: Arethusa, Fault Tolerant and Elvis, as well as the U.S.V.I.-built Bieker 53 Fujin and HH66 NALA and Kelsall 47 Triple Jack. "Our inter-island courses are perfect for these fast-sailing multihulls. So much so, our regatta is getting to be known as where the big cats roam," says regatta director Chuck Pessler. stthomasinternationalregatta.com
By Carol Bareuther, Southern Boating Magazine March 2017