Lighted boat parades happen throughout the Caribbean in December. One of the most exciting is the St. Croix Christmas Boat Parade held in the U.S.V.I. on December 10th.
You won't want to miss this Caribbean boat parade.
Live-aboards, visiting cruisers, charterers, and locals on powerboats, sailing yachts or water toys—even stand-up paddleboards—are all invited to enter for free. The parade starts at 6PM, and over 30 watercraft launch on a route that twice circles the safe, protected waters of Christiansted Harbor. If you're on board, get ready to see a cheering crowd lining the Christiansted Boardwalk as well as at Protestant Cay. If you're on shore, these two locations are the best spots for viewing. The parade is so popular it's even been showcased on the Travel Channel. It's no wonder, since tropical twists have included Santas in green and red boardshorts, fire dancers and local reggae artists singing the territory's customary carols. A huge fireworks display after the parade is followed by live music, vendors lining the town's streets and shops open late for holiday shopping. christmasparadestcroix.com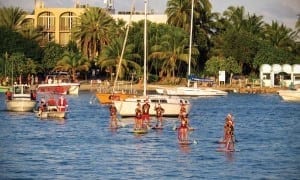 Ring out the old year in the B.V.I.
Rub shoulders with celebrities and bid farewell to the Old Year on December 31st on Jost Van Dyke in the B.V.I. Here, seventh-generation native and calypsonian, Sir Philicianno "Foxy" Callwood, who was knighted by the Queen of England in 2009 for his contributions to tourism and the environment, puts on a party of global fame at his Foxy's Tamarind Bar in Great Harbour. In fact, the New York Times listed Foxy's as one of the best places to ring in the millennium back in 1999. Yet Great Harbour, on this 3.5-square-mile island, is a world away from other favorite New Year's destinations like New York City's Times Square. Access is by boat only, whether you bring your own, charter or take the ferry. Attire is barefoot and bathing suits, and sleeping on the beach until sunup is the norm. This year, the party starts on Friday, December 30th and lasts until Sunday, January 1st, with live bands, a pig roast and more. Admission is free. The only costs are food and drinks at Foxy's or one of the other half dozen open-air bars that line the harbor. If you're serious about partying with the rich and famous, book a table at Foxy's Tamarind Bar's Upper Crust restaurant on the second floor. Here, the VIP party includes a multi-course dinner, champagne, hats, noisemakers, and terrific views for $500 per person. foxysbar.com/old-years-celebration; bvitourism.com/jost-van-dyke.
New Year's potluck in Trinidad
The Seven Seas Cruising Association's (SSCA) first event of 2017 is on January 1st. This "gam," or what the SSCA calls a "friendly interchange, especially between sailors or seafarers," is a potluck held at the Trinidad & Tobago Yachting Association's headquarters in Chaguaramas. SSCA Cruising Station host Jesse James and his wife Sharon, who operate Members Only Maxi Taxi Service, offer a free shuttle from local marinas to the gam. It's a great event and an excellent opportunity for sailors new to the Caribbean to tap into the collected wealth of attendees' cruising experiences in the region. ssca.org; membersonlymaxitaxi.com
By Carol Bareuther, Southern Boating Magazine December 2016