Divine Disconnection
Escape life's everyday hassles at the luxurious Bungalows Key Largo.
Paradise awaits at Bungalows Key Largo, a secluded, all-inclusive resort set within a botanical garden edged by the ocean. This adults-only oasis faces Buttonwood Sound at Mile Marker 99 in Key Largo, the first and northernmost of the Florida Keys and home to tropical hardwoods, two state parks, a national park, and a portion of the Florida Keys National Marine Sanctuary. Just about an hour's drive south of Miami along Overseas Highway, admire the views of the serene Gulf of Mexico on one side and the vast Atlantic Ocean on the other as you leave all your cares behind. Key Largo is on island time, and Bungalows Key Largo is your tropical escape.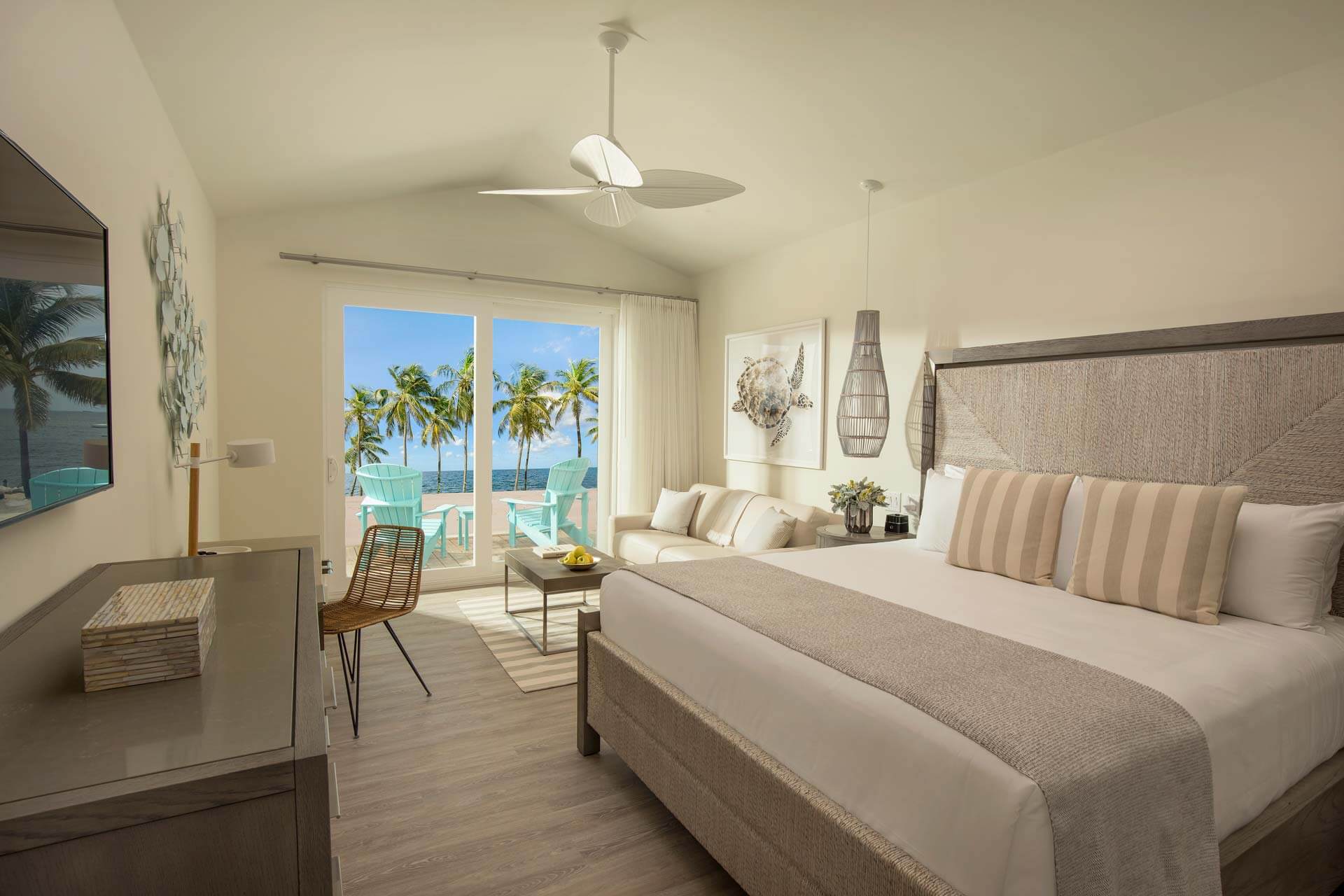 Situated on 12 acres, the boutique resort designed and owned by renowned hotelier Jerry Johnson offers 135 luxurious bungalows (31 with waterfront views) for couples to disconnect from the world and reconnect with each other. Every bungalow has a private, bougainvillea-laden veranda with alfresco soaking tub and garden shower, an indoor spa bathroom with rain shower, a private patio outfitted with two Adirondack chairs, and two cruiser bikes, which you can use to explore the expansive, white sand-and-palm-covered property. 

Key Largo's temperature typically ranges between 71 degrees and 82 degrees Fahrenheit year-round. With such gorgeous weather, it is no wonder why most outdoor activities occur around the water. 
Without a doubt, the beach is spectacular. Listening to the waves crashing in the deep-blue ocean, feeling the warm water against your skin, and breathing in the fresh sea air would take any stress level from a 10 to a one. The Bungalows even provides lounge chairs, hammocks, and cabanas sprinkled along 1,000 feet of shoreline for the ultimate relaxing beachside experience. Bring your own sunglasses and sunscreen.
Fun on or off the Water
For the more adventurous, a large array of complimentary non-motorized aquatic equipment is available, including stand-up paddleboards, kayaks, water trikes, and snorkeling gear. Find out why Key Largo is known as the Diving Capital of the World: Spend a day exploring nature below the surface at the U.S.'s first undersea park, John Pennekamp Coral Reef State Park, and snorkel two extraordinary places: Dry Rocks, home of the Christ of the Abyss, and Molasses Reef. 
Don't want to get wet? Take a Happy Hour cruise aboard Lady B, the resort's 56-foot sailing catamaran, through Florida Bay to watch the unrivaled, magical Florida sunset. Have a glass of champagne and a shrimp cocktail while the sea breeze blows through your hair. Be on the lookout for a dolphin or two—they often pop up during the scenic ride to wave hello.
Another option is to set sail on one of two the floating tiki boats, the S.S. Margarita and S.S. Rum Runner. Picture a tiki bar on the water, complete with your own mixologist. Cruise around the beautiful bay while you sit at the bar and indulge in another round of drinks. 
Key Largo also has a multitude of onshore attractions including nature trails and a rehabilitation center for wild birds. The island is flanked by Everglades National Park to the west, a premier destination for kayakers and wildlife enthusiasts, and the U.S.'s only living coral barrier reef to the east. Reserve one of the Bungalows' private boat charters on an Axopar or a WorldCat power catamaran for a customized full-day or half-day voyage to explore some of these sites.

Indulgences
When it's time to soothe your soul, unwind in the Zen Garden Spa. Black bamboo-lined walkways lead guests to five private outdoor cabanas and the bayside waterfront treatment tiki, where massages, facials, and other treatments refresh and rejuvenate your mind and body.
The spa is also home to a eucalyptus steam room, Himalayan salt therapy treatment room, and an indoor relaxation area. But the center of attention is the large Buddha statue. You'll find several of them throughout the property. Fun fact: The Buddha statue that looks like a woman sleeping is named "Lady Night Night." She denotes restfulness in a zen-like fashion, messaging "relax" as you enter the resort.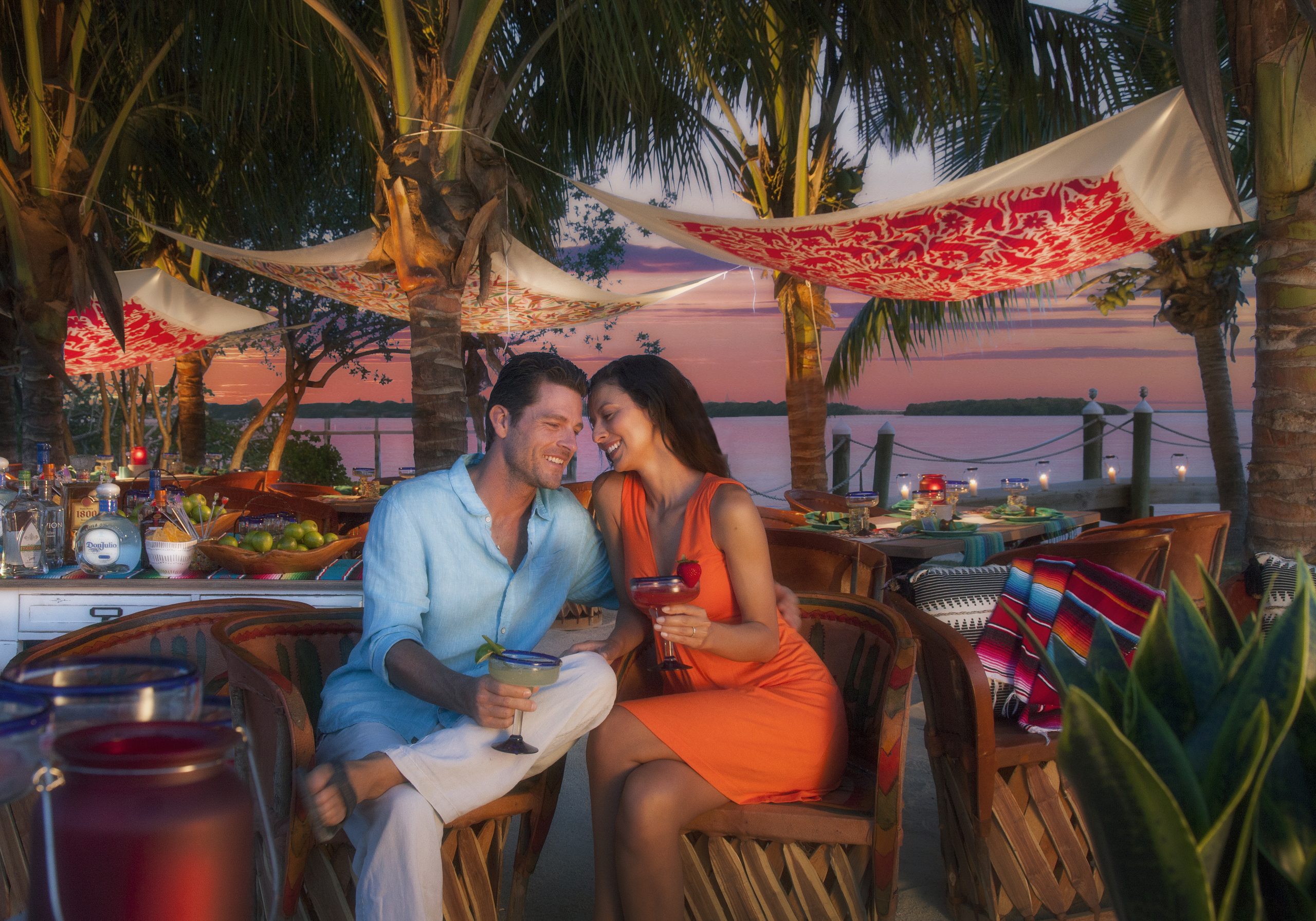 The Bungalows also has several delectable dining options. Eat and drink to your heart's content—there are no limits to this culinary extravaganza. Kick back at one of the two pools or Jacuzzis with a few tropical drinks and snacks from the Sunset Tiki Bar. Enjoy breakfast, lunch, or dinner overlooking the ocean at Fish Tales, a casual eatery that serves Mediterranean-inspired selections blended with fresh local specialties. Tempt your taste buds with flavorful Mexican fare and a margarita at beachside Sea Señor. Indulge in a top-shelf cocktail at Hemingway Bar before dinner at Bogie and Bacall's, which features an elegant multi-course menu and a sommelier-curated wine list for a true fine-dining experience. Reservations are required at this upscale restaurant.
Of course, some people don't want to think about exercising when they are on vacation because as we all know, calories don't count. But for those who insist on keeping up their wellness regimen, the open-air fitness center features Peloton bikes, rowing machines, treadmills, ellipticals, and free weights. Early risers will enjoy the daily sunrise yoga sessions that take place on Tranquility Beach.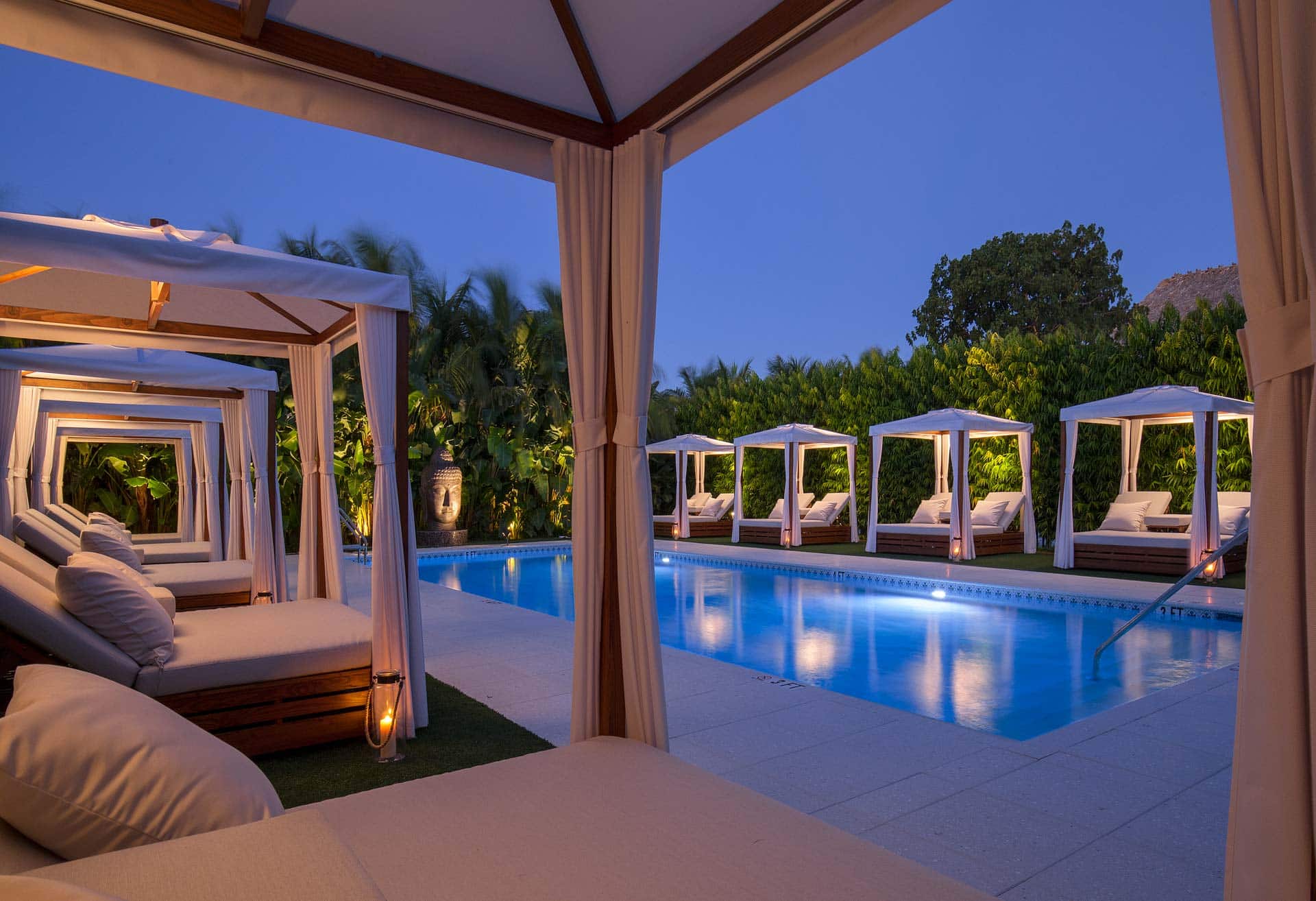 Bungalows Key Largo provides a divine disconnection from everyday life with exceptional amenities, exclusive experiences, and endless sunshine. Adults looking for a luxurious Florida getaway will find a relaxing place to reconnect at this intimate resort. bungalowskeylargo.com 
-by Bonnie Schultz