The sea bird nesting season begins when white-tailed tropicbirds arrive in Conception Island around the end of February, but it really heats up later in the spring and summer. Many of the outlying cays in Conception Island and northern San Salvador are completely protected beginning April 1st. The breeding season lasts until the end of summer, and the sight of so many birds is spectacular. The cays are covered with sooty terns, frigate birds, brown boobies, brown noddies, white-tailed tropic birds, and many other species.
Helpful Cruising Resources
The Bahamas Cruisers Guide is a very useful Internet guide filled with smart information about emergencies, medical clinics and general facilities in almost all the harbors. The guide usually stays up-to-date, but it is always good to remember that things can change quickly on "island time." bahamascruisersguide.com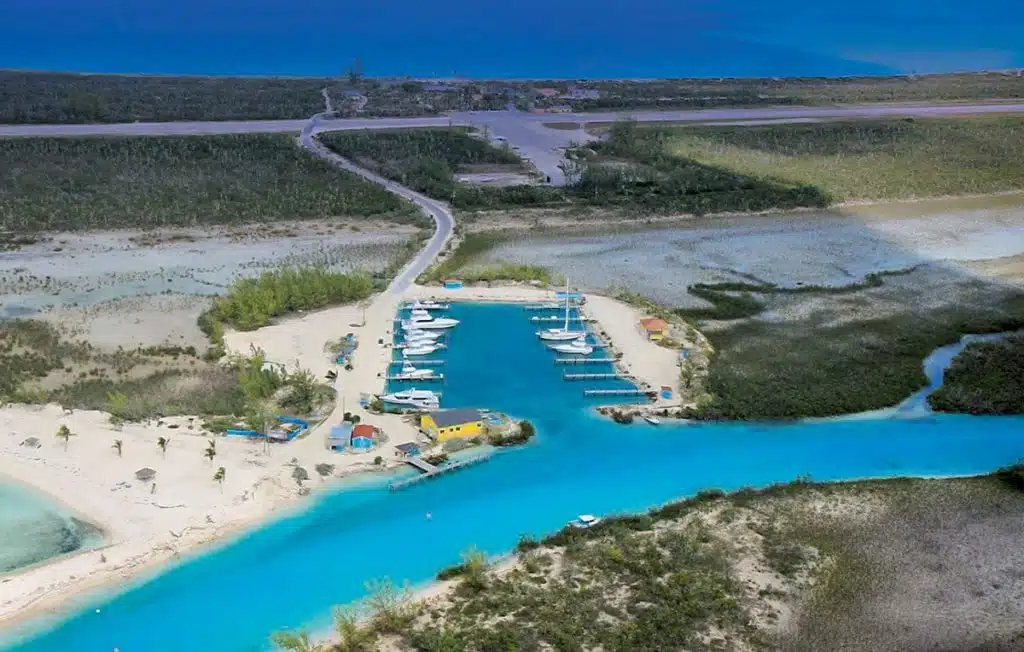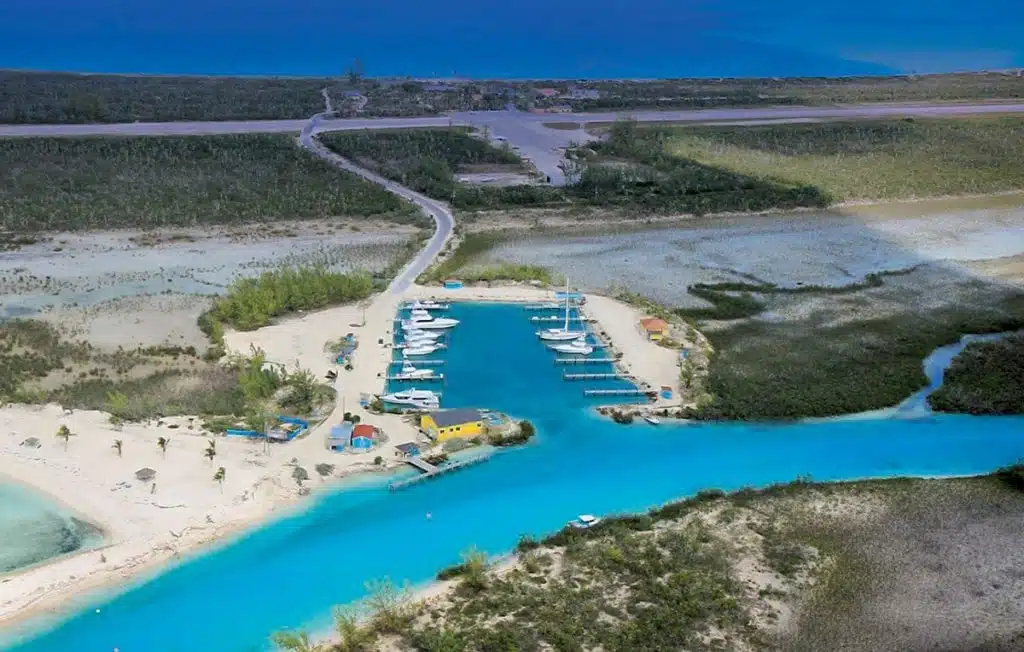 Bahamas Chatter offered by Explorer Charts provides timely updates and a forum for requesting information. Go to the website and sign up for this free email service at explorercharts.com.
Southern Cat Island
Cat Island has always been a lovely place to cruise in easterly weather. With the advent of dependable forecasting, cruisers can often extend their time by riding out a lot of fronts that do not have strong westerlies. Use the Hawksnest Marina as a comfortable haven during frontal passages, which can extend your stay in the family islands right through the summer. The 28-slip hurricane hole for the central and southeastern Bahamas has an airfield, clubhouse with rooms, freshwater pool, bar/restaurant, excellent management, and four family fishing tournaments during the year:
• January, Wahoo Championship
• March, Hang 'Em High Challenge
• April, White Marlin Smackdown
• May, Billfish Blast 
Just these names sound fun, but even if you're not a sportfisherman it is exciting to experience the culture of this fishery and be
around the action when the boats come in.
Randy and JR, the marina managers, are raising their seven-year-old son on the island, and one of his activities is to read the weather on the VHF every morning. When you are a long way from your own grandchildren it is delightful to hear, "Good morning, this is Jesse. Switch to channel 14 for the weather." He does a good job. Call the marina at (242) 342-7050. hawks-nest.com
The number of boats visiting the island has greatly increased as new restaurants and facilities have become available. In March there were more than 40 boats anchored in The Bight.
When you arrive in Cat Island pick up The Cat Island Guide by Jacqueline Campaigne. It is updated every few years and gives an excellent impression of island life with useful information about facilities and activities. Historians and architects will want to visit the several churches designed by Father Jerome as well as his famous Hermitage and to spend time in the ruins of the Deveaux, Bourbon and Hunter Plantations. Naturalists can endlessly explore the mangrove creeks and the bush looking for turtles, sharks, bonefish, sea and land birds, endemic coppice, blue holes, and caves.
You can reach many of these places by dinghy or on foot, but a rental car can ensure a complete tour of the island. Set aside one day for the north and one day for the south. Rentals are available at Gilbert's and New Bight Service Station. Cat Island is the land of Obea, folklore, Rake and Scrape, Solomon potatoes, and pineapples.
Most of all, sit down and spend time with Cat Islanders who are easy to get to know. Recently we were in the Smith's Bay Clinic—we received excellent medical care—and chatted with an elderly lady who said, "I have eleven children."
I replied, "Then they can take care of you in your old age."
She laughed, "You know, I got a couple that jump, a few that come half-steppin', and I got some that don't come at all." Families are the same everywhere.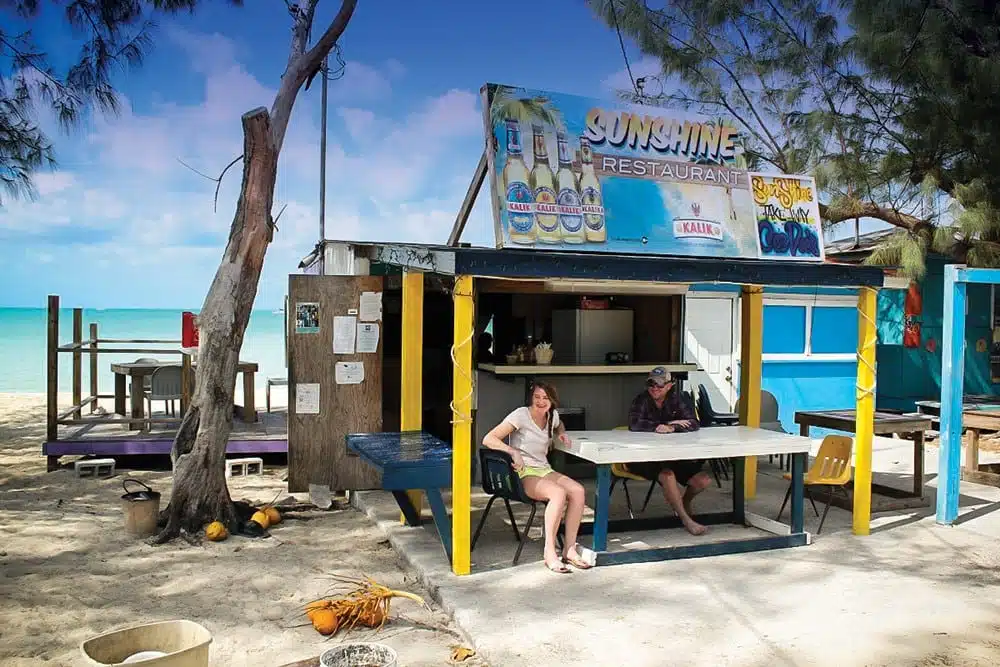 The Bight
The Bight provides safe anchorage from Hawksnest around to Bonefish Point depending on the wind direction. The holding is generally excellent. There is no protection from the west, so you have to decide whether to tough it out, move into Hawksnest or leave. Smith's Bay was once a good place to ride out the fronts, but the mail and freight boats are now too large to allow yachts to anchor in the basin.
The beaches are spectacular, and there are plenty of places to eat and explore. The Blue Bird is just south of the Police Station, and Duke's Conch Stand, Cedell's Sunshine Restaurant, and Lula's are at Regatta Site. All have excellent Bahamian food, and Pompey and the boys often play Rake and Scrape in the evenings at Regatta Site. This year the Cat Island Regatta will be held July 31-August 3. Anchor in the Bight, watch the races and join the fun.
By Stephen Connett, Southern Boating June 2015