Emerald Bay is a very well run marina strategically located in Great Exuma for those cruising the southern Exumas and preparing for travels further south. As we approach the hurricane season, Emerald Bay offers a hurricane refuge for boats up to 50 feet on the inner pontoons. I would not recommend the marina for large yachts in extreme weather when there can be a dangerous surge in the area where they moor. All vessels should exercise caution when entering or leaving in strong northeasterly winds.
Spanish Wells Yacht Haven
The refit of Spanish Wells Yacht Haven is now complete. The docks have been rebuilt and have all new electrical wiring. Beautifully appointed rooms are available in four new buildings, and the restaurant, Wreckers, has a full-service bar. The food is as good as you will find anywhere in the Family Islands with a well-balanced menu: ribeye steak, cracked conch, fresh grilled fish, upscale pizza, and several Greek dishes. Head chefs Jo Douvlis and Dino Xenopoulos are in charge. The marina has been almost full every day since mid-March, so reservations are strongly recommended, especially for boats over 60′. Contact Dockmaster, Leroy Kelly, at 242-333-4255. facebook.com/swyachthaven
Hurricane season
The devastation of Hurricane Joaquin is a lesson in the power of nature and our imperfect ability to forecast approaching storms. As the next hurricane season approaches it is best to review these lessons. Plan your itinerary with potential storms in mind and take early action. Be prepared and you can have plenty of fun. It's a great time to cruise The Bahamas.
Turks and Caicos
The Turks and Caicos now operate a radar surveillance station that can be reached by calling "Provo Radio" on VHF16. The station provides navigational warnings and weather. This service provides improved safety when operating anywhere in the country. I recommend you call the station when you get within range so they can track you and pass important information such as new navigational hazards.
Sand Dollar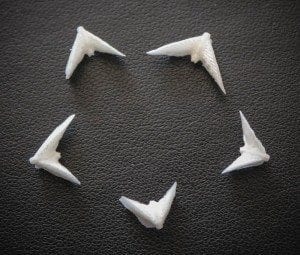 Bahamian beachcombing is as good as anywhere, and it is fun to learn to identify the shells, beans, and glass that you collect. I still recommend that you carry Blair Witherington's Florida's Living Beaches to help in your beach endeavors. The common five keyhole sand dollar (a flat round marine animal related to sea urchins) has a legend that is fun to know. Break a sand dollar to release the five doves it has inside. These doves can be part of your collection. Find out about the legend at traditioninaction.org/religious/f024_SandDollar.htm
Watermakers Air
Cruisers who need to return to the U.S. intermittently during their Bahamas cruising season will be glad to know that Watermakers Air has expanded its services for passengers and freight. Flying out of Fort Lauderdale, Florida, the destinations now include:
• North Eleuthera
• Great Harbour Cay
• Chub Cay
• San Andros
• Fresh Creek
• Congo Town
• Staniel Cay
• Exuma International
Their freight and passengers services are excellent and fairly priced. Watermakers can be reached at (954) 771-0330. watermakersair.com
Blackbeard the manatee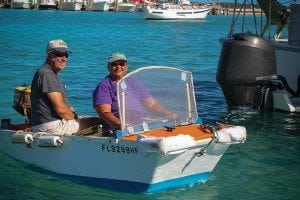 Tracking manatees in The Bahamas has become an exciting cooperation between scientists and local observers, and anyone can join in the fun. The Bahamas Marine Mammals Organization (BMMO) run by Diane Claridge and Charlotte Dunn welcomes all observations. They ask for photos so they can make positive identification of individual animals. Sightings can be reported on their website. Anyone can follow the tracks of the manatees on BMMO's Facebook page. bahamaswhales.org; facebook.com/bmmro
Nina Sanchez, a student in Grand Bahama, recently took a video of manatees in a canal. The video is posted on You Tube as "Manatees in Sunrise Canal." One turned out to be a manatee named Blackbeard who can be identified by the crescent cut in the right side of his tail. Blackbeard has been tracked for several years and has been seen as far south as Long Island.
Navigation notes:
For those of us who have cruised through the Windward Passage to enter The Bahamas at night, the Matthew Town lighthouse was a very welcome sight. The good news is that this and several other lights have been put back in service, and the Royal Bahamas Defense Force says it is doing its best to relight and maintain the major lights throughout the islands. Great Isaac, Hole in the Wall and Matthew Town are now operational as are several smaller lights in the Abacos. In these days of radar, GPS and chart plotters lighthouses are not quite as essential as they were years ago. However, it only takes one lightning strike to disable your boat's electronics and put you back in the old days, loving every functioning aid to navigation—all lighthouses included.
— by Stephen Connett, Southern Boating Magazine May 2016