Changes for Bahamas Boating
New changes will have implications for boaters
The Bahamian Government presented its annual budget for the 2019/2020 fiscal year in June. Aside from the overall effect on economic growth, most of the implications are local. However, there were several measures announced that will directly impact the boating industry and the tourism sector on the whole.
The relevant changes include the Value-Added Tax (VAT) on vacation rental properties, regulations for international yacht chartering, fee increases for cruising permits, and the
introduction of an electronic payment platform to make boating in Bahamian waters more convenient.
Vacation Rental Taxes
The recent growth in the vacation home rental market has attracted the attention of the government which is moving to enforce VAT regulations on online marketplaces selling
accommodations in The Bahamas. This means that people renting accommodations in The Bahamas through online marketplaces such as Airbnb, HomeAway and VRBO will be required to pay 12 percent VAT on their bookings with full compliance required by October 1st.

Currently, the VAT Act 2014 states that all e-commerce services provided for the use, benefit or advantage of persons within The Bahamas are a taxable supply, even if the
providing company is domiciled outside of The Bahamas, but the regulations haven't been strictly enforced.
A recent data report by Engel & Völkers predicted that the vacation rental market would surpass the traditional hotel booking business in The Bahamas by 2020. New legislation
within the Vacation Home Rental Bill is under development to create a proper regulatory framework. "We feel that foreign visitors who use our vacation homes are also the beneficiaries of our tourism infrastructure and should contribute something to its maintenance and upkeep," says Minister of Tourism Dionisio D'Aguilar. "Roads, police,
marketing, health care, ports, and airlift are costs that all foreign visitors to hotels  contribute toward through the payment of the 12 percent VAT plus a 10 percent promotional levy charged on their room rates."
The new regulations will bring more parity to the fee structure visitors pay when staying in vacation rentals to those they already pay when staying in hotels. To support the new regulations, the Ministry of Tourism will also implement a digital platform for the registration and licensing of accommodation providers. "This is in keeping with the government's commitment to improve the ease of doing business in The Bahamas," says
D'Aguilar. "This will also bring more standardization and consistency of enforcement across all of our Family Islands and ensure additional support to local government administrators and district councils involved in licensing and governance."
Yacht Chartering
Due to weaknesses in the government's enforcement measures, the collection of yacht charter fees has historically been low in The Bahamas. As part of its new fiscal measures, however, the government plans to change this with a move to boost voluntary compliance and enforcement of existing laws related to foreign-flagged charter yachts which are currently required to pay a 4 percent fee when in Bahamian waters.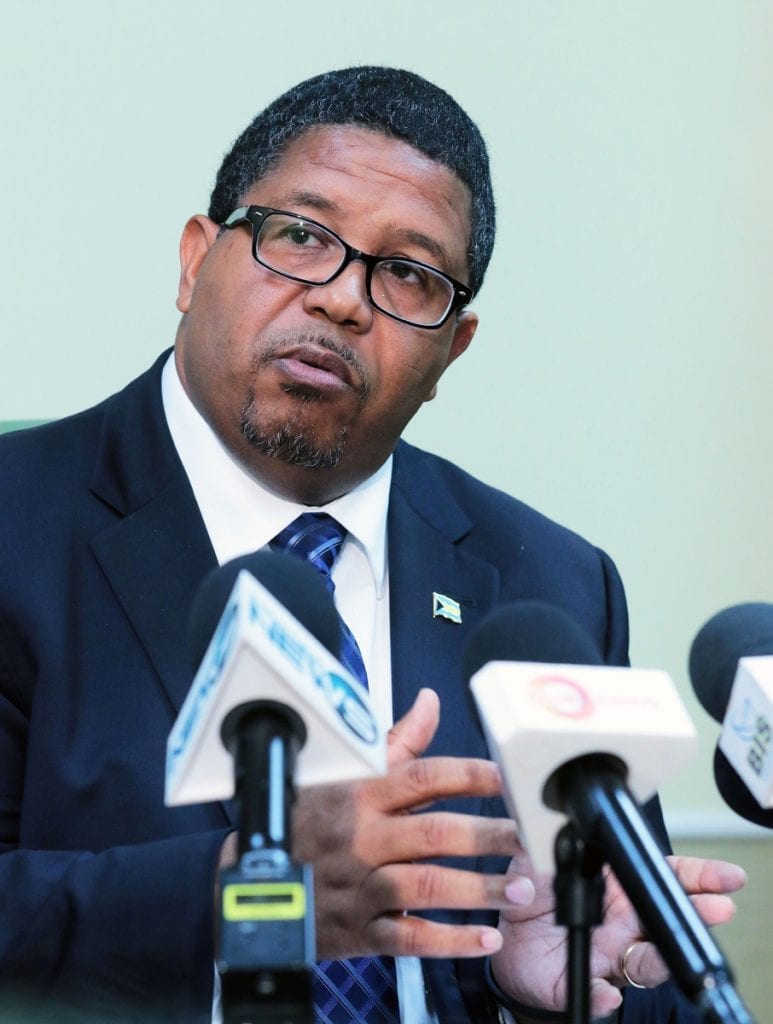 "We know that there are facilitators in the U.S. selling charters. Some of those charters are here and not declaring that they are actually doing charters from The Bahamas," says K. Peter Turnquest, deputy prime minister and minister of finance. "There are others coming over from the U.S., particularly in Bimini where this is a problem. They come over
for a day fishing and whatever and don't declare they are on a charter. We are missing all that revenue. The estimates could be anywhere from $20 million to $50 million.
"What we have built is a system to track marine traffic, and it is going to be able to tell us who has and has not paid. It is going to make it easier and more efficient for people to register. Hopefully, that will drive natural compliance and derive the kind of revenue we are seeking," he adds. Turnquest also highlighted that one of the government's overall revenue objectives is to enforce existing laws and close loopholes instead of adding new taxes and fees.
Cruising Permits
Effective January 1, 2020, the government will be implementing an increase in cruising permit fees from $150 on boats up to 34 feet and $300 on boats 35 feet and longer. There are also plans to set rates based on size and length of stay ranging from $150 for three months to $4,000 per year. These rates will also go into effect at the start of the new year to allow a transition period for the boating industry. The government conducted
benchmarking studies on similar fees in rival Caribbean jurisdictions before unveiling the new structure.
Click2Clear
To support its various fiscal measures, the Bahamian government is beefing up its ease of doing business initiatives, particularly with respect to the digitization of government processes. The phased roll-out of a new online platform for the Department of Customs, called Click2Clear, will introduce online payment for cruise permits and, eventually,
yacht charter fees. The paper-based application process and cash-only payment facility have been a source of long-standing complaints. When Click2Clear is fully implemented, it will bring added convenience to the boating community.
The Click2Clear platform is also expected to improve the overall process of importing and exporting goods by increasing transparency and accountability. Its full-risk management portal will reduce the time for processing entries. Low-risk users benefit from automated system checks with only sample inspections, as opposed to 100 percent inspections. The system will integrate with other government agencies which allow for the seamless processing of custom-related permits from those agencies.
By Noelle Nichols, Southern Boating July 2019