If a slowed-down, more economical pace is on your radar, consider these salty and seaworthy vessels and broaden your cruising horizons.
Long, long ago before the Internet, iPhones and IPS, trawlers were full-displacement, single-diesel, large-cockpit fishing boats designed to slog their way to the rich fishing grounds of the North Atlantic. Half a century ago, the first recreational trawlers looked and acted the same, although with the addition of more comfortable accommodations and usually a lot of teak. Today, trawlers—and tugs, their first cousins—are still salty and seaworthy and designed for long-range cruising or living aboard, but the genre has widened considerably. Here's a look at some of the current fleet of trawlers and tugs from 23-96 feet LOA.
Ranger Tugs R-23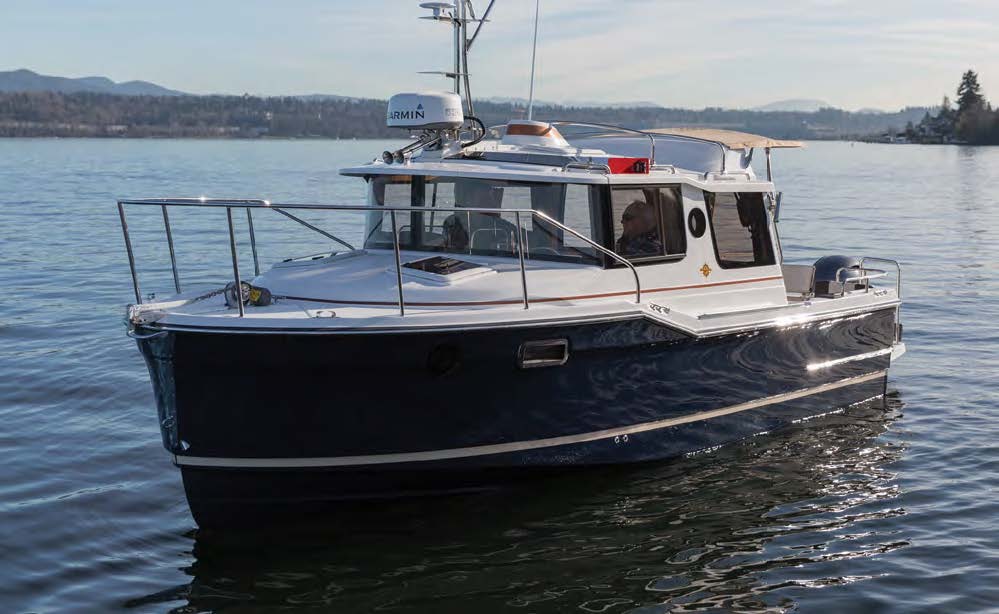 For the past 15 years, Ranger Tugs has been building popular, single-diesel, trailerable cruising boats from 21 to 31 feet. Now, the company has launched a 23-foot, outboard-powered version aimed at entry-level cruisers or more experienced owners wanting to trade down to a smaller, more easily maintained boat.With an 8′ 6″ beam, the new Ranger is still trailerable while having all the family-friendly features for which the brand is famous.
It also has a single Yamaha 200 outboard that can push the boat to a 22-knot cruising speed. The hull has hard chines, a plumb bow and narrow forefoot with 24 degrees deadrise at the transom, which all translate into a well-performing vessel even in its home waters of the Pacific Northwest. But it's what Ranger tucks into the hull that makes the boat special. The curved windshield, skylight, sliding side windows, and four overhead hatches provide lots of natural light inside the pilothouse, while the twin V-berth forward, a dinette that converts to a double berth plus a smaller mid cabin berth, provide room for the family. There's also a full head with shower, a galley with fridge/freezer, single burner cooktop, and microwave. For towing, the mast folds down to provide an 8′ 6″ bridge clearance. Priced at $94,937, the R-23 comes with a standard Garmin 7610 GPS chartplotter. rangertugs.com; (253) 839-5213
Rosborough 246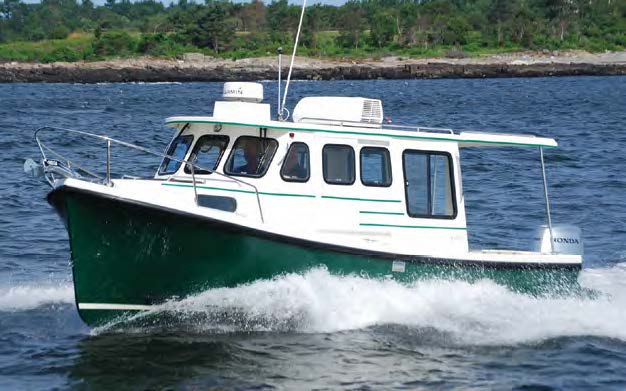 With salty workboat lines that reflect its Nova Scotia heritage, the Rosborough 246 is a sturdy, economical pocket cruiser with enough amenities to make a couple or small family comfortable on board. With an 8′ 6″ beam, it's fully trailerable without requiring any special permits. Rosborough started out making small commercial fishing boats in Nova Scotia some 60 years ago and then turned to the recreational market using the same seaworthy hull. The boats are now made by Eastern Boats in New Hampshire.
The 246 has been a popular model for awhile, but now it's upgraded to give the pilothouse, with its 6′ 5″ headroom, more moving-around space, a teak hi-low table and teak interior trim. The bow's 7-foot-long V-berth sleeps two adults, while the convertible dinette in the salon accommodates one adult or two children. The galley has a two-burner propane stove, sink, hot/cold water, and a fridge. Doors open to the decks on each side of the helm while large windows provide excellent visibility. A hardtop covers the cockpit, and there's a bench seat against the transom.The Rosborough 246 has a semi-displacement hull, with a full bow and shallow forefoot for a soft entry; a center keel provides stability. A single 200-hp outboard produces a 16-knot cruising speed and tops out in the 20s. rosboroughboatsusa.com
Beneteau 30 Swift Trawler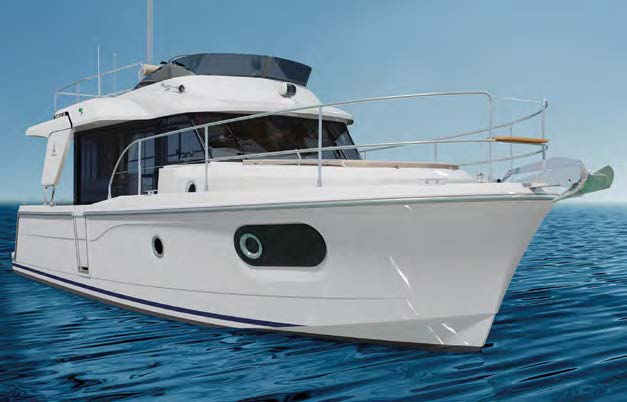 The newest addition to the Swift Trawler line first launched in 2003, the Beneteau 30 is a fuel-efficient, single-diesel cruising boat that combines contemporary French styling with traditional cruising accommodations plus a semi-planing hull with a 15-knot cruising speed. It comes in a two-cabin or one-cabin configuration. Basically, the new 30 is a slimmed down version of the popular Beneteau 34 Swift Trawler, which a group of boating magazine editors used to complete the Great Loop about three years ago.
A pocket yacht, the 30 has a bright interior with lots of windows all around, a master forward, a second stateroom to port, opposite a head and shower, and a salon with convertible sofa, so it can sleep six. In the single-cabin configuration, the port side is given to a large separate shower. But the Swift Trawler is a cruisers' boat, with such features as a sliding door next to the helm for easy access to the wide sidedeck. Visibility from the helm, which has a two-person seat, is excellent all around. A full galley is to port, with an L-shaped settee and dining table to starboard. The cockpit is the perfect spot to enjoy an alfresco breakfast or cocktails; a sturdy ladder leads up to the flybridge. With a 370-hp Volvo D6, range is about 200 nm. beneteauamerica.com
American Tugs 365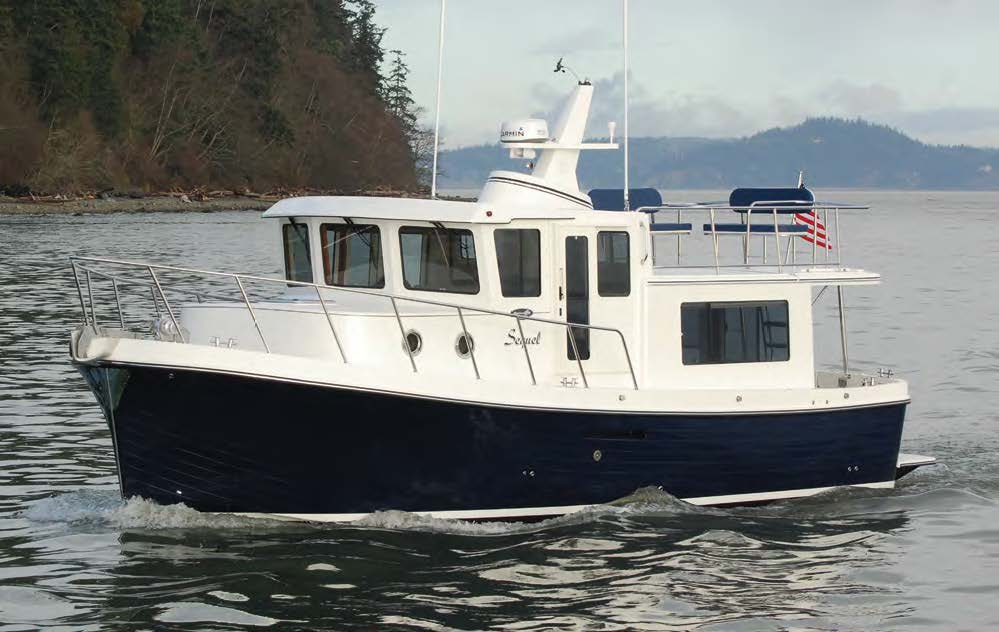 A solid, no-nonsense pilothouse trawler from the Pacifi c Northwest, the new American Tugs 365 offers safe, secure, long-range cruising or liveaboard comforts for a couple with occasional family or guests. Well built with a 10-year hull warranty, the 365 offers a cruising speed in the 13- to 17-knot area, powered by a single fuel-efficient 380-hp Cummins diesel. Dial it back to 9 knots and the Cummins burns only 7.6 gallons per hour (gph), giving the boat a range of about 1,000 nm.Although American Tugs are built in La Conner, Washington, by the Tomco Marine Group, about half of the boats are sold on the East Coast for cruising the ICW, the coast of Maine, or over to The Bahamas.
The 18,700-pound displacement boat has a draft of only 3′ 5″, and the prop is protected by a skeg. The salon has a large galley to starboard, with a U-shaped, Ultraleather-covered settee to port that converts to a double bed. Down four steps, the master is forward with a walkaround queen berth, a cedar-lined hanging locker and a head with a stall shower.The pilothouse has seating for four on two Ultraleather® settees. Six opening windows and sliding doors give easy access to the decks on both sides. Aft, the cockpit is fully covered for all-weather protection. All in all, the American Tugs 365 is meant for easy cruising. americantugs.com
Selene 42 Europa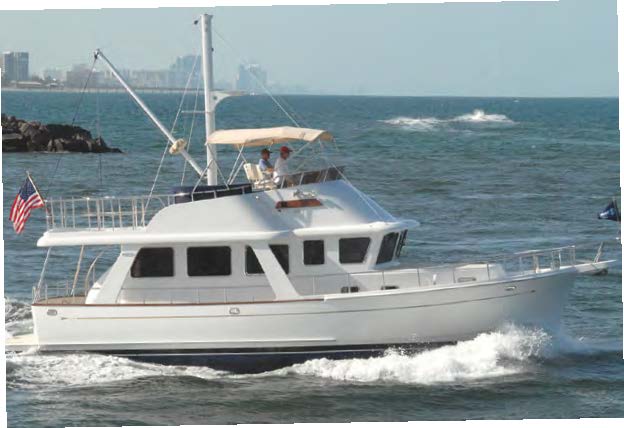 There's more of everything in the new Selene 42 Europa, from more space inside and out to a greater fuel capacity (700 gallons instead of 600), increasing range for safe family cruising. Overall, the new 42 is designed as an offshore cruiser, with the same quality as larger Selenes but at an affordable price.The Selene 42 Europa has a more spacious salon, flybridge and engine room than earlier models. A newly designed stern adds to waterline length for better speed and fuel efficiency while also providing more room in the lazarette. A larger rudder gives more control at low speeds, and a deeper keel helps with stability and tracking. Inside, the master stateroom is forward, with an island queen berth and oversized head with separate shower.
The second stateroom has double berths. The salon has an L-shaped settee and two barrel chairs. The dinette has enough seating for six, while the full galley has a double stainless sink, three-burner propane stove, and grill. The pilothouse includes a pilot berth. From the cockpit, a molded stairway leads up to the large flybridge. For economical cruising, the Selene 42 Europa comes with a single John Deere 180-hp diesel; it cruises at 8 knots and tops out at 10 knots. Bow and stern thrusters make docking simple. selenetrawlers.com; (954) 525-6617
Nordic Tugs 44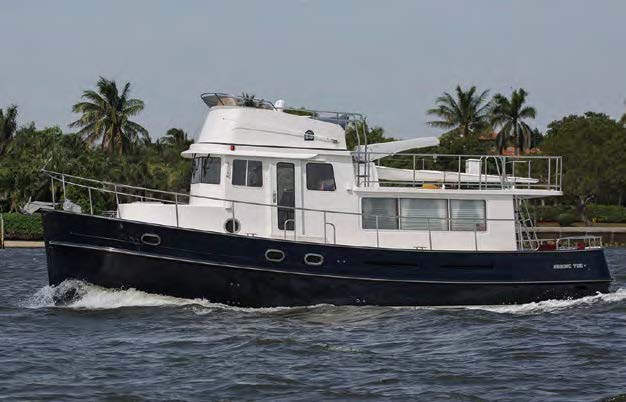 Built for active cruisers, the new Nordic Tugs 44 combines the brand's iconic salty looks with comfortable living spaces and fuel-efficient performance. The first Nordic Tug, a 26, was an instant hit when it was introduced at the Seattle Boat Show in 1980, largely because of its distinctive tugboat-like lines but also because of its outstanding fuel efficiency. The new 44 continues with that legacy and burns only 3 gph at 9 knots.
There's a lot going on inside the Nordic Tugs 44: two staterooms and two heads below, plus an inviting salon with two barrel chairs and a convertible sofa, a U-shaped galley, and large side windows. Three steps up is a classic pilothouse; guests can enjoy the view or curl up for a nap on the settee. Doors open port and starboard to the side decks, and the large flybridge can be reached from the pilothouse or the cockpit.Proportional bow and stern thrusters make docking easy, while power comes from a single 540-hp Cummins or 510-hp Volvo diesel. The boat cruises at 14 knots and tops out at about 18 knots. The hard-chine, semi-displacement hull gives a solid, stable ride, while a full keel protects the prop and rudder. Nordic Tugs are built in a modern factory in Burlington, Washington. nordictugs.com
Krogen Express 52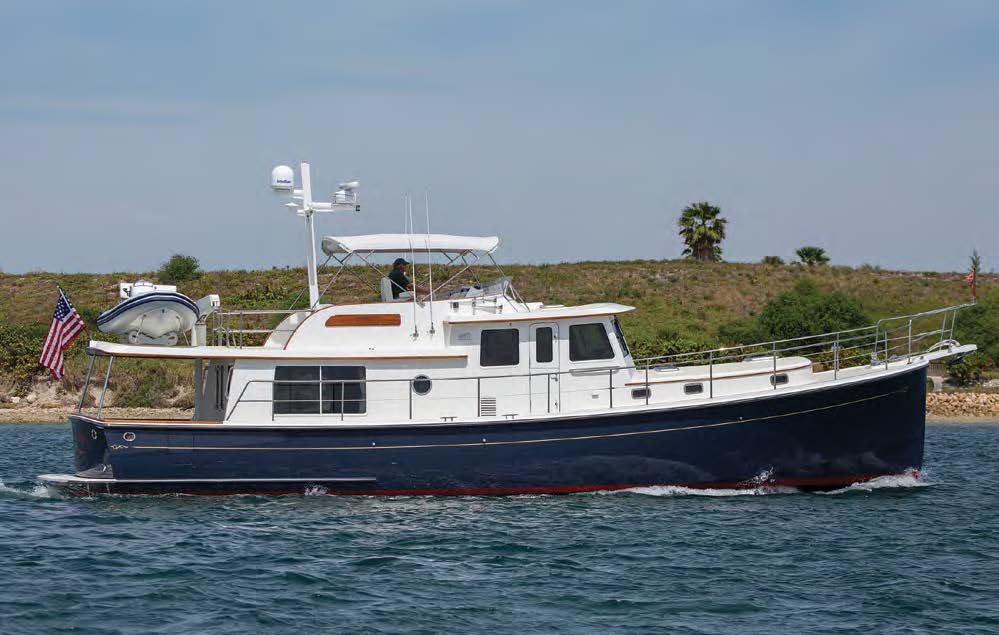 New models of the classic Krogen Express 52 have two changes, or "tweaks", as the company owner, John Tegtmeyer, calls them. Both come as the result of input from owners as well as Tegtmeyer's own experiences in cruising on the boats with his wife, Betsie. The first is an increase in the size of windows in the pilothouse and salon, so everyone on board can have a better view even when they're sitting down. The second is the use of all PVC coring and Vinylester resins in the hull and structure layups.
Previously, the company used end-grain balsa for coring in the decks and house. Tegtmeyer says most owners appreciate the move to all PVC coring even if it is more expensive, while Vinylester resin is less susceptible to stress and better resists osmotic blistering. With its long, sweeping shear line, plumb bow and relatively low profile, the Krogen Express 52 seems to always appeal to experienced cruisers who tend to keep their boat; 85 percent of the boats are still owned by the original buyer. The boat has two staterooms and two heads; the master has 7-foot headroom. An elevated watch berth in the pilothouse converts to a double. Powered by twin 480-hp Yanmar diesels, the Krogen Express cruises at 15-17 knots and tops out at just over 22 knots. krogenexpress.com; (866)-4KROGEN
Azimut Magellano 52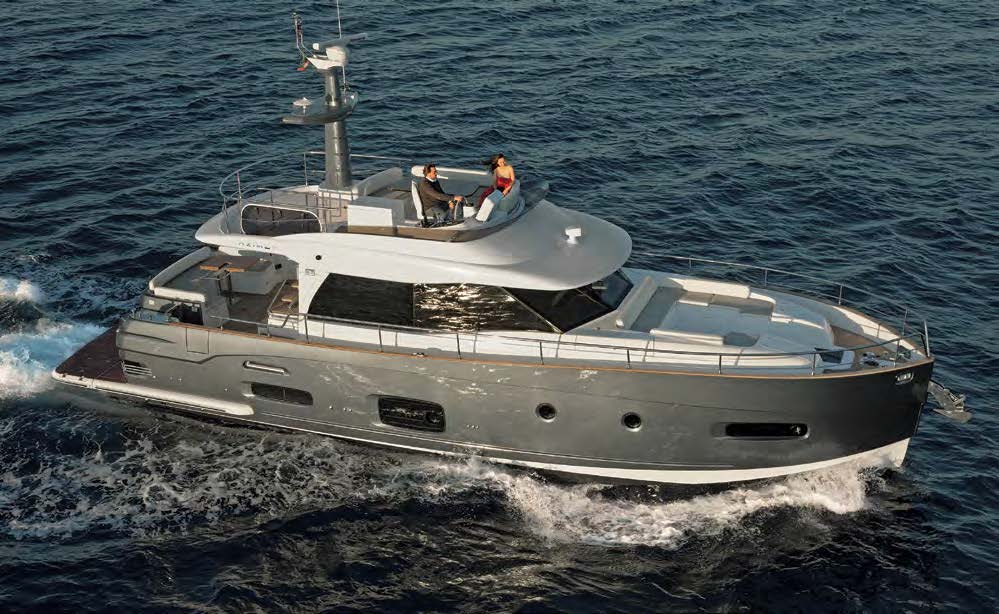 It's not surprising that the new Azimut Magellano 53 has lots of Italian style, not to mention comfortable living areas, all loaded into a long-range cruising package. Designed for extended cruising or living aboard, the Magellano 53 offers three staterooms and two heads, a salon that would be at home in Milan's fashion center, lounging areas almost everywhere, and a custom hull that makes for an easy ride at any speed. Also available in 43′, 66′ and 76′, the Magellano 53 replaces the 50. The 53's three extra feet allow for a captain's quarters aft plus a larger cockpit with a lounge, teak table and bar with sink, grill, and icemaker.
There's also a large U-shaped lounge on the foredeck that's almost 8 feet across plus another 7×10-foot lounge on the flybridge with a bar. Below, the midship's master stateroom is elegant and spacious, and its ensuite head runs the entire length of the cabin. A VIP stateroom is forward, with a smaller cabin in between. The boat's unique dual-mode hull combines the rounded sections of a displacement underbody with broad chine flats to help it run at planing speeds. At an 8-knot trawler speed, the Magellano has a range of 1,300 nm; at 16 knots the range is 350 nm. Twin 500-hp Cummins diesels push the boat to a top speed above 22 knots. azimutyachts.com; (888) 708-1128
Cranchi ECO Trawler 53 LD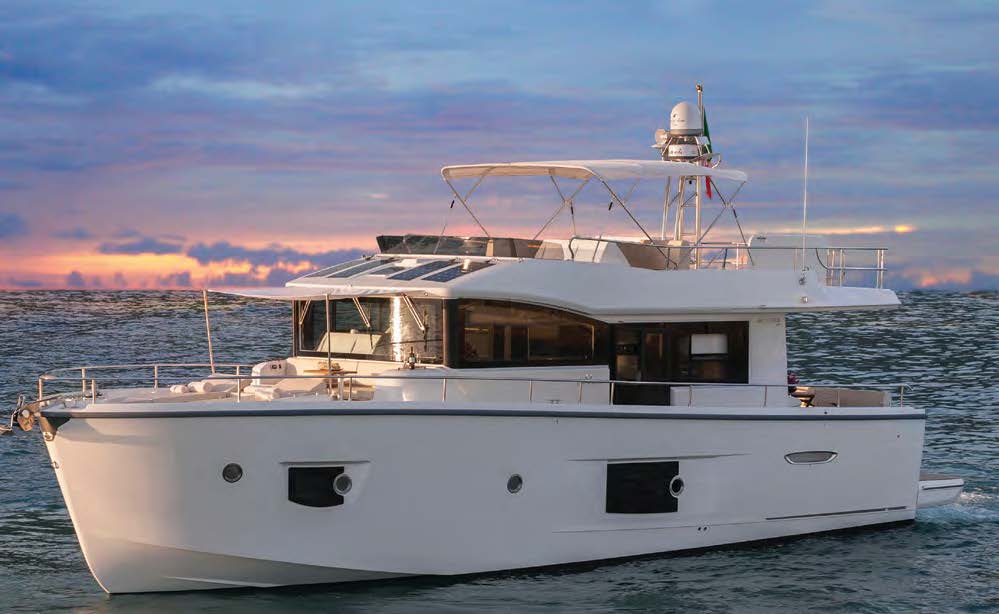 Cranchi has been building boats since 1870, but the new ECO Trawler 53 LD (Long Distance) is the company's first trawler. It's a full-bodied, eco-friendly boat with a lot of Italian touches that make extended cruising safe, fuel-efficient and, most of all, exceptionally comfortable inside and out.When climbing aboard, the first thing that many people realize is that the Cranchi 53 is a big boat in every sense of the word. Headroom in the salon, for example, is 6′ 9″, and the countertop in the galley is 70″ long.
Down below, the midship master stateroom takes advantage of the boat's 16′ 3″ full beam, while the VIP stateroom in the bow has almost as much room. (A third guest cabin is between the two.) Up top, the flybridge is large enough for a sunpad forward of the helm station, while there's another lounging area aft with a grill and fridge. Four solar panels across the front of the flybridge add to the trawler's green appeal, while the twin 435-hp Volvo diesels and IPS 600 pod drives with joystick control are all state of the art. At a trawler speed of 7.5 knots, the Cranchi 53 has a range of 1,500 nm, but you can also power it up to a cruising speed of 15 knots. Top speed is 22 knots. cranchi.it; (855) 900-BOAT
Marlow 53E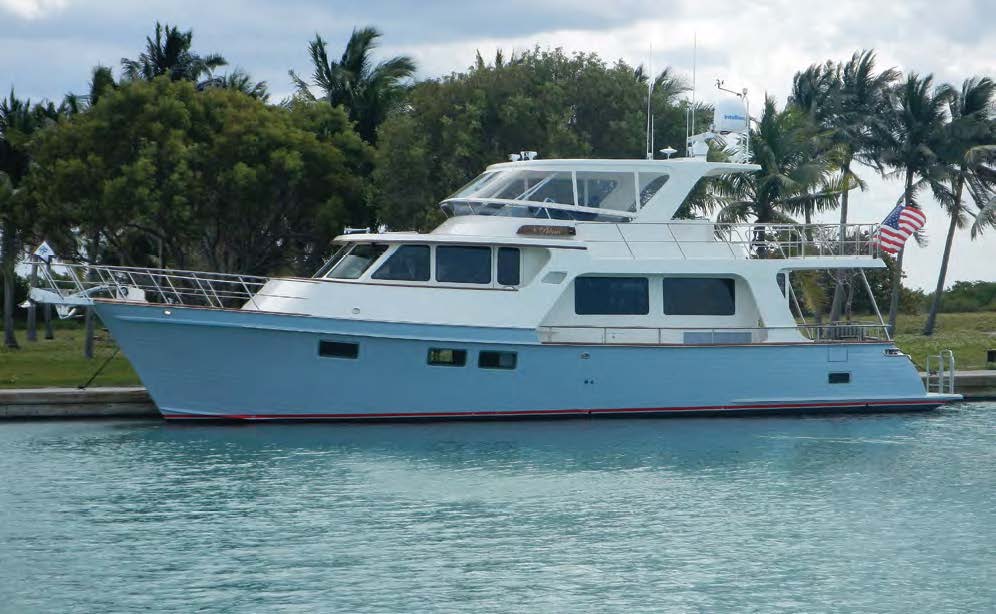 David Marlow doesn't do things halfway. Indeed, he's been building boats since he was 13 and building sturdy, safe offshore cruising boats under his own name for the past 16 years. The new Marlow 53E (Explorer) is the company's latest launch, and it is ready to take its owners anywhere around the world in style and comfort. And they won't have to stop frequently to refuel either. At a 7.7-knot trawler cruising speed, the Marlow 53E has a range of more than 3,000 nm.Even though the boat holds 2,000 gallons of fuel, that range—Palm Beach to Greenland, non-stop—means the Marlow has an efficient, low-drag hull shape.
Of course, if you want a turn of speed, Marlow's twin 750-hp John Deere diesels produce a cruising speed of 21 knots and a top speed of just over 25 knots. The boat's Velocijet Strut keel protects the running gear and helps provide superior stability and comfort in all sea conditions. Built with Kevlar, carbon fiber and modified epoxy, the Marlow 53E has an Ocean Class A certification, the international designation for a serious bluewater cruiser. Inside, the Marlow has three staterooms and two heads. The supersized master has a centerline king and his-and-her toilets. marlowyachts.com; (800) 362-2657
Grand Banks 55 Aleutian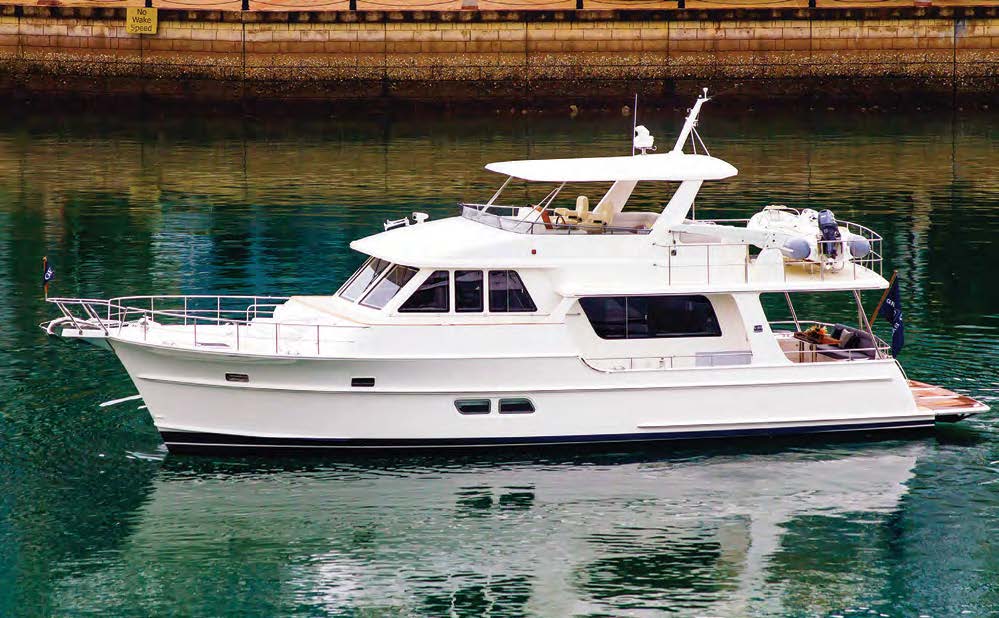 The Grand Banks Aleutian 55 RP is a new and improved version of the popular yet now retired 53-foot raised pilothouse yacht. It has the room and amenities to make extended cruising even more appealing and comfortable. The new 55 uses the same hull as the 53 but is stretched in length by 2 feet. The addition creates more space in the cockpit and in the utility room—an often-overlooked area that's important for long cruises or living aboard—located between the midships, full-beam master stateroom and the engine room. For the 55, Grand Banks also designed a new warmer, lighter interior, added more stowage in the galley, built a second boarding gate on the port side, and made it easier to access the flybridge from the cockpit.The salon remains a social area and has interior stairs leading up to the flybridge—a major safety feature.
The galley and dinette are in the pilothouse, exactly where people tend to congregate during voyages. Two side doors open to the wide protected side decks and the Portuguese bridge. Three staterooms and two heads are below, while up top the aft deck of the flybridge has a standard davit with a 1,000-pound capacity and room for a 13-foot tender. Standard power is two 715-hp Cummins QSM11 diesels producing cruising speeds of 20 knots and topping out at 24 knots. grandbanks.com; (206) 352-0116
Duffield 58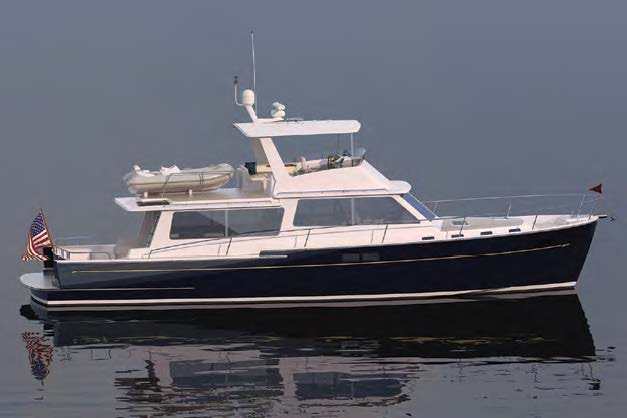 The new Duffield 58 is a traditional Doug Zurn design: low profile, classic lines, narrow beam, fuel-efficient, and low maintenance for easy, comfortable cruising. It's sea kindly, too, even before the addition of the standard Seakeeper gyrostabilizer.The Duffield 58 is the brainchild of Marshall "Duffy" Duffield—of the Duffy Electric Boat Company in southern California—who wanted a contemporary version of an owner-operated, single-diesel traditional West Coast trawler. He turned to Zurn, whose design studio in Marblehead, Massachusetts, has drawn elegant sail and power boats for Marlow, MJM, Lyman-Morse, and Bruckman, not to mention the eye-catching Shelter Island Runabout and Billy Joel's 57-foot commuter yacht Vendetta.
Built in Adelanto, California, the resulting Duffield 58 is powered by a 1,001-hp Cat C-18 and is so efficient it burns only 22 gph at 17 knots, topping out at 24 knots. The Cat is mounted aft, with V-drive to reduce noise. The Duffield 58 has a fine bow entry of 50 degrees, short overhangs for more interior space and a longer waterline for longitudinal stability.Inside, the clean, graceful Duffield has an open plan in the salon and galley. The master stateroom, with queen berth and ensuite head and shower, is forward. The VIP stateroom has the same arrangement, and there's a third small stateroom for children or crew. duffieldyachts.com; (949) 645-6811
Fleming 58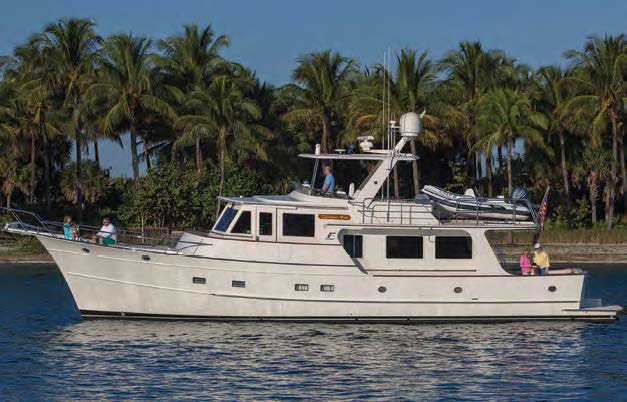 The new Fleming 58 begins where the iconic Fleming 55 leaves off. It has a little more room inside and out yet still retains all of the classic lines and sea-going capabilities that have made the brand famous. In stretching the 55, which Tony Fleming fi rst launched in 1986, the company also added considerably more weight—22,000 pounds, in fact—to make the boat more sea-kindly at displacement speeds. Flemings are semi-displacement boats, and the 58, which is powered by twin 800-hp MAN diesels, cruises at 15 knots—topping out at 20—but most Fleming owners prefer to spend their time at about 10 knots, where extra weight makes cruising more comfortable. The new 58 has three staterooms and two heads below.
The master remains in the bow, although a midship master is optional. The cockpit on the new boat is a bit larger than on the 55, while the salon and galley gain some room with a wider beam. Furthermore, the pilothouse with twin Stidd helm chairs and an L-shaped settee now has a dayhead. Most important to owners, the engine room now has standing headroom—a major design feat since the 58 still has the overall low profile of the 55. Throughout the boat, the fi t, fi nish and attention to detail are flawless. flemingyachts.com
Kadey-Krogen 58 E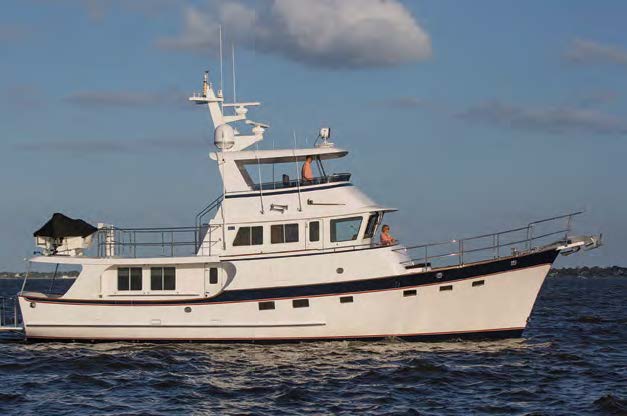 Over the past 30 years, Kadey-Krogen has built some 600 bluewater trawlers, all with the same characteristics: a full-displacement, bulletproof hull, usually with single diesel power, capable of cruising safely and comfortably anywhere in the world. Kadey-Krogens are recognizable by their traditional pilothouse, iconic wineglass stern and walkaround engine room. The new 58 EB (Extended Bridge) is true to its heritage, with additional amenities to make long-range cruising even more comfortable.
"People are spending a lot of time outside," says Kadey-Krogen's vice president, Larry Polster. "So we're creating increased livability. We're going for a more patio layout." In the new 58, there's more going on up top, where the enlarged flybridge can now seat ten, while a summer kitchen is behind the helm social area, with a propane barbeque grill, fridge, wet bar, and storage. The extended bridge on top also means a larger, covered aft deck below for more comfortable dining and relaxing.The 58 EB comes with two or three staterooms and two heads, a large salon, a galley as well-equipped as the kitchen in most homes, and a pilothouse with an optional berth and interior access to the flybridge. A single 325-hp John Deere diesel tops out at 10.4 knots. The 58's sweet spot is 8 knots, with a range of 2,600 nm. kadeykrogen.com
Outer Reef 580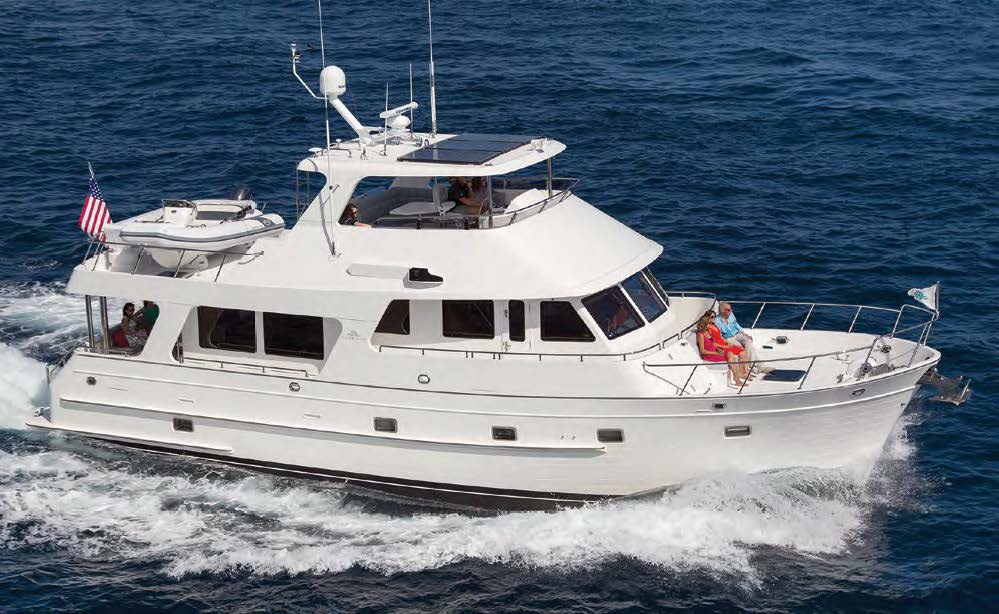 Even though it's the smallest boat in Outer Reef's Classic series, which stretches up to 115 feet, the new 580 is a big, bluewater cruising boat in its own right. Like all other Outer Reef yachts, the 580 is built to Ocean Class A standards, meaning it can withstand wave heights of 18-20 feet and sustained winds of 40 knots—a serious boat. Introduced at the 2015 Fort Lauderdale Boat Show, the Outer Reef 580 has everything you need for extended cruising or living aboard: three cabins, two heads, a pilothouse with side doors to a Portuguese bridge (with seating forward), full galley, large flying bridge protected by a hardtop, stand-up engine room (which can be accessed from the full-beam midship's master or from the utility room aft), washer and dryer, and a full keel to protect the running gear.
The interior layout is open and inviting. The salon has an L-shaped settee with a teak table, two large chairs and teak cabinetry, and lockers. Two steps up lead to a large galley with Corian countertops and all of the appliances you would find in a home. In the pilothouse there's another L-shaped settee on a raised platform with a teak table, and a teak stairway goes up to the flybridge. Power comes from two 500-hp John Deere diesels with ZF transmissions. outerreefyachts.com; (877) 606-0403
Vicem 65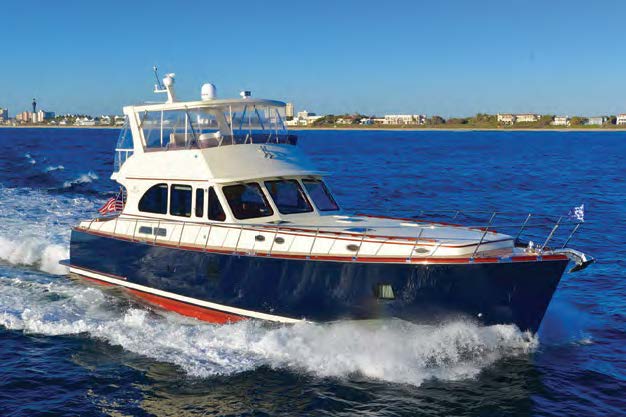 There's no danger of having a cookie-cutter yacht if you own a Vicem. Although the lines are classic, the all-mahogany, cold-molded, Turkish-built Vicems stand out from the crowd no matter where they are. Their new Custom 65 Flybridge, first introduced at the 2016 Palm Beach Boat Show, is a perfect example.Founded in 1991, Vicem concentrates on customization, craftsmanship, and timeless design with excellent fit and finish. The new 65 has a custom interior, in this case with three staterooms and a bonus child's room or alternately used as a crew's quarters (accessible from the VIP cabin).
But the 65 can be a two-cabin yacht if that's what you want, or a galley up or down. In this case, it's up, and it benefits from the yacht's spacious interior volume and high headroom.The 65 is powered by twin Volvo 900-hp diesels with traditional shaft drives. At a trawler speed of 10 knots it has a range of 1,000 nm; at 22 knots, the range is 350 nm. Top speed is 27 knots. But what's unusual in the Vicem is the ride's quality—smooth and quiet, both products of the cold-mold process, which uses laminated mahogany and epoxy resin to create the hull, decks and flybridge. The result is a stronger, quieter hull with natural insulation from humidity and noise. vicemyachts.net; (954) 462-8828
Nordhavn 96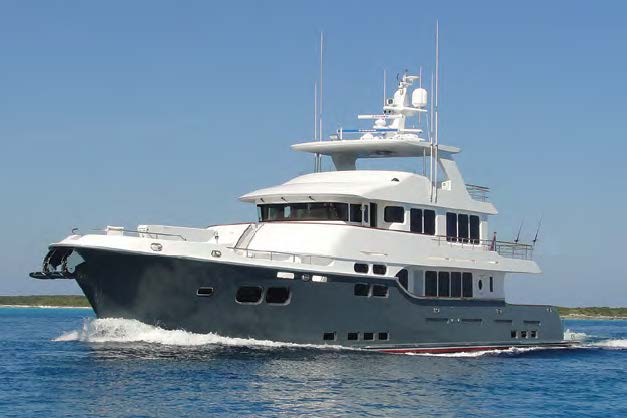 Ever since a Nordhavn 40 circled the world in 2002 and the company led the 18-boat Atlantic Rally from Fort Lauderdale to Gibraltar two years later, Nordhavns have been virtually synonymous with long-range cruising. Pick an ocean, a sea or a sound anywhere in the world, and it seems that a Nordhavn either has been there or is heading that way any time now. The new Nordhavn 96, with its 4,000-nm range at 9 knots, is designed to keep that reputation afloat. The new 96 is based on the hull of the successful Nordhavn 86.
In fact, the new owner of the first 96 is moving up from an 86 primarily because he wanted more overall interior space and room for a four-person permanent crew. (The company is quick to note that a couple can also operate the 96.) With a 400,000-pound displacement and 7,000 gallons of fuel, the Nordhavn 96 is a big boat. There's lots of room inside, with a full-beam owner's cabin and three guest staterooms, all with ensuite heads. The salon and galley are both a full 34 feet long. Twin MTU 600-hp diesels produce a top speed of 10 knots; tunnels protect the props. The electrical system can operate seamlessly anywhere in the world. Two 50-hp bow and stern thrusters help with docking. nordhavn.com; (949) 496-4848