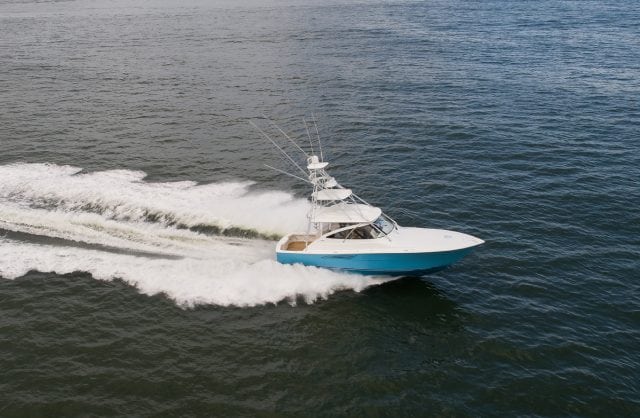 The Viking 44 Open delivers on so many levels, you'd swear she's a lot bigger boat.
When Viking decided to beef up the other end of its sportfish boats, it introduced the 37 Billfish and a 42 Open outfitted with pod drives. Seeing an opening for yet another size slot to fill, Patrick Healey, the company's president, and CEO, along with his design and engineering team, decided on a 44 Open with traditional drives to join the company's much-admired line-up. But don't let her size fool you. At 44 feet, she packs in all the horizon-chasing, battlewagon DNA found in her larger sisterships.
"We wanted the 44 Open to appeal to those coming out of the center consoles or new boaters looking for a family-oriented, easy-to-run sportfish that can and will offer comfort, safety, and our Viking performance," remarked Healey. "She's even a practical solution for those wishing to downsize as well." Her sleek and low profile, subtle bow rake and eye-pleasing, gentle sheer all combine with the design of the wraparound windshield as it rises up from the foredeck to present that unmistakable Viking look. However, it is from the bottom up that the real story about this boat begins.
Built at the Mullica, New Jersey facility, a strong, resin-infused hull is a hallmark of a Viking build no matter the size and something the company has continually been developing over their 50+ years in operation. A hull-to-deck joint is utilized and again, is typically found in all its sportfish boats. "A sealed flange joint Is through-bolted and fiberglassed from the inside making the resulting structure extremely strong and watertight," said General Manager John Leek IV.
Going the Distance
Viking goes the distance to ensure the entire Viking 44 Open is as robust as possible. The stringers are glassed to the hull then the floors are secured to the stringers and glassed to the hull. The bulkheads are also glassed to the floor and then into the hull and deck. "Everything that goes into that boat construction-wise comes together in a very strong, solid structure. It's not any one thing but a combination of techniques," Leek noted.
Leek's statement rang true as no matter where I examined, whether it be door or hatch opening or closing, or underfoot on her decks, her sturdy build was quite evident. In the Awlgrip-finished engine room—accessed via the forward part of the cockpit area—and being a hands-on skipper myself, I found more than ample space around the pair of standard 800-hp MAN I6 diesels to do all critical maintenance checks or work, as well as having an easy reach to all pumps and switches. The dedicated space for the Seakeeper is also located here. In addition, there were some more important construction details to note.
Viking uses an aluminum extrusion, referred to as a saddle, affixed to the stringer creating a full-length engine bed. Getting it right is important, and Leek noted the exact positioning of the vibration isolators and the engine mounts themselves. "Making sure the drive train is aligned and sitting securely on those beds is essential to the smooth, stable ride of the boat," he said. Other points are her main structural bulkheads with the light resin transfer method utilized on all lids, doors and hatches. In addition, the fuel tanks are infused and built integral to the hull.
Easy Owner Operations
With boats of this size being traditionally owner operated, Viking made sure everything that fits this profile was put aboard making the experience as good as it gets. "From families to a bunch of friends going out for a day or even several days of fishing, we can offer a package complete with everything they would need," added Healey.