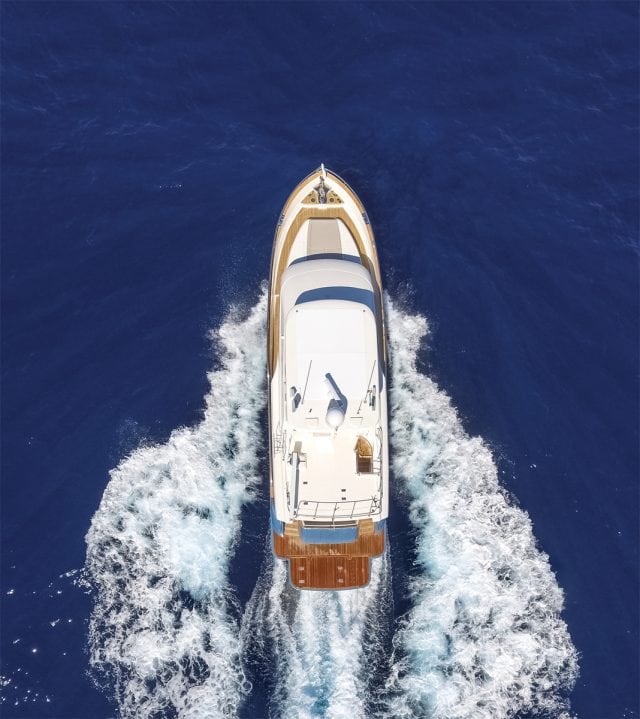 The seaworthy Outer Reef 620 Trident expands the reach of Outer Reef's line of luxury motoryachts into the long-range passage making arena.
If the Outer Reef 620 Trident shape, performance, and style says anything about where former 9-knot distance-cruising owners are headed, it is this: Time is of the essence. Having the capability to efficiently cruise at 9 knots makes sense for those folks whose goals occasionally include long-legged, time-gobbling passages to distant destinations. But for those whose lives are time-constrained between those passages, speed on demand helps manage their day-planners, shortens the time between favorite
nearby destinations and homeports, and lets them reach safe harbor faster when the weather threatens.
Time, especially an owner's time, was certainly on the mind of Jeff Druek, founder and CEO of Outer Reef, when he approached noted naval architect Ward Setzer about a vessel design that was separate but equal to the company's well-regarded line of classic motoryachts. Efficiency underway and precise handling in close quarters, excellent seakeeping across a range of conditions, and luxurious furnishings in a livable layout were surely part of Druek's entire equation.
Hull of a time
Setzer's solution for a modified-vee hull and running surface is notable. The high bow should handle large waves in open water with aplomb, while the pronounced flair forward and the full-length spray chine that drops down to the waterline should work together to keep the foredeck and side decks dry in most conditions. The stem is not quite plumb, with a subtle curve at the top, but the sharpness of it carries down well under the waterline and aft. It is worth noting that the swim platform extension is a component of the hull, adding more leverage for planing as well as solid mounting for the hydraulic swim platform lift. For maximum protection, there's a full-length keel that extends below the running gear.
Power selection addressed time, efficiency and handling in one broad stroke. Twin 550-hp Cummins QSB 6.7-liter diesels w/Zeus pods can propel the 620 Trident to 20 knots in the right conditions, but the best efficiency and range is found between 9 and 12 knots. Outer Reef also offers twin 600-hp Cummins QSC 8.3-liter diesels as an option. Add to that equation the notable handling qualities of the Zeus Drive pods, and even the greenest of owners should be able to dock this 23-ton (half load) yacht with precision. It's important to remember, too, that the Zeus Skyhook feature will hold the yacht in place automatically, a boon for those waiting for a bridge in windy or strong current conditions, or for those who are operating shorthanded and need to set or retrieve lines and fenders without worrying about drift.
The construction of the 620 Trident hull is a robust vinylester resin-infused layup with a PVC core sandwich, beginning with premium gelcoat and a vinylester barrier laminate for optimal osmosis protection. Wherever hull or deck attachments exist, the fiberglass is solid laminate. A molded stringer/grid system adds stiffness and strength to the hull—one of only three molds that form the entire structure. One other hull feature is noteworthy: Integrally molded rub rails along the hull sides are capped with stainless steel strips to prevent hull damage from pilings. Tempered glass is used for safety; salon windows are
3/8-inch thick and pilothouse windows are 1/2-inch thick.
Outer (Reef) Space
True standup headroom for a 6'3″ boating writer, or owner, is a prime hallmark of the engine room on the 620 Trident. Two watertight bulkheads and a watertight pantograph engine room door on the transom, leading into the lazarette, isolate the compartment very well. There's more than enough room around both engines for maintenance even taking into account the standard 20kW Cummins Onan Quiet genset. Also standard are a fuel polishing system, a fuel management system, and a Fireboy fire suppression system that includes both intake and outlet air shutdown louvers. There are two Racor 1000 MA single fuel filters for the main engines and another one for the genset. Experienced cruisers will appreciate the fact that all tanks have inspection and cleaning ports.