Fish and Play
Formula's 387 center console comes in two styles, but they share the love of fishing and the need for playtime.
Formula has re-entered the center console market with vim and vigor, meaning its enthusiasm and positivity with the introduction of the 387 CCF and 387 CCS has fishermen and their families realizing they can both have fun out on the water—together. 
"It was the [Formula] family's idea to do the sport and fish styles," says Abe Haines, product specialist for Formula Boats. "They actually put a team together. There were three of us that went out and did almost two years of market studies. We went on fishing charters, we walked docks, we saw what was docked at people's houses…we knew we were going to build a center console, but we didn't know where we were going to build it or how fishable we're going to build it. So that two years of research showed us the market's trend, and we decided thirty-eight feet was a good place to start. It left us room to go bigger or smaller depending on how it was received."
What that did was allow owners to choose one style with more fishing features or one designed for more sandbar/family cruising options. What didn't change was Formula's recipe for a solid, performance hull, the FAS3Tech. The double-stepped hull is a proven offshore design and with a touch of flare, keeps the deck dry.

"We got into some four footers one day, and it wasn't real enjoyable fishing, but we had to
do it. We wanted to see how the boat performed in real conditions," says Haines. "It's pretty heavy for this size of boat, but it handles great and it's smooth. We were getting good splash-ups; it wasn't real windy, so the water wasn't blowing back in, but the cockpit stayed dry."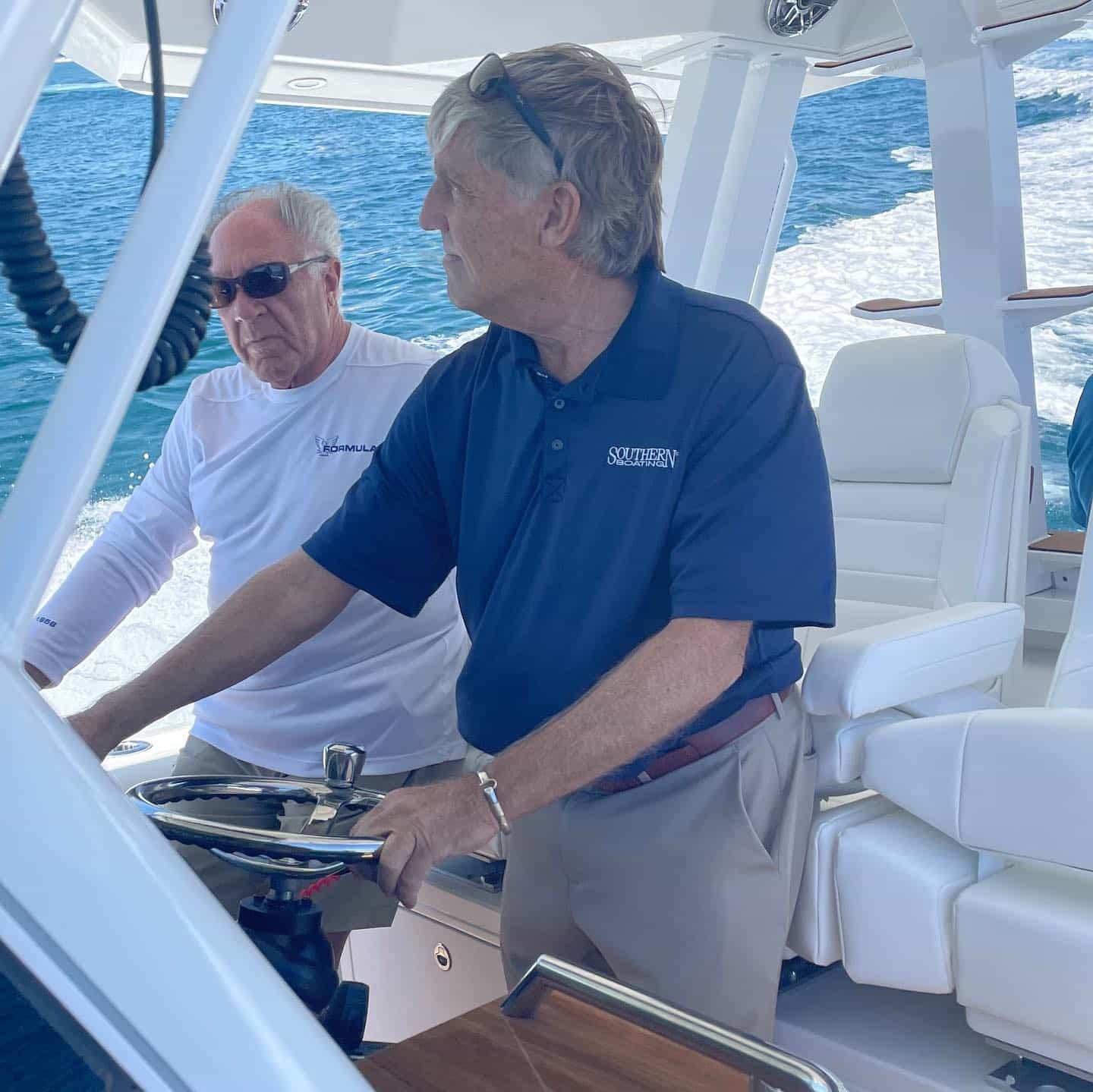 "I think my first indication of this boat when I ran it for the first time about a month ago as Hull Number One is how solid it was," says Vic Spellberg, our captain for the day. "We've had to do nothing as far as rattles and squeaks and things of that nature. It's just solid. It reacts at higher speed right away. It reacts to the helm, trim, and tab adjustments immediately and has performed with the triple Mercury 450R engines with no issues for more than one hundred-twenty-five hours."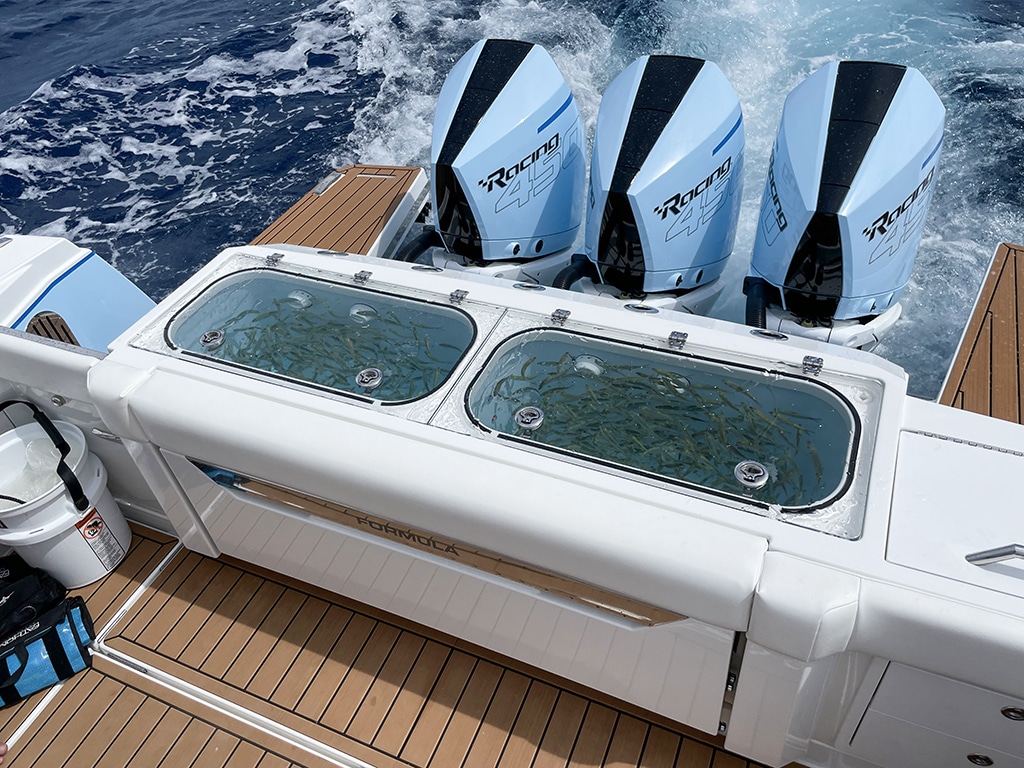 The boat was launched in Miami prior to the 2022 Fort Lauderdale International Boat Show and was taken through the paces to test her skills. Over in Bimini, she fished the deep drops for more than a week before heading back across and south to the Keys and the fishing grounds off Key West. It wasn't hard to put on those first 125 hours. After arriving back in Miami, the crew was still impressed with her handling and stability. 
We were out on the Formula 387 CCF, the fishing model, and were up on plane and running 52 mph at 6,000 rpm within a minute. Yes, it was a beautiful day and there wasn't a four-foot chop, but without feeling a thing, we were "hauling the mail." The more popular Mercury Racing 450 outboards powered us out, but there are options.
"Fuel economy would tell you a fisherman is going to put four-hundreds on it," says Haines. "They're just a little better for where your shift range is and the fuel economy." An owner can choose from the standard triple 300 Verados to dual 600 Verados, and now, the new Verado 5.7L V10s, all with Mercury Joystick Piloting.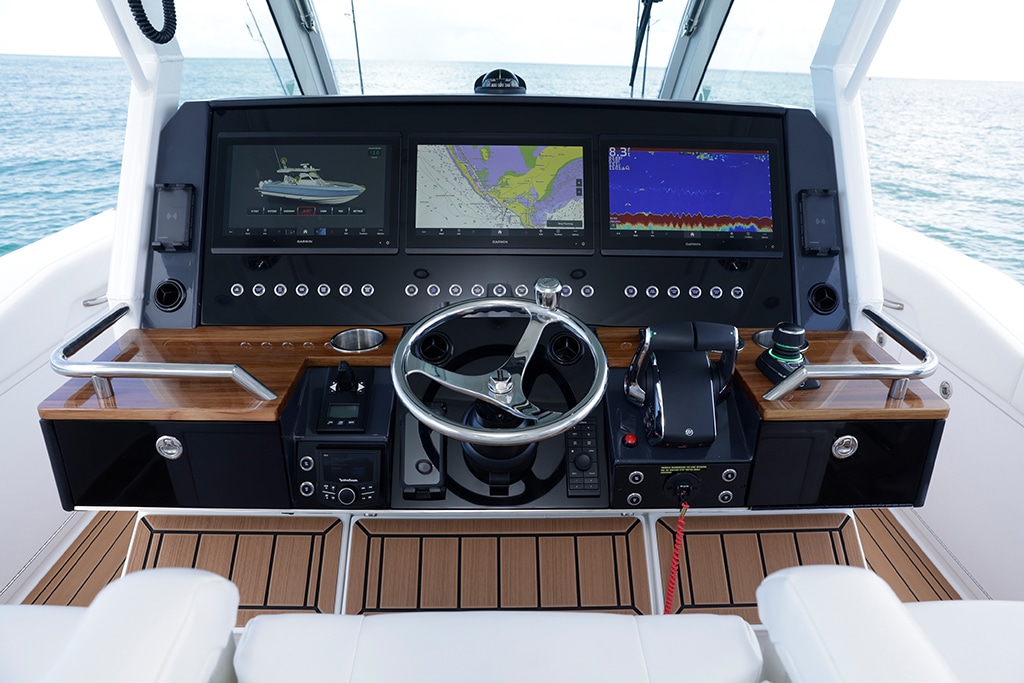 At the helm, Spellberg found everything he needed. The helm comes standard with twin Raymarine Axiom XL 16 GPS chartplotters for the Sport model, while twin Garmin 8616 16 chartplotters are standard on the Fish model. Owners have a choice of either brand and up to three displays. 
On our boat, triple Garmin 16s were at play. "Everything at the helm is within easy reach," Spellberg says, including the bow thruster that is integrated into the joystick, a new feature, and controls for a Seakeeper 3 gyrostabilizer system. The options list goes on, but standard features are excellent, such as the cockpit refrigerator, bow seating with power table, and ReFLEX decking on the helm pad for the Sport model. The Fish model adds aft cockpit fish boxes with macerators, a YETI Tundra 35 pull-out cooler, and GEMLUX deluxe outriggers. Needless to say, the Formula 387 is ready to go out of the box. Customize it to your desire with a variety of color graphics and décor, not to mention stereo and speaker setups. 
Whether fishing or taking a family outing, comfort is key. Triple helm seats with folding armrests, mezzanine seating in the cockpit along with a flip-down bench at the transom, and forward-facing twin sun lounges with flip-up armrest with drink holders up in the bow are just the beginning. The bow can also accommodate additional seating forward of the lounge with a power-adjustable table, though the fishermen will want to keep that area open as a walkaround.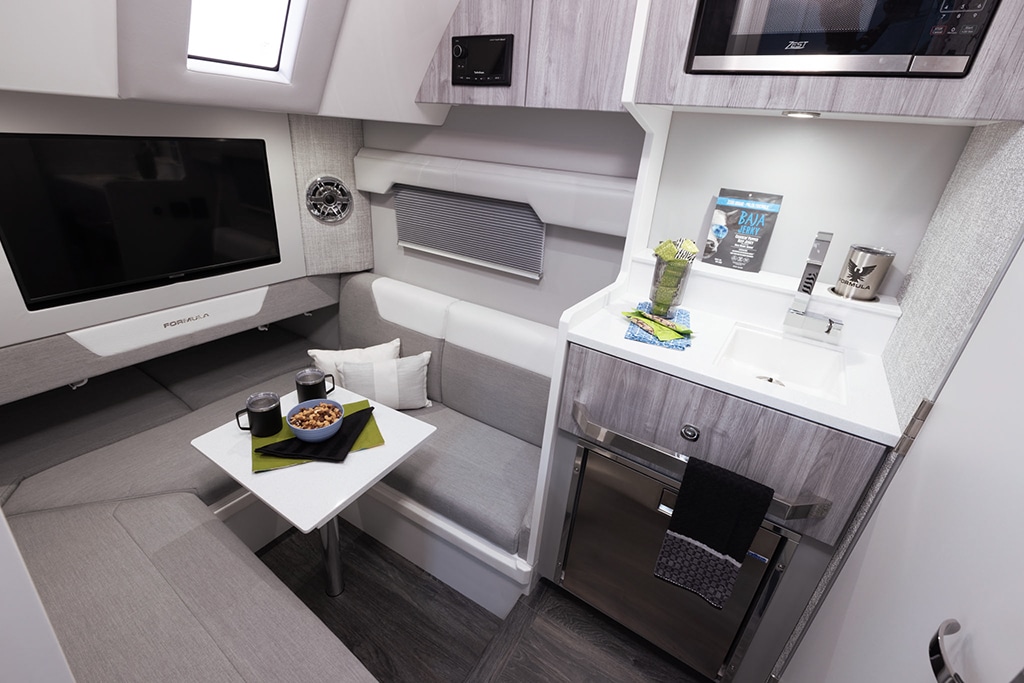 Not always considered a comfort zone, the center console cabin on the Formula 387 is roomy (6-foot, 4-inch headroom) with filler cushions for a nearly queen-size bunk. When that's not in use, a table for two fits in and is great for holding snacks and sizable enough for card or board games. The cabin also features a 32-inch HDTV as well as a small galley area with a microwave oven, sink with cutting board insert, drawer for utensils and plates, and a pull-out refrigerator stacked between the sitting area and the head with sink and shower. There's plenty of storage with enough room for fishing rods. 
There are around 30 drink/rod holders (even the gunwale for the tuna door has drink holders when flipped open), seven dual USB charging ports, spring-loaded wireless phone chargers, and storage in cabinets, floor boxes, and along the side walls. As mentioned, options abound from air conditioning to stabilization to FLIR thermal cameras to radar, but with the standard gear, the Formula 387 CCF and CCS gives you all the flexibility to turn the key and go. 
As a performance boat company that is focused on the on-water lifestyle from fishing to water sports to family cruising, these two new models fit nicely into the Formula Crossover series and satisfies those who want more than the standard fishing or day boat.  Formula Boats
-by Steve Davis