The boating boom is alive and well. Ask any of the boatbuilders attending the 62nd Annual Fort Lauderdale International Boat Show (FLIBS) set for October 27-31 at the Bahia Mar Yachting Center.
Trying to keep up with unprecedented demand over the past 18 months, boat and yacht builders can be forgiven for not having the capacity or time to add new models. Yet, there are plenty of builders introducing a new boat or two at the world's largest in-water boat show.
For tickets, hospitality packages including the popular Windward VIP Club, parking, and more, visit flibs.com.

Intrepid 427 Nomad FE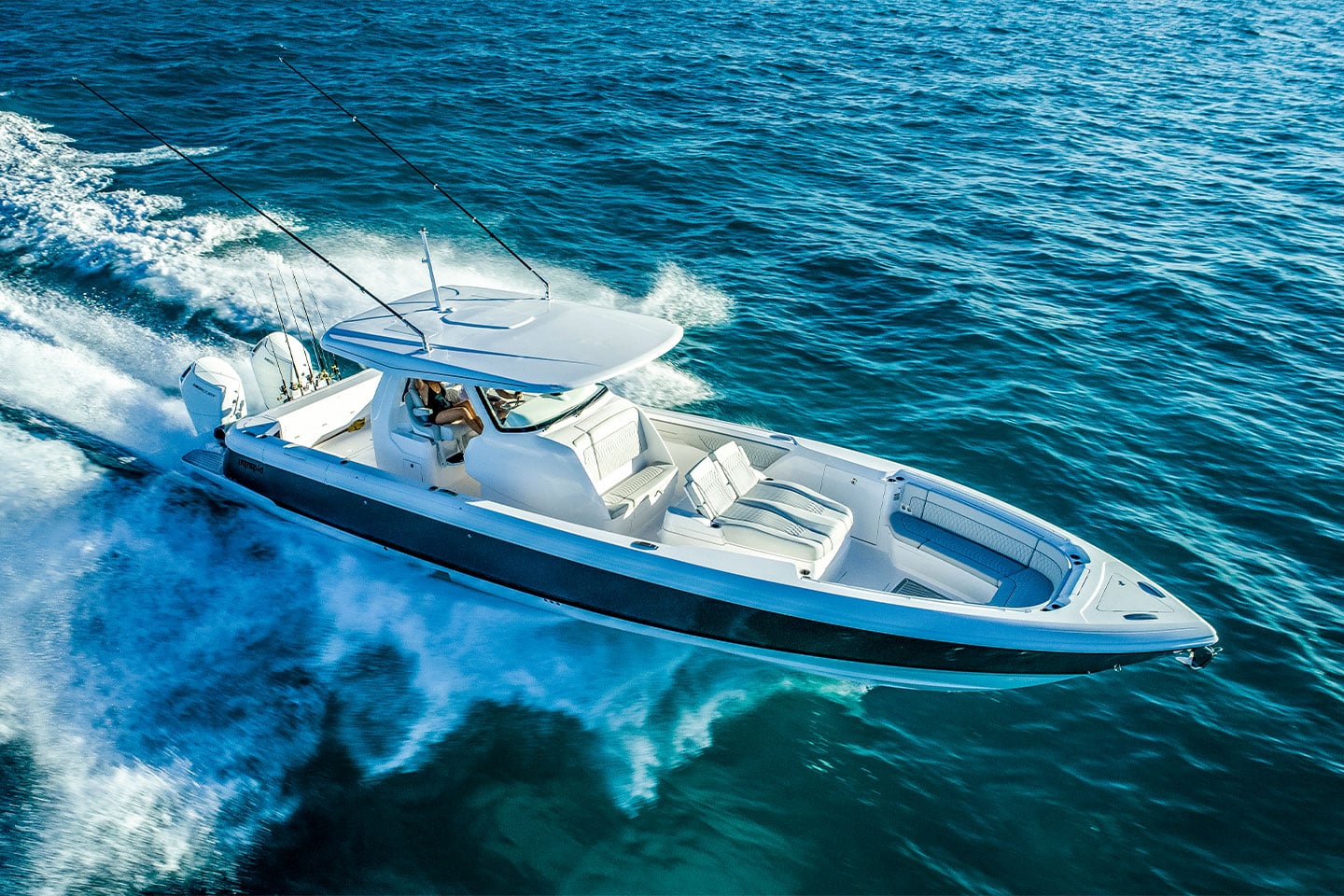 After debuting at an Intrepid Rendezvous in July, the new 427 Nomad FE is making an encore appearance in Fort Lauderdale, powered by triple 600-hp Mercury Verado V12s. Highlights of this roomier, more powerful center console (42′ 7″ LOA, 12′ 8″ beam) include a full-height glass windshield with wiper for maximum protection from the elements. The customizable aft cockpit features a hullside swing-in dive door on one side and a hydraulic hullside platform on the other, each with fold-out ladder and grab bars. Forward seating includes dual sun loungers and a hi-lo table that converts bow seating to another expansive sunpad. The spacious hideaway head with shower completes a package that delivers Intrepid's signature brand of custom comfort and performance. intrepidpowerboats.com
---
MJM Yachts 3z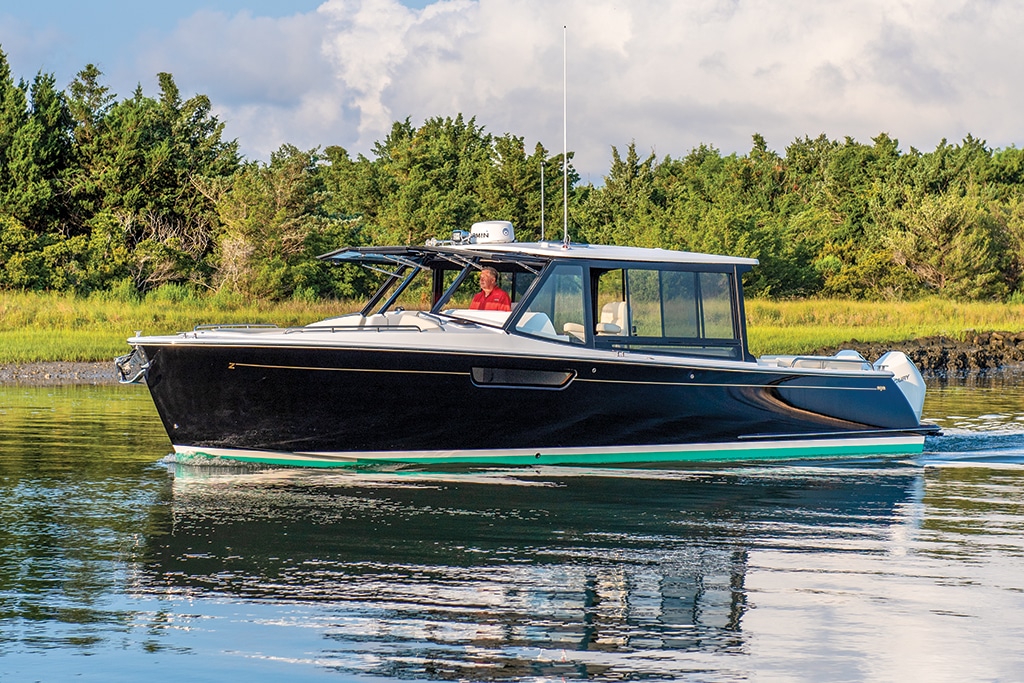 Designed in a Carolina Downeast style, the 3z is MJM Yachts' first entry into the dayboat market. The 38-footer with an 11-foot beam is built upon the 35z hull designed by naval architect Doug Zurn. The epoxy-infused cored composite hull is light enough that MJM Yachts went with twin 300-hp Mercury Verado XL outboards. The pilothouse offers 360-degree views and can be used for overnighting as port and starboard settees can sleep two or seat six. A full head and shower are in the port console. The builder loaded the MJM 3z with electronic goodies, including Garmin displays, Mercury's digital fly-by-wire with joystick control, and Skyhook digital anchor. mjmyachts.com
---
Tiara Yachts 48 LS

The largest outboard-powered Tiara Yachts has ever built, the 48 LS, builds on the legacy of the LS Series. Forward, the bow features wraparound seating and a chaise lounge. Aft, the rotating lounge boasts multiple locking positions and electrically adjustable backrests. Deploy the terrace and expand the cockpit. At the helm, sliding doors provide a retreat from the elements. The 48 LS (48′ 4″ LOA, 14′ 2″ beam) features the new 600-hp Mercury Verado V12 engines that deliver the ultimate outboard-driving experience. tiarayachts.com
---
Maritimo M55

As part of an ongoing new model development program, Australian luxury motoryacht manufacturer, Maritimo, will unveil the new M55 and S55 in Fort Lauderdale. The M55 (56′ 8″ LOA, 17′ 2″ beam) is the latest evolution of the iconic flybridge motoryacht series. Defining its striking new exterior form are the molded bridge overhangs, which are a legacy feature of Maritimo flybridge motoryachts past. The overhangs not only provide space aboard, they also protect the walkaround side decks. The S55 (56′ 8″ LOA, 17′ 2″ beam, right) is designed to meet the lifestyle expectations of a dedicated group of express motoryacht enthusiasts seeking space, comfort, and luxury with an emphasis on long-range offshore cruising and adventuring. maritimoamericas.com
---
Formula 500 SSC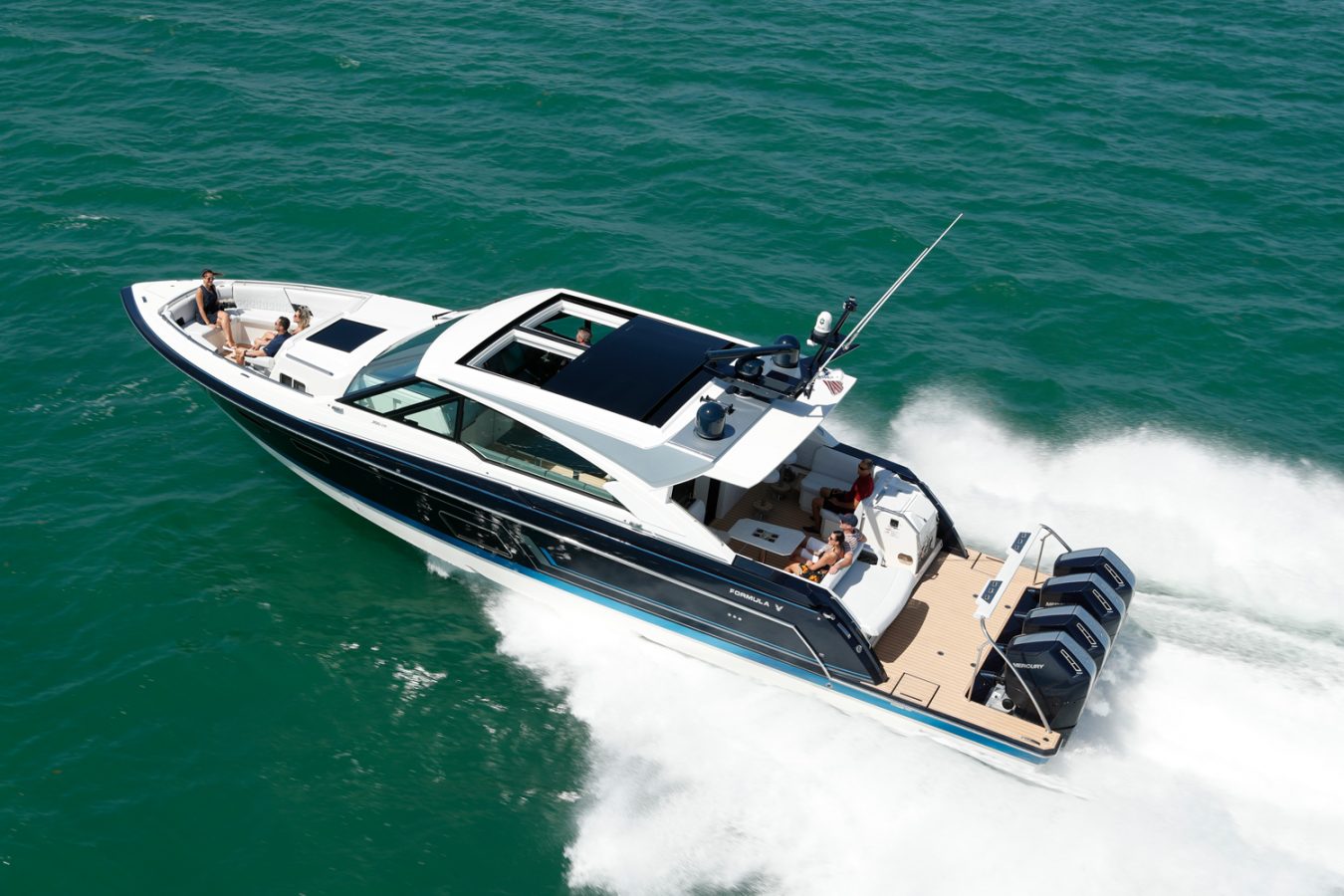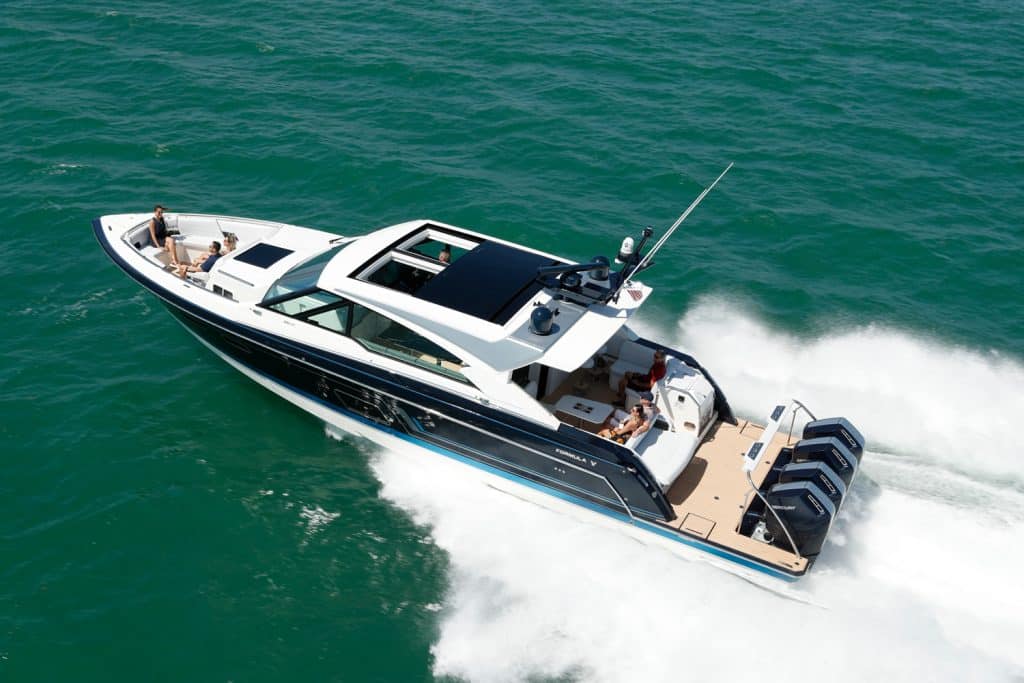 The Formula 500 Super Sport Crossover is the latest in the popular line featuring the surefooted FAS3Tech hull. The 53-foot bowrider (14′ 6″ beam) comes with a full cockpit galley and bar, an entertainment system featuring a 65-inch power-lift LED TV, and a hardtop with sun and moon roofs. For overnighting, the 500 SSC has a separate stateroom with a queen-size berth, sofa, and entertainment suite, a full head, and a stocked galley. From the spacious bow to the expansive extended swim platform, sun lovers will rejoice. The 500 SSC has a 290-mile range running 42 knots with its quad Mercury Verado 600 outboards. formulaboats.com
---
Regal LX 36 | 38 FXO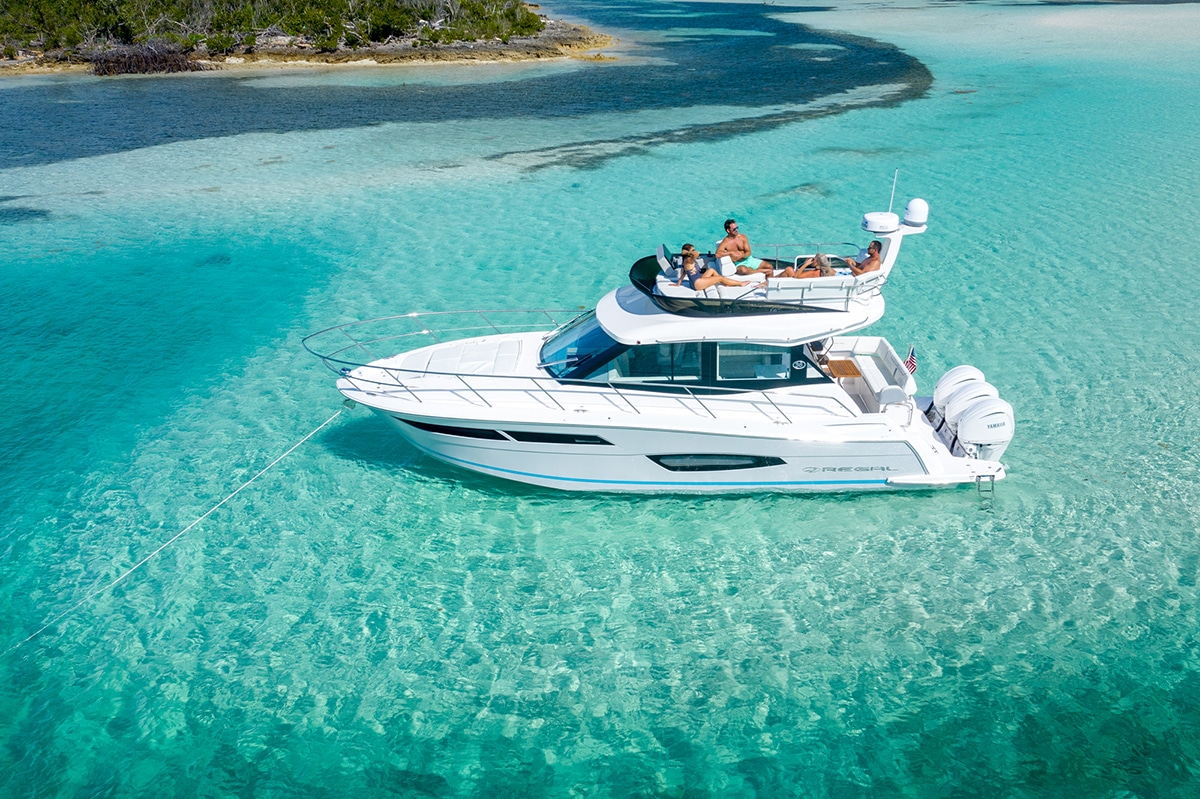 Following the positive response and success surrounding Regal's LX Series and Yacht Series, Regal has introduced two all-new models that will make an appearance at the Fort Lauderdale International Boat Show. The LX36 (37' 2" LOA, 11' 4" beam) brings the luxury of its yacht series and marries it with the performance of its sport boats to create an unparalleled premium bowrider. Meanwhile, the all-new 38 FXO (38' 10" LOA, 11' 11" beam) expands Regal's Flybridge segment as a one-of-a-kind luxury outboard-powered sport yacht providing unbelievable views and an unrivaled boating experience. Regal will offer both new models with outboard or sterndrive power. regalboats.com
---
Boston Whaler 420 Outrage Anniversary Edition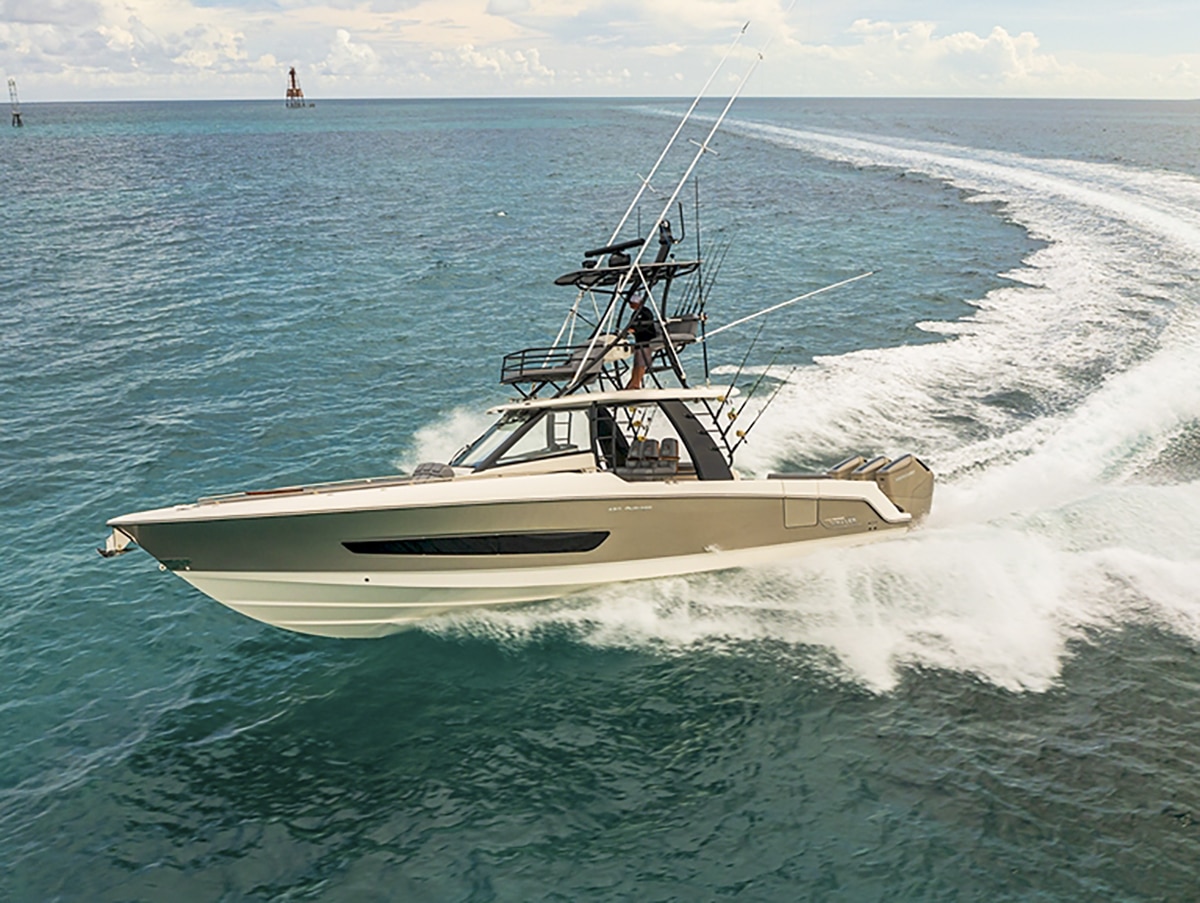 To celebrate 50 years of exceptional boatbuilding, Boston Whaler released the 420 Outrage Anniversary Edition. The boat (42′ 6″ LOA, 13′ beam) is equipped with triple 600-hp Mercury Verado V12 engines and will be available for testing during the Fort Lauderdale show. The Anniversary Edition comes with upgraded interior and exterior upholstery, a teak accent package, black hardtop frame package, Seakeeper gyrostabilization system, joystick piloting, and custom engine paint. Cruising at 38 knots, the 420 Outrage has a range of 338 nautical miles, and top speed with the 1,800-hp engines is 51.5 knots at 6,000 rpm. bostonwhaler.com
---
Hinckley 35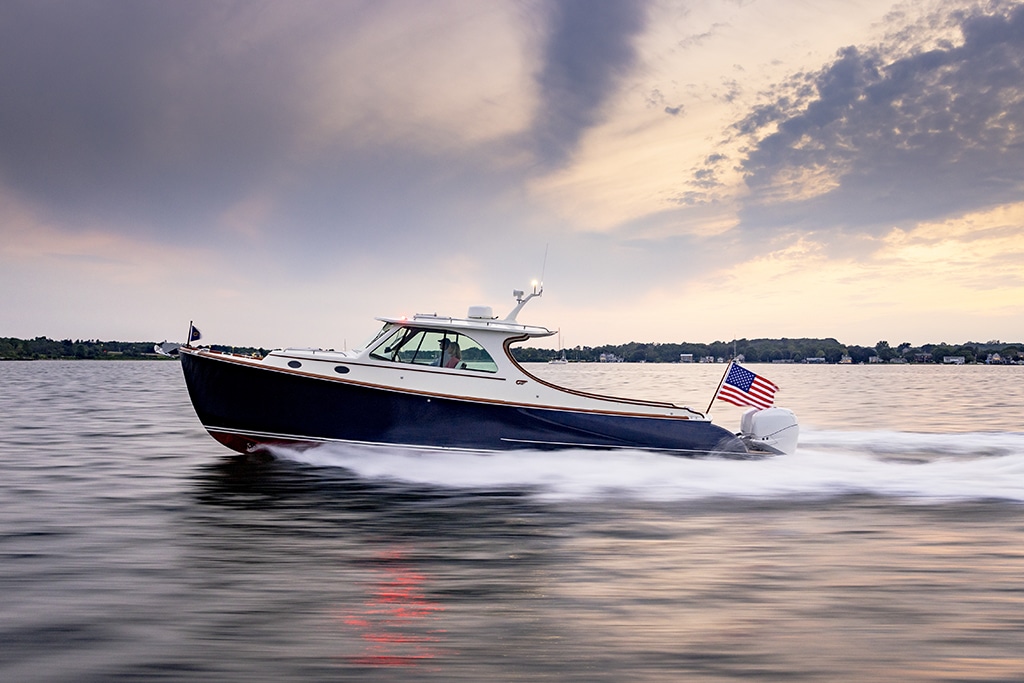 Hinckley Yachts and renowned yacht designer Michael Peters teamed up for the Hinckley 35, a twin outboard boat that reflects the company's commitment to craftsmanship and quality. From stem to stern, the 38-foot vessel (11′ beam) was designed with the user experience in mind. The ClearView single-pane windshield—a Hinckley innovation—provides the driver with undistorted, unobstructed visibility in all directions. The open-air cockpit and cozy salon offer room to spread out and enjoy the surroundings. Below, the 35-foot teak-and-holly-appointed cabin invites friends and family to enjoy a cool drink or even grab a quick nap on the comfortable V-berth. hinckleyyachts.com
---
Everglades 455CC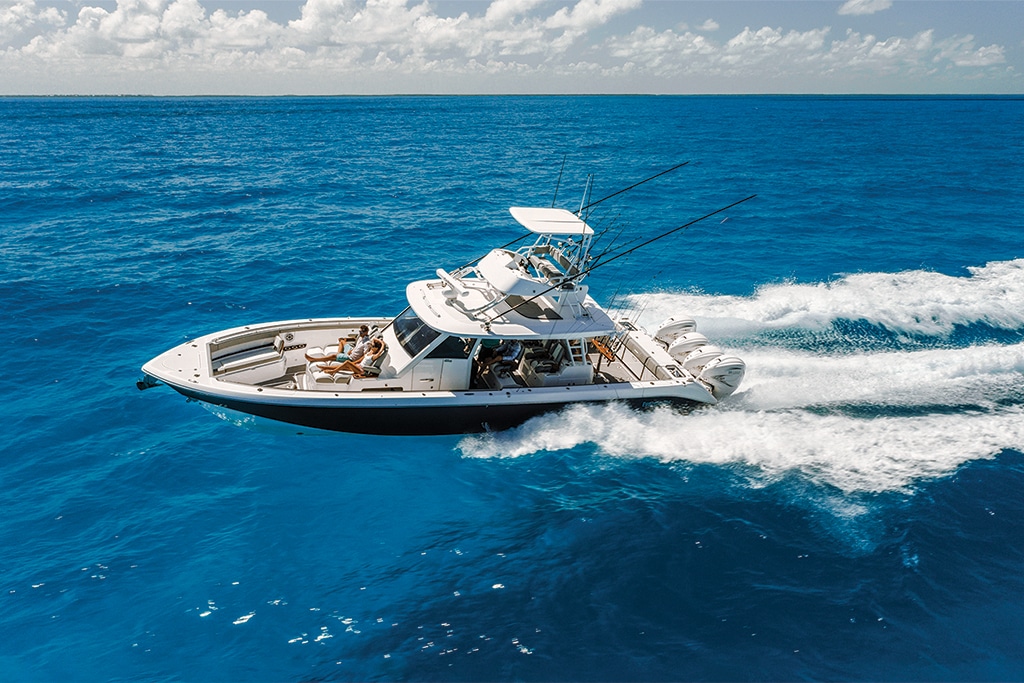 Every new model launch is important, but this is one of the most significant in Everglades' history with the 455CC. The boat is a testament to the company's 20-year history of unyielding innovation, time-honored design, and uncompromising fishability. The 455CC (47′ 2″ LOA, 13′ 3″ beam) is a flagship of technology with the largest command center to date. The helm allows the operator to control everything. Integrated into the vessel's central nervous system with the assistance of Garmin's advanced electronics engineers, three massive Garmin touchscreen monitors provide continuous access to a full array of information and control features. evergladesboats.com
---
Pursuit S 358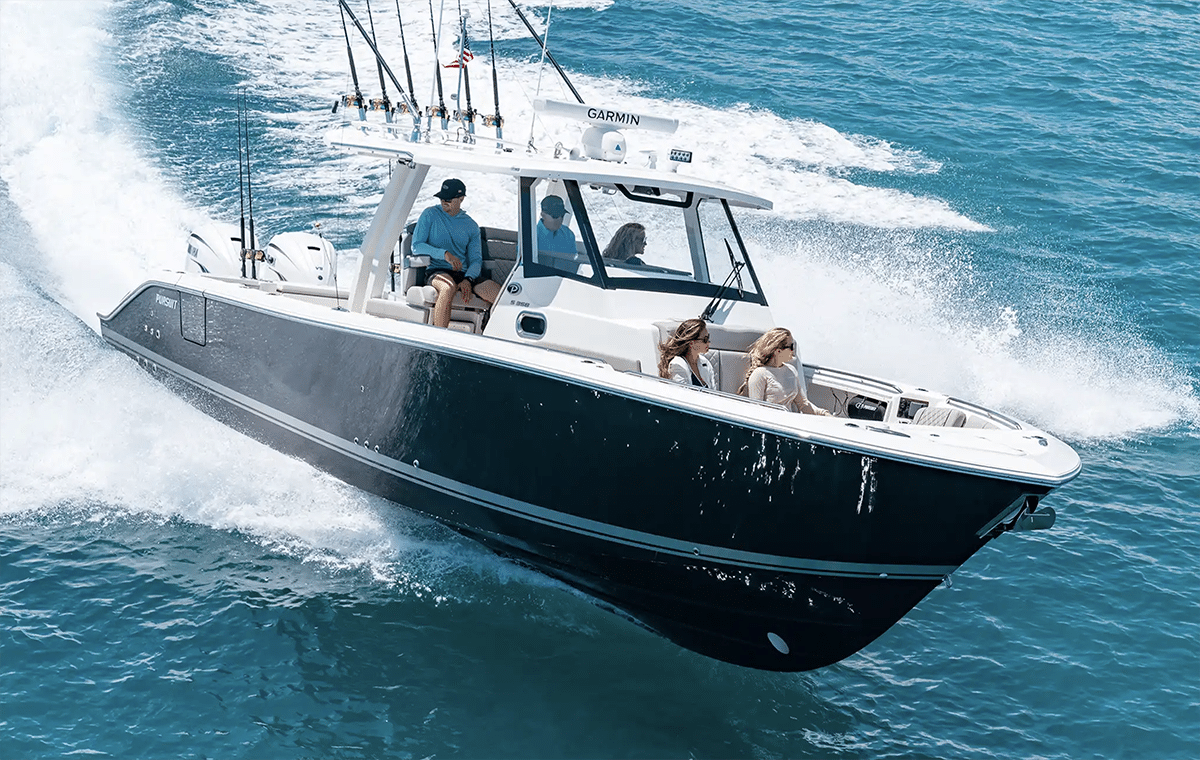 Pursuit's all-new S 358 is the highly anticipated addition to the popular Sport family. Pivotal to its purpose is functional versatility, like the split mezzanine seat and transom seats that fold away to allow wide open cockpit space for fishing and access to amenities for entertaining. The S 358 (37′ 4″ LOA, 11′ 4″ beam) is ready to fish with plenty of rod holders and storage, a hull-side door, livewell, and multiple fish boxes. It's the only center console in the 34- to 35-foot market with an enclosed head. With many different social zone configurations, each space can be adjusted to maximize your comfort level. pursuitboats.com