Maryland's Summer Bounty
Crab cake dinner the way they make it on the Bay.
My husband, Jim, a native Baltimorean, brought me home to visit his family before we married in 1982. The first meal I had with this delightful, multigenerational tribe was a Maryland-style crab cake dinner. Since I was a New Englander (and clearly knew nothing about proper crab cakes), I was invited into the kitchen to observe the ritual by Jim's 90-year old grandmother, Violet.
I learned several rules about making Maryland crab cakes. First, always use backfin crab—it is the sweetest—and pick through it carefully for cartilage and shell. Next, fold crab cake ingredients very gently and, ideally, make them small enough to fit on a cracker. Finally, cook them gently, until golden brown, and always serve them with summer corn, tomatoes, and melon. We ate these sweet gems greedily, on crackers, topped with cocktail sauce and lemon.
Since then, I have made crab cakes just the way she taught me with great success and created some of my own memories with the summer's bounty.
Crab Cakes
½ cup breadcrumbs (divide into two quarters)
½ Tbsp. Old Bay seasoning
¼ cup mayonnaise
1 egg, lightly beaten
1 lb. backfin crab meat
2-3 Tbsp. oil or butter
1 lemon, quartered
½ cup cocktail or tartar sauce
In a bowl, mix one quarter-cup of breadcrumbs, Old Bay, mayonnaise, and egg well. Pour in crab meat mixture and gently fold sauce and crab meat together, careful to not shred the crab meat and to ensure the ingredients are well-blended. Cover mixture and store in the refrigerator at least 30 minutes.
Portion cakes into 12 crab balls. Roll each ball in the remaining quarter-cup of breadcrumbs.
To cook, sauté on medium in a skillet with oil for 2-3 minutes per side or until crab cakes are golden brown. Serve with crackers, quartered lemon, and cocktail or tartar sauce.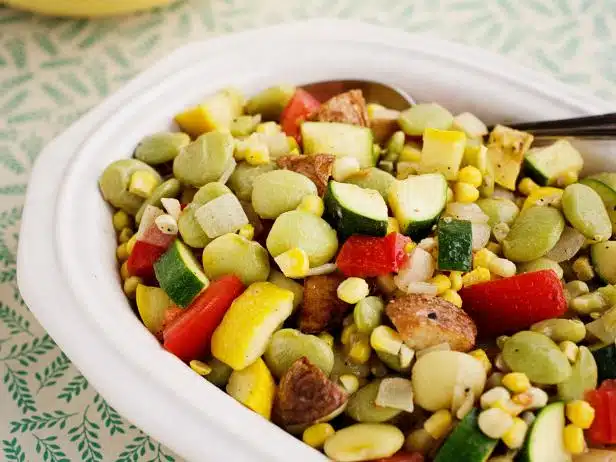 Summer Succotash
1 lb. fresh or frozen shelled lima beans
¼ cup olive oil
1 cup fresh or frozen corn kernels
2 cups bell pepper, cored, seeded, diced
1 cup red onion, diced
¼ cup jalapeño, seeded, and diced (optional)
2 cups tomatoes, diced
1 Tbsp. chopped fresh marjoram or oregano or basil (or pinch of dried)
1 Tbsp. vinegar (optional)
½ tsp. each salt and pepper
Cook lima beans for 5-10 minutes in water until tender and drain. Heat the olive oil in a skillet. Add the corn, bell pepper, and onion. Cook and stir over medium heat about 3 minutes, until the vegetables are just tender. Add the lima beans and jalapeño and cook 5 minutes longer, stirring occasionally. Turn off heat, add the tomatoes, herbs, and vinegar. Season with salt and pepper and serve warm or room temperature.
Boozy Melon
2/3 cup sugar
½ cup tequila
¼ cup orange liqueur, such as Cointreau
½ cup water
8-10 cups cubed seedless watermelon
½ cup fresh mint leaves or pinch of dried
¼ tsp. coarse salt
1 lime, quartered
Place sugar, tequila, orange liqueur, and water in a small saucepan and bring to a gentle simmer over medium heat, stirring until sugar dissolves. Let cool slightly. Arrange watermelon in a single layer on a platter. Pour syrup over fruit. Cover and refrigerate at least 3 hours or up to one day. Serve with mint, sprinkle with flaky salt, and a squeezed lime.
By Lori Ross, Southern Boating 2021