September 27, 2023
Weekly Market Outlook
By Donn Goodman and Keith Schneider
Thank you for tuning in again.

The past few trading sessions have seen the markets come under pressure, particularly growth stocks. The reason why, of course, is because the Federal Reserve made it quite clear that they may not be finished raising interest rates. While they did pause as a result of this week's Fed meeting, it was broadcasted that more of its Fed Governors are all for additional rate hikes and promised at least one more later this year (November would be our guess).

It is important to note that the Fed did not hike interest rates at their Wednesday meeting. Nobody thought they would, as evidenced by the very low probabilities priced in the futures markets. However, they did signal to the needs that there is a real possibility of another 25-basis point increase by the end of the year. As notably (and hawkish) the Fed's dot projections indicate, the first rate cut of 2024 will likely not happen until well into next year's second half.
We have pointed out in previous Market Outlooks (one entitled Higher For Longer) our own belief at MarketGauge that interest rates are NOT coming down anytime soon. While we did recently suggest that the Fed could halt future interest rate rises, we also did allude to the idea that Inflation was ticking up, could go higher, and that rates could eventually see 5.5%-6.0% in the 10-year Treasury. It wouldn't take the Fed's actions to cause this to happen as we have been witnessing the 10-year trending higher just in the past few weeks.

The 10-year Treasury rate now sits at the highest mark since 2007. More importantly, it gapped up Thursday morning and broke out to a new high. Because many analysts use interest rates as an important input in their stock valuation, it immediately hit the stock market hard.

Higher rates continue to put pressure on many parts of the economy and stock valuations at a time when we expect the most volatility (September). It is also pulling investment capital out of stocks and into Treasuries, which at this juncture are considered a more attractive risk-free rate of return. More on this in a minute.

See the 10-year Treasury breakout picture from Thursday below which shows the 10-year rate over the past year: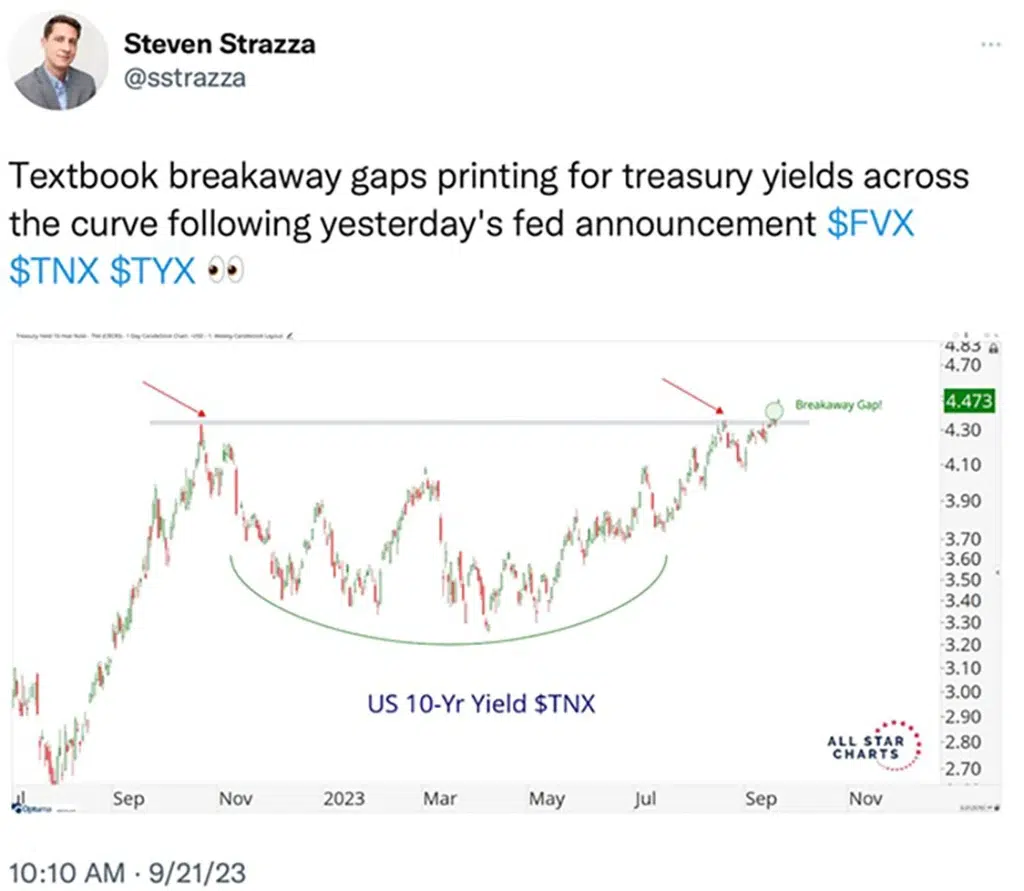 Here is the last 16-year picture of the 10-year interest rate. Notice how low the rates got during the COVID Pandemic as the Fed could not print money fast enough to prop up the economy: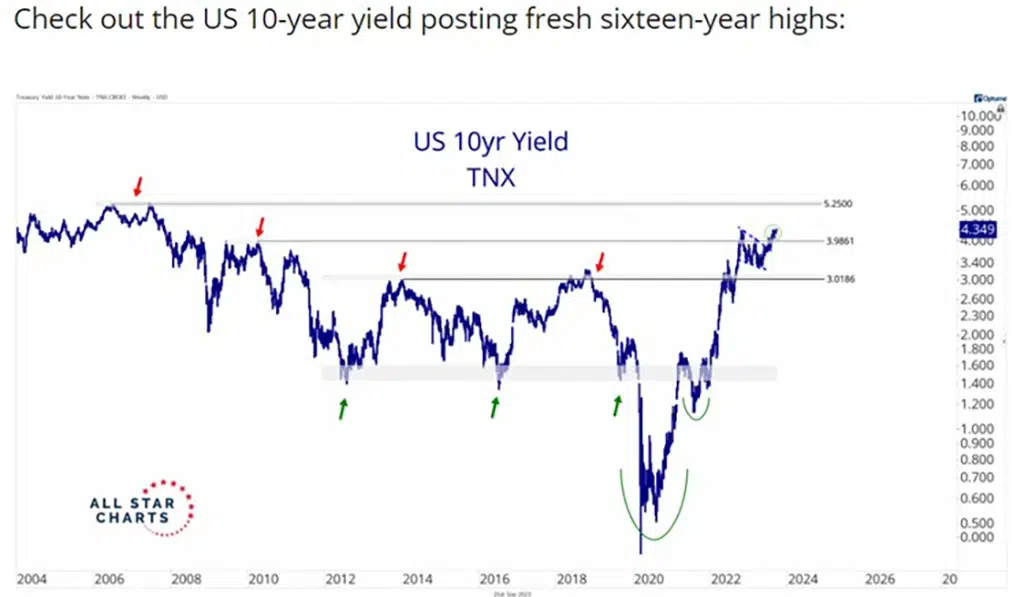 The pain is likely to continue for bond investors. Remember as rates rise, the price of bonds fall and many investors who thought they could get refuge being in fixed income funds are continuing to see principal losses in their accounts.

Bond traders are expecting further yield increases as the Fed's "higher-for-longer" message seeps in. Part of the problem for fixed income assets is that the economy remains so resilient. Bill Gross, the former bond king, said he expects a third-straight year of losses for Treasuries. JP Morgan & Chase Co. head Jamie Dimon said the Fed may need to hike further to fix inflation. Both said this things before Chairman Powell's commentary last Wednesday.

For borrowers and people depending on interest rate loans, this all means continual hardship. See chart below: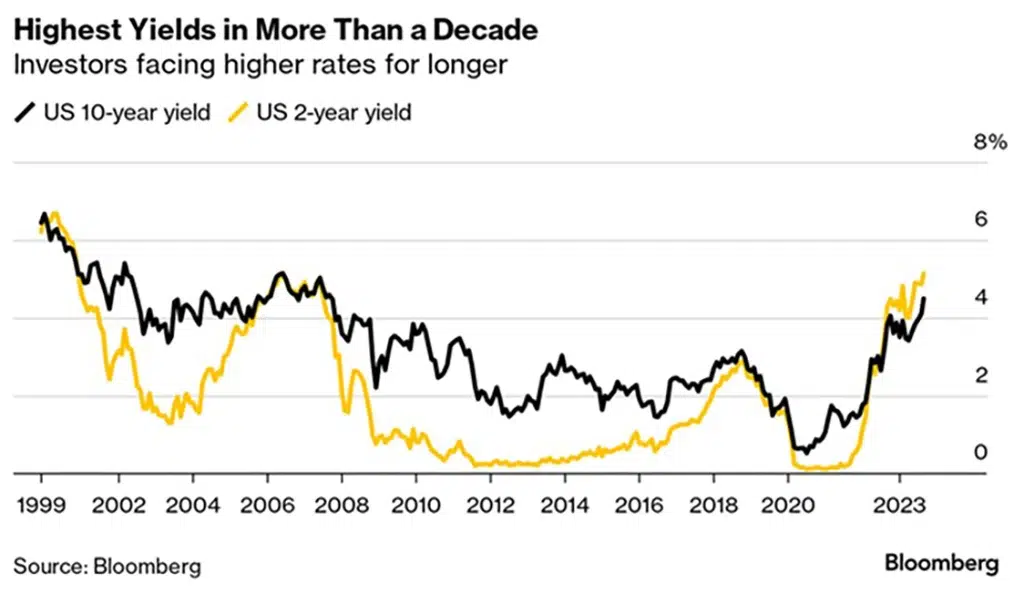 **************
Discover Your Investing Strengths
What the Fed's rhetoric means for the stock market:
The key aspect of the FOMC hawkish commentary coming out of their Wednesday meeting was whether or not it undermined the "Fed done or almost done with rate hikes"? We do not think it did. We believe that while the Fed's commentary was indeed more hawkish and perhaps a much more negative market reaction, it did not change the trajectory of their stance in fighting inflation.

The truth is that most analysts had predicted that it was likely the Fed would hike one more time later this year.

Beyond the short-term negative reaction in the markets, the Fed used Wednesday's statement, dots, and press conference to drive home that rates will stay higher for longer.

So far we have had a 5% correction in the past week. Realistically, that is far more typical than one might expect given the amount of selling and "fear" that came back suddenly in the markets. See chart below: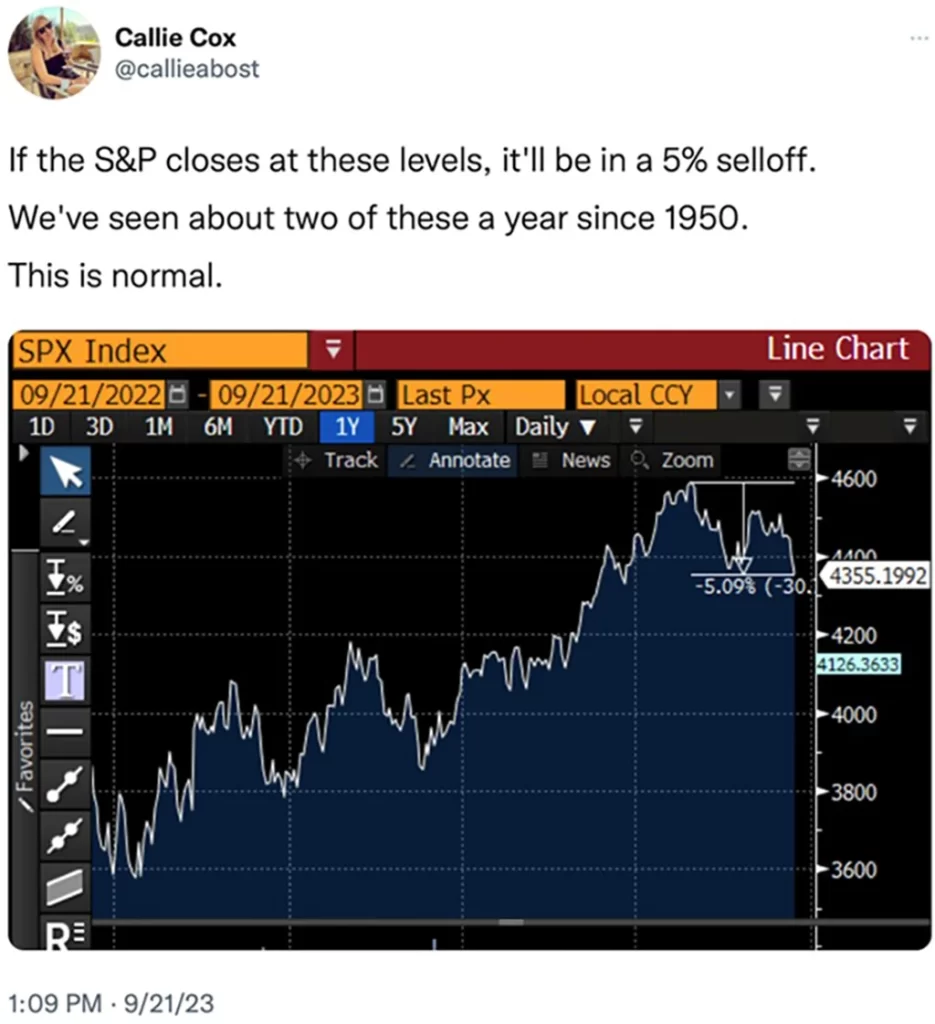 The two main concerns the market is now faced with in the near-term.
The Negatives.
The economy continues to chug along more robust than most economists expected. Remember most of them earlier this year were calling for a recession by the second half of the year. That has not materialized. Yet, as we explore with you in the remainder of this Outlook, there are REAL concerns that two serious problems could derail the soft-landing rhetoric and throw the stock market into a prolonged correction. They are as follows:

1. A Growth Scare.
If the markets actually start to believe the Fed's "higher-for-longer" rate hike threats (and they are starting to) then worries about a growth slowdown will begin to rise. We will show you some of the charts that are making us believe a slowdown could be upon us.

In the short term, fears of a looming government shutdown, the impact of worsening labor strikes, higher energy prices, and signs of economic weakness could all bring the "growth scare" to light sooner than expected. This will inevitably cause the stock market to endure a prolonged correction.

2. Inflation
The second concern is a major bounce back in inflation. If the Fed suddenly signals it could hike rates more than once it would only be because they are receiving signs that inflation is about to spike and the trajectory of the CPI/PPI numbers rise. Yes, data these past few months have shown a cooling of inflation pressures, but with the recent rise in energy prices and food delivery problems around the world, it is quite conceivable that inflation could spike.

Let's now explore some useful charts to show us where these concerns may be showing up:
The news flow can be confusing and intimidating, but investing in this environment doesn't have to be. If you would like personal guidance and hands-on management of your assets with the assistance of tactical, risk managed, strategies, please contact me at donn@mgamllc.com

 

or Keith at keith@mgamllc.com.