September 13, 2023
Weekly Market Outlook
By Donn Goodman and Keith Schneider
Crude oil prices may be in the headlines, but there's a bigger problem than just higher prices.
Let's explore some headwinds, starting with Oil and the energy complex.
US crude oil inventories. Including the SPR (Strategic Petroleum Reserves, which were used by the Government in 2021-2022 to try and lower oil prices), this is the lowest level of total crude inventories in America since 1985. This is very dangerous for a nation depending on oil and oil-related products. See chart below: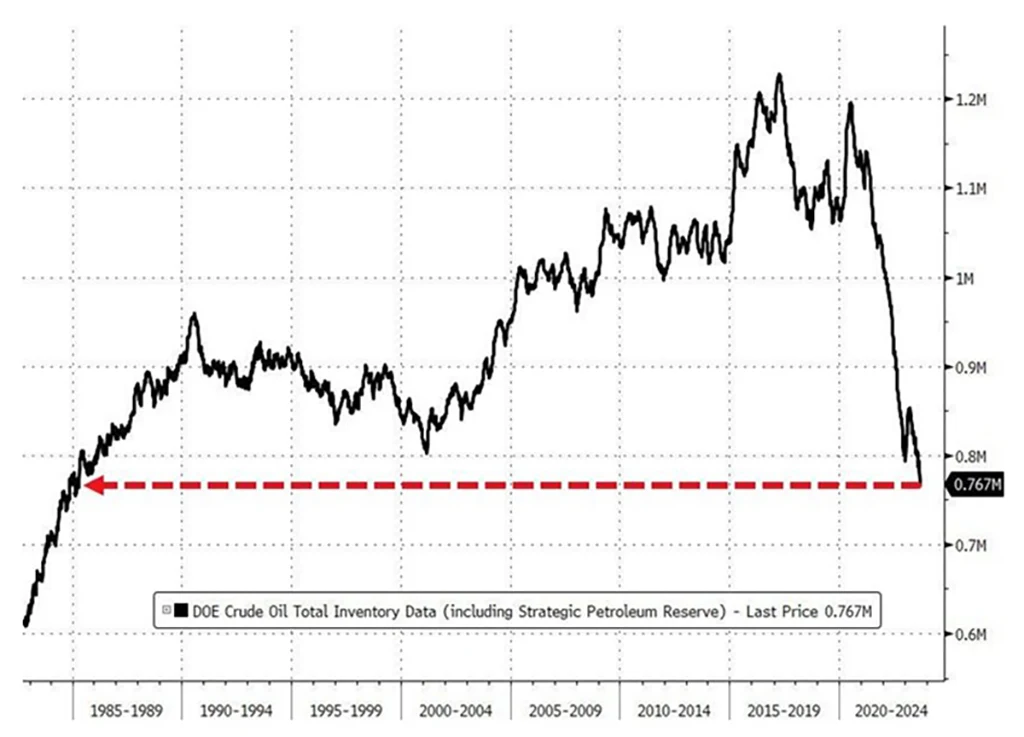 Permian production has slowed. The most active oil-producing basin in the US is now experiencing a contraction in the number of operating rigs. Keep in mind that the Permian basin accounts for nearly 40% of all production in the US. See chart below: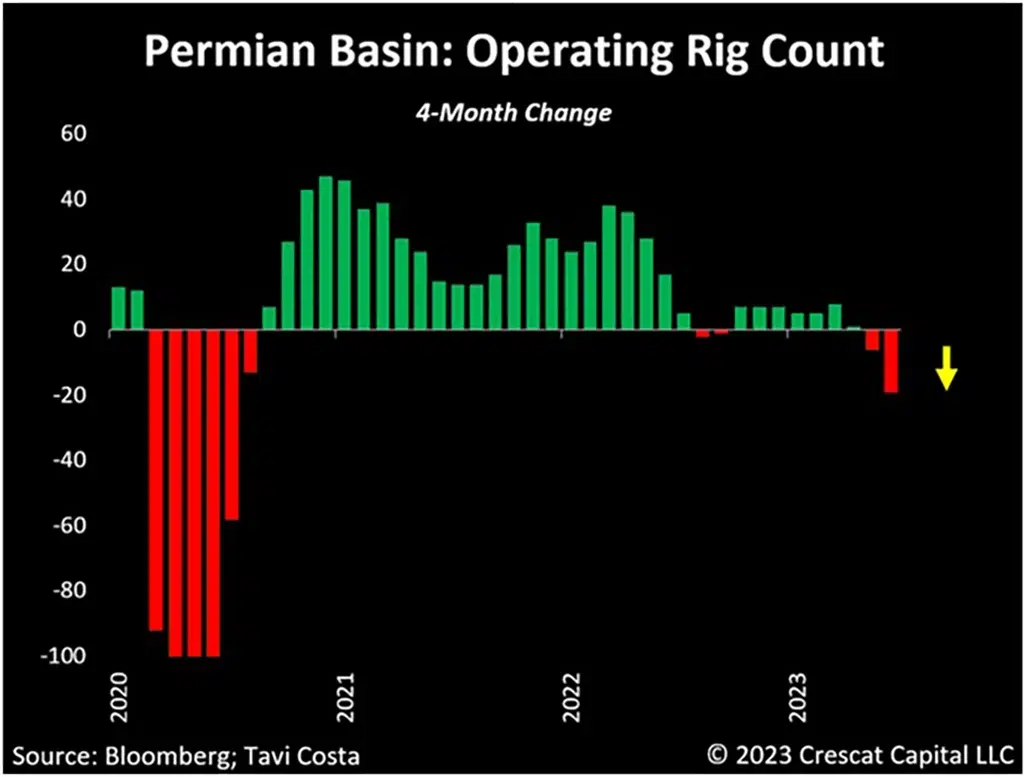 Supply is falling and demand is rising. As we have come out of COVID (2020-2021) and people are now returning to their offices nationwide, the demand for gasoline is rising. We are now at a point where supply is falling. Much of this is due to production cuts along with other countries increasing their demand.
In the U.S., crude stockpiles continue to fall. The Energy Information Administration (EIA) reported commercial crude inventories in the U.S. dropped by over six million barrels this past week, marking a fourth straight weekly drop that has left inventories at their lowest level since December (dark blue line in the chart below).
On the demand side of the equation, China continues to import more oil (see grey bar chart below). In August, they imported 52.8 million tons of crude oil, or 12.5 million barrels per day, marking a 21% increase compared to July. In the U.S. implied oil demand reached multi-year highs (orange line below) in July before pulling back modestly last month.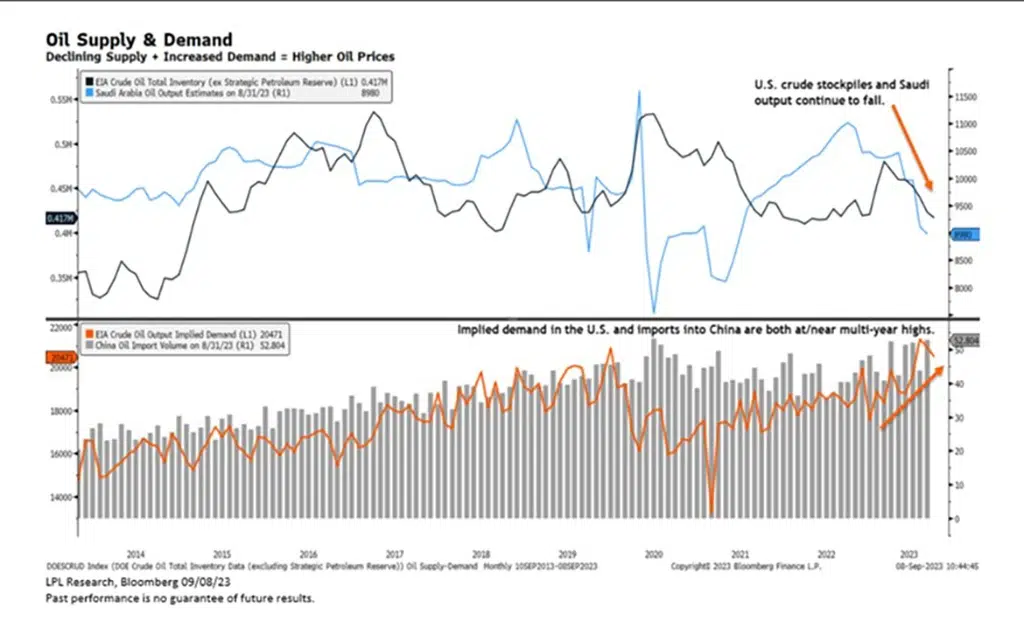 A current perspective related to oil prices and other economic headwinds:
The picture below was taken in April 2020, the same month oil prices hit $40 per barrel.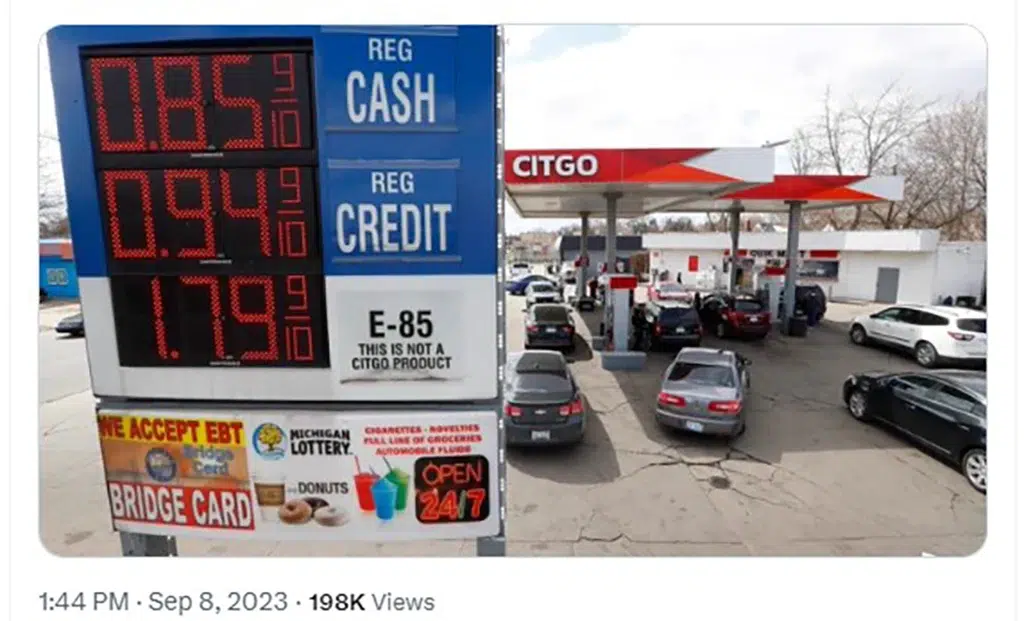 Now the national average gas price is $3.93, a 362% increase in just 3 years, as oil prices near $90 per barrel. If you have a car that needs high octane (92 or greater) and you find yourself purchasing Ultra or Supreme Unleaded, you are paying prices that are likely getting close to $5 a gallon.
Since that picture was taken in 2020:
300 million barrels of oil have been depleted from US reserves.
The US Strategic Petroleum Reserves (SPR) now stand at their lowest since 1883.
In May 2020, before the SPR depletion began, it held a record 92 days of supply. The historical average is 65 days of supply.  We are now 50% below the peak and 29% below the average.  Not a good situation.
Interest rates are up over 500 basis points. Rates continue to rise. Why are rates still rising if the Fed is done hiking?
Inflation hit its highest levels since 1980.
The average interest rate on a 30-year mortgage rose to 7.6% this past month, the highest since 2000.
Mortgage demand just hit a 28-year low, and existing home sales are at their lowest since 2010.
US credit card debt hit a record $1 trillion.
US debt is now at $32.7 trillion, up a massive $1.3 trillion since June 2nd of this year. That means the US had added $13 billion per DAY to the national debt since the "crisis" ended. 
Daily US interest expense is set to cross $3 billion, over $1 trillion per year. The debt crisis is FAR FROM OVER.
What happened to inflation being just transitory? Why does the Government keep telling us the economy is on solid footing?
Oil's winning streak.
WTI has risen in price for nine straight days. This is a meaningful statistic as this has only happened 7 previous times since 1983. Below is a chart showing each of these times. Look closely at what happens to the price of WTI Oil in the future by 6 and 12 months? This is an ominous sign for consumers. This just might be the cause of a recession.
• The statistical outlook for oil prices
• Oil potential impact on specific segments of the stock market
• A pattern in the Dollar that's only happened two other times in 40 years
• Why interest rates may rise further
• Historical precedent suggesting Fed cuts may not be a good thing
• New probability data on the likelihood of a recession
• Plus, Keith's Big View Summary bullets and video analysis
The news flow can be confusing and intimidating, but investing in this environment doesn't have to be. If you would like personal guidance and hands-on management of your assets with the assistance of tactical, risk managed, strategies, please contact me at donn@mgamllc.com

 

or Keith at keith@mgamllc.com.