Five ways to cut down on amp usage
Most modern marine equipment has evolved to require much less power. When you're in the boatyard this spring, do more with less and cut down on amp usage.
Radar
Arguably, you use radar under way when your engines are running, so who really cares how much power it's using?
On the other hand, if your electronics suite is due for an upgrade, consider a more efficient unit. In standby mode, radar doesn't draw much, but when it's transmitting, the power needs are quite high. Consider one of the new units like the Simrad Halo that comes with either open or closed array antennas. This solid-state, pulse compression radar delivers a mix of close-in and long-range detection and excellent target definition with low clutter.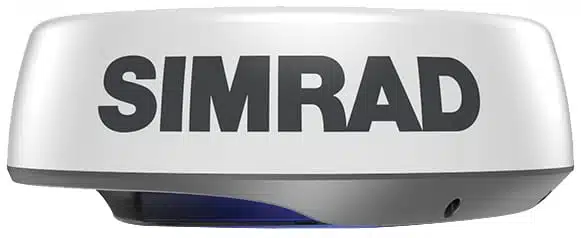 It has five modes to help process a variety of targets and a range from 48 to 72 nautical miles. The Halo is available for both 24- and 12-volt applications and an added bonus is its ultra-low electromagnetic and radiation emissions.
That means you can put one on the flybridge with you and not worry too much about scrambling your brain when the radar is running.
Climate Control
Air conditioners create the greatest energy loads aboard, and chances are the older your system, the more power it takes. New units from companies like Dometic are smaller,
self-contained and quieter with vibration-isolation mounts. Their high-efficiency rotary and scroll blowers use fewer amps and notably reduce fatiguing sound. Italian company Termodinamica (TMD) offers 24-volt DC units that don't even need a genset. Made with titanium heat exchangers, the TMD units touts a power consumption rate that's 50 percent lower than other comparably sized units on the market. Many air conditioners today also have an ECO mode where they ramp down if they are running off of batteries, via an inverter, and the battery voltage starts to fall. Adding window shades and tinted glass will also relieve the pressure on air conditioners and may even help refresh your interior design.
Refrigeration
The fridge also is a major power hog. Refrigerator efficiency has to do with the type
of unit (air, water or keel-cooled) and the quality of insulation around the box.
Frigoboat has highly efficient fridges in both 12- and 24-volt applications with refrigerator, freezer or combo solutions.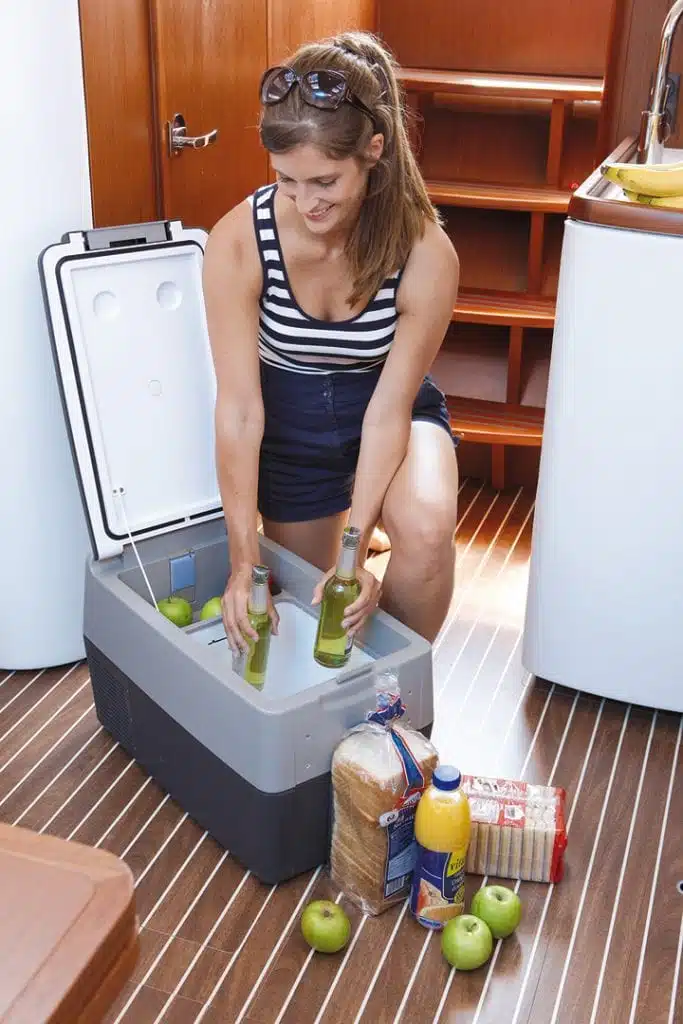 Their unique keel-cooled system is reliable, efficient and quiet with no pump or fan to create noise, and it doesn't need winterizing. Check the age and condition of your insulation, too, or just tear out the old stuff and install some stainless steel drawers that will also upgrade the boat's aesthetics.
Isotherm offers plug-and-play solutions with their cabinet refrigerators powered by 12/24-volt Danfoss compressors. These units feature extra thick, but still compact, insulation so the boxes stay cold with less power. They even have stand-alone, plug-in coolers for use on deck so you can keep your beverages nearby and not have to open the galley refrigerator as much.
These Travel Boxes also have ECO modes to slow the compressor once the food and drinks are already chilled.
Lighting
Most new boats now come standard with interior and exterior LED lighting, but if your vessel is of an older vintage, it would be worth swapping out your deck, salon and galley lights for new ones that draw less power. Imtra offers a variety of fixtures to help you upgrade the look of your interior including courtesy lights that create an impressive ambiance. As design trends move from direct to indirect lighting, options migrate from
down and spotlights to strip and rope lighting hidden behind valences and under furniture.
Evolved whites in LED options are now available, so it's not hard to create a warm glow.
Efficient lights include navigation or running lights like those by Attwood, Perko, LopoLight, and Aqua Signal. You'll save a few amps with an LED anchor light that you forget to turn off.

Finally, don't forget those power-hogging heat generators below the waterline.  Underwater lights are known as large consumers of power. New developments in optical design, thermal management, and marinized electrical components have created lights that are brighter and use less power.
Lumishore's thru-hull and surface mount, full-color cycling lights can replace older lights and provide better color while they use less power, and they can even be paired with
sound to "dance" to music. That's worth the price of admission alone.
Battery Efficiency
Finally, efficiency comes down to the size, quality, and type of your battery bank. Charging with a genset is more efficient than charging with the engines and alternators, but a good battery bank is also important to your onboard power equation. The better the efficiency of a battery, the higher its charge acceptance rate, which is the amount of energy that can be pumped into a battery in a given period. Wet cells are about 60 percent efficient, gel cells 75 percent and AGMs 85 percent.
AGMs, especially any of the thin plate, pure lead (TPPL) variants, also have the highest charge acceptance rate, so they will optimize system performance. How you charge is also important. Charging cool batteries quickly is most efficient. For banks that are especially depleted, it may be best to charge with engines and the genset simultaneously. As batteries heat up during charging, it takes longer to get that last percent of charge pushed in despite the genset running just as hard as in the beginning.
These are just a few ideas on how you can save power and thereby burn less fuel and shrink your carbon footprint. Some of these are bigger projects, while others are a matter of just upgrading aging equipment. Chances are that some of these systems will pay for themselves down the road in operation costs, fuel and wear and tear on your engines or genset.
By Zuzana Prochazka, Southern Boating March 2019