Vinyl Boat Wraps
Protect your boat's hull in a variety of colors and designs with the use of creative vinyl boat wraps.
When a boat hull is created in a mold, gelcoat is the outer product that goes in first followed by the fiberglass layers. When out of the mold, it's the gelcoat that provides a boat with its smooth, glossy finish (and color, if added) and seals the fiberglass layers beneath it from moisture and hydrolysis as well as from ultraviolet (UV) degradation. Although gelcoat is a strong material, over time it will oxidize and become porous unless continuously maintained and protected.
Protect it
A good wax has a UV protectant within its formula that acts as a sunscreen to protect the gelcoat, and if the boat is cleaned after use and kept under a cover on a hoist or in a boathouse, gelcoat can last a long time. But as boats bake in the sun and sit in the water and are subject to wear and tear like rafting up, bumping into the dock or a long day out fishing, gelcoat can easily fade, stain and lose its luster.
To extend the life of gelcoat and still provide that high-gloss shine, a protective coating such as paint is applied, but there's another alternative that has proven its worth over the last few years—vinyl boat wrap.
Wrap it Up
Able to protect gelcoat and paint, vinyl wrap offers a versatile solution that has a number of benefits. Technology in a protective film has improved dramatically over the last 10 years and is now used in different applications from windows to electronics to an airplane and boat hulls. Cast film used for wraps is typically 3.5-mil thick and is made of thermoplastics, aluminum, and paint—a tough layer that inherently has UV and scratch protection.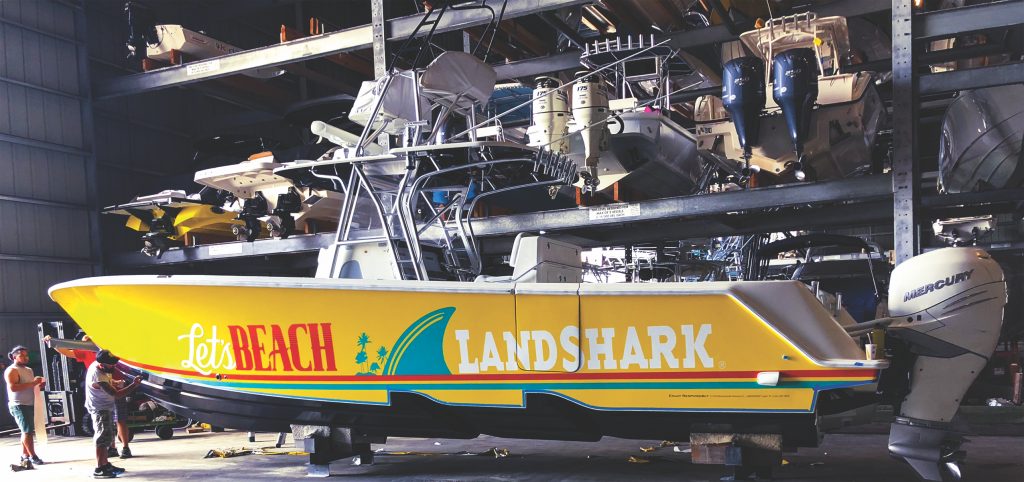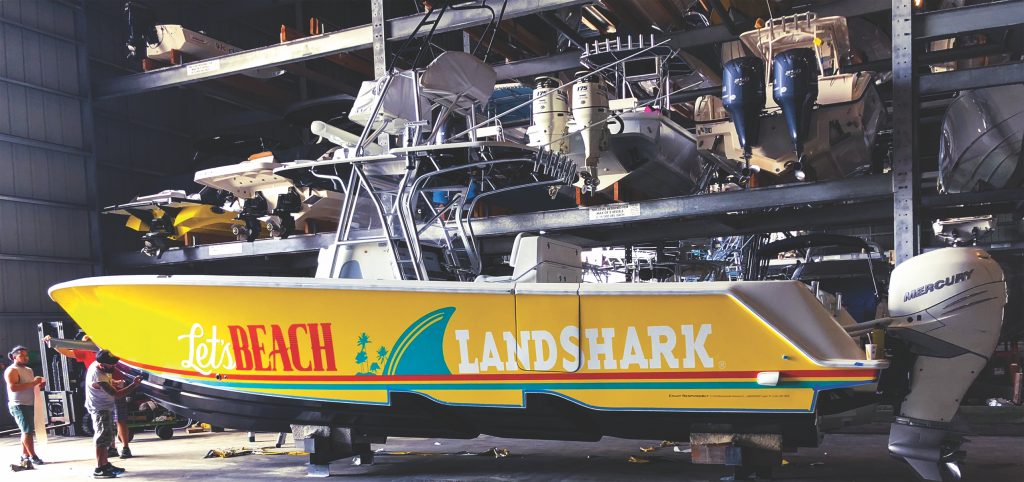 "The material comes with a protective clear coating that protects it against abrasions, scratching and fading of the material," says Wade Davis, owner, and president of Image Graphics 2000. "It usually will last up to five to seven years depending on the exposure it gets from the sun. There are alternatives on the protective laminate that can be used that are thicker and more abrasion resistant."
Although gelcoat can last much longer, when it's damaged, repairs can be costly and time-consuming, whereas a boat wrap can be repaired relatively quickly with just a small area cut out and patch applied to make it look as good as new.
"I've developed a technique of putting a patch in that is hard to distinguish to the unknowing eye," says Burl Cole, owner of Boatwraps.com, Vehiclewarps1.com, Aviationwraps.com, and Boatwraps-Florida.com and a master installer for more than 15 years. "It's hard to repair paint with matching color and it takes a highly-trained eye [to match] with fading." Cole keeps the vinyl remnants from each wrap for repairs because it comes from a certain lot number.
"Some of the disadvantages are that it is not a hard shell surface like paint or gel coat," says Davis. "You have to be a bit more careful around docks, other boats or toys." Both Davis and Cole advise that fenders have cloth covers because the vinyl-on-vinyl friction will chafe the wrap.
Why Wrap?
Updating the boat's hull happens for a number of reasons; change of the color scheme is the most prominent.
"Sometimes, people get a smoking deal on a boat but they don't like the color, so this is a heck of a way to go ahead and change it to what they like," says Cole. "They can choose some funky color or do an aquatic or marine theme and personalize it. And then, whenever they sell it, they pull it off and it's back to the OEM (original equipment manufacturer)."
Another determining factor for using a vinyl wrap is cost. With the number of options in color and custom-designed graphics, the owner needs to compare similar style choices to determine whether paint or vinyl wrap is the less expensive choice. In most cases, vinyl wrap comes in about a third of the cost of a custom airbrush or gelcoat repaint, depending on the size of the boat. On top of that, "A digital wrap for production and installation is a three-day process: one day to print, one day to cure and laminate the material with the clear overlam and one day to install," says Davis. "The color match or to change colors is a one-day process."
"Preparation is key to this whole business, just like anything else—getting everything together before you start," says Cole. "If there are scratches or divots, we'll put in a Bondo filler or epoxy to smooth it out and feather it so you can't tell anything was there after the wrap is put on." Vinyl is formulated to stick on enamel paints, like Awlgrip, and adheres to gelcoat really well.
For the longest time
"It is not necessary to paint or re-gelcoat the sides of a boat for the application of the wrap film as long as the surface is in good shape," adds Davis. "If there is oxidation present, depending on the severity, it should be removed by either wet sanding or buffing so the wrap film adheres to a clean slick surface. Also, if there are any coatings present like Teflon waxes or ceramic, that would have to be removed as well."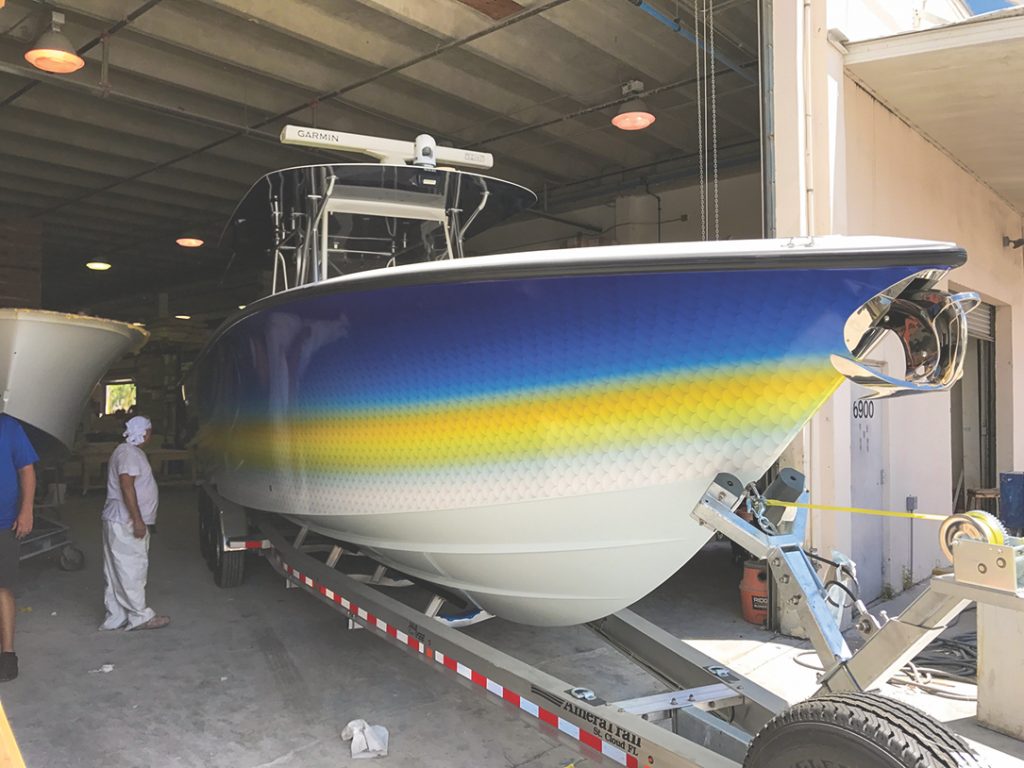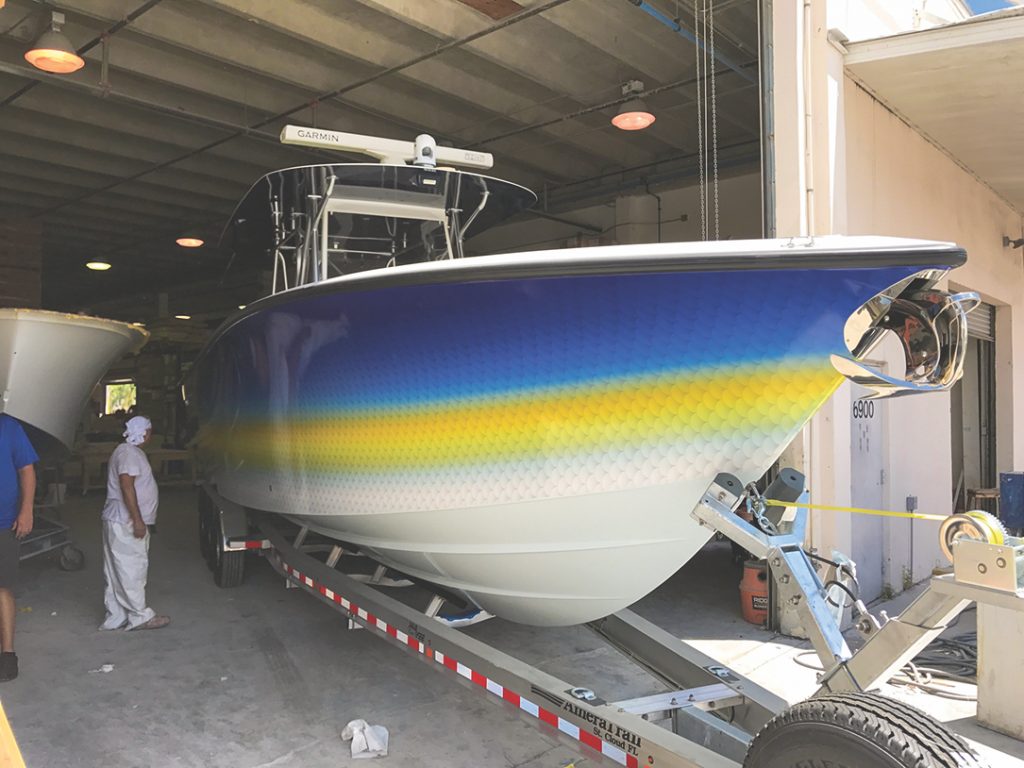 The 3M brand of vinyl has improved to the point where they now offer a one-year warranty (above the waterline). Cole notes that 3M can grip and bond as soon as pressure is applied and the boat is ready to launch right after application. Vinyl wrap also maintains the boats resale value by protecting the paint or gelcoat and is easily removed when it's time to sell the boat. On the maintenance side, "One of the [nice] things about vinyl is that you don't have to wax this stuff," says Cole. "You just wash it and then rinse it off or just dry it off with a chamois, and that's it!"
Be Assured
Vinyl wraps have made their way onto boat hulls from 10 to 200-plus feet, and there are a number of companies around the world that provide the service. Before you commit, be comfortable with the company's previous work, how secure they apply the wrap (do they use an adhesive primer in areas where water pressure is typically high, such as the bow?) and if a warranty is included. Wraps are a versatile choice that protect and maintain the value of your boat's hull.
By Steve Davis, Southern Boating September 2018