New synthetic teak decking keeps feet cooler.
The beauty of real teak wood on boat decks is undeniable, but look-alike decking made of synthetic teak substances has become a popular trend for many reasons.
Those reasons include its affordability, low maintenance, nonskid appeal, uniform appearance, and soft feel underfoot.
The downside has been its tendency to absorb heat, which makes the product uncomfortable for bare feet in southern boating locales that have continuous sun exposure (e.g. Florida). Technological improvements have enabled today's product offerings to be cooler underfoot. They also to benefit greatly from the type of materials used, manufacturing processes, color options, and ease of installation.
Some DIYers may have the skills and patience to tackle installing new synthetic teak decking themselves. But an annual haul-out is the ideal time to add new decking to your boatyard's project list.
If your boat is overdue for new decking, take a look at some of the hottest, cool-comfort synthetic teak decking offerings on the market.
Flexiteek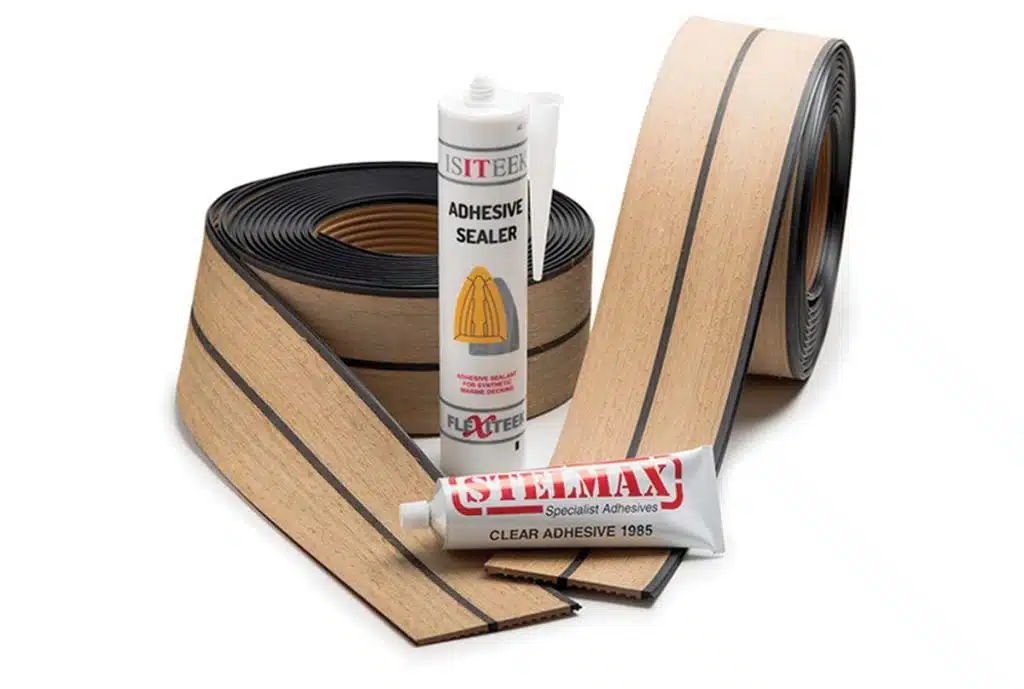 This company has offered synthetic teak boat decking material since 2000. Flexiteek is the OEM supplier for many boat builders and has distributors in 38 countries. The company's newest advancement is Flexiteek 2G, which was in development for two years and is the
manufacturer's "Next Generation of Decking" for its lighter weight and ability to cool 30 percent faster than traditional composite decking. Flexiteek comes in eight wood colors with black, white or gray caulking.
flexiteek.com 
Isiteek is made for DIY install on small areas.
isiteek.com
PlasDECK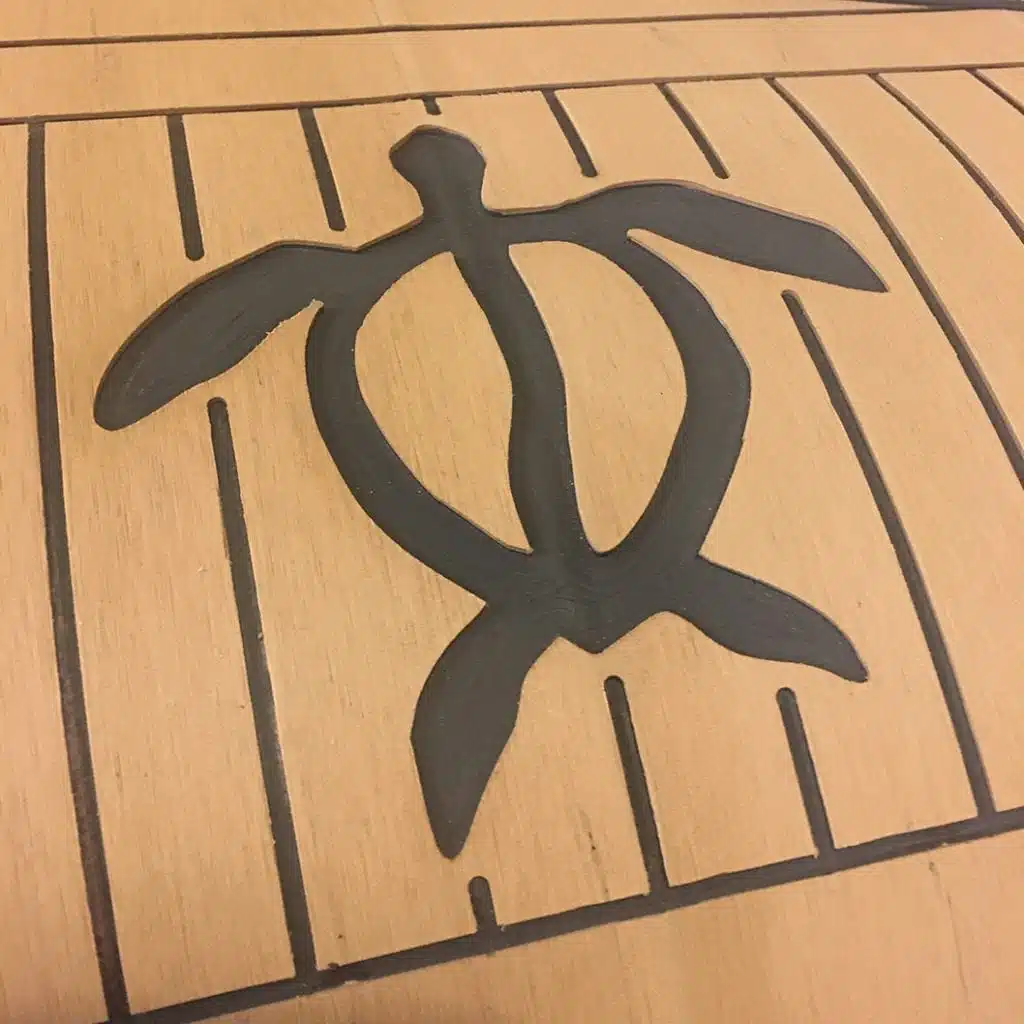 PlasTEAK, Inc. introduced its synthetic boat decking PlasDECK in 2005. Its been popular ever since. With 25 colors and custom variations, the new PlasDECK Eco Series utilizes leftover scraps from manufacturing that are recycled for the bottom layer and makes the product even more affordable as well as eco-friendly.
PlasDECK Eco Series has an identical look and feel of the standard PlasDECK boat decking, but the family-owned, Made-in-America company passes on the manufacturing cost savings directly to the customer. Product cost is further reduced by offering it in large sheet form. This is advantageous for resurfacing large deck spaces like houseboats, pontoons or boats with large decks.
PlasDECK Eco Series won the Innovation Award at the 2018 Miami Boat Show. PlasDECK CoolTEAK remains cooler than other PVC decking materials, which makes it ideal for swim platforms. CoolTEAK is currently only available in premade mats from templates and is not for DIY applications.
plasdeck.com
Dek-king
Dek-king 2G is the company's next-generation premium synthetic teak decking that's 30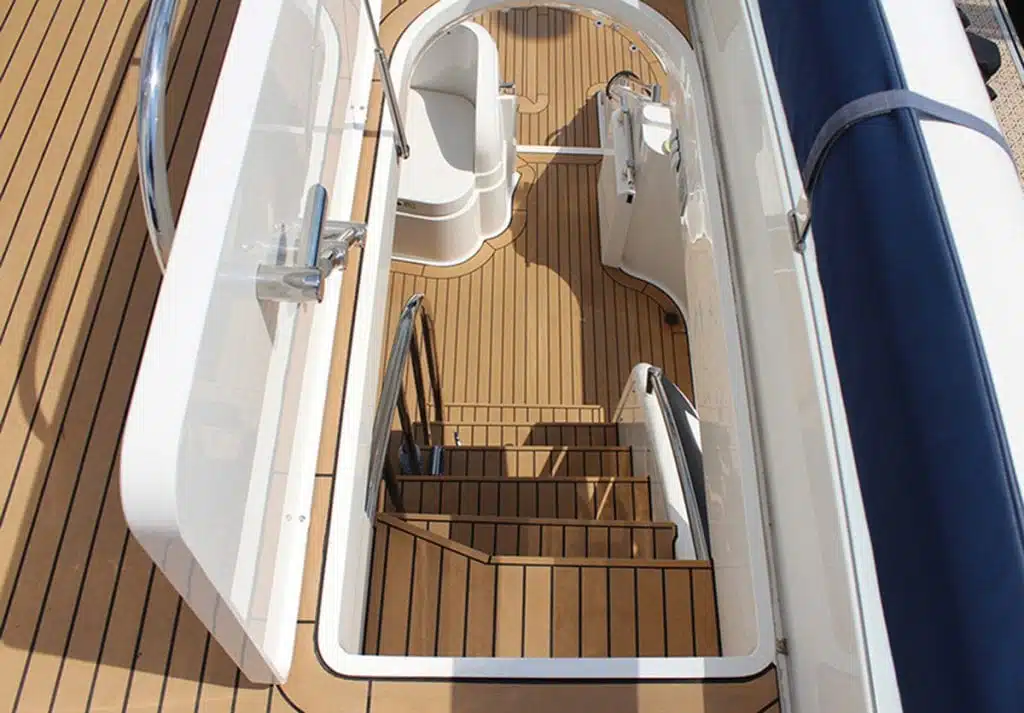 percent cooler underfoot and 32 percent lighter than previous 1G product offerings. Dek-king's lifelike graining that differs between planks replicates natural wood to provide a finish that's nearly indistinguishable from real teak.
Wilks is the British family-owned manufacturer and supplier of Dek-King synthetic teak decking. Flexiteek International announced in a press release earlier this year that an agreement has been reached to acquire Wilks, and the merger is planned to finalize later this year. Flexiteek plans to retain the Wilks manufacturing premises in Essex, northeast of London, England, along with all employees, combining the skillset of both companies to serve the international marine market.
The acquisition will facilitate the supply of synthetic teak and fendering to a list of OEM clients that include Royal Huisman, Hanse Group, Jeanneau Beneteau Group, Princess
Yachts, Gulf Craft, Sunseeker International, and X-Yachts.
dek-king.com
By L.N. Evans, Southern Boating March 2019