From the Beginning
Southern Boating's DIY roots
In September 1972, Volume 1, Number 1 of Southern Boating magazine appeared on newsstands around the Miami, Florida, area. It's September 2021, and Volume L, Number 1
signifies 50 years of a monthly publication created by Skip Allen Sr. It may have started out as a do-it-yourself project, but through the minds of many boating enthusiasts, the magazine remains an integral member of the boating industry.
Allen was an ardent sailor, yachtsman, publisher, and family man who was passionate about life. He began his publishing career in New York with The Motor Boating Magazine (later known as Motor Boating and Sailing, then MotorBoating) and raised his boys sailing out of the Larchmont Yacht Club. It was there that Skip Allen Jr. "cut his teeth" on boating through frostbite sailing and the family's 13-foot Boston Whaler. 
In the late 1960s, Skip Allen Sr. took the family down to Miami because working for a family-owned business was much more appealing than the corporate world of Hearst Publications. Enter Bertram Boats, until they, too, turned to corporate status when they were sold to the Whittaker Corporation, which led him back to a family-owned business. This time it was his family, and Southern Boating & Yachting, Inc. producing Southern Boating magazine was born.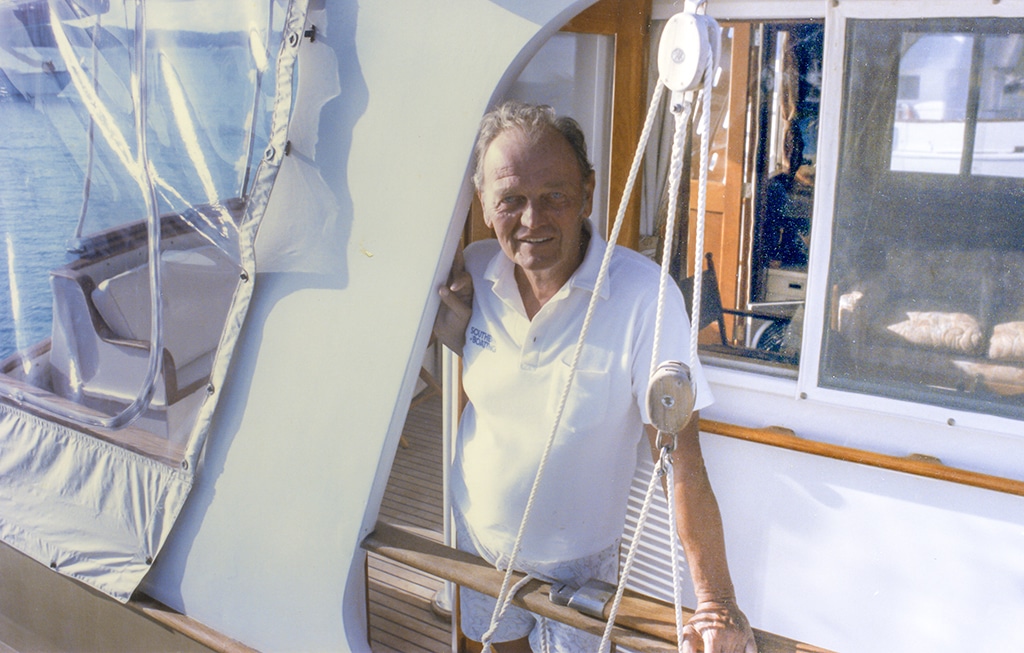 Skip Sr. and his wife Joanne started operations from their home in Miami Beach using their house telephone to make business calls, but when it came time for Joanne to collect payment from advertisers, she was reluctant to call as an Allen because they were also the sales team. Skip Sr.'s philosophy was that sales shouldn't collect the money because it could create an awkward relationship. To resolve the matter, a new staff member was "hired." Joe Pelican became Southern Boating's business manager who worked from a "remote location." 
Throughout the years, many of Southern Boating's friends and readers have come to know Joe Pelican. After all, he was on the masthead, but for those that don't know, "Joe" is short for Joanne, and on their frequent trips cruising the Bahamas with their six children, pelicans were regular cruisers right along with them. Even in their backyard in Miami Beach, pelicans were everyday visitors and would fish the waters morning and night. To the Allens, pelicans represented independence and strength, could fend for themselves, and could fly coast to coast on a whim. Also, a pelican's beak is large enough to feed an entire family in one swoop, an attribute the parents of six kids could appreciate. Thus, Joe Pelican was born. Skip Jr. took over for Joe in 1975.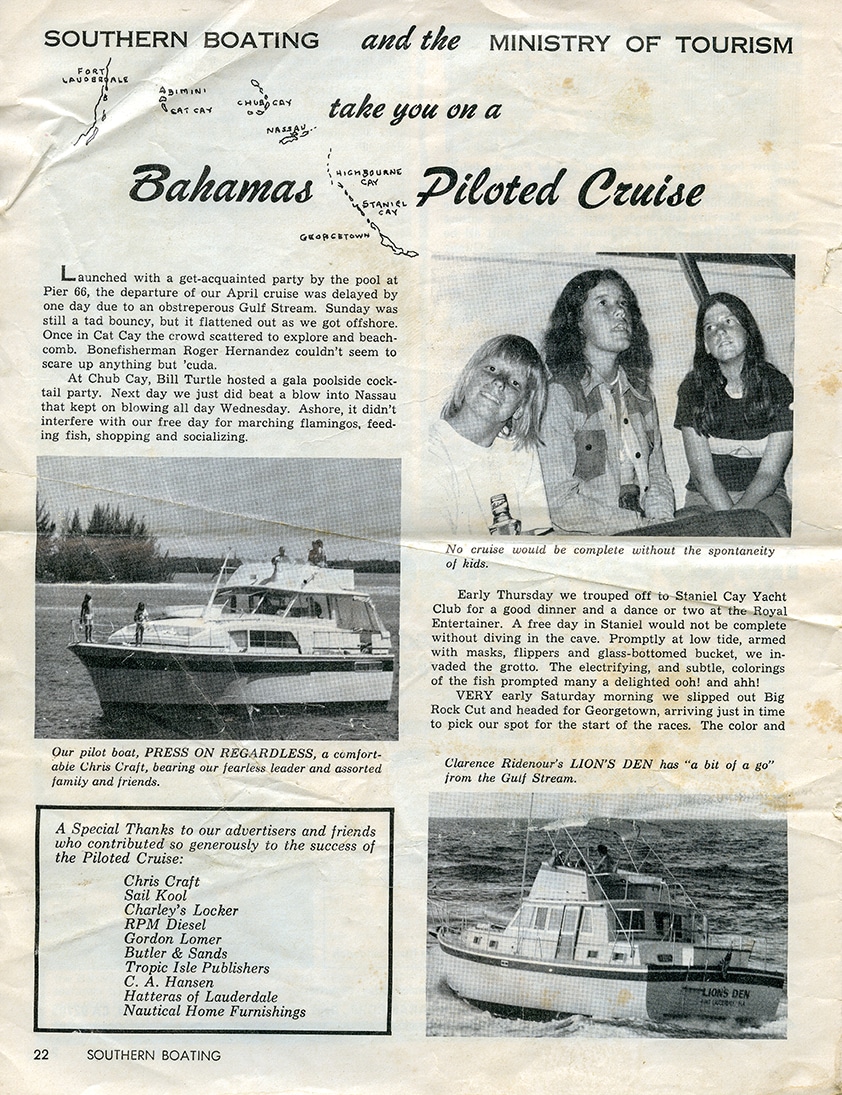 Yachting was Skip Sr.'s passion, and he spent as much time as he could aboard his first Press on Regardless, a Grand Banks 50, at his home and in the Bahamas. He loved talking boats and through conversations about cruising over to the Bahamas, he learned how many boaters wanted to take that trip but were unsure about making the crossing alone. Paper charts were the only navigational aid back then, unlike today's GPS systems, so he spearheaded the Bahamas Piloted Cruise in 1977, which was a two-week guided trip across the straits and into the Bahamas with a guide on the lead boat and a certified mechanic on the tail-end boat in case anyone needed mechanical help. After Joanne's death, Skip Sr. remarried and moved Southern Boating to Fort Lauderdale where he and his wife Helen lived aboard the second Press on Regardless, an Angel 1985 60-foot Custom Med Yacht, at the Lauderdale Yacht Club and spent several months a year in the Bahamas. Through his love of boating and enormous contributions to the maritime industry, Skip Sr. became a true nautical icon.
Skip Sr.'s greatest love, though, was his family, and he instilled a love of everything boating in each of his six children and seven grandchildren. Even though Skip Jr. continued sailing the sheets over blue water with the Southern Ocean Racing Circuit and the Storm Trysail Club, he was never far from a power boat, testing new designs for his dad at Bertram and taking adventures with his brother Rick. He grew up in boating and to this day shares his father's passion that inspired the belief (and our catchphrase) that Southern Boating is "more than a location, it's a way of life."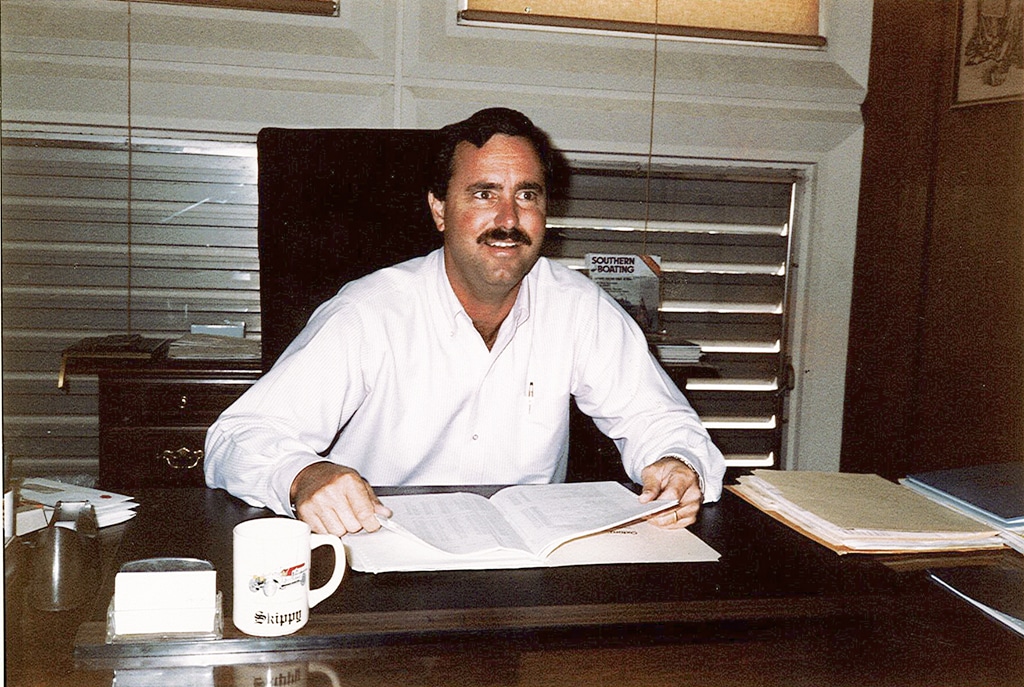 George Lyle "Skip" Allen took his final voyage in 2014, but his legacy lives on through his son, Skip Allen Jr., who has continued to build Southern Boating Media into a well-known brand in the print, digital, and social media formats. From Miami to Fort Lauderdale, and now in Pompano Beach.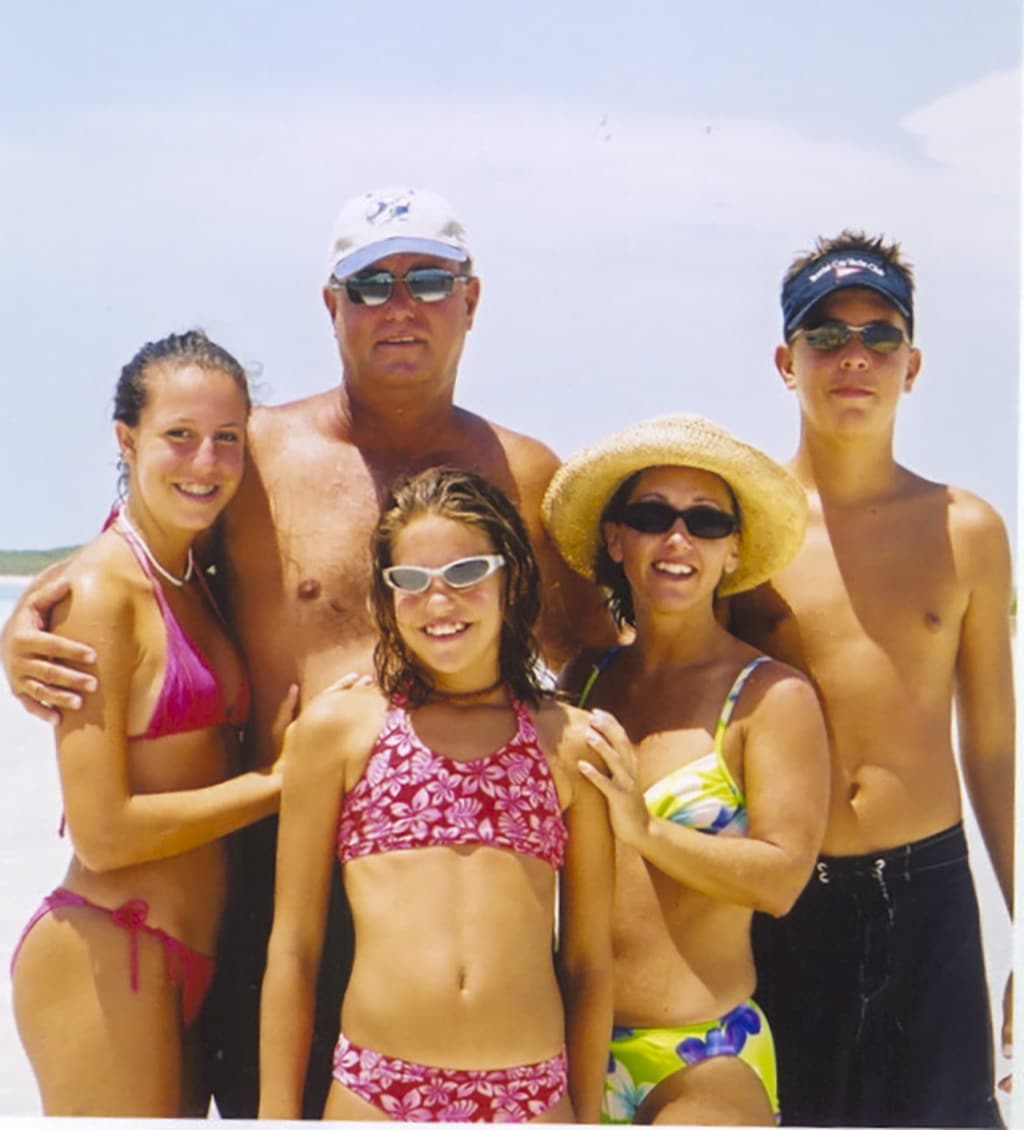 Southern Boating celebrates 50 years and will never lose sight of its roots. True to Skip Sr.'s desire to strike out on his own with a do-it-yourself attitude, Southern Boating was built upon the solid foundation of family. Along with a little help from friends, the Southern Boating family will create new memories for years to come.