Honoring our Water Protectors
Join us in honoring the many men and women who serve our country, protect our waters and defend our freedom to enjoy the on-the-water lifestyle. Get to know three water protectors a little bit better.
Marine Interdiction Agent Ryan Haines, U.S. Customs and Border Protection Air and Marine Operations Division (AMO)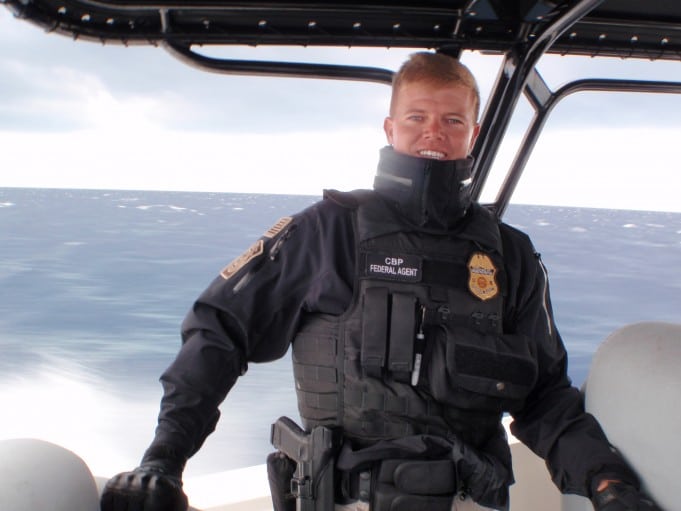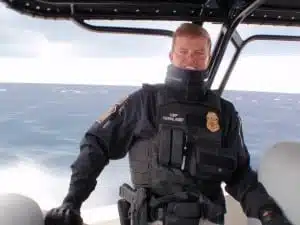 Targeting small vessels from foreign waters in a 39-foot Midnight Express with quad outboards is a daily task for Agent Ryan Haines. The AMO conducts its mission in the air and maritime environments at and beyond the border, and within the nation's interior.
Based in Fort Lauderdale, Florida, the 39-year-old and his unit stop vessels that bring people, contraband and other goods into the country illegally. "We use various tactics to facilitate compliance. If sirens alone don't work to pull over the vessel, then we fire warning shots to gain control of the boat," he says.
Haines entered the U.S. Coast Guard after high school and later worked for a boat manufacturer in Florida. "I've always been involved in the boating industry," the father of two says proudly. Hired by U.S. Customs and Border Protection eight years ago, Haines went through months of grueling training courses. "It starts with an advanced law enforcement training class and ends with the initial vessel commander certification class," he explains. "It's a great way to serve the country and I'm doing my passion."
One of his duties with the AMO is to take human smugglers into custody. He recalls several incidents when the agents boarded a boat they'd pulled over and found migrants on board who were scared, yet relieved to see them. "They didn't have life jackets. And they were very happy to be rescued," he says.
Since 9/11 and subsequent terrorist attacks, the demand for AMO officers has increased. Haines says the agency is always looking for good people who are trustworthy. "They must have integrity, honor and a sense of pride in what they're doing and how they're doing it. You're putting your life on the line for the safety of the country," the agent adds. "It's your job to secure the homeland."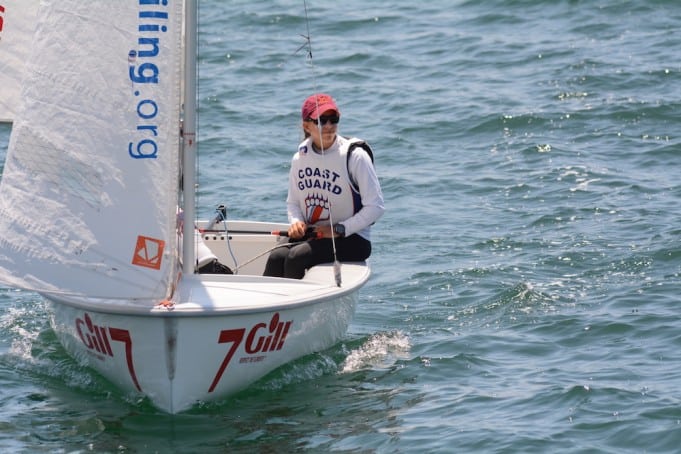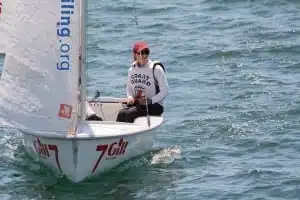 Ensign Nikki Barnes, United States Coast Guard
Ensign Nikki Barnes grew up in St. Thomas, U.S.V.I., and started sailing at age six. "My brother was (into sailing), so I started to race because I wanted to be the girl that beat the boys," she says.
Those races led to many sailing awards and a future with the U.S. Coast Guard (USCG). "I told my parents that I would never join the military but that I would try out the Academy Introductory Mission (AIM), a one-week program for juniors in high school, to get a glimpse of military life," she says. "From seeing the Academy during AIM, I knew that the military structure and atmosphere was the perfect fit for me because it would allow me to become an officer, where I can make a difference regarding the safety of boaters on the water."
A branch of the U.S. Armed Forces under the U.S. Department of Homeland Security, the USCG is a maritime military service whose mission is to enforce marine laws and safety at ports and waterways, in addition to conducting search and rescue operations in the water and aiding navigation.
Barnes graduated from the U.S. Coast Guard Academy in New London, Connecticut, in May 2017, and received her commission from President Donald Trump. For the next three years, the ensign will be at the USCG's Sector Miami working for the Incident Management Division in Response.
Still a sailor at heart, she recently competed in the College Women Sailing Nationals in Charleston, South Carolina, where she and the USCG team finished in third place. For the third consecutive year, she was named All-American Women's Skipper. As for the future, there's no stopping her. Barnes hopes to go for the gold and race in the 470 class at the 2020 Olympics. "I couldn't be more excited to get started," she says enthusiastically.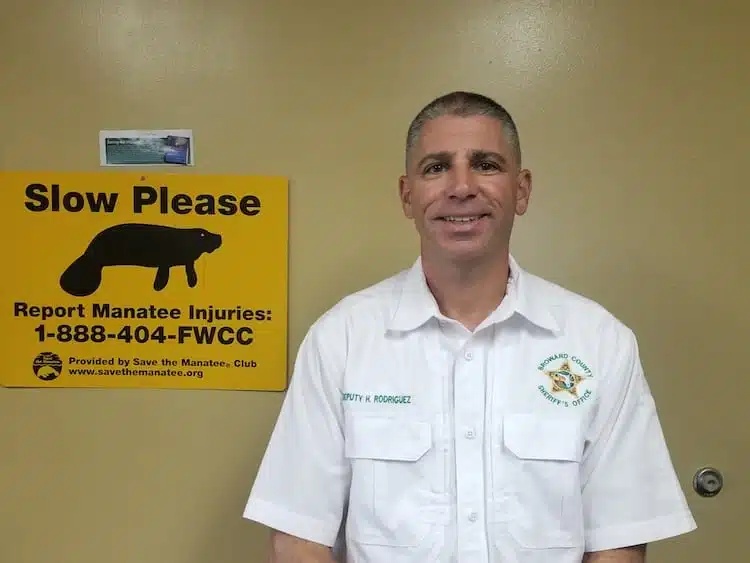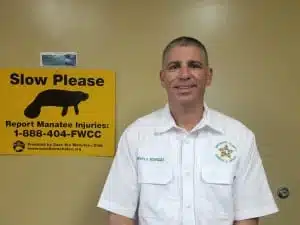 Deputy Hector Rodriguez, Broward County Sheriff's Office Marine Patrol
Born and raised in Miami, Florida, Deputy Hector Rodriguez started his career with the Broward County Sheriff's Office (BSO) in 1995 stationed on the road with law enforcement.
Then he joined the Sheriff's Office Dive Team, where he worked for 12 years. Two years ago, he was placed full time on BSO's Marine Patrol. "I served in the Army and when I got out in the '80s, I always had the desire to come back in a manner that serves a purpose and makes a difference," says the 51-year-old. "I found the best way to do that was to go into law enforcement."
The Marine Patrol Unit patrols Broward County's coastline, inland waterways and the Everglades. It enforces marine laws such as observing speed zones, investigates boating accidents and related crime scenes, and educates the approximately 43,000 registered boat operators in the county on boating safety and use of their vessels.
BSO's Dive Team provides support with underwater recoveries and emergency rescue operations. "We are out there enforcing safe recreational activity," he says. "People are very receptive and willing to learn."
While protecting boaters is the main focus, Rodriguez says the unit also safeguards wildlife and is involved in promoting the Florida Fish and Wildlife's Manatee Conservation Program. "Boaters need to realize that a current in the waterway could be created by a manatee's tail and the animal could be harmed," he adds.
The deputy affirms that the unit prefers to educate rather than cite. "The Marine Patrol's philosophy is boating safety, and educating the public is paramount to us. We try to impart as much as education as we can," he says. "You have to have a love and respect for the water—it can be very unforgiving."
Even off duty, Rodriguez enjoys recreational water activities and is still an active diver.
A big thank you to all our water protectors!
By Bonnie Schlutz Southern Boating July 2017