Top anglers spill the beans on the best fishing lures
Just about every serious saltwater angler carries around a tackle box or lure bag full of artificials. Some haul several to and from their boat on every trip. Simply put, fishermen want the best fishing lures. I'm no exception.
I want big ones, small ones, surface poppers, deep divers, and anything that wiggles, wobbles or rattles in between. But what if you could only choose one lure with which to fish? Which would it be? Here's what a quartet of expert anglers with reputations for hooking the big ones have to offer.
Poppers on the Net
Hard fishing Nick Honachefsky is the host of the new hit Internet fishing show Saltwater Underground. For boat action with stripers, he's addicted to topwater poppers, with a Stillwater Smack It, Tactical Anglers Crossover Popper and Creek Chub Knucklehead seeing roughly equal time.
"I'll throw poppers as a search lure just about anywhere," he says. "Off the New Jersey coast, they'll raise stripers and gorilla blues. In tropical or southern waters, they draw strikes from virtually any large predator. If I could only choose one of the best fishing lures, it would be the Crossover Popper from tacticalanglers.com. At four and a half inches, it's a size anything can eat."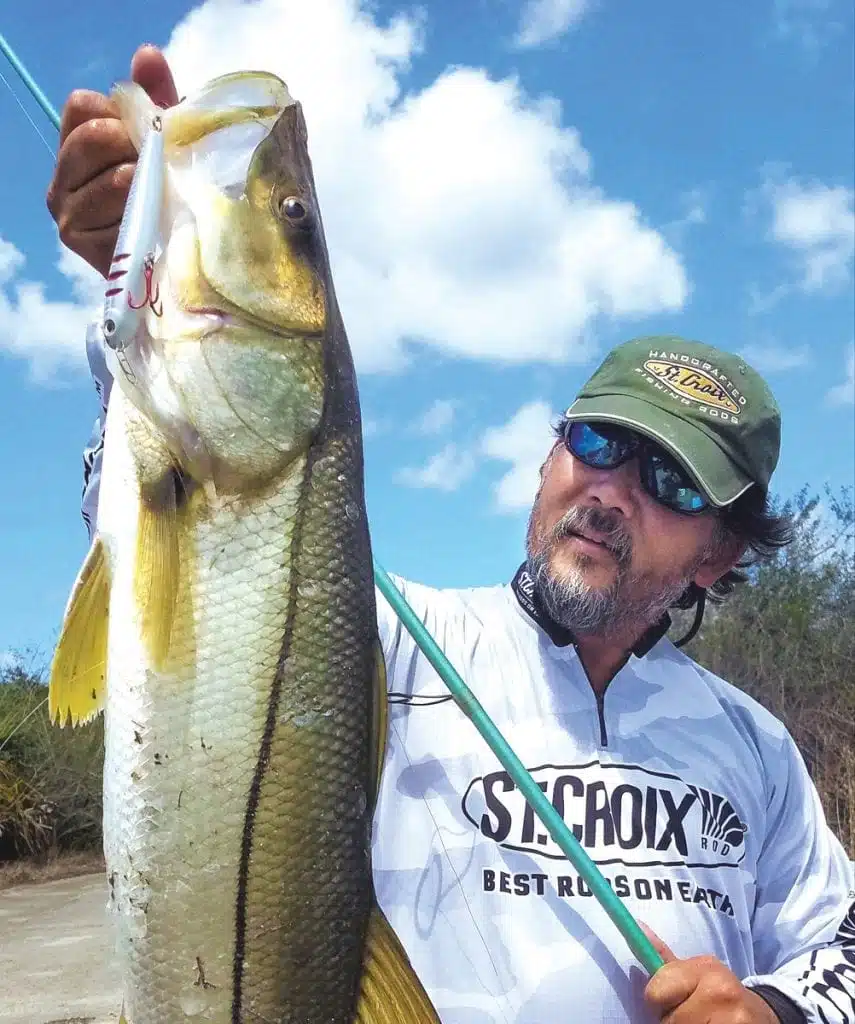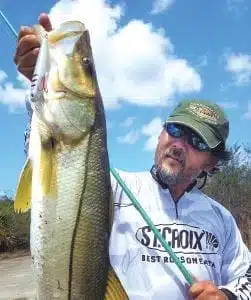 Matching the retrieve speed to the type of fish you target makes a big difference in hook-up ratio, explains this frequent flier. "For bass and snook, you want to work nice and slow. With jacks and little tunny, you need to almost rip the lure away from the fish. I like a seven and a half-foot St. Croix spinning rod rated eight to seventeen-pound test for this fishing. It's light, for sure, but it can handle anything up to twenty pounds. For bigger fish, I'll grab something more sturdy."
Catch Honachefsky's new show at tackledirect.com and follow him on Instagram at @nickhonachefsky. The show features everything from anglers on the docks to the top offshore pros, and each segment is only 12 minutes long.
Skitter Me This
Capt. Gary Dubiel of Speck Fever Guide Service in Oriental, North Carolina, is known as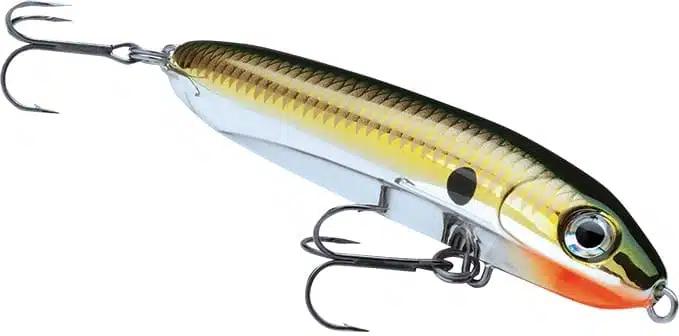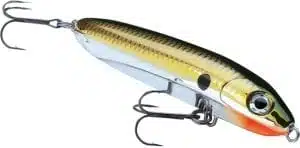 one of the country's premier guides for redfish and speckled trout. He works the Neuse River and Pamlico Sound and puts patrons on big fish using a variety of techniques. But when he just wants to have fun, out comes the new Rapala Skitter V. It's an all-around, outstanding, inshore surface plug that catches a ton of stripers, speckled trout and redfish.
Dubiel favors a walk-the-dog retrieve, typically in shallow areas over wood structures, grass flats or extensive marsh edges, which he approaches quietly in his K2 Marie Frontier 210 Bay Boat.
"Every day can be a little different in terms of what the fish want," notes Dubiel. "I tend to fish this lure a little slower than most anglers. That really lets the fish hear the rattle inside. If strikes come up short, you can slow it down even more or speed it up a little bit to elicit that bite."
With lure color, Dubiel prefers a white belly and he doesn't stress much over the top pattern. He will, however, opt for orange in tannin-stained water or for a black underbelly in especially clear water on bright days. Attaching the lure with a loop knot, he advises, allows for more side-to-side motion. "This lure will raise fish of all sizes," he says. "You'll catch anything from school bass to forty-inch redfish on it."
A Tactical Approach
"Just one lure?" chuckles Alberto Knie. "Are you kidding me?" Knie is well known in the fishing industry as the head of Tactical Anglers. He's also one of the most highly skilled and innovative fishermen I've ever met. From stripers to snook, clownfish to roosterfish, blackfish to summer flounder and even peacock bass, he's mastered them all.
"For a combination of thrills and versatility, I'd have to go with the Tactical Anglers Crossover Stalker," reveals this super sharpie. "It's just a great inshore choice. I've used it for peacock bass, largemouths, smallmouths, stripers, snook, and even redfish. Some of the snook and stripers I've caught on it have surpassed the 40-inch mark."
Knie works the Stalker using a simple walk-the-dog motion to drive predator species wild, and he loves that it casts a country mile, comes through-wired and sports 3X VMC hooks and a low-frequency rattle. "It's indestructible, and the bone color wreaks havoc along the southwestern coast of Florida, especially in the mangrove stretches around Estero Bay," he says. "Use a small, shallow-draft boat to probe backbay areas, and you can really clean up on the redfish during an evening bite."
Vary your retrieve based on water temperature and species pursued, advises this trophy-catching guru. If chasing springtime snook or summer stripers, a slow retrieve around serious structure works best. As the water warms or the fish grow more aggressive, don't be afraid to speed things up.
Make 'em Mad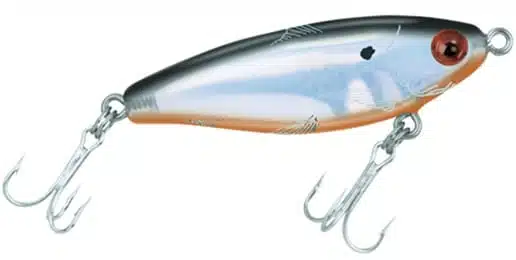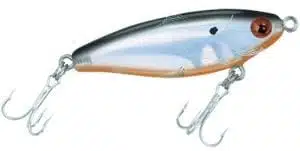 A former game warden, Capt. Jason Semeyn of Shallow Water Escapes knows the Sunshine State's waters better than most, especially Tampa Bay. One artificial he always carries along is a MirrOlure MirrOdine. It's a hard bait he believes works on everything in inshore waters.
"This is a suspending lure," says Semeyn. "Let it settle a few inches below the surface and retrieve it steadily with a few twitches mixed. One of the first times I used this lure, I drilled a 34-inch snook, and I've been a fan ever since. Fish just slam it."
Semeyn likes to get his 23-foot Hanson Bay boat in tight to mangrove edges on the flats.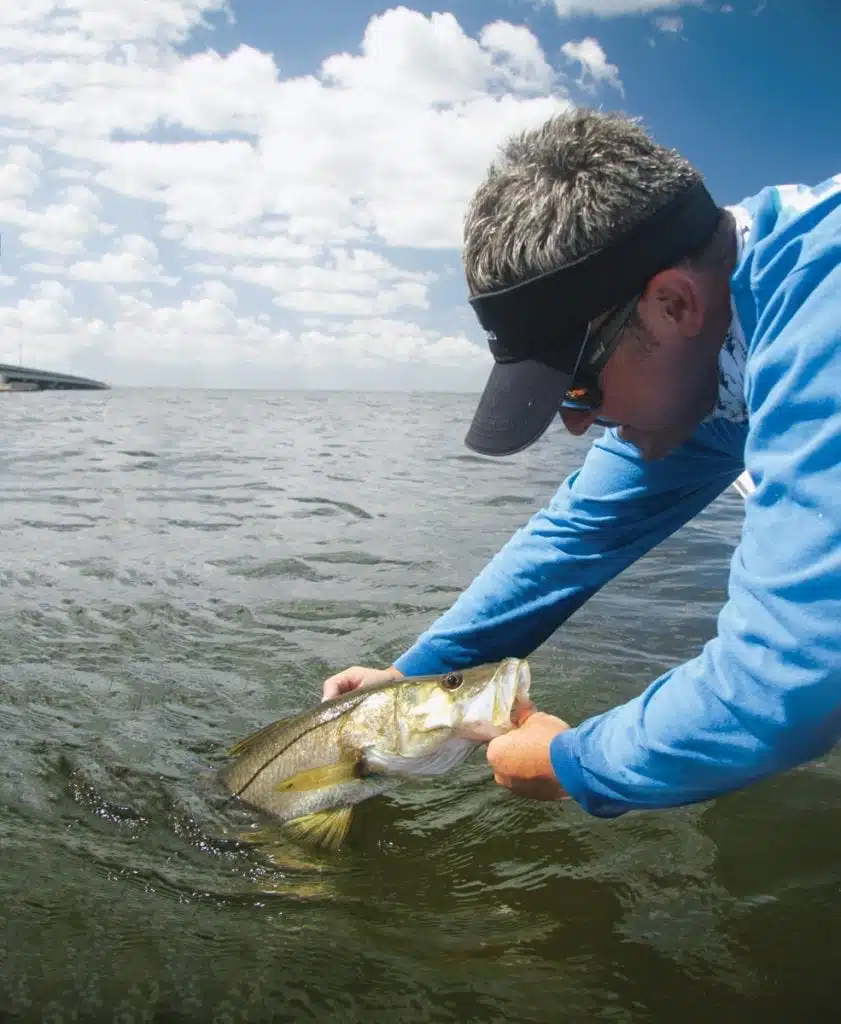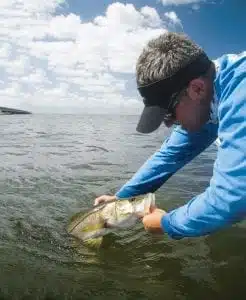 Snook in those shallows, he explains, act a little like largemouth bass. "If you know where they are, you can keep casting to the same spot until they get mad enough to strike. It's a ton of fun hooking angry fish."
A New Entry
As for me, I love Spro bucktails for summer flounder and stripers, topwater poppers for shallow water action anywhere, and soft plastic jerk baits for a gentle approach when predators seem spooky. Last fall, however, I got hooked on a new lure I helped Panther Martin design. Called the BigFin, it's slender like a sand eel but sports a high dorsal fin that doubles as a weed guard.
I like the seven-inch, two-ounce size for big stripers, weakfish and large snook, and the five-inch, one-ounce version for school bass, redfish and slot-sized snook. Simply cast out and retrieve with an occasional twitch. The smaller size also slams false albacore when reeled fast enough to stay just below the surface.
By Tom Schlichter, Southern Boating June 2018
Photos Courtesy of Saltwater Underground, Shallow Water Escapes, and Tactical Anglers