Siren Marine stands guard to protect your vessel with onboard security
On a quiet night in a sparsely populated marina, a 50-foot unoccupied trawler may seem like an easy target for thieves. The would-be criminals may already know the owner is away and few people are around. The timing for stealing a boat—or just getting inside to hunt for valuables—seems ideal. All that's needed is to gain entry to the vessel.
Not so fast, however, if the boat is equipped with Siren Marine's Pixie unit. This electronic boat monitoring system can send a text alert to up to four different mobile phones if an entry sensor is tripped or if the boat's shore power is disconnected. In addition, a loud "Bloodhound" siren can be programmed to emit, scaring off any intruders.
"If the boat moves or someone gets in, you are going to know," says Van Anderson of Fort Lauderdale, who installed a Pixie on his 2005 Nordhavn 55 Sunday Morning. Anderson set up a "GeoFence" for his boat so if it moves out of a specific range, the automatic GPS tracking of the Pixie lets him know. "I type in 'POS' in a text to my Siren Marine cell number, and in a few seconds I get a text back telling me where the boat is. There are also apps for iPhone and Android phones."
Siren Marine is the creation of Dan Harper, a lifelong sailor who also has a long history with electronics and computers. Harper wanted to combat two problems that plague wooden sailboats: batteries and bilges. "A good, healthy battery can run bilge pumps," says Harper, the founder and CEO, who runs Siren Marine out of his home office in Newport, Rhode Island. "The alert allows you to stay ahead of problems. A dead battery will not allow a boat to be started, or the bilge pump or other 'vital systems' to be operated in the event of an emergency.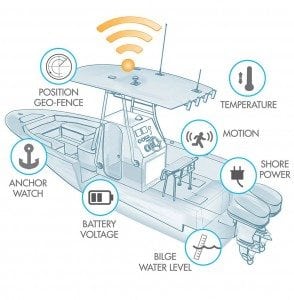 "For Southern Boating readers a big concern is someone breaking into the boat rather than stealing it," Harper continues. "Knowing that no one has gained entry and that the power is on is what a great majority of our customers tell us they like."
When Harper launched Siren Marine in 2011, smartphones were not nearly as popular as they are today. Text messaging was the easiest and fastest way to communicate, and almost all cell phones had texting capability. "At the start we focused on a text-based system," says Siren Marine's chief operations officer, Jonathan Banks, who notes that the Pixie sells for $499, with a $180 annual subscription plan to Siren's mobile network. "Fast forward five years and it's a very different dynamic. Everyone has a smartphone or iPhone, and pretty much every product you buy comes with an app. The catalyst is the smartphone, as consumers connect through the Internet of Things (IoT) to their homes, cars and boats. The forecast is by 2020 there will be 5 billion consumer devices connected to the Internet."
Each Siren Marine unit has a unique phone number and data is transmitted over GSM cellular networks. GSM conforms to a global standard, devices roam seamlessly with excellent coastal coverage, and the technology is extremely stable. Cellular modules are affordable and draw very little power. With the growth of IoT applications, the cost of cellular components and data is coming down.
"We have sold about 1,200 Sprite and Pixie boat monitoring units since the products were launched in 2011," Harper says. Powered by the boat's 12- or 24-volt battery, the unit can be easily installed in a locker by placing the Pixie (a little larger than a deck of cards) where it best fits and test the signal strength of the unit's internal high-gain antenna. "If the signal strength is acceptable, that's where it goes. Then you connect the leads to the monitoring unit to monitor battery voltage, bilge water level, motion, shore power status, temperature, and more."
With the planned phasing out of 2G cellular networks, which the Pixie and Sprite use, Siren Marine is designing next-generation 3G and LTE devices, which will be launched in fall 2016 and will include added functionality. A NMEA 2000 interface, image capture, engine monitoring, and wireless sensors are new functions that will be introduced, and data can also be shared with boatbuilders, engine manufacturers and others through a customized Siren Marine portal.
"We take security of the data transmitted very seriously," says Harper. "The company that is developing our cloud services and user apps also helped develop the international defense system after 9/11. Any crowdsourcing function is always opt-in by the user, and data will be stored locally on an owner's device."
Siren Marine's greatest benefit, however, may still be those simple text alerts. Knowing right away that the shore power is disconnected can save boat owners a lot of hassle in terms of spoiled food and a horrible mess.
"My boat Sunday Morning was docked in Charleston at a marina and I was away," says Anderson. "I received an alarm that the power was disconnected, so I called the marina and asked them to check on it, and hung up the phone." It turned out another boat had come into the slip next to Sunday Morning and somehow disconnected the shore power. The marina attendant simply hooked the power back up.
"I knew right away the problem was solved," Anderson says. "The Siren Marine unit sent me an alert that power was back on, so I knew the boat was good to go before the marina called me back."
INFORMATION: sirenmarine.com
— By Don Minikus, Southern Boating Magazine June 2016