The importance of onboard first-aid kits
Safety should always be a top priority when sailing on any body of water. Boating enthusiasts know that unforeseen accidents or injuries can occur at any time, making it crucial to have a well-stocked first-aid kit readily available on board. A properly equipped medical kit can be the difference between a minor inconvenience and a life-saving intervention as the nearest emergency service can often be far away. Invest in a reliable first-aid kit to instill peace of mind in passengers, knowing that appropriate medical supplies are readily available in case of an emergency. Let's look at a few brands whose kits are comprehensive and reliable.
Adventure Medical Kits offer a wide range of first-aid kits specifically designed for outdoor activities, including boating. The kits are well-organized, compact, and tailored to meet various needs. They often include specialty items like marine-grade bandages, seasickness medication, and waterproof packaging.
Whether you're offshore sailing, coastal cruising, or commercial fishing, the Marine 600 first-aid kit has all the emergency supplies needed to treat common boating injuries until professional medical help arrives. This rugged first aid kit was designed especially for marine environments.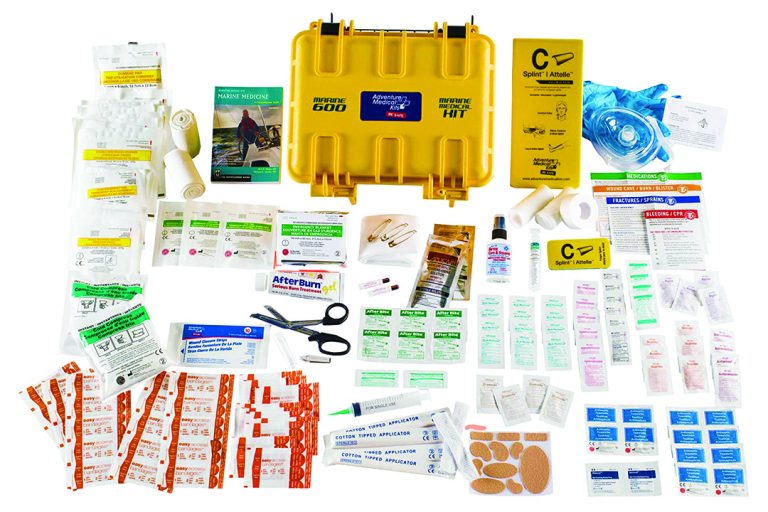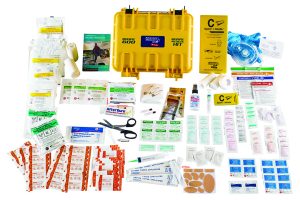 The impact-resistant, 100 percent waterproof case contains enough supplies for your sailboat, cruiser, or fishing vessel carrying up to six people traveling up to 12 hours from medical care. Treat hypothermia, sunburn, seasickness, sprains, fractures, lacerations, and other common boating injuries with the easy-to-find contents, which are organized by injury into inner waterproof bags, keeping them doubly secure. 
An essential addition to boat safety equipment, the Marine 600 comes with the Comprehensive Guide to Marine Medicine, as well as instructions on handling nautical emergencies like running aground, capsizing, and VHF radio calls. MSRP $199.99; adventuremedicalkits.com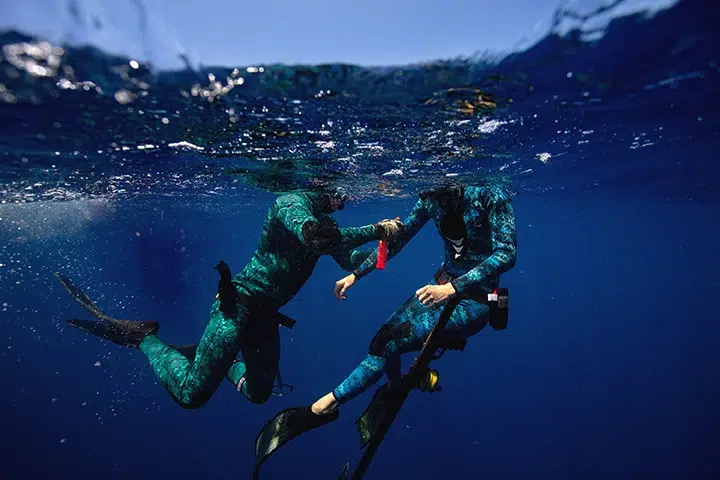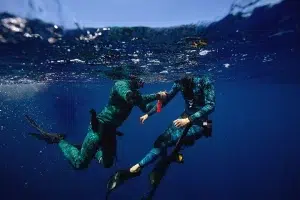 D-Dey Offshore brings marine medical kits to the in, near, and offshore fishing and boating industry. It offers five medical kits in addition to other emergency equipment for purchase.
The EMS Adventurer is the small kit, described as the perfect everyday medical kit. It is packed with items to treat patients with minor ailments to major trauma. The EMS Odyssey, the largest kit, is equipped to treat 10 or more patients from a headache to major trauma to cardiac arrest. It includes an array of equipment, such as a defibrillator, oxygen cylinder, and a pulse oximeter, and can be customized for the boater's needs. MSRP from $304; d-deyoffshore.com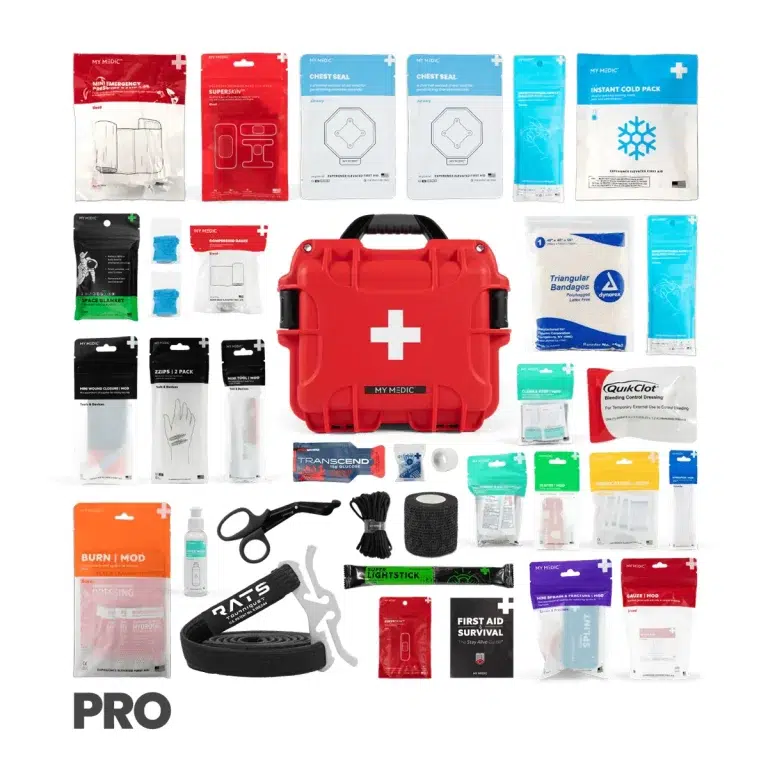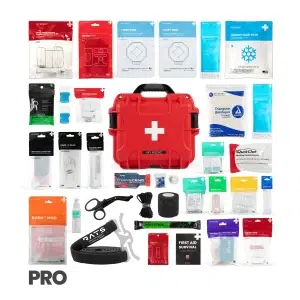 My Medic has a wide range of marine first-aid kits stocked with the high-quality gear, convenient features, and specialty tools. With a medical kit for every lifestyle, its goal is to prepare you with the equipment and training for any emergency. 
For boaters, the MYFAK PRO is a waterproof, dustproof, and crushproof first-aid kit equipped with life-saving supplies for any environment. This refillable kit contains more than 140 first-aid and trauma supplies hand-picked by first responders and medical professionals offering protection for up to three people. 
Whether on the boat or on shore, your gear will stay protected from the elements thanks to the kit's protective water-tight seal and dual action clips engineered for no accidental openings. MSRP $349.95; mymedic.com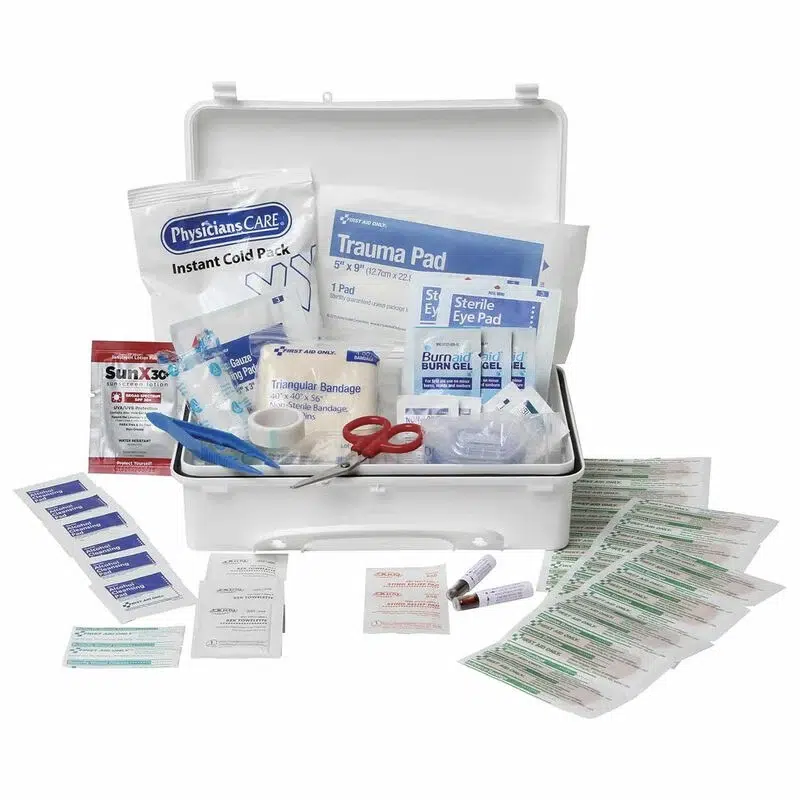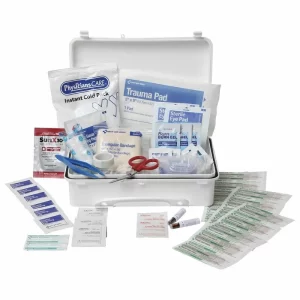 Orion Safety Products offers a selection of marine-specific first-aid kits, including those designed for coastal cruising, offshore boating, or fishing expeditions. Its kits typically contain a comprehensive range of supplies for treating injuries as well as signaling devices for emergencies.
Perfect for the large boat weekend cruiser, the Orion Cruiser First-Aid Kit is an expanded kit that can handle most first aid issues for up to six guests.
The plastic case contains 58 items including a large assortment of bandages, gauze pads and rolls, butterfly closures, eye pads, adhesive tape, antiseptic wipes, cold pack, scissors, tweezers, CPR mask, motion sickness tablets, burn gel, sting treatment, sunscreen, and a first-aid instruction booklet.
The wall-mounted, water-resistant case holds a larger selection of items to handle emergencies for the active boater. MSRP $49.99; orionsignals.com
Tips for Assembling Your Own First-Aid Kit
Below are some of the essentials needed to build your own marine first-aid kit. Once your kit is assembled, remember to check it annually and replace any over-the-counter medications that are past their expiration date. Be sure to place all items in a waterproof container.
+ Adhesive bandages in assorted sizes
+ Pain/fever reducers, such as aspirin, acetaminophen, ibuprofen
+ Stomach remedies to prevent or treat motion sickness, indigestion, diarrhea, or heartburn
+ Antiseptic wipes, ointment, or spray
+ Antibiotic ointment
+ Antihistamine
+ Anti-itch lotion or cream
+ Individually wrapped, small sterile gauze pads
+ Hypoallergenic
adhesive tape
+ Roll of absorbent cotton
+ Sunblock, SPF 15 or greater
+ Insect repellent
+ Q-tips
+ Eye drops
+ Scissors
+ Thermometer
+ Bottled water
+ Clean towels (small and large)
+ Ice packs
+ Emergency phone numbers: doctor, pharmacy, poison control, etc.
+ First-Aid handbook