Choosing the right waterproof smartphone accessories for your mobile phone (or tablet).
With the recent developments in electronics, the thought of leaving your phone or tablet behind on the dock can be unappealing at best. And even though technology has advanced rapidly, it still doesn't mix well with water. Luckily, many companies have worked to develop truly innovative solutions that will keep your electronic devices away from damaging sea spray. However, waterproofing isn't without tradeoffs. Due to their bulk, some waterproof cases can make using a phone seem awkward or even muffled. Audio quality can also suffer and put a damper on your favorite song. But compromises like these are necessary to ensure watertight protection that keeps your devices working properly.
Before picking out a product to protect your device, ensure that it meets some basic requirements. Are the charging ports, buttons and headphone jack accessible? Do you need continual protection or just some security for the occasional trip on the water? How important is using the device hands-free? Keep these questions in mind when you choose an accessory for your phone or tablet.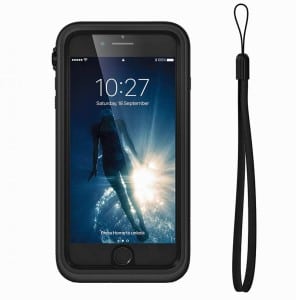 There are plenty of ways to get the best experience from waterproofing technology. The most obvious example comes from a waterproof phone case. Not all phone cases are created equal though, so it's important to consider a few basic guidelines while browsing. Some cases will add too much unnecessary bulk, making them unruly to use while on the boat. Others might be waterproof but won't offer protection against dust, snow or hard impacts. Selecting a case with a streamlined profile and excellent construction will make the phone easier to handle while offering peace of mind against any potential accident.
Pelican's Marine case meets every requirement—it's thin, durable and stylish. Plus, it will protect your device from all the elements. The case also provides complete submersion protection and meets governmental standard IP68. (MSRP $79.99; pelicanphonecases.com) We also like the Catalyst Case due to its ability to be submerged in deeper water than most of its competitors. It protects your phone under water at a depth of up to 16.4 feet. A slim construction and attractive design make the Catalyst Case an excellent choice. (MSRP $69; catalystcase.com)
Waterproof phone cases offer the obvious benefits of providing the ultimate in environmental protection. But what happens if you're concerned about audio quality or don't want to fully commit to a waterproof case? Fortunately, other options are readily available. DryCASE makes a waterproof phone case that you can use when you need it. The case itself uses vacuum seal technology to make sure that your electronics stay dry every single time. Each case has been tested at depths of up to 100 feet and comes with a headphone jack if you want to keep the tunes going while on the kayak. (MSRP $39.99; drycase.com)
Tablets also deserve to be kept dry from spills and splashes. For occasional protection, check out Aquapac's drybag. Unlike traditional waterproof pouches, this product's thermoplastic polyurethane material has a premium construction and feel that results in a better tactile connection with the touchscreen. You can use the case even when it's wet; the touchscreen will still work as intended. A gold-plated headphone jack allows for easy music listening. (MSRP $59.95; aquapacusa.com) If you'd rather have a more permanent solution, look into Catalyst's iPad case. Each case echoes the minimalist design that iPads are famous for. Durable construction makes this a must-have accessory for your iPad while on the water. (MSRP $149.99; catalystlifestyle.com)
While cases and drybags will keep your devices protected from the surf and spray, mounting options will hold them securely in place. A good, secure mount will allow you to use your device hands free, whether you're using a navigational app or a fishfinder. For marine-grade phone and tablet holders, you'll want to search for a product with enough suction and staying capacity to hold your device firmly in place if the waves get rough.
We like SeaSucker's RAM X-Mount phone holder for its convenience and ability to deliver peace of mind. The vacuum-cup technology of the mounting hardware won't damage your rig, and the suction ability allows you to install and remove within seconds. These mounts adhere to virtually any smooth surface making them ideal for any type of watercraft. (MSRP $80; seasucker.com) For another option, check out Nite Ize's Steelie Magnetic Mount. Magnetic bottom attachments keep your device securely in place and prevent you from having to constantly stare at the screen, allowing for better time management with less distraction. (MSRP $29.99; niteize.com)
— By Susanna Botkin, Southern Boating Magazine March 2017