Top Five Products for Fun in the Sun
Dreary winter weather means it's time for some fun in the sun!
Best case scenario, you are experiencing some brisk weather. Worst case scenario, you are experiencing a polar vortex. Either way, these five products will help you defeat the pesky winter blues. If you can get yourself to some warmer weather, You're sure to have some fun in the sun with these five fun products!
Yamaha's 2019 FX Series Waverunners
Yamaha's 2019 FX Series Waverunners are the first personal watercraft to feature a multi-color LCD touchscreen. The Connext touchscreen offers all vital system information, and the new Drive Control allows operators to program engine speeds and acceleration curves. The FX Limited SVHO includes ECOXGEAR Waterproof Wireless Bluetooth Speakers, a Garmin Striker GPS Fish Finder with the transducer and RAM Mount Hardware.
MSRP $17,399
Jupiter Bike's Discovery
A seamless magnesium alloy makes Jupiter Bike's Discovery solid and lightweight. The new electric bike has three levels of pedal assist and folds down to 30x17x25 inches to easily store on your boat. Discovery can travel up to 40 miles on a charge with a speed of 16 mph.
MSRP $1,595.00
BOTE Dock
Extend your swim platform when at anchor or create a diving raft with the new BOTE Dock. The floating, inflatable platform is 100 square feet (10×10 feet) and constructed with a military grade PVC bottom, BVA foam pad on top and incorporates drop-stitch fibers inside to make it rigid, stable and durable.
The optional Burrito slipcover makes for easy transport and storage. MSRP $1,299
Manta5 Hydrofoiler XE1 E-Bike
https://youtu.be/ONU9gkDnJ6Q
Presales are underway for the Manta5 Hydrofoiler XE1 E-Bike, a new watercraft.
Seven years in the making, the water bicycle features three modes from training to performance and assembles in two minutes. Able to launch from a submerged profile,
the Hydrofoiler can reach speeds to 13 mph in flat water. Delivery is set for late 2019.
MSRP $7,490;
manta5.com
Frigibar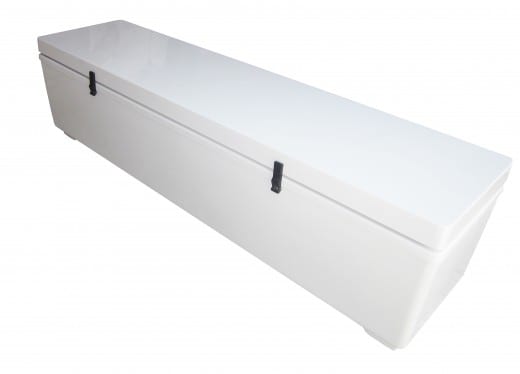 Frigibar's new autonomous fiberglass on-deck freezer/refrigerator runs on a lithium-ion battery and can maintain refrigerator temperatures for three days or freezer temperatures for two days between charges. The cordless unit measures 40x20x21 inches with a 3.8-cu.-ft. storage capacity reaches a full charge in as little as six hours, and is available in 12/24V.
MSRP $7,500