Yamaha Marine has been busy. Newly upgraded engines, battery management systems, analog gauges, controller setups, and propellers kick off a rejuvenated 2021 summer.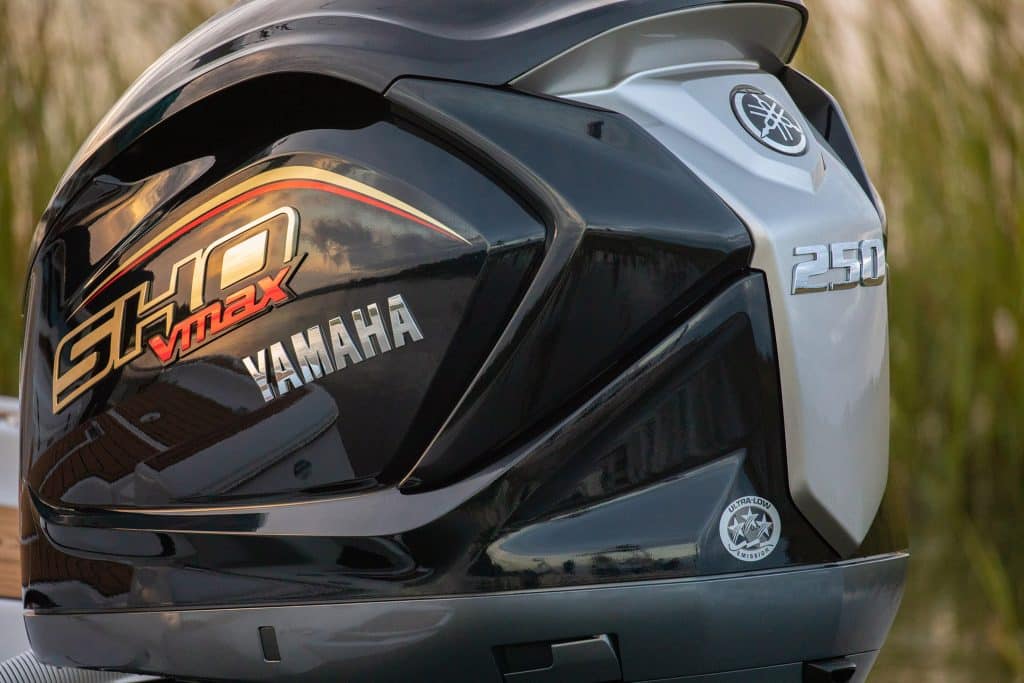 Engines
Inspired by the XTO Offshore engine, the high-performance 4.2L V6 V MAX SHO and the V6 Offshore are cranking up with new capabilities, and boaters are reaping the benefits. When the 4.2L V6 V MAX SHO was introduced in 2009, it was—and still is—the four-stroke's answer to a two-stroke's lightweight and quick-acceleration performance. It proved to not only perform with power and hole-shot acceleration, but also as a reliable, smooth, quiet, and clean performing engine with excellent fuel economy. The upgraded engine is still a mechanically operated outboard that uses hydraulic steering, Command Link, and analog gauges; however, the new CL5 digital touchscreen display and the CL7 multifunction display, which allow monitoring up to four outboards, are an option. A brand-new feature is that the V MAX SHO now takes its battery charging capability from 50 amps to 70 amps, a 40 percent increase offering greater power margins. There's also an optional isolator lead to better charge house or trolling batteries. The three models, 200-, 225-, and 250-hp, have a 20-inch prop shaft length, while the 200-hp and 250-hp have a 25-inch shaft length option.
The updated F250 and F300 V6 Offshore outboards also bumped their charging capability to 70 amps, but took features from its big brother, the XTO Offshore, to make it more reliable offshore, such as the built-in Digital Electric Steering (DES) and Thrust Enhancing Reverse Exhaust (TERE). It's also compatible with the Helm Master EX control system. The DES system only draws battery power when in use and creates an uncluttered bilge with no steering pumps, hoses, hydraulic lines, or connections. There's also a bolt-on version of DES for the F225 model.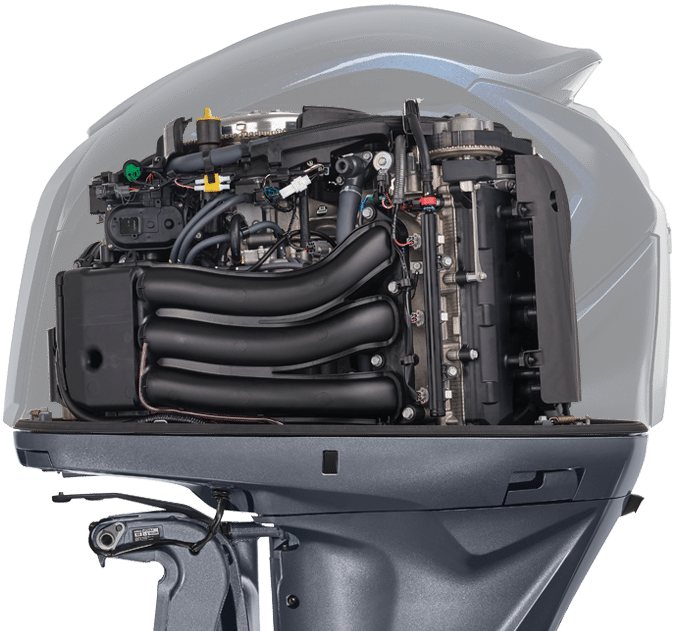 The TERE system keeps exhaust bubbles above the anti-ventilation plate and out of the propeller below 2,500 rpm when in reverse, which translates into keeping the prop in clean water. It's especially effective when combined with the DES and the maneuverability of the Helm Master EX around docks and in confined spaces.
Propellers
Most experienced boaters are aware of how propellers optimize performance, which is why Yamaha designed the HP version of its Saltwater Series II propeller. They are crafted to maximize speed on certain V6 applications that are not surface-piercing, specifically for lighter weight boats using Yamaha's 4.2-liter V6 Offshore and 4.2-liter V MAX SHO 25-inch X-shaft platform. New blade geometry in the HP provides a potential speed advantage over the Saltwater Series II propeller in lighter-weight applications and feature Yamaha's patented Shift Dampener System for quiet operation and reduced shift "clunk." The props are available in 18-, 19-, 20-, and 21-inch pitches in right and left-hand rotation.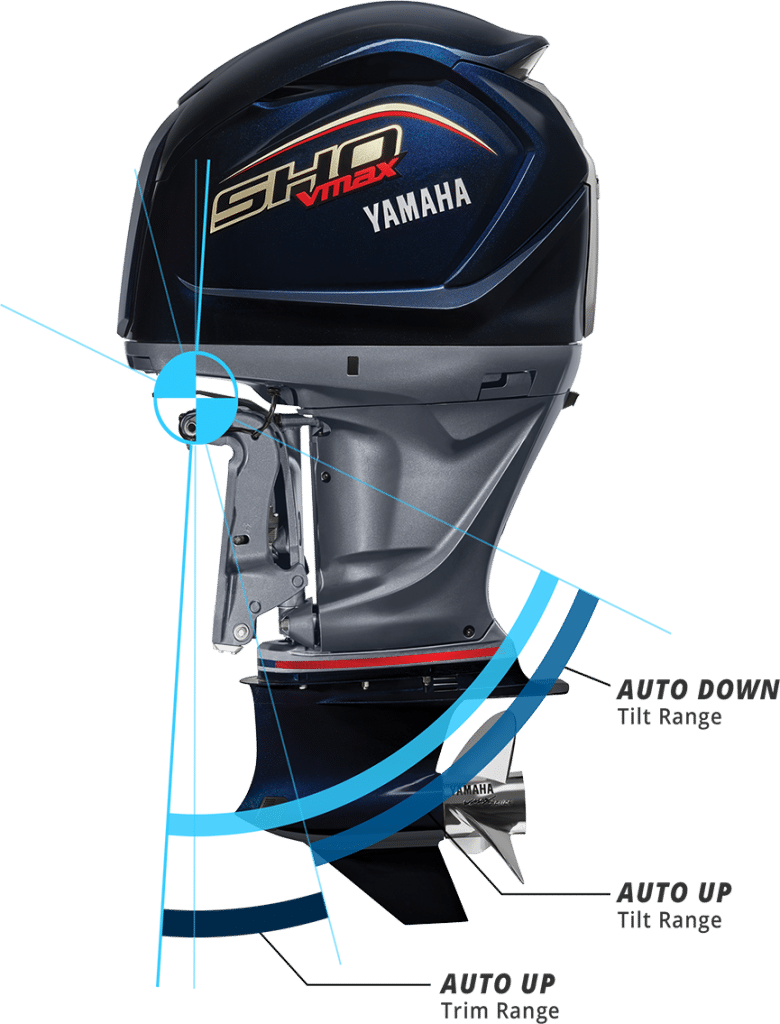 Total Tilt
Yamaha's exclusive TotalTilt feature eliminates the need to hold the trim button to lift the engine up or put it down. A double tap of the trim button will tilt the new V MAX SHO model from its current position to full tilt up (or to a tilt limit setting, whichever is lowest) or full tilt down to the engagement of the trim rams, and a simple tap of the tilt button will stop movement. The same with the V6 Offshore DES models, which also have a new built-in integrated tilt limiter to help prevent inadvertent damage. The built-in DES models also tilt higher out of the water than previous models to lessen the potential for corrosion.
Power Control and Monitoring
More power is always a demand on boats these days, so Yamaha designed a way to manage the complex layouts through its new Battery Management System (BMS). It simplifies and streamlines DC power systems for Yamaha-powered boats in twin-quint DEC engine configurations using the Helm Master EX system. It reduces the number of starting batteries required in triple through quint installations to two. The quint version will be available this fall.
Yamaha also has two new complete lines of analog gauges. Each line features a 7,000-rpm tachometer, a 50-mph or 75-mph speedometer in standard four-inch size, fuel, trim, water pressure, and voltmeter gauges in matching two-inch sizes. They come in four different combinations in the Classic or Sport style.
To bring the Digital Electronic Control for the Helm Master EX system to a broader array of boats, Yamaha designed a new version flush, side-mount unit for more flexibility for owners who want DEC capability. yamahaoutboards.com