New technology can keep your outboard-powered boat stationary with safety and angling benefits.
Sportfishing is a hit-or-miss proposition—you drop a bait over a specific spot and either hook up or move along because you have determined no fish are biting. Because wind and current conspire to move you off that spot in literally seconds, doing it right means dropping the anchor, and that takes time.
SeaStar Solutions' new SeaStation GPS Anchoring System offers a tech-driven way for your outboard-powered boat to stay on top of that spot without dropping anchor. You can explore a spot, and if there are no fish, you are quickly on to the next spot without having the hassle of anchoring. It's a new feature of joystick-control, and it's one that any multi-engine outboard boat can use. That's because the SeaStar Optimus 360 system can be added as a retrofit to most twin, triple and quad outboard-powered boats—although one exception is Mercury Verado engines. Once you have the Optimus 360 system and joystick control installed on your boat, the SeaStation feature can be added on with the addition of a dedicated SeaStation GPS antenna and software program.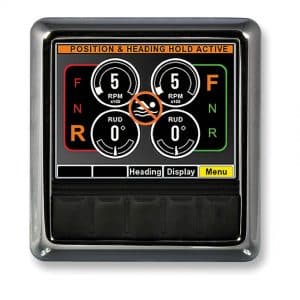 SeaStar Solutions showed off its new SeaStation feature at the 2017 Miami International Boat Show in February to the public during demo rides on Biscayne Bay. The results are impressive, as the system can hold the boat on a spot within three meters. "When you're after baitfish, you can move the boat right up to the bait ball and hold your position with SeaStation," said Scott Allgood, Seastar Solutions Optimus Sales Specialist. "That allows you to get the baitfish faster and move on to fishing. Or if you are fishing a weed line, you can hold your boat's bow orientation in a set direction while you drift down the weed line."
SeaStation offers three primary modes:
Heading hold: Hold heading regardless of position. Practical applications include kite fishing/drift fishing, and it allows easier setup to maximize fishing time. It keeps the boat from rotating so lines won't get tangled.
Position hold: Hold position regardless of heading. Practical applications include bait fishing and wreck/reef fishing. The system will find the best natural heading for the boat, taking into account the current and wind to hold the boat most efficiently. As a result, it holds the position with less shifting and movement of the engines.
Heading and position hold: Here the system allows the boat to stay in position and hold its heading. Practical applications include waiting for a bridge to open, waiting for a spot at the dock to become available and bait fishing near a structure. Regarding safety, SeaStation is not to be used when people are in the water, or when the boat is too close to structures. Someone should always be at the helm.
View a demonstration of SeaStation
SeaStar Solutions has applied the same smart algorithms to SeaStation that the Optimus 360 joystick control utilizes to reduce unnecessary shifting and jockeying of the engines. It provides superior position and heading functions for a large selection of engine platforms. "The feedback we received from users and fishing captains was to reduce the jarring from the engines shifting and unnecessary movement," Allgood said. "The engines obviously do shift, but as little as possible because it can affect the fishing. We took this input seriously and we are confident SeaStation will be a fishing enabler."
The winds and swirling currents of Biscayne Bay created a challenge during the Miami Boat Show during our demonstration, but the unit easily held the boat's position. In addition, having joystick control in low-speed situations is extremely helpful for expert and novice drivers alike.
For example, for the novice cruiser the ability to run the boat at under 1200 rpm and move forward, sideways, backward or diagonally with the twist of the wrist is a boon to confidence around the docks. For the expert, backing down on a kingfish by simply using the joystick, and moving in reverse at the max speed of six mph, makes life much easier. No steering wheel, throttles and shifters to worry about.
"Optimus 360 now brings boat owners with multiple-outboard setups the ability to have joystick control, and now SeaStation anchoring," Allgood said. "The cost for a twin-engine setup is about $14,500, plus what the dealer charges for the install. Until May 31st, if you purchase a new Optimus 360 system the SeaStation Anchoring is provided for free. After that, the charge is $3,800 for the antenna and software."
The components that make up Optimus 360 are proven, including the pumps and cylinders," Allgood said. "Once you have a system of proven components, now in a new configuration like Optimus, then it's about the software."
For customers who are interested in having Optimus 360 and SeaStation added to their boats, there are 180 dealers in the continental U.S. or Alaska that can install and service the Optimus System, as well as a large number of boat builders that offer it as a factory option.
For more information: seastarsolutions.com