The new Seakeeper 3 gyro system offers stability previously only available to boats 40 feet and up.
It still surprises me how many people suffer from seasickness in spite of all the medications that are available and technology developments that lessen the rock-and-roll at sea. Several years ago, I met a wealthy yacht owner whose wife was extremely prone to seasickness. To her credit, however, she wasn't willing to give up on their dream to circumnavigate the globe. Her husband researched extensively and found a yacht that was designed to significantly reduce the rocking motion that causes seasickness. They then went to the North Sea to test a prototype in the most turbulent conditions possible. He found her calmly knitting a scarf during their sea trial, unaffected by the rough seas, and he ordered one built for their extensive cruising itinerary. Several years later they embarked on their circumnavigation together on their new yacht. Not everyone who suffers from seasickness, however, can afford to buy a custom yacht.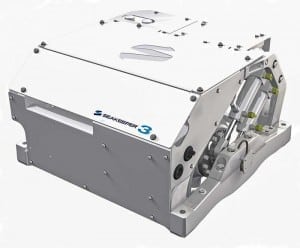 Fortunately, owners of boats 40 feet or larger can retrofit their craft with aftermarket marine stabilization technology by Seakeeper, Inc., providing the boat's design accommodates the unit. The company first introduced their gyro stabilizing systems in 2008 for boats larger than 40-feet LOA and commercial craft. Owners of boats smaller than 40 feet, however, have had no option other than to leave their seasick-prone family and friends at the dock. That recently changed.
At the 2016 Fort Lauderdale International Boat Show last November, Seakeeper revealed the release of its newest and smallest model yet: the Seakeeper 3 designed for boats sized 30 to 39 feet. According to the manufacturer, the Seakeeper 3 reduces up to 95 percent of the motion that contributes to the often-debilitating effects of seasickness, including angst, nausea and weariness. The Seakeeper 3 is also 30 percent lighter and 25 percent smaller than their other models; the new addition gives owners of smaller boats the option to add increased stabilization to their existing craft. Seakeeper offered sea trials during the boat show so that builders, boat owners and the media could experience the stabilizing effects of the Seakeeper 3 firsthand. "We had a customer with us that just commissioned a 34-foot center console build and was on the fence about adding the gyro," said Joel Kauffman from Xcelerator Boatworks. "Well, before we even finished the sea trial we had definite plans for a Seakeeper gyro on our new build! The customer was in true disbelief at how effective the gyro was in very extreme situations. We were also very impressed with its physical size for ease of installation, low noise level, and operation smoothness. We now have plans for gyros in our next three builds: a 64-foot convertible, 34-foot center console and a 40-foot walkaround. We are all very excited with what Seakeeper has brought to the table in recent years!"
Since many boats in the 30-39′ range do not already have a generator, adapting the product with that in mind was of paramount importance. The Seakeeper 3 runs exclusively on 12-volt DC power, so the refit process is simple and does not require additional power systems or complicated modifications. Installation involves a customized leaning post design and can be completed in only two days. Andrew Semprevivo, Seakeeper Vice President of Sales and Marketing said in a press release that the Seakeeper 3 offers their technology to smaller vessels, which is the next step in the company's goal to bring stabilization to the boating mainstream. "By offering an optimized solution for boats between 30- and 39-feet long, Seakeeper is offering stabilization solutions to a whole new range of boats for the first time. It truly is our biggest, smallest thing yet."
The Seakeeper 3 can be ordered now for shipments starting in Spring 2017. MSRP is $26,900.
— By Liz Pasch, Southern Boating Magazine January 2017
For more information: seakeeper.com