Cutting edge radar, sonar, apps and more… The 2015 National Marine Electronics Association Conference held in Baltimore, Maryland, celebrated the industry's pioneering products. Here's a snapshot of this year's most notable marine technological innovations.
Simrad's Halo radar sees almost everything.
Simrad's new Halo radar clearly demonstrates the rapid migration of advanced technology into our world of marine electronics. Its combination of pulse compression, beam-sharping technology, a rare earth gallium nitride microwave amplifier, and sophisticated FPGA (Field Programmable Gate Array) has created a radar that easily sees a seagull floating in the water 60 feet away from your boat and can separate two distant abutting boats all while using a miserly 25 watts of power. This open array system (3′, 4′, 6′) is capable of true dual range displays and is packaged in a sleek pedestal design that has unique side-mounted blue LED accent lighting controllable from the MFD. A wide variety of easy-to-use operational modes from Bird Finder to Weather make it one of the easiest radars to use and among the most technically advanced recreational boating radar available. The Halo radar received the annual NMEA Technology Award at the conference. simrad-yachting.com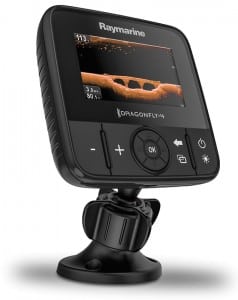 Raymarine Dragonfly 4DV CHIRP down view fish finder
In just a handful of years CHIRP sounders have evolved from expensive technology once only available to oceanographic institutions to fish finders for under $200 that produce nearly photographic images of the bottom surface. The Raymarine 4DV is a perfect example. Use their free Wi-Fish app (iOS 7+ and Android) to record, pause, rewind, and share your sonar images through its Wi-Fi. The 4DV—with transducer good for depths up to 600'—sports large, sealed membrane switches with intuitive menus and has IPX6 and IPX7 waterproof ratings. An included ball mounting system compatible with aftermarket solutions like Ram Mounts makes it easy to mount nearly anywhere from a kayak (with the optional 12V battery pack) to a center console. raymarine.com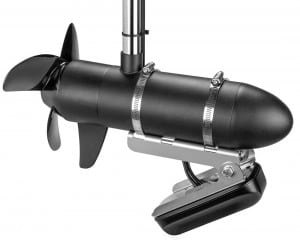 Garmin Panoptix Down sonar 
Until the Panoptix system appeared, recreational boat sonar was always a historical product showing what happened in the past—behind your boat. With the Panoptix's multibeam transducer, fishermen can use three views. See fish swimming around under the boat in real time and at what depth with LiveVü Down. Watch your lure drop and see the fish strike it in real time. The extremely wide-angle 120-degree beam makes it quick and easy to tell if fish are present. Change to RealVü 3D and the system shows you a 3D map of the bottom structure and fish targets. The RealVü 3D Historical shows a rolling graphical model of the bottom structure and fish targets as you move. Record, play back and capture screenshots of both RealVü displays. Panoptix transducers are designed to work with most boats and have all the electronics built into them. They are connected to compatible MFDs with a Garmin network cable and no sounder module is required. garmin.com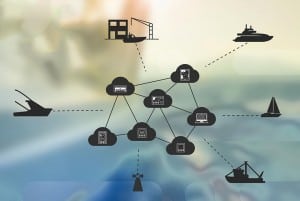 The Signal K project taking NMEA to the cloud.
Two presentations by the Signal K project were the most attended at the conference. Signal K is a unique, open source software project whose purpose is to make a boat's NMEA data easily accessible to app developers. Your boat's N2K/0183 network data is sent to a NMEA certified gateway, which parses the data into the Signal K format in a human readable format. For example, the  "DepthBelowTransducer" data is sent to a computer running the free Signal K software for storage that connects to a Wi-Fi router. This allows your boat to securely connect to apps, other boats, the internet, do sharing, logging, and crowd sourcing of data, use social applications like the new ActiveCaptain "Locations" app that supports Signal K, and more. The first Signal K gateway product, the Digital Yacht "iKommunicate," was announced at the conference—many more hardware products and apps are in development. Hardware, apps and Signal K software will be available very early in 2016. signalk.org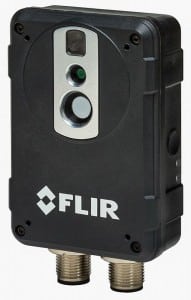 Flir's AX8 monitors your engine's temperatures.
Flir introduced this small AX8 thermal and visual camera as an industrial grade, temperature monitoring camera. Raymarine now supports it in their new Lighthouse 15 software release for engine room use. Despite its small size it has lots of capabilities. Up to six locations in the camera's view can be selected, defined and monitored for temperatures that range from 14 to 302 degrees Fahrenheit. For example, one spot could provide the temperature of an exhaust elbow, and another the transmission or battery bank. Alarm levels can be configured for any of the selected locations, and up to eight cameras can be connected via Ethernet cables. Find potential engine problems before they become big ones. flir.com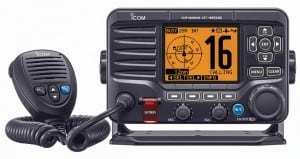 Icom 506 AIS VHF does it all.
It's hard to believe there is some ability that the M506 AIS radio doesn't already have. It's NMEA 2000 ready saving the installation time and effort required to do the venerable and much slower NMEA 0183 interfacing. It receives AIS information with the same antenna, has active noise canceling technology, last call playback, foghorn modes, two-way hailing, supports remote command mics, and has an external speaker connection. You can even add a class B AIS transponder to the system. The extensive functions are menu driven with the aid of four soft keys and a five-button function array. Easily read a wide array of data with backlighting. I don't know what more you could add to this comprehensive unit with a very competitive price and IPX8 waterproofing rating. icomamerica.com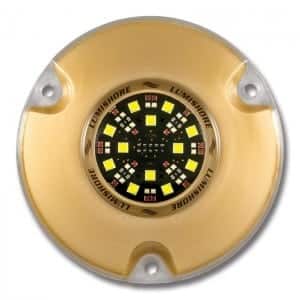 Lumishore's EOS lights the way.
Lumishore provides the underwater wow factor with its new EOS series of underwater lighting that uses a mix of two-way DMX512 (Digital Multiplexing) and RDM (Remote Device Management) technologies originally developed for professional stage lighting. Add to this plug-and-play system sound to light capabilities, and Wi-Fi interfaces for your mobile devices. This color-changing system uses long-life Phillips high-intensity LEDs with a variety of modes that control strobe effects to attract fish and bait, brightness, sound synchronization with the lighting, lots of preset functions, programmable light scenes, and more. The low profile controller with its color display is easy to use and comes with a sun cover. Set the lighting mood for a cockpit dinner or have a rocking party. lumishore.com

By Bill Bishop, Southern Boating Magazine December 2015