Marine thrusters to the rescue
Docking is by far the most intimidating part of boating. Ask any boater and they'll tell you that it's not weather, grounding or even a man overboard situation that keeps them up at night, but rather a safe landing at the dock, especially if there's an audience. Bow and stern thrusters have come to the rescue as these marine propulsion units have proliferated on boats of all sizes, from superyachts to tenders. Today, the telltale roar of a boat pushing sideways toward a dock is heard in marinas worldwide and even with the advent of pod drives with directional thrust coming from the engines, bow thrusters still save the day in many situations.
Whether you already have thrusters, want to add them or think it's time to update or replace them, here's how the world of pushing a yacht sideways is changing.
What's new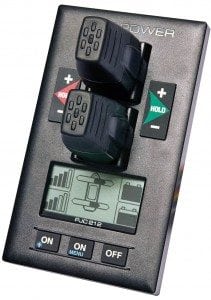 There are many manufacturers of marine thrusters including Side-Power, ABT-TRAC, Wesmar, C Marine, Max Power, VETUS, Lewmar and others. Thrusters may be either AC, DC or hydraulic (for larger vessels) and approximately 60 percent of them are installed by boat builders on new models while 40 percent are aftermarket additions. As all marine equipment, they are an evolving technology with innovation driven by boater convenience and expectations.
• Proportional control—Proportional DC thrusters popped on the scene about five years ago. Unlike traditional on/off switches, proportional thrusters add power the more the toggle is moved. "You only apply the power you need," says Peter Nolet, product manager at Imtra Corporation, sole U.S. distributor of Side-Power thrusters. "The benefit is smoother control, longer run time and limited heat generation."
• Quieter operation—The noise heard around the marina is less the motor and more the cavitation of the propeller. It's a sound most boaters would like to limit. One manufacturer, C Marine, touts quieter operation by design with a seven-bladed propeller. Bob Sentz, vice president of Wesmar's mechanical division, advises that to minimize cavitation, thrusters must be installed at least one propeller diameter below the waterline. "It's key to have say, a 12″ propeller, installed at least 12″ below the waterline."
•  Intelligent interface—Better interfaces make operation easier. For example, Twin Disc's new digital thruster panel—used for their EC300 Power Commander and joystick system—has larger toggles for better feedback. Other information on the panel may include hydraulic oil level and temperature indicators with audible alarms if something is amiss. Optional displays even use bar graphs for quick visual reference on how much power is applied, and tethered remotes let you walk the deck while docking.
• Retractability—Not all thrusters live in fixed tunnels. Some, like those from Max Power, can drop down from the hull only when in use. This is especially useful for sailboats to reduce drag, but it is also helpful for anyone operating in shallow water where grounding could damage a traditional thruster tunnel.
• Jet thrusters—Not all thrusters have propellers. Holland Marine Parts, a Dutch company with dealers along the eastern seaboard, builds water jet bow and stern thrusters. These have a few benefits including quiet operation and less vulnerability since there is no propeller and no need for installation of a tunnel.
Repair, replace, upgrade, or add
Your next boatyard visit will be the ideal time to decide whether to service, repair or replace your existing thrusters or to add a new one. Nolet suggests taking this opportunity to upgrade your existing system. "Side-Power thrusters can be upgraded from on/off systems to proportional control via the motor," he says. "We refurbish the motor and add the control panel and CAN bus cable and ship it back. The initial setup in the yard then just takes a few minutes to integrate. The best part is that it restarts the two-year warranty on the motor itself."
Sentz agrees with repairing. "We can turn a rebuilt motor around in less than a week including shipping, and it costs about half of replacement depending on the model," he says. "And you can do this without ever hauling the boat out of the water."
According to Nolet, the biggest issue is with thrusters that were undersized for the vessel and work too hard. "Other than that, it's only sheer neglect that will require a replacement including a corroded motor, a failure of the armature or damage to the gear leg."
Boatyard basics
Per Sentz, boatyards are pretty savvy when it comes to installation and servicing of thrusters. Talk to your yard project manager to ensure they can integrate thrusters and engines with the new joystick drives and do regular maintenance including checking hydraulic oil reserves and operating temperatures (normally 90-140 degrees Fahrenheit), and inspecting mounting bolts, zincs, rubber seals, electrical connections, and hydraulic pumps if present.
"The main thing about any thruster is to keep the props clean on both sides because that can cause vibration," says Eric Folkestad, product development manager at ABT-TRAC. "Also, the shaft seals should be replaced every three to five years and have the yard check for corrosion and pitting on the shafts."
If the boat is hauled, have the yard inspect the props and tunnel. Depending on your cruising grounds, hard growth such as barnacles can damage the props or make the motor work harder.
If you do decide to size up in horsepower or add a DC proportional thruster, remember that you'll most likely need to add to your battery bank whether 12, 24 or 48 volts. With that may come the need for a larger or different charger, so beware of mission and budget creep. Then, enjoy your new maneuverability, regardless of who's watching.
— By Zuzana Prochazka, Southern Boating Magazine March 2016
INFORMATION:
ABT-TRAC: abttrac.com
Imtra Corporation: imtra.com
Wesmar: wesmar.com