Underwater lights utilize LED technology
for brilliance and long life. And you can use underwater lights for fishing.
Lighting the underside of your boat can be fun, safe and beneficial—especially if you want to look for or try and catch fish. Fish are attracted to underwater illumination and today's LED underwater lights are powerful and long-lasting. For example, a service life of 40,000 hours (4.5 years of continuous use) or even longer is often quoted by manufacturers.
While LED bulbs won't need to be replaced often, it may make sense to upgrade the technology. Like cell phones, an LED that's the latest and greatest today may be old news in a year or two.
"Aqualuma lights can be accessed from the inside of the boat and replaced without having to haul the boat," explains Alexandra Bader, vice president of sales and marketing for Aqualuma. "That's a big advantage when you want to replace or change out a light. Our 6, 12 and 18 Series Thru Hull lights fit the cruising market. The consumer can even purchase upgrades a few years from now and exchange their existing ones for a different color or newer technology as LEDs evolve at a considerable discount. The lights are sold individually and the cost ranges from $770-$1,650 each."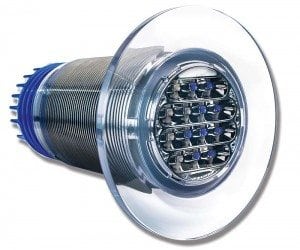 Having underwater lights makes boats more noticeable and increases safety while the color displays are visually appealing as they penetrate the water. One advantage growing in popularity is using the lights for fishing or fish viewing. Boyd Youngblood, director of sales at Lumitec, notes that the company's new full-color RGBW SeaBlazeX Spectrum lights ($689 each) attract different species of fish depending on the color of light."We have two factory boats with our SeaBlazeX Spectrum lights installed, a 37-foot Intrepid and 53-foot Bertram," says Youngblood. "I was in Jupiter on the water in the Intrepid at about 10PM and noticed that when the oranges and yellows come around the color wheel, the snook would come out of nowhere and around the boat. When it went to another color in the spectrum, they would swim away.
Use underwater lights for fishing
"I took the Bertram to The Bahamas and noticed the same thing. On one color both the sport fish and baitfish would be tighter to the boat, and on another color they would stay back. The fish respond to these colors, and the nice thing is [that] once you find a color that works, you can hit a toggle switch and get the light to stay there. It's that easy."
Lumishore's EOS Series offers plenty of underwater power when a robust lighting system is required. "Our EOS Series Thru-hull lights offer the brightest color-changing underwater lights available up to 15,500 tested and proven fixture lumens," explains Scott Iverson, Lumishore USA product manager, who adds that EOS Color Change lights cost from $3,100-$4,750 per fixture. "We offer a beam angle at 110 degrees and our easiest, most intuitive color control using the EOS STV2202. This includes a dash mount Wi-Fi controller with 3.5-inch LCD display, easily access multiple preset and customizable colors, strobes, modes, and color cycles."
Lumishore's system is iOS compatible and allows users to control the lights using their iPhone via the companion Lumi-App (free from iTunes). The lights come fully synchronized, meaning boat owners won't be hassled by sync and sequencing issues common with other color-changing lights, and a "Sound-to-Light" feature adds excitement to an onboard party. Users can just plug-and-play into their onboard sound system and make the lights dance to the frequency of the music.
Halogen and HID/Xenon bulbs are also still in use on many boats, but the switch over to LED is relentlessly gaining momentum.
"The main advantages of an LED underwater light being power draw, quick startup, color options, and an almost endless lifespan have made it the most popular choice in recent years," says Zack Savage, the U.S.-based factory representative for Underwater Lights. "For larger boats, we would recommend our QTLED range, which includes the QT80, QT100 or QT130—essentially small, medium and large and costs start at just over $1,000 a light. All of these lights are fully Lloyds-approved and, most important, serviceable and upgradable from inside the hull. You can use anywhere from two to six on the transom and maybe a couple port and starboard for a full wraparound effect."
What do you need?
Finding the ideal underwater package for cruising boats includes finding a system that offers the ability to upgrade easily, such as OceanLED's Allure option. "The Allure Series lights are exchangeable from inside the hull with its simple Plug & Play system," shares Nicole Squartino, OceanLED's U.S. marketing director. "For cruising boats 40 to 80 feet I would recommend the new Allure HD Gen2 mk2 Series underwater LED lights, 150XFM and 250XFM, in either single color or full color-change option. This offers virtually unlimited color change with the second option, and the pricing ranges from $1,499 to $3,699 based on the fixture size and color output."
The Allure HD Gen2 mk2 Series incorporates the latest LED technology, which enables the lights to run at maximum brightness with minimal heat and boasts up to 8,500 fixture lumens. "The sleek housing and flush profile allow for unique mounting in the hull facing downward or out the sides of the vessel," adds Squartino. "This provides a simple solution for creating expressive environments."
INFORMATION:
aqualuma.com
lumishore.com
lumiteclighting.com
oceanled.com
underwaterlights.com
By Doug Thompson, Southern Boating Magazine July 2016