2018's National Marine Electronics Association Conference and Expo: NMEA 2018
The electronics industry continues to grow. As of May 2018, the Federal Reserve indicated that the U.S total economic growth increased by 2.5 percent; the electronics industry was up 4 percent. Technology advances almost daily whether it's an improvement to an existing system or a whole new way to solve a problem.
At the 2018 National Marine Electronics Association (NMEA) Conference and Expo held at the PGA Resort in Palm Beach Gardens, Florida, the latest in marine electronics was the name of the game with many garnering the "Product of Excellence" award for their category. Here are a few that made the podium at NMEA 2018.
Garmin's Panoptix LiveScope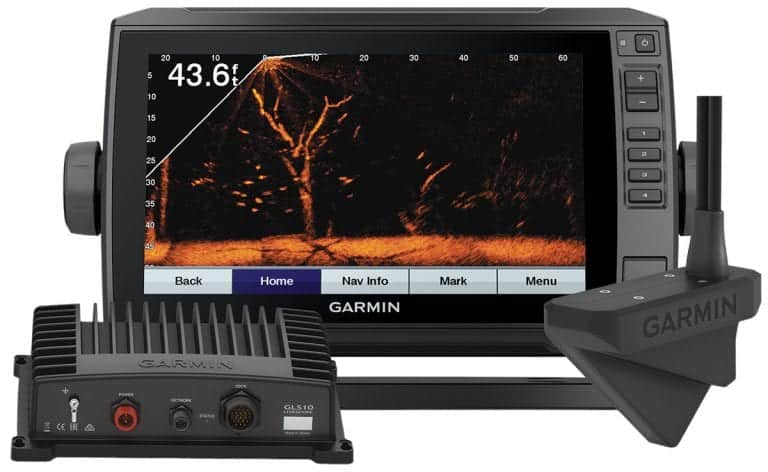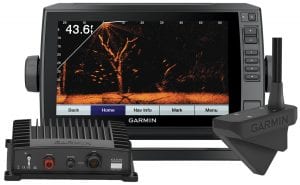 Garmin's Panoptix LiveScope was the overall winner at NMEA 2018 and won the Technology Award. The live, real-time sonar produces incredibly detailed images of underwater structures and fish below and around the boat, including your lure. Two modes—forward and down—are included in one transducer that portrays images up to 200 feet, even while stationary. The view automatically updates on a compatible Garmin chartplotter, and the Attitude Heading Reference System keeps the image stable, even in rough conditions. The sonar has a beam width of 20 degrees by 135 degrees. The system is easy to install and includes a compact GLS 10 sonar black box (9.6″ x 5.9″ x 2.6″), the Panoptix LVS32 transducer and a two-meter plug-and-play Garmin Marine Network connector. A trolling motor mount and transom mount are also included.

$1,499.90
Furuno's DRS4D-NXT 24-inch Solid-State Doppler Radar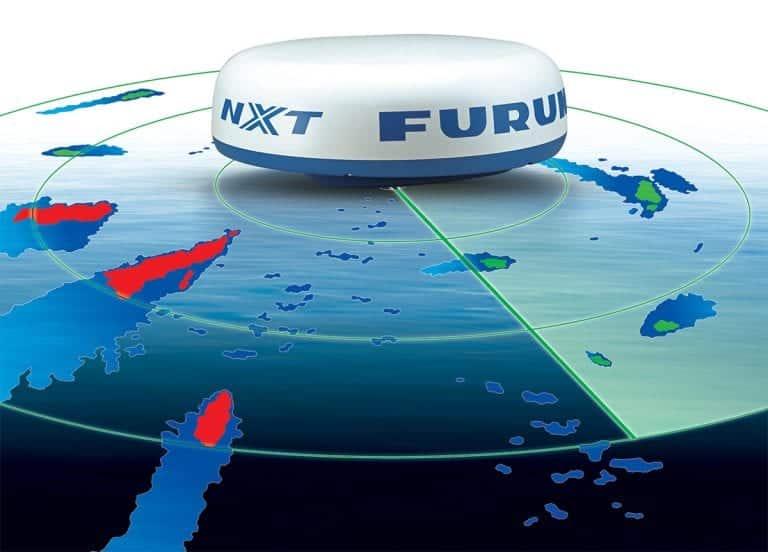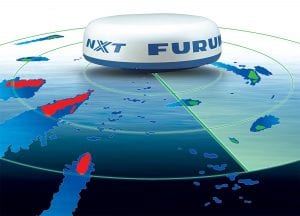 On top of the Radar category sits Furuno's DRS4D-NXT 24-inch Solid-State Doppler Radar with Target Analyzer and Fast Target Tracking for NavNet TZtouch and NavNet TZtouch2 multifunctional displays. The NXT is the first radar to use Furuno's new and exclusive Target Analyzer function that identifies targets and their relation to your vessel. Green signifies targets that are stationary or are moving away, while red targets are moving in your direction. Targets change color automatically as their positions change, and the Analyzer works independently of your vessel speed and that of the target. Auto Target Acquire identifies approaching targets within three nautical miles automatically and will trigger an alarm. The Rain mode can identify targets within rain echoes (rain is colored blue), and for anglers, the Bird mode identifies flocks of birds that may be gathering around schools of fish. Furuno's exclusive RezBoost technology enhances resolution for a more detailed image with less clutter to improve situational awareness and increase safety.
MSRP $2,600
KVH TracVision TV3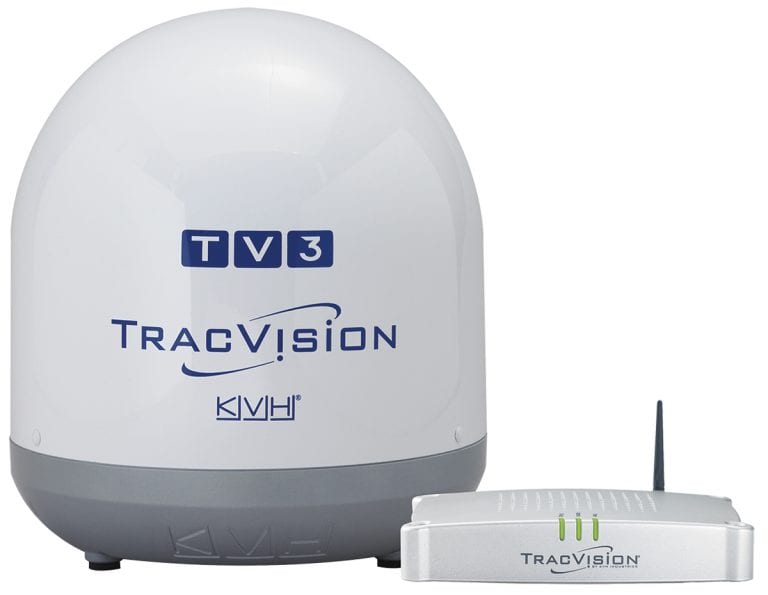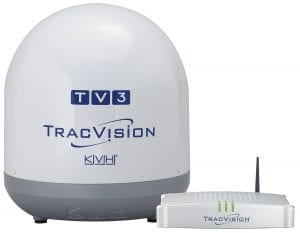 As for satellite TV antennas, the KVH TracVision TV3, along with the innovative TV-Hub, took honors as a great choice for both power and sailboats cruising within 100 nautical miles offshore. The compact 14.5-inch antenna features the proprietary RingFire technology that provides a stronger signal for better reception and a wider geographic coverage area. TracVision TV3 with the optional IP-enabled TV-Hub A supports DIRECTV, DISH Network, and Bell TV as well as circular and linear Ku-band (HDTV compatible) regional services worldwide. The integrated, single-wire multi switch (SWM-8) built into the TV-Hub supports up to eight DIRECTV receivers so the kids can watch one show while you watch another. TracVision also has commercial-free, CD-quality music channels. Built-in Ethernet and Wi-Fi allows smartphones, tablets, smart TVs, and computers to connect and display system information, and a single coaxial cable for power, data and video make installation easy.
MSRP $3,995
Fusion's Apollo RA770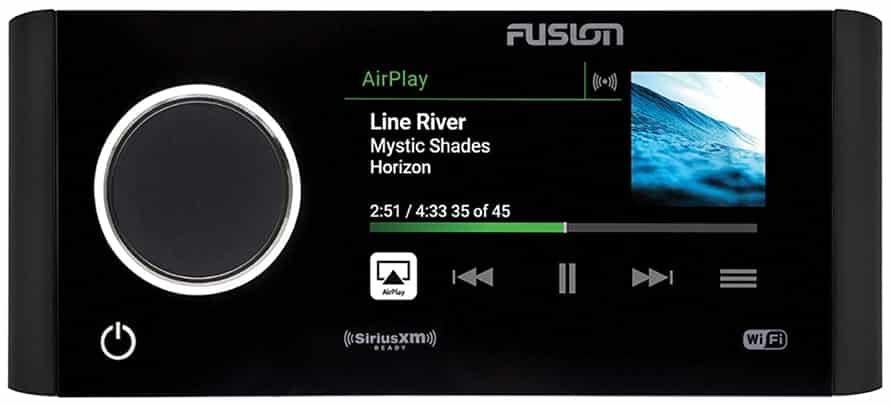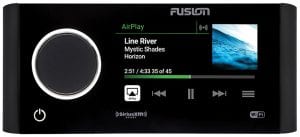 Stereo systems are right up there when it comes to new technology, and Fusion's Apollo RA770 is at the top of the list at NMEA 2018.  Innovative design and revolutionary technology make it the world's first touchscreen marine stereo with Apple AirPlay and built-in Wi-Fi. Fusion's Digital Signal Processing, PartyBus, over-the-air software updates, one-piece glass display, and more source options than before, including advanced SiriusXM satellite radio features (U.S. only), bring a new era of marine audio entertainment on board. Wi-Fi availability allows audio streaming with a higher data transfer rate than Bluetooth. The PartyBus Party mode wirelessly connects multiple Apollo stereos to sync music throughout the vessel. The 4.3-inch LCD color touchscreen display eliminates dials and buttons.
Fusion-Link allows control from partnered multifunction displays, including Garmin watches, and the IPX7-rated front panel protects against water, salt, temperature, vibration, and UV rays. Along with Fusion's sound quality, audio entertainment on board has reached a new level.
MSRP $649.99
ICOM's M605


ICOM's M605 was recognized because it's more than just a VHF radio. The M605 has plenty of options that give flexibility in the boat's radio system setup as well as GPS and communication features. Control up to three stations remotely with HM-195 series COMMANDMICs, or add another command head with the same front panel as the transceiver and two command mics, or have two heads with one mic for a total of four talk/receive stations with an intercom function. The large 4.3-inch, LCD color display offers almost a 180-degree viewing angle, which helps when checking AIS vessel traffic and its DSC call information on a screen, especially while operating in the easy-to-see-in-the-dark night mode. A large 10-key pad allows for smooth entry of channel numbers, MMSI numbers with ID names and more. There are also soft keys assigned for the most used functions. The M605 is a Global Navigation Satellite System receiver with NMEA 2000 and NMEA 0183 connectivity.
MSRP $1,530
Nobeltec's TIMEZERO Professional v3
Keeping your charts up to date is essential for safety at sea, and Nobeltec's TIMEZERO Professional v3 marine navigation software keeps sportfishermen, sailors, commercial boats, and coastal cruisers on the right track. For sportfishermen, the software is designed to connect with Furuno sounder hardware to spot fish, and with the PBG module, the bottom terrain not only provides 2D color and customizable scale bathymetry with clarity but also provides a 3D model of the seafloor's contour lines and depths depicting ridges and valleys. Route Planning takes into consideration tides and currents to determine optimal departure and arrival times, and the Weather Routing module can  adjust to avoid areas of undesired wind speeds and wave heights. The new AIS/ARPA module identifies oncoming boats' direction and speed with anticollision features in place. TIMEZERO is compatible with official S-57 electronic navigation charts that are updated every week.
MSRP $1,500 (modules optional)
FLIR M625CS thermal imaging camera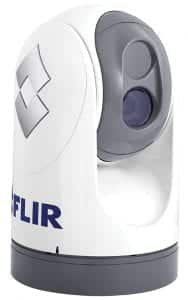 The ability to see clearly at night as if it's daytime is an advantage to any captain or owner/operator, and the FLIR M625CS thermal imaging camera does just that. Thermal imaging cameras detect and display images based on tiny differences in heat, not light, so whether the night is pitch black, filled with moonlight or the eyes are blinded by severe midday glare, the M625CS captures emitted or reflected thermal energy. Changes in temperature are converted into infrared images that allow you to see at night and navigate in total darkness. Besides the thermal camera's 640×512-pixel resolution, the next generation M625CS features a high-resolution color camera with 36x optical zoom for enhanced daylight and low light identification. The 7-inch diameter, 11.2-inch tall package weighs 9 pounds and offers 360-degree continuous pan and a +/-90-degree tilt. The system integrates seamlessly with existing electronics, including select multifunction displays from Furuno, Garmin, Raymarine and Simrad. There is also a joystick control unit for full control, and because of its active gyro stabilization, the camera always delivers a steady image, even in rough seas.
MSRP $20,995
GOST Apparition SM-GPS-XVR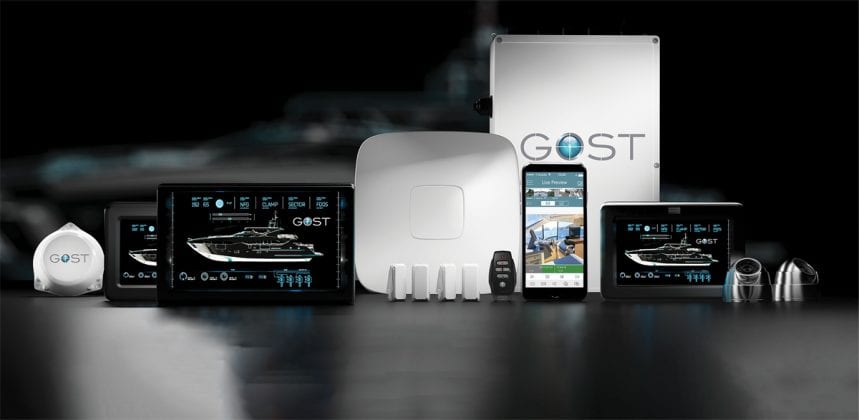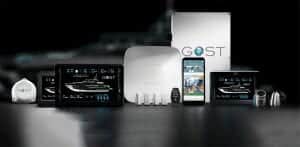 Yacht security is a must these days, and the GOST Apparition SM-GPS-XVR is one powerful, customizable and user-friendly security system. Monitoring, tracking, surveillance, and security are integrated into one system that communicates over cellular or satellite networks for global coverage. Protect against intrusion and theft. Monitor shore power and detect low voltage, smoke, and high-water levels. Take a look at the boat through live mobile streaming, and record video with up to eight HD cameras, and through GOST's Nav-Tracker, the system has 99.99-percent reliability for global tracking.
The SM XVR GPS package includes everything from the Apparition package introduced in 2017 with the addition of security and monitoring sensors, the GOST Watch HD SVR surveillance platform and GPS tracking. The core of the system is the Universal Control Unit that provides support for up to 32 wireless sensors, 12 relays, and 32 key fobs as well as supply full battery backup. The Apparition is controlled by new touchscreen keypads that are available in 5- or 7-inch displays, the key fob,  or through he app via through an internal 4G/3G GSM communicator. The system can send and receive text or SMS messages to arm or disarm the system as well as provide notifications of the events on board.
MSRP $2,999.99
By Steve Davis, Southern Boating December 2018