Iris thermal-imaging camera
Boating at night presents far more risks than daytime operation, especially in waters crowded with vessels and obstructions. While going slow—or not going at all—is often the most prudent option, when you must make way a thermal-imaging camera can be an invaluable safety tool.
Iris' new-for-2016 NightPilot gyro stabilized thermal-imaging camera delivers a long list of high-end features for a retail price under $5,000. That's less than comparable systems, while providing added nighttime safety and navigational confidence within reach of a greater range of boat owners.
Designed for fixed installation and use on any motoryacht, trawler, sailboat, or sportfishing boat, the NightPilot offers a fast yet quiet motor system and compact waterproof design. Its advanced thermal core turns night into day on the boat's multi-function display screen.
"We concluded that offshore boat owners needed the peace of mind offered by a thermal camera that was built to mainly watch in moderate sea conditions," explained Tony Digweed, head of North American sales for Iris Corporation. "We also wanted to continue to dispel the myth that thermal night vision cameras are out of the reach of everyday—and night—boating enthusiasts."
Thermal night vision cameras like the NightPilot do what the human eye cannot. Because they see heat, they are not dependent on light and contrast to create an image. Thermal cameras work both day and night and provide benefits beyond what you may think.
Thermal night vision cameras can see the heat signatures of people and vessels in total darkness as well as through smoke, haze and light fog. And nothing can help you find someone in the water faster than a thermal camera. A person floating in the water often only has his head visible; still, this can show up on the thermal video display as a white ball against a black or dark gray background.
Once sighted, it is important for rescuers to keep theman overboard in sight. A thermal imager allows vessel crewmembers to keep a person in the water in sight while maneuvering their vessel to pick the victim up. This improved situational awareness increases the safety of all involved and raises the chance of rescuing a victim at night and during the day making thermal cameras a crucial asset.
At the heart of NightPilot is a U.S.-made 320 X 240 resolution thermal core with 17m pixel pitch and a <50mK thermal sensitivity, an 8X digital zoom function, and a color palette that can be inversed to provide crystal clear thermal images under different environmental conditions.
"Our design team started with a clean sheet to conjure a camera that differentiated NightPilot from the typical gimbal style," Digweed said during a press conference at the NightPilot introduction during the 2015 Fort Lauderdale International Boat Show. "We worked in close collaboration with a leading UK-based brushless-motor company to develop an advanced new motor system that is fast [maximum speed 360-degree range per second] yet whisper quiet."
A 19mm 16-degree by 12-degree lens ensures sharp thermal imaging over a wide range of view. Even in total darkness, vessels can be identified at more than a 2-km distance (1.2 miles), while a person such as in a man-overboard situation can be spotted at about 1 km.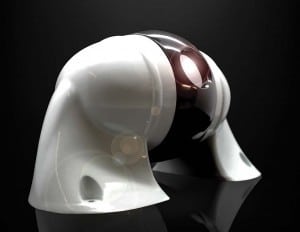 To provide a stable image in a range of sea conditions, the forward-facing NightPilot features three-sensor inertia measurements and accurate gyro control. When Gyro Mode is selected, the camera's inner dome is driven by the motor providing an overall tilt range of 140 degrees (70 degrees in each direction from horizon) to counter wave motion.
NightPilot also incorporates a user- adjustable trim feature to counter shifting horizons such as when the vessel's bow rises while running on plane. This same feature can be used to compensate for orientation if NightPilot is installed on angled surfaces.
The NightPilot is controlled using a waterproof 3.3-inch diameter round pad mounted on the dash. The pad features raised buttons that can be depressed to point the NightPilot up or down and zoom in or out. An inverted palette control, manual thermal shutter, gyro calibration, and standby mode can all be activated via the buttons identified with easy to read icons. For example, the Trim Up or Trim Down buttons are oriented at the 12 o'clock and 6 o'clock positions on the pad, while the Zoom Out and Zoom In buttons are at 9 o'clock and 3 o'clock.
NightPilot also features a built-in heater with Automatic Temperature Operation to ensure optimum performance in a wide range of weather and environmental conditions encountered on the water. These features and advanced technology are packed into a streamlined, waterproof housing measuring 10″ W x 5″ D x 6″ H.
"Much thought went into the industrial design of the NightPilot, with the goal of creating a compact, attractive appearance that blends well with the styling lines of even the most upscale yacht," Digweed said. "At the same time, this design is rugged, functional and practical for use on a wide range of vessels wanting the ability to see what's ahead of them in the dark. In the Iris tradition, installation is simplified through the use of a single cable/connector."
By Doug Thompson, Southern Boating Magazine March 2016
Information: