Sanibel and Captiva
The two sister beaches of Sanibel and Captiva are some of the prettiest in the world.
It's 7:30 and the sun is already well above the horizon. As I step out onto the dock, an osprey circles above a school of sea trout holding in a nearby channel. There's a decision to be made now, and I carefully consider my choices: Do I pull up a chair on the bay side with a beautiful view of Pine Island Sound or walk 100 yards to the Gulf shore to see what new seashells have washed up overnight? It's a tough choice, I know, but I'm happy to have options, which is what the beautiful Floridian isles of Sanibel and Captiva are all about. This morning, I'll look for shells.
A Likely Pairing
Wedged between Charlotte Harbor to the northeast and Estero Bay to the southeast, Sanibel and Captiva are the largest in a chain of barrier islands that come across as super-tourist yet surprisingly laid back. Relatively long and narrow, they offer easy access to the Gulf of Mexico for serious offshore fishing adventures and open-throttle cruises. At the same time, this is where Florida's Gulf Coast Intercoastal Waterway (ICW) begins, allowing boaters to tuck inside Pine Island Sound where waters are generally mellow but some routes run shallow. Between these entertaining access routes, Sanibel stretches for roughly 12 miles while Captiva sprawls for another five. Both offer sandy beaches, amazing shelling, fine dining, plus a small-town feel that belies bountiful amenities and provisioning potential.
Historically speaking, Sanibel and Captiva have endured a few weather bumps over the years. A pair of hurricanes tore through here in the 1920s and Hurricane Charlie, a
category four storm, crushed the area in 2004. So bad was the devastation after Charlie that many marinas, resorts, and businesses had to completely rebuild. In doing so,
however, most reset the bar with significant upgrades. The local community also decided to work hard at balancing their tourist-based economy with a deep respect for the
environment. That choice turned out to be a winner as the islands bounced back with a vengeance, their tourism buoyed by the recognition of how big a role access to clean water and abundant wildlife plays in attracting visitors.

Arriving
Getting to both Sanibel and Captiva is fairly straightforward. Both are accessible by land or boat. Since there are no marinas residing seaward on the Gulf front, the vast majority of boaters approach from the ICW in Pine Island Sound. If you're coming from the open Gulf, however, you can tuck inside to easily reach Sanibel Marina at Point Ybel, or slide through Redfish Pass to reach the marina at South Seas Island Resort on Captiva. Note that Blind Pass, another passage to the ICW, carries a low clearance designation on the charts.
Once on the inside route, Jensen's Captiva Island Beach and Marina Resorts, McCarthy's Marina and the marina at 'Tween Waters Inn Island Resort & Spa provide easy access
to Captiva. From any of these, you can walk to the Gulf-side beaches, or grab a cab or bike to reach other destinations. To access Sanibel Island, opt for either Sanibel Marina or
Port Sanibel Marina. While seas are generally mild on the inside approach, be aware that some cuts outside of the main channels have water depths of five feet or less at mean low
water. Thus, if you have a deep-draft vessel you might want to rent something smaller to cruise around after tying up your primary rig. Either way, watch out for manatees, which are plentiful throughout the system.
What we talk about when we talk about leisure
Once settled in, let the fun begin. Outdoors lovers and fitness buffs will absolutely love this area; opportunities to get out and do your thing are not only widely available, they are often enhanced. On Sanibel, for example, you'll find 25 miles of paved bike paths. Captiva has no official bike routes, but you can cycle the main road from one end to the other, and Cayo Costa State Park, a short boat ride to the north of North Captiva Island, features six miles of wooded biking/hiking trails plus nine miles of open beach for walking and running.
If you would rather stay on the water while getting in a workout, fear not. Kayaks and stand-up paddleboards (SUPs) are widely available. At Sanibel Pilates and Ambu Yoga you can meditate on the beach or try SUP yoga. To tour by paddle power, head over to Adventure Sea Kayaks at 'Tween Waters Inn on Captiva and enter the small cove in Buck Key to find seahorses, jumping mullet and all sorts of bird life. More adventurous paddlers can hook up with Tarpon Bay Explorers at the J.N. "Ding" Darling National Wildlife Refuge. There, an hour-and-a-half kayak tour leads through one of the largest
mangrove ecosystems in the country. It is magnificent.
Feel like trying something completely different? Sanibel and Captiva are among the top shelling destinations in the world. What's shelling, you ask? It's just as it sounds; you
walk the beach gathering interesting and beautiful seashells. The difference here is that beaches like Bowman's Beach on Sanibel or Blind Pass (Turner Beach) on Captiva will find
you ankle-deep in shells. More than 250 varieties wait to be discovered here, some of which are exceedingly rare, of scientific significance or even worth a few bucks. A large junonia shell, for example, can bring $150 at a local shell shop; someone finds one nearly every week. When you've finished collecting for the day, be sure to check out the
Bailey-Matthews National Shell Museum.
Happy as a Clam?
For some shell collectors, the best shell on the beach is not the perfect shell but rather one with a flaw, a little round hole and a true story that goes with it. That clam was murdered in cold blood. The clam was the victim of a carnivorous sea snail, and it wasn't
a fair fight. The sea snail used its tongue as a secret weapon. The tongue, called a radula, drilled a small, round hole through the clam. Then its multitasking tongue sucked the nutritious life out of that mollusk.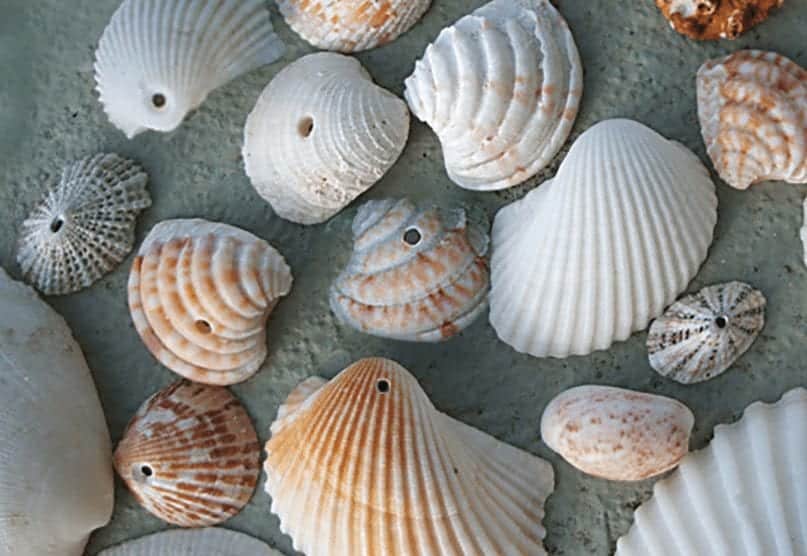 You're right; it's a shell-eat-shell world out there. Buried-in-sand bivalves can be
found on all Gulf barrier  islands. Pensacola Beach has a lot. Some shell collectors string them up as necklaces. The beaches of Sanibel Island near Fort Myers have shell abundance and variety, including many murdered clams.
Sanibel's South Florida geography helps. Unlike other barrier islands in this area, Sanibel Island has an east-west beach that traps sought-after shells from southern waters, including the Caribbean.
Anglers, too, have plenty of options in these waters. Sea trout, redfish, and snook abound inside Pine Island Sound. On the Gulf side, tasty tripletail hang near buoy chains, sheepshead surround rock piles, and king mackerel cruise nearshore waters. Offshore, snapper, grouper, mahi, and tuna are on the menu while jack crevalle, summer flounder,
and snook can be caught at most passes. Boca Grande Pass to the north of Cayo Costa is famous for its tarpon run in late April and May. Capt. Ryan Kane at Southern Instinct
Fishing Charters can put you on the fish.
Dining Options Abound
As for dining out, it's hard to go wrong here. Among dozens of fine eateries, The Lazy Flamingo has restaurants on both Sanibel and Captiva. Catch your own fish and they'll
cook 'em three different ways. Doc Ford's Rum Bar also has establishments on both islands. This is a great family retreat with a unique, Caribbean menu. Try the Yucatan Shrimp, with real butter, garlic, mild Columbian chilies, cilantro, spices, and key lime juice. On Sanibel, the upscale Sweet Melissa's is a heathy choice that sources locally, while the Blue Coyote Supper Club is a golf club bistro serving steaks and other
American fare.
Additional places to dine on Captiva include the romantic Mad Hatter, plus Old Captiva House at the oft-mentioned 'Tween Waters Inn. In addition to great eats, the latter spot
has hermit crab races! There are also five Captiva restaurants on Rossi Lane, just a short stroll from both Jensen's and McCarthy's marinas. All are worth a visit.
For dining right on the water, Sanibel-Grandma Dot's serves up terrific sandwiches and salads in an open-air setting at Sanibel Marina, while the Green Flash on Captiva offers a
nice selection of appetizers and soups, fresh grouper, salmon, Mahi, and tripletail—plus choice ribeye steaks and veal chops.
The best time? Anytime
While Sanibel and Captiva can be enjoyed year-round, March/April and October/November are ideal weather months and therefore see the most visitors. Afternoon thunderstorms are typical in the summer and September is usually the quietest month, but be advised—many of the island's businesses operate on reduced hours or shut down completely in late summer for renovations and vacation.
Regardless of when or where you tie up in this secluded neck of the woods, you're in for a rare treat. Sanibel/Captiva isn't a destination you land on by mistake. It's a special excursion to be premeditated for sure, but once you've arrived, odds are you'll make the same effort to return over and over again, each time turning over a new leaf—or seashell, as it were.
Glancing at your charts, Sanibel and Captiva might look like nothing more than a couple of big sand spits, but they certainly pack a punch as standout boating destinations. The
townsfolk are friendly, the marinas are professional, and the great outdoors are front and center every day, everywhere. Indeed, there's no way to fully cover these gems in a single short visit, but as I mentioned at the outset, it sure is nice to have choices.
Cruiser Resources
MARINAS
Jensen's Captiva Island Beach and Marina
Resorts, Captiva
Vessels up to 40 feet
(239) 472-5800
gocaptiva.com
McCarthy's Marina, Captiva
Vessels up to 24 feet
(239) 472-5200
Port Sanibel Marina, Sanibel
Vessels up to 65 feet
(239) 437-1660
portsanibelmarina.com
Sanibel Marina, Sanibel
Vessels up to 100 feet
(239) 215-2445
sanibelmarina.com
'Tween Waters Inn Island Resort & Spa, Captiva
Vessels up to 130 feet
(239) 472-5161
tween-waters.com
Yacht Harbour & Marina, Captiva
Vessels up to 120 feet
(guests of South Seas Island Resorts only)
(888) 777-3625
southseas.com/marinas/yacht-harbour-marina.com
DINING, DRINKS & NIGHTLIFE
The Lazy Flamingo, Captiva/Sanibel
(239) 472-5353
lazyflamingo.com
Doc Ford's Rum Bar and Grill, Captiva/Sanibel
(239) 472-8311
docfords.com
Sweet Melissa's, Sanibel
(239) 472-1956
sweetmelissascafe.com
Blue Coyote Supper Club, Sanibel
(239) 432-9222
bluecoyotesupperclub.com
Sanibel-Grandma Dot's, Sanibel
(239) 472-8138
sanibelmarina.com/gramma
Mad Hatter, Captiva
(239) 472-0033
madhatterrestaurant.com
Old Captiva House, Captiva
(239) 472-5161
captiva-house.com
Green Flash, Captiva
(239) 472-3337
greenflashcaptiva.com
RESORTS AND SPAS
'Tween Waters Inn Island
Resort & Spa,
Captiva
(239) 472-5161
tween-waters.com
South Seas Island Resort, Captiva
(239) 472-5111
southseas.com or southseas.com/see-and-do/spa-and-fitness
TRANSPORTATION, TOURS, ON-WATER ASSISTANCE, GUIDED OUTDOORS TRIPS, FITNESS

Sanibel Taxi (for both islands)
(239) 472-4160; sanibeltaxi.com
Adventure Sea Kayaks
(239) 822-3337; captivaadventures.com
Tarpon Bay Explorers
(239) 472-8900; tarponbayexplorers.com
Sunny Island Adventures
(239) 472-2938; sunnyislandadventures.com
J.N. "Ding" Darling Nat'l Wildlife Refuge
(239) 472-1100; dingdarlingsociety.org
Sanibel Pilates
(484) 459-3971; sanibelpilatesyoga.com
Ambu Yoga
(239) 314-9642; ambuyoga.com
Southern Instinct Fishing Charters
(239) 896-2341; southerninstinct.com
Bailey-Matthews National Shell Museum
(239) 395-2233; shellmuseum.org
By Tom Schlichter, Southern Boating January 2018