Predicting the exact dates the cherry trees will blossom in Washington is a challenge for even professional prognosticators, but an early bloom seems likely this year. The last time we saw an El Niño with this much influence on temperatures was in 1997 and 1998 when the blooms peaked the last week of March. According to the National Park Service, on average the peak occurs on April 4th. A few things are certain: many, many pink blossoms will appear sometime, thousands of visitors will converge on the Tidal Basin to take in the magnificent sights, and the best way to see the show will be by boat.
In addition to the flowering showcase, the annual National Cherry Blossom Festival features giant balloons, an energy-packed parade, music, a fashion show, sake tasting, kite flying, and much more.
The festival runs March 20th to April 17th this year, and if you're lucky enough to stay for a while, bring layers of clothing, pants, and shorts as there's no telling what to expect weather-wise.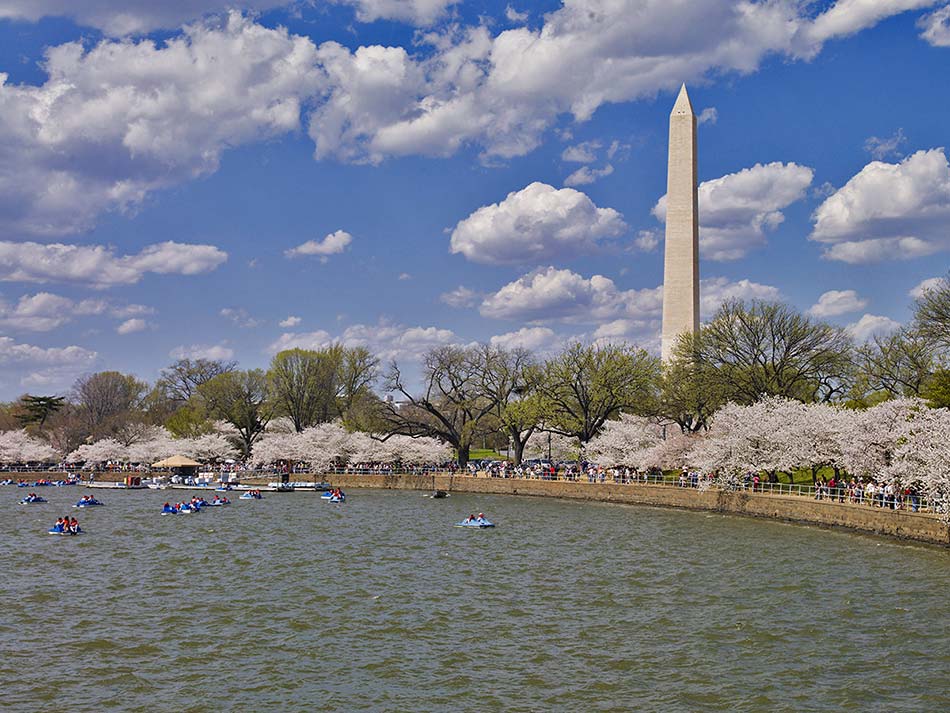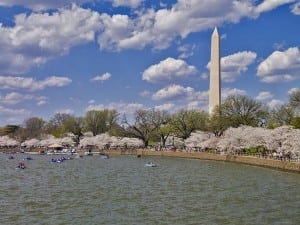 As for docking preferences, the channel hosts three marinas: Gangplank Marina (202-554-5000, gangplank.com), Capital Yacht Club (202-488-8110, capitalyachtclub.com), and Washington Marina (202-554-0222, washingtonmarina.com). Call ahead or fill out their online reservation forms. While they don't have fuel, these marinas all offer fine services. Another option is to anchor just off East Potomac Park.
Boats, gear, and experts
Before the cherry trees bloom, boats of all shapes and sizes appear in the Dulles Expo Center for the annual National Capital Boat Show, in Chantilly, Virginia. Dealers throughout Virginia and Maryland display their runabouts, saltwater fishing boats, ski boats, pontoons, deck boats, jet boats, jon boats, and PWCs during the show, which runs from March 11-13. Exhibits include marinas, boatlifts, floating docks, outboard and inboard motors, marine electronics, and more. Some experts will be there to answer questions and provide information on maintenance, repair, financing, insurance, and safety for the upcoming season on the Mid-Atlantic.
Market tested
A good place to pick up some bargains this month is the Boating & Fishing Flea Market hosted by the Poquoson Kiwanis Club in Virginia with help from the Bull Island Anglers club. This year's market is Saturday, March 12th from 8AM to 1PM, rain or shine. New and used boats, boating and fishing gear, nautical arts and crafts, and refreshments will be offered both inside and outside at the Poquoson High School. If you're looking to find a fishing partner, the anglers club meets the fourth Monday each month at 7PM at Trinity United Methodist Church.
March fishing
Croaker and flounder typically begin biting this time of the year in Virginia's salty waters. Croaker like to feast on peeler crab baits, bloodworms, squid, and shrimp and can be found in tributary rivers of the Chesapeake as well as the coastal ocean waters and inlets. Flounder will go after live bait (minnows and small fish), fresh strip baits (bluefish, flounder, shark belly, squid), and minnow/strip combinations as well as artificials such as bucktails and paddletail lures with spinners. Both species can be caught by drift fishing with natural baits fished on the bottom or by slow trolling baits on the bottom.
By Christopher Knauss, Southern Boating Magazine March 2016