The northern Bahamas island is alive and well.
Many know how Hurricane Dorian ravaged the Abaco and Grand Bahama islands, but few have heard much about Grand Bahama's recovery with most of the focus going to the Abacos. They both suffered major damage from the wind and rain, but it was the surge that surprised Grand Bahama. The eastern half of the island was covered with up to 23 feet of water—saltwater—which devastated plants, roads, power grids, and homes.
"It was big," says Don Churchill of DonCar Hospitality Management Services. "There was no more north shore or south shore for three days; it was all ocean. There were tops of houses sticking out…that's it."
It may be fortunate that the island is around 90 miles long because some areas didn't get hit as hard. "It was kind of strange," he adds. "You could look down here after the storm and it looked like the day before the storm. Then you go to other areas on the island, and there's nothing left. It was all where the flooding hit. …The southern end, which is where most of the population and commercial areas are, actually didn't do too badly." The island's codes are designed for wind, but "Dorian was the first real flood storm," says Churchill. "Now we've learned about floods and how we have to build everything up."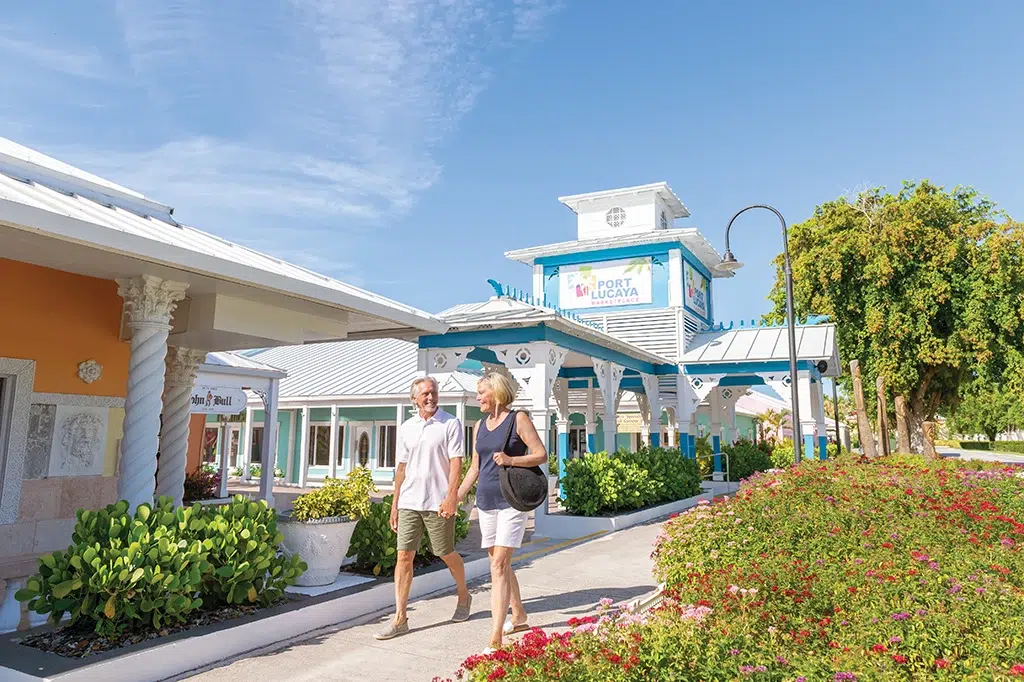 Like most of the islands, including the Caribbean, that were hit with hurricanes in 2019, rebuilding began, but the COVID pandemic put a quick halt to any activity. However, a timely visit to Grand Bahama this past February showed that the island was well on its way to recovery.
"There's definitely a renaissance taking place," says Carmel Churchill, marketing consultant for the Grand Bahama Island Promotion Board and co-owner of DonCar Hospitality Management Services. "What's been happening is that you have individual investors that are buying buildings like this, completely gutting them, and renovating them," she says, speaking of Dolphin Cove Resort, a boutique hotel with dock space on the canals along the southern shore of Freeport. "If they have a marina, they are rebuilding the slips as well. …I truly believe the boutique hotel is what you're going to see in terms of the future of accommodations in Grand Bahama."
Anne Meunier and her husband are doing just that with the rebuilding of a location where the Navy had a small base and the previous owner docked his 105-foot yacht. "We will have twelve docks to welcome twelve boats, big and small size," she says. The Meuniers had their 2022 70-foot Endurance yacht docked in front of the 12 four-bedroom rental units that will be completely furnished with artwork, Wi-Fi, and a balcony overlooking the docks. "This will fall very close to the line of a boutique resort," adds Carmel. "But this will definitely be at the chic, upscale side of things." Villa Marina plans to open in May.
Another angle is one which Xquisite Yachts is taking. It's developing a small hotel into the Xquisite Catamaran Center, its Bahamas base location with sales, charter, full service, rooms for clients, an upscale bar/restaurant, and a heated pool. Xquisite builds custom sailing catamarans and is launching the Xquisite 60 Solar Powercat in December and the Xquisite 40 Powercat in 2024. With most sales going to the U.S. East Coast, Caribbean, and Bahamas, Grand Bahama is the perfect, central location.
"Originally, we were looking for a marina and boatyard because there was no space to put our boats for service," says Tamas Hamor, CEO of Xquisite Yachts. "Then we found this place." The property came with a hotel and space to adds docks and service yard. Knowles marine & Yacht Service is next door. The location in Port-of-Call Channel on the south shore of Freeport will also be an official Port of Entry.
Carnival is also building a new base, the Carnival Grand Bahama Cruise Port, along the south shore about 20 miles east of the Freeport cruise port on the way to the Lucayan National Park. The development will accommodate two Excel-class ships simultaneously as well as provide additional infrastructure and jobs for the Bahamian residents. The opening is set for 2025.
"I think Grand Bahama is the most diverse economy in the entire Bahamas," says Carmel. "I mean, we've got the shipyard, we've got the container port terminal, and we've got tourism." With tourism comes visitors, who help support the residents through dollars spent in restaurants and retail stores and, more importantly, supports the rebuilding and growth of the island communities and infrastructure. 
Driving around the island, there's no doubt it's returning to life. The east side vegetation is growing back, homes are being rebuilt, and restaurants, hotels, and businesses are open. The festivities are in full swing as I saw my first night on the island. It was easy to swing into island time at the original weekly fish fry at Smith's Point which was created more than 40 years ago to support rebuilding St. Jude's Anglican Church. From Outriggers Beach Club over to GullyWash Beach Bar, fresh fish is fired up on the grill and in the fryers and served up with Bahamian sides, such as baked macaroni and cheese, fry bread, panny cakes, conch fritters, coleslaw, and more. Music, cold beverages, and camaraderie brings the local community and their guests together for a fun, enjoyable evening along the beach. The hot sauce served at GullyWash was so delicious (and hot), that they bottled up a batch for me to take back home. Nothing a few Sands Beers couldn't cool down.
Speaking of which, the Bahamian Brewery & Beverage Company is 100 percent Bahamian-owned and operated and produces nine different brands, including Bush Crack Malt, Sixty Six Steps Ale, and my go-to, Sands Beer. More than 90,000 bottles or cans of beer are produced every day. That's a lot of beer.
In the newly published Grand Life magazine, there's a map of the island showing three sections. "I say, personally, that it's a depiction of the best of the Bahamas," says Carmel. "You know, you can drive 45 minutes out of the city of Freeport and be in East Grand Bahama, which is what we refer to as our Eco Wonderland. You have some of the best bonefishing flats in the world right here on Grand Bahama. And those guys that fish know that and will come year after year after year. You can leave the city of Freeport, drive thirty-five minutes in the other direction, and be in West End. This is your 'out-island' experience. There's the village of West End, and above that, you have a place like old Bahama Bay, which is getting ready to do a two point five-million-dollar renovation. You can have luxury comfort while you're out there. I mean think about it, you're at this upscale, elegant resort, jump on a little bicycle, ride into the village of West End, and you can meet the fisherman who's bringing in his catch of the day, or talk to the guy on the side of the street who is scaling his fish and cleaning his conch. Then there's the little local bars where the guys are ready to shoot the breeze with you for a little while. That's your typical out-island experience, but it's here on Grand Bahama.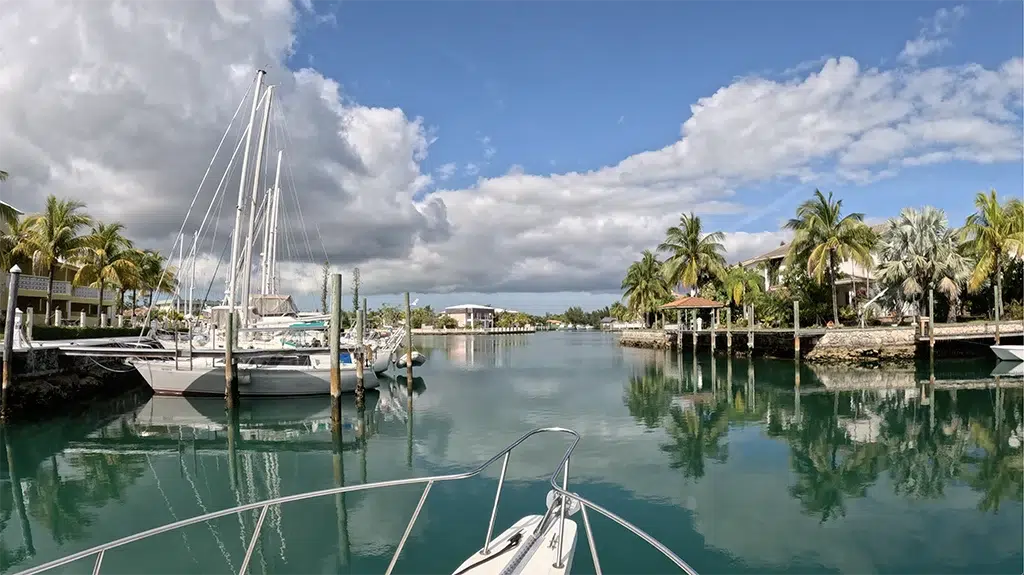 "And after you've done all of that, you say, 'You know what? I've got to stay in my nice hotel room. I need the Wi-Fi, and I've got to have that special cognac and nice steak,'" she adds. "You don't have to give it up when you come here; you don't have to sacrifice any of that. It's right here at your fingertips."
There are those all-inclusive resorts still available on the island back down in Freeport, and some are still building back, but the Viva Wyndham Fortuna Beach Resort is a sprawling property with almost a quarter-mile of beachfront. It has all the amenities and activities you'd expect from an island resort setting, from a dive shop to sail and paddleboard sports to archery, pickleball, and even a trapeze center for those not afraid of heights. There's plenty to do for the entire family without leaving.
But getting out is what it's all about. The Lucayan National Park is one of three on Grand Bahama that covers 1,937 acres of land and sea zones, such as the mangrove creek and two caves that combine to form one of the longest charted underwater cave systems in the world. Remember the beach that Capt. Jack Sparrow ran away from the Pelegostos tribe on in Pirates of the Caribbean: Deadman's Chest? That beach is at the park, and at low tide, you can run away to find some real island time.
Grand Bahama itself is all-inclusive. You can be as active as you like, as quiet and solitary as you like, or blend a little of both. It's your island time, a time to recover from the stresses of everyday life. Grand Bahama is right there with you.